9 Apollo.io Competitors & Best Alternatives [2024]
Apollo.io is a budget tool promising to "reach every buyer on earth". So why do prospects check out Apollo competitors? Well, there are a couple of reasons—
Apollo.io's pricing is based on credits which doesn't always allow users to gather enough contact or companies they want. Top-ups can be expensive which drives a scarcity mindset among the sales teams.
Built-in email sequencing and automation are definitely Apollo.io's strengths. It works for companies with smaller budgets and tech stacks.
But the email-centric contact database with limited mobile credits in its packages may not suit dial-heavy users.
Some prospects look for Apollo.io alternatives because they are concerned about data compliance and Apollo's Terms of Service that affect the data in their CRM. By using Apollo, customers agree to give Apollo an irrevocable license to use their data.
It means Apollo can sell their services which include user-submitted data, even after you stop using Apollo's software.
In this article, we'll see how Apollo.io compares to other sales intelligence solutions on the market.
1. Cognism
Cognism is an excellent Apollo alternative if you're looking for more mobile numbers. Cognism offers a high-quality contact database with human-verified mobile numbers, B2B emails, and direct dials in EMEA, NAM, and APAC markets.
Cognism's email database is notified, and our phone numbers are checked against DNC lists. It means our database is fully GDPR compliant, so you're not risking legal implications when prospecting in Europe.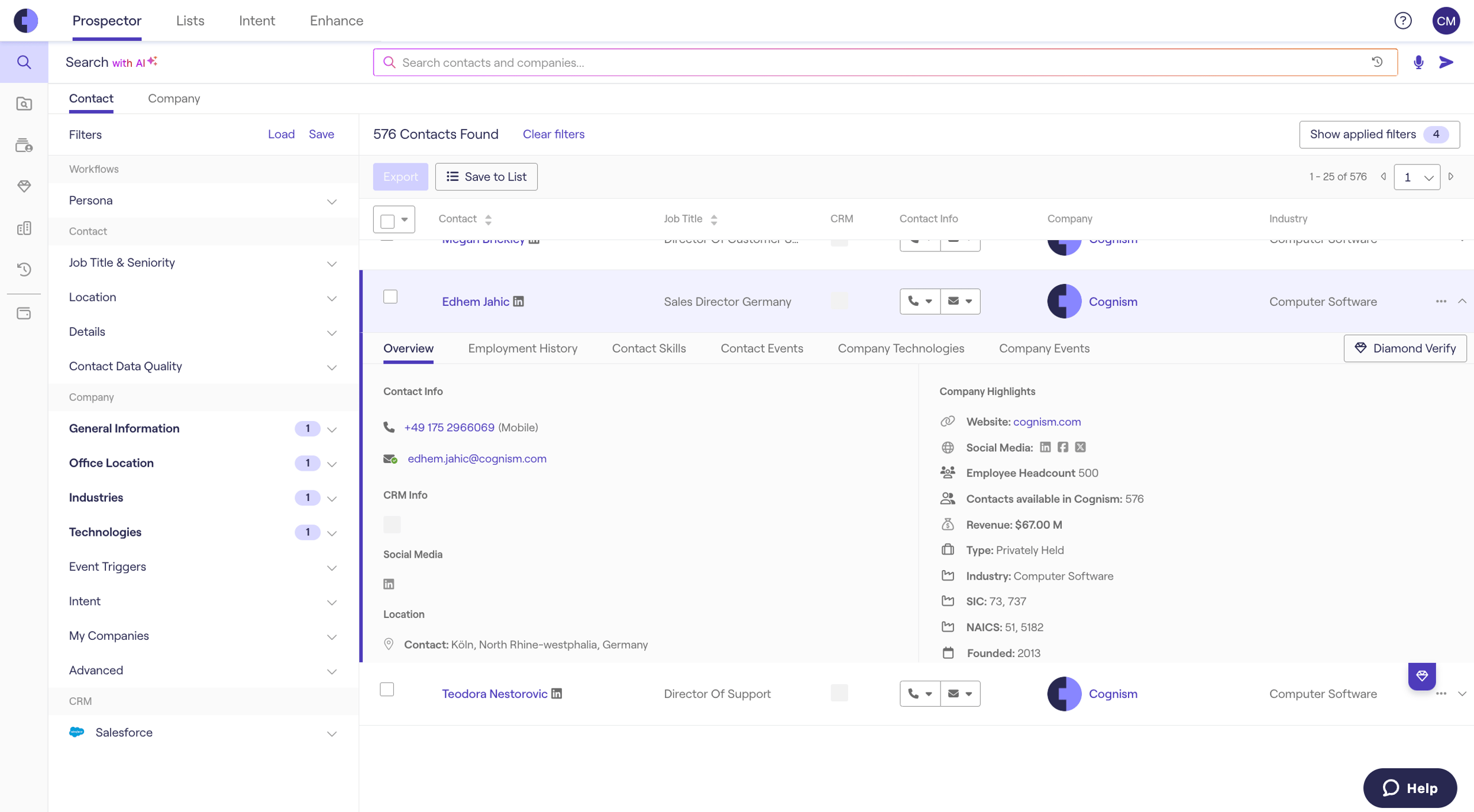 What makes

Cognism a strong Apollo.io competitor

:
2x more cell phone numbers than other providers
47 million mobiles in the US alone
Phone verified mobile numbers with

98% accuracy

(aka Diamond Data®)

Cell phone verification service on request (Diamonds-on-Demand®)

Global coverage

and best EMEA data

100% CCPA and GDPR compliance

Chrome Extension

with advanced integration with Salesforce, Outreach, and HubSpot

Consent-based intent data, powered by industry leader Bombora

Sales triggers and firmographics

Cognism pricing
Full access to quality data without extra charges in all packages
All packages offer unrestricted views and page-level exporting (up to 25 records at a time)*
Custom packages for teams with operational workflows to allow for building and exporting large lists
*Subject to fair use
💡 Visit Cognism vs Apollo.io direct comparison page or the alternatives hub for other comparisons.
Here's what our customers say
We interviewed Marc Parsons, SDR Team Lead, about Apollo competitors:
"Firstly, we trialled Apollo using a test data sample which didn't produce adequate results. We proceeded to evaluate ZoomInfo but found the data to be too US-centric. This didn't fit our ICP of targeting UK companies."
We also interviewed Jake Hampson, Founder of Sales on Demand, about his experience with Apollo alternatives:
"I formerly used Apollo which was cumbersome. I'd go on every LinkedIn profile and individually save each page in the platform. Per client, I'd spend approximately 4 hours exporting 100 contacts. With Cognism, it takes me 60 seconds."
2. ZoomInfo
ZoomInfo is a well-known platform with a company profile database and contact data built by acquiring smaller competitors. ZoomInfo competes with Apollo in the US market.
But it segments its database for specific functions and is said to charge differently for data in different regions. One G2 user commented that paying for the different regions was hard to justify for an international company.
Best features
All-in-one solutions for sales, marketing, recruitment, and operations teams

Good US market data, but global data passport is expensive

Robust features and integrations

Credit-based pricing model and users report auto-renewal contracts
💡 Visit Cognism vs ZoomInfo page or see the list of ZoomInfo alternatives.
Available after a consultation

Tiers for sales, marketing, and recruitment

Depends on the number of seats, credits, and add-ons
"ZoomInfo and Apollo were used by all global sales teams. While these vendors were valuable in North America, it became apparent that we needed an EMEA market leader for prospecting in this region."

3. Lusha
Lusha is one of Apollo.io's alternatives with monthly subscription plans. It's affordable and has a self-service set-up until you want to negotiate an enterprise package. Its advanced features are available on a custom plan, and users say its integrations could be improved.
Best features
Lacks Apollo's sales engagement functionality

API integrations

Contact data enrichment features

Basic segmentation criteria to filter prospects
Pricing
Free trial with basic features

Paid monthly plans with limited credits per user

Custom plan available

4. Seamless AI
Check out Seamless AI if you're looking for Apollo competitors that use AI to find prospects' details on the web, verify emails, and dial prospects directly in real-time. It's a tool you can use to build lead lists at scale for sales, marketing, and recruitment.
But an independent comparison of Apollo.io competitors revealed a high bounce rate even on data marked as high confidence and missing company data.
Best features
Claims to be a real-time search engine, not a database

Chrome browser extension
Learn more about the best intent data providers.
Pricing
Paid plans start at $147 per month

Custom plans for enterprises
5. Clearbit
Clearbit is a data enrichment and market intelligence tool that sources data across public and private sources, including social profiles, company websites, legal filings, or crowdsourcing.
Despite Pavilion members' survey showing the need to improve data quality (e.g., revenue, headcount for private companies, phone number accuracy), it's still a good alternative to Apollo.io for mid-market and small businesses.
Best features
Audience segmentation for targeted messaging

Advanced firmographic, technographic, and employee data

Insights for personalised ABM campaigns
Pricing
Custom plans with various add-ons
6. RocketReach
Rocket Reach provides detailed business data and employee contact information for lead generation and outreach purposes. It has a browser extension to discover leads on Google, AngelList, Crunchbase, and Linkedln. It is one of the alternatives to Apollo.io email finder.
Best features
Key data points lookup tool

Integrations with the leading CRMs

Email personalisation and analytics tools
Pricing
Email only plans start at $421 a year for 1,500 lookups
Email + Phone plans start at $745 a year for 1920 lookups
Custom team and enterprise pricing
7. Sales Navigator
This tool is sometimes considered an Apollo.io competitor because it allows you to find prospects and companies that match your ideal customer profile. You can use the InMail feature to contact them, but it's best to enrich Sales Nav lists with actionable contact data like emails or cell phone numbers.
Best features:
Account and lead insights (company news or job changes)

Integrates with best prospecting tools, CRMs, and sales software

Team collaboration features
Pricing
From $79.99 per user

Custom enterprise pricing



8. Hunter.io
Hunter could be a good Apollo.io alternative if you're mainly outreaching by email. This email finder tool helps you discover email addresses using a company name or domain. It indexes emails disclosed in public sources by crawling the web. It means Hunter collects personal data as well.
Best features
Built-in email campaign features

Confidence score for email addresses

Real-time email verification
Pricing
Limited free plan

Paid plans cost between 49€ and 399€ per user a month
9. LeadIQ
LeadIQ is another Apollo alternative that gets information from public and private sources such as social media platforms and job boards. It verifies emails in real time but has a limited offer on mobile numbers (max. 120 on enterprise plan).
Top features:
Sales trigger tracking
AI writer tool
Outreach sequence sync
Pricing:
Limited free version
Two credit-based plans
Custom enterprise offer
💡 Visit the Cognism vs LeadIQ page or see the list of the best LeadIQ alternatives.



What's the best Apollo alternative to get mobile numbers?
If you're looking for an alternative to Apollo with accurate mobile phone numbers in NAM, EMEA, and APAC, Cognism offers phone-verified mobile contact data and global coverage. It is also fully GDPR-compliant, has broad DNC coverage, and a notified email database to let you prospect confidently.

What is Apollo.io pricing?
Apollo pricing is considered affordable because of free and paid plans starting at $39 per user per month. These plans are relatively cheap but include a very limited number of credits. Add-on credits cost extra. GTM leaders who considered Apollo and its competitors' pricing said that mobile numbers and emails in Apollo's database needed improving despite lower cost.
Apollo pricing changes frequently, so it's uncertain which one they will adopt. For example, In February 2023, the vendor reduced the number of mobile and email credits it included in each package. In November 2023, it removed mobiles from free and basic packages.
Is Apollo.io safe to use?
When it comes to prospecting, Apollo doesn't mention do-no-call list cleaning and/or notifying their database in their help centre. This means it's hard to establish if Apollo is fully GDPR compliant. Failing to ensure compliance may lead to serious legal implications for your business.
In 2018 Apollo data was compromised, exposing email addresses and data points in their database. Next, in 2021 records of French users were stolen and put for sale online. The two Apollo.io data breaches understandably could undermine customers' trust in the provider.
What Apollo.io competitors are better for lead generation?
Consider providers that combine accurate and compliant B2B data in the market where you want to generate leads with access to intent data. One of Apollo's competitors you can consider is Cognism, thanks to its partnership with Bombora's consent-based intent data provider.
EMEA expansion keeping you up at night?
We provide actionable, compliant data in Europe.