Buy Email Lists for Sales & Marketing [Global Coverage]
Buying email lists is one of the most impactful ways of reaching potential buyers at scale. But purchasing them from the wrong source can damage your brand reputation and affect deliverability.
That's why when you decide to buy email lists, it's important to evaluate providers and how they collect the data.
In this article, we will compare the best places that offer email lists for sale. We'll focus on the aspects that ensure the highest deliverability:
The data verification process.

Compliance with local regulations.

Data coverage.



1. Cognism
With Cognism, you can create and buy targeted email lists for global campaigns. It's easy—run a company and contact search in the Cognism database to build lead lists in your ICP. Then, export them with validated emails to your CRM or sales tool.
Cognism also has the largest database of mobile numbers and a premium, human-verified data asset called Diamond Data® to reach high-value prospects directly.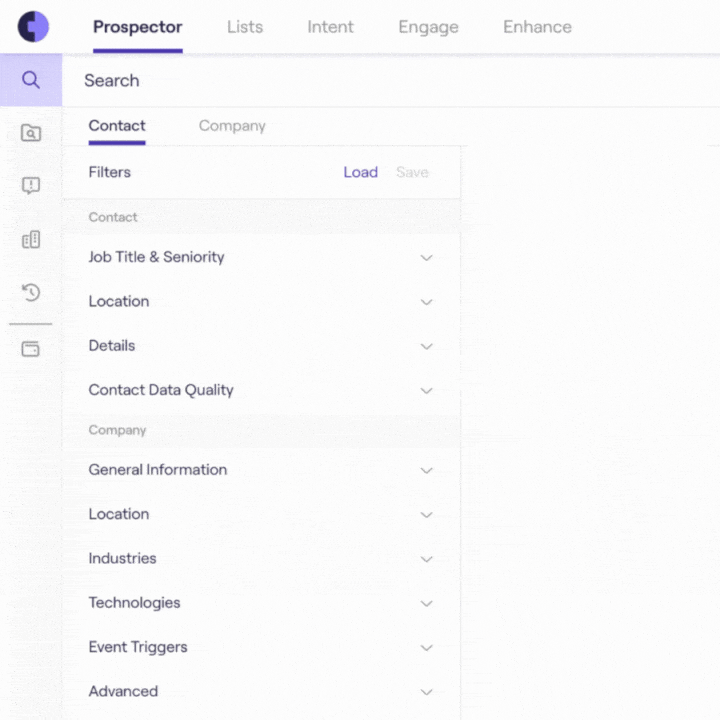 Here's why 1800+ companies use Cognism:
Validated B2B emails in NAM, EMEA, and APAC.

Phone-verified mobile numbers with 98% accuracy (Diamond Data®).

Verification service on request (Diamonds-on-Demand®).

100% GDPR compliance and best EMEA coverage.

Integrations with Salesforce, HubSpot, Pipedrive, Microsoft Dynamics, Outreach, and Salesloft.

Consent-based intent data, powered by industry leader Bombora.

Sales trigger events and firmographics.

Unrestricted record views and page-level exporting.
Simple packages customized to your company's needs.

All packages give you full access to quality data without extra charges.

Unrestricted views and page-level exporting in all packages (subject to fair use).

Custom packages for teams with operational workflows to allow for building and exporting large lists.



Here's why customers buy email lists from Cognism:
"Our open rates used to be between 2-6%. Now they range from 40% to 60% which is phenomenal compared to before - far above the industry average for B2B cold lead email campaigns. These high engagement rates wouldn't be possible without GREAT data."

2. ZoomInfo
ZoomInfo focuses on providing US data and segments it according to industry. Many teams use it as a one-stop shop for purchasing email lists for their account-based marketing campaigns.
But according to findings from a recent CB Insights survey, some customers voiced dissatisfaction with ZoomInfo's lack of core product innovation which affects contact data quality for sales teams.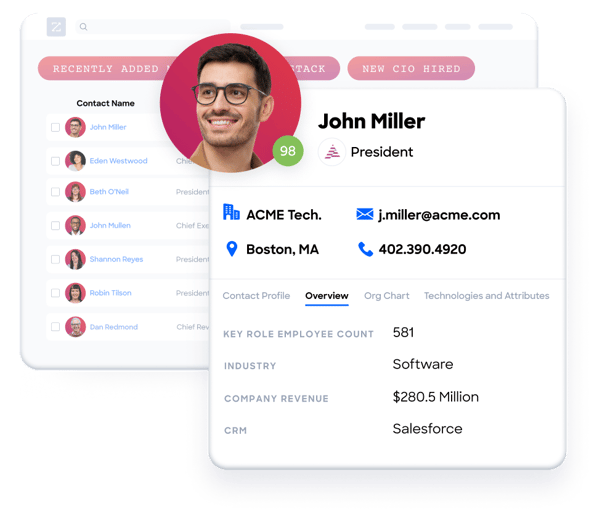 (Source: zoominfo.com)
Key features:
Contact data

— buy US email addresses for sales, marketing, recruitment, and operations teams.

Contact search

— generate targeted lead lists of relevant contacts in your territory using multiple data points.

Chrome extensions — boost productivity and schedule campaigns.

Intent data tool

— identify best contacts and potential purchasing decision-makers.
Pricing
Pricing is available per request and depends on the module you choose: Marketing OS, Sales OS, or TalentOS.

Depends on the number of seats, credits, and add-ons.
💡 Here's a list of the best ZoomInfo alternatives and Cognism vs ZoomInfo direct comparison page.
3. Lead411
Lead411 is another platform that lets users build and buy email lists for marketing and sales. This service offers integration with Bombora intent data so you can outreach prospects who are actively looking for products similar to yours.
While offering plenty of contact search criteria, the platform's UX may seem a bit outdated.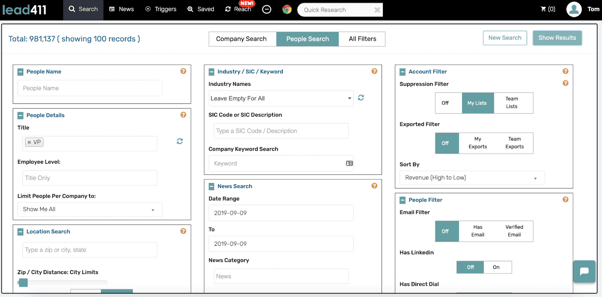 (Source: Capterra)
Key features:
Data enrichment

— keep your CRM clean and update your

prospect lists

with fresh information.

Sequencing and email automation

— build email flows with advanced logic and set up follow-up tasks.

Email verification

— use SMTP, manual methods, and email open validation to verify your prospects' contact details.

Intent data

— pick the topics specific to your business and

find company decision-makers

who are searching for solutions like yours.
Pricing
Plans start at $900 per year per user.

You can order add-ons and extra credits separately.
4. Kaspr
If you're a recruiter or an individual contributor looking to buy email data lists, use Kaspr to access emails right from LinkedIn profiles.
Kaspr doesn't have a platform, so it doesn't allow for list building. But with an intuitive Chrome extension, Kaspr lets you collect emails and other user data while checking users' LinkedIn profiles.
Key features:
Data extraction

— get data from LinkedIn lists, groups, events, or posts.

Contact enrichment

— automatically enrich B2B contact data from the LinkedIn dashboard.

Build sequences

— create automated messages and follow-ups, make LinkedIn invitations, export prospect information to a CRM.
Pricing
Monthly subscriptions start at 30€/mo per user.

Free plan with 50 credits every month.
5. Lusha
Lusha is a website that helps you purchase leads' email addresses in your ICP, including CEO email list. But users say Lusha's coverage could be better.
This tool acquires its email data from multiple sources, including public databases, government data sources, social media, its own data algorithm, and the community.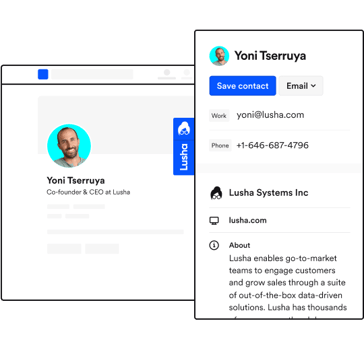 (Source: Lusha)
Key features:
Contact search

— apply filters to search for prospects' emails.

Contact lists

— organize your searched results into lists.

Contact enrichment

— enrich incomplete Salesforce records.

Integrations

— use out-of-the-box tools or custom API.
Pricing
Free plan is limited in features.

Two paid plans at $29 and $51/mo/user with limited credits.

Enterprise plan (you must contact sales for a quote).
6. Hunter
Hunter is a data provider that helps users buy email lists based on publicly available emails, which also collects personal data. All you need to do is to provide a list of domains or company names.
But there is one catch. If an email has never been published online, you won't find it with Hunter.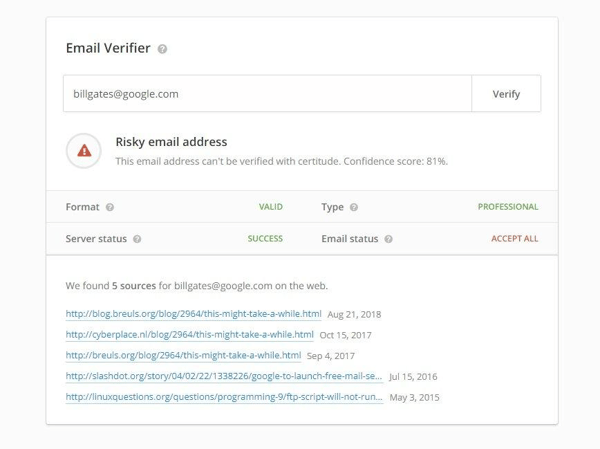 (Source: hunter.io)
Key features:
Domain email search

— purchase publicly available emails associated with a domain (i.e. finishing with @company.com).

Individual email finder

— find individuals working for a searched organization.

Email verifier

— verify email addresses to avoid hard bounces.

Campaigns

— outreach leads directly from Hunter's interface.

Lead lists

— buy email lead lists and easily access them right from the tool's dashboard.
Pricing
Limited free plan.

Paid plans from 49€ per user per month.
7. Apollo.io
Apollo offers an extensive database of email marketing lists for sale. You can search their B2B database for companies worldwide.
According to Apollo's T&Cs, users provide Apollo with the license to use customer-submitted data to "provide, develop and improve the Service and our [Apollo's] data assets." It grants Apollo the right to supplement its database with customer-submitted data and sell its services with this newly-incorporated data even after the customer no longer uses the platform.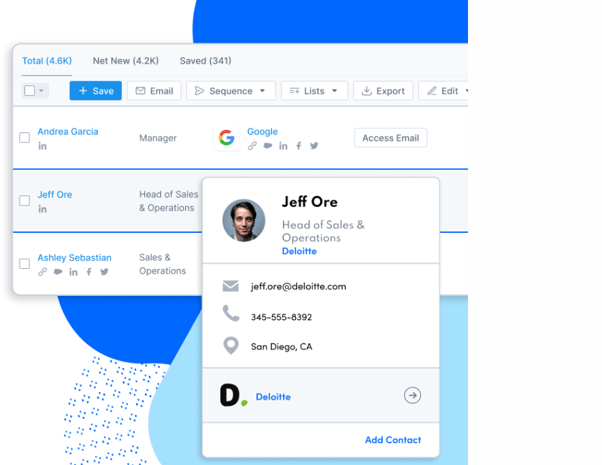 (Source:G2)
Key features:
Contact database

— access extensive database worldwide but according to

an independent survey

, some

Apollo competitors

offer more accurate data.

Rich data attributes

— use multiple data attributes to generate and buy email lists.

Email verification

— emails verified through Apollo's contributor network, public data crawling, and third-party data providers.
Pricing
Limited free plan.

Paid plans (refer to the up-to-date pricing page as the tool's pricing changes frequently).
💡 Here's a list of the best Apollo.io alternatives and Cognism vs Apollo.io direct comparison page.
💡 Compare ZoomInfo vs Apollo.io.
Can you legally buy email lists?
Buying email addresses is legal if you acquire them from a compliant source, such as Cognism, that prides itself on its data compliance practices applicable in the country where you're carrying out marketing activities.
Adhering to privacy laws requires providers to implement certain mechanisms to collect, process, and share data.
Cognism is a GDPR-compliant service that offers only business emails. The service holds ISO 27001 and ISO 27701 certificates and is SOC2 type II attested.
Failing to adhere to compliance laws may result in hefty fines and your company's reputational damage.
How to buy email lists?
You can buy email lists from various places but it's best to choose a provider that offers targeted lists and ensures the emails are correct. The email list quality should be a deciding factor, not its length.
You can do a few more things to ensure you purchase a high-quality B2B email list. Simply follow this checklist.
Compliance

— make sure that the email marketing lists you buy comply with all applicable privacy regulations. It's best if they have ISO 27001 and ISO 27701 and are SOC2 type II attested apart from a European must-have — GDPR compliance.

User reviews

— filter through the most popular review sites such as G2, Trustpilot, or Capterra to check if the business selling email lists is trustworthy. Going through the negative reviews, you can get a rough idea of what main issues you can encounter while using the service.

Email quality

— find the information on quality control of data and the frequency of information updates. Inquire about the standards the company applies to ensure the email addresses lists they sell are up-to-date, verified, and accurate.

Pricing

— price and quality often go in pairs; therefore, don't go for the cheapest email data list. Most trustworthy providers offer access to business data in a subscription model, and you can easily make a background check on them online.

Ease of use

— a modern and intuitive interface is a necessity for quick navigation and effective work. Instead of going for a complex tool, select the one that is more straightforward and is easy to adopt by your team.

Integrations

— make sure the purchased email lists integrate with your CRM and other sales tools. Otherwise, you'll spend hours on manual exports and imports which might not be formatted correctly.

Additional features

— assess the tool by the additional features on top of purchasing email address lists. These could include intent data and sales triggers to prioritize contacts on your list.

Filtering options

— check the filters available on the platform to help you get to the right accounts and decision-makers in organizations.
"Cognism is constantly working hard in the background to ensure its data is top-notch quality. Working with a database that has a pool of verified emails makes my job as a marketer easier.
If my bounce rate increased, that would be a huge problem because I'm not reaching my audience and our investment in the tool would be questioned."

What's the best place to buy email lists in the US and Europe?
Cognism is one of the best places to generate and buy email lists in the USA and Europe. It gives you unrestricted access to contact and contextual data globally, allowing you to create B2B emails and phone number lists.
Cognism's global database complies with evolving international privacy laws, helping you connect confidently.
GDPR.

CCPA.

Notified database.

Opt-outs.
Red flags when purchasing lists of email addresses
How can you be sure that the email list you purchase is accurate and compliant?
Here are some red flags that should alarm you. If you see any of them, you may be dealing with an email list provider you mustn't trust.
Making low prices their main USP

— selling cheap email lists or holding time-sensitive discounts to make you buy now is a serious red flag. The email lists these services sell are most likely acquired from suspicious sources and won't be accurate (price usually reflects the quality).

No segmentation

— if you can't buy targeted email lists by using filters, expect low-quality data and prospects who won't engage with your messaging. You won't be able to use even the most basic personalization.

Untrusted sources

— be wary of lists sold by unknown or untrusted sources. There is no guarantee that the email leads list is valid, or that the prospects on it have given permission for their information to be shared.

Unverified outdated emails —

Some email lists you buy may include old or invalid addresses, damaging your email deliverability and reputation. Check if the provider checks if addresses are up-to-date.

Lack of legal compliance

— Buying lead email lists can violate anti-spam laws such as CAN-SPAM in the US or GDPR in the EU. You should ensure that the provider obtains the emails legally and ethically.
Where not to buy email lists?
So here is the bottom line — buying cheap email lists online may seem like a shortcut to growing your email marketing reach.
Still, it can damage your reputation and deliverability and ultimately lead to poor results if you choose a bad B2B data source. Fortunately, by keeping these red flags in mind, you can buy a trusted email address list.
What are the benefits of purchasing email lists?
If you are still trying to decide if you should buy email data lists from a reliable source, here are a few reasons that will convince you:
Wide pool of contacts

— most established

B2B email providers

offer B2B email lists that you wouldn't be able to find online. They use different techniques, often relying on complex algorithms, to enrich contact information with unique data points.

Higher accuracy

— they often have multi-step processes controlling email quality

. As a result, you get ready-to-use data for effective outreach with just a few clicks.

Save time and money

— by manually collecting business email data, you waste time and resources that could otherwise be dedicated to perfecting email outreach and communicating with prospects.

Accelerate go-to-market execution

— by buying verified business email lists in your target market, you can quickly get traction with new customers anywhere you want to expand your business.
Try Cognism's B2B email database
Validated emails.

EMEA, NAM, APAC coverage.

GDPR compliance.




The largest mobile dataset on the market.

98% accurate, phone-validated mobile numbers.