1800+ marketing and sales teams use Cognism to connect with confidence & exceed targets in EMEA, NAM, and APAC





What information are you looking for?
How can Cognism help me?
You're new to sales intelligence and want to learn more about what Cognism is and how it can help your marketing and business development teams reach your revenue goals.
Explore the benefits
Why should I consider Cognism?
You already know you need a sales intelligence provider. You may even have one already but need more coverage or better-quality data.
You're on this page because you want to know what makes Cognism different and worth considering.
Why Cognism?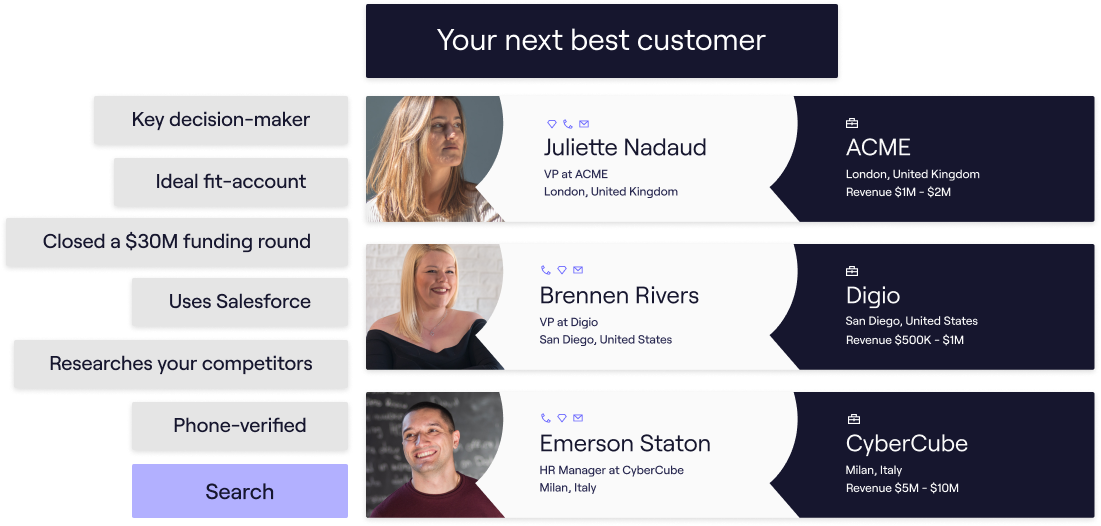 Scale your outbound sales
Make booking meetings the easiest part of your sales reps' job
Do you and your reps feel frustrated by the lack of quality data and the time it takes to build an actionable prospect list?
Cognism makes revenue generation predictable and helps you stop relying on (sometimes blind) luck. By equipping your business development team with accurate contact data we enable them to:
work faster

book more meetings

generate pipeline
+ give you reassurance that your team spends time building relationships with prospects who are actually a good fit and your sales motions aren't in vain.
Fuel for your revenue-generating engines
Your list is your strategy. Expand your target audience with ease.
Regardless of whether you're trying to break into a new region, are moving upmarket, or are looking to expand your targeting, you can use Cognism to:
Calculate your TAM and explore your ICP as you're planning a new campaign or market entry
Find new personas and companies that weren't even on your radar
The lists you generate with Cognism come with quality account and contact-level data, including accurate business emails, mobile numbers, and social handles, so you can action them across different channels straight away.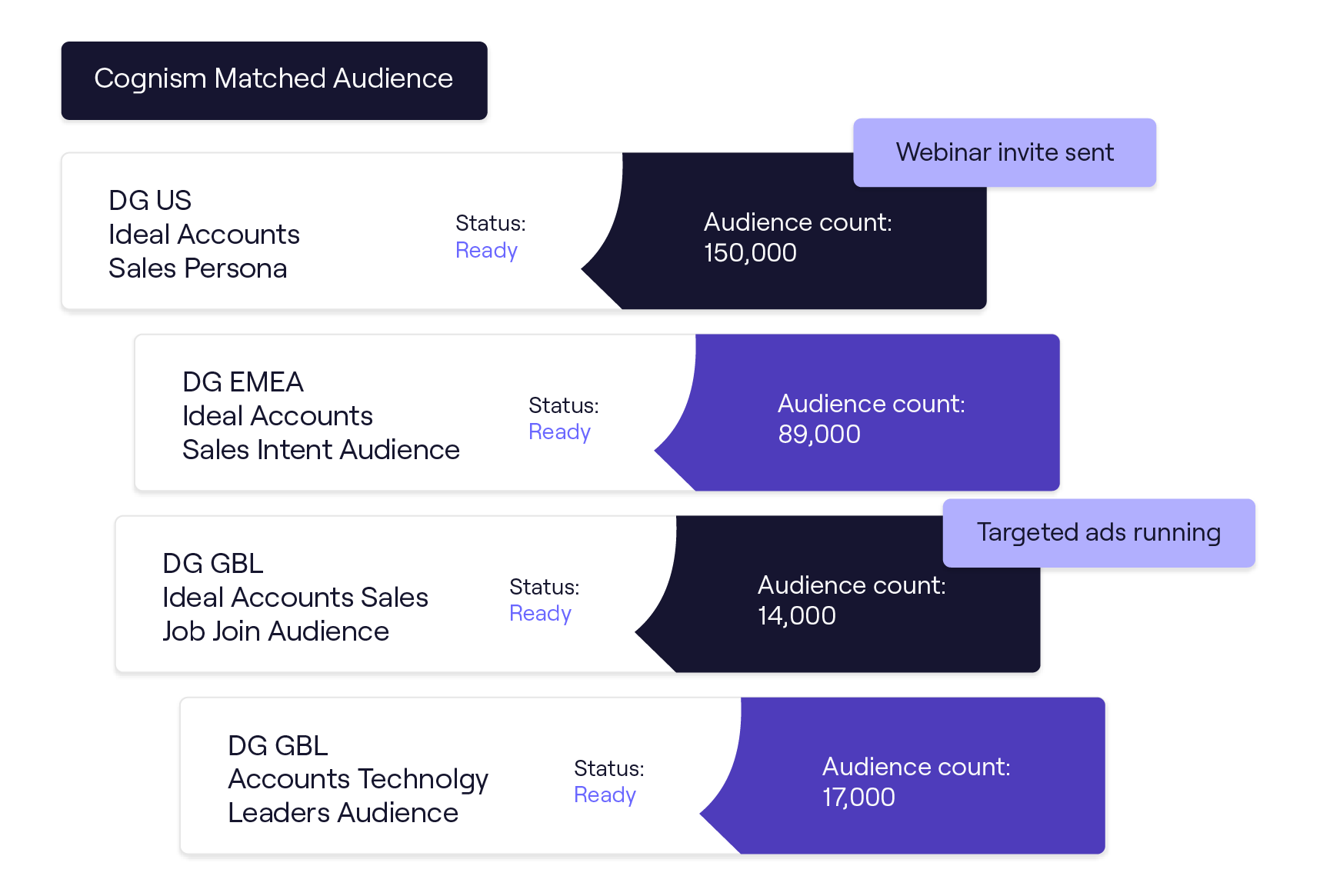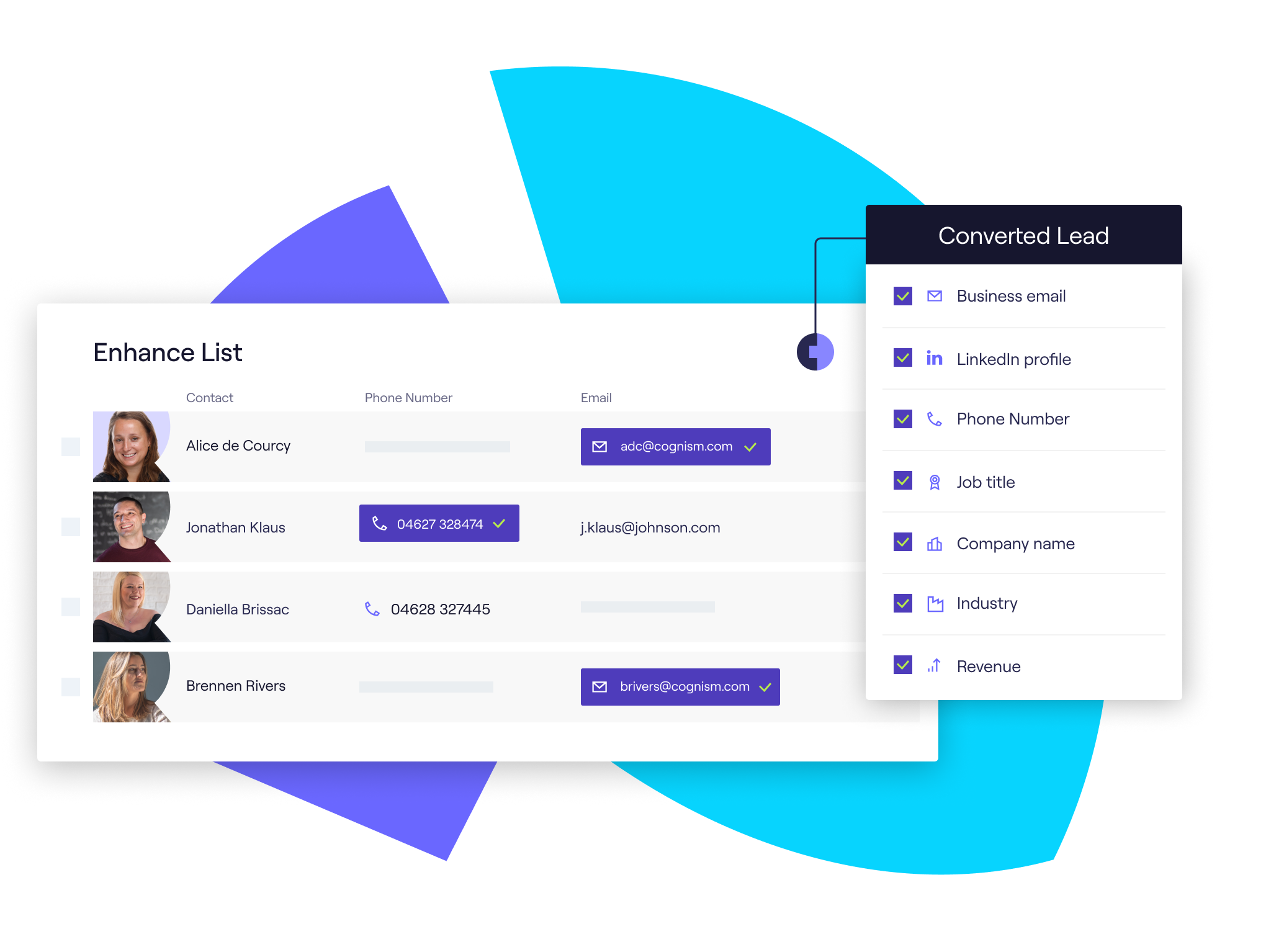 Validate and enrich your data
Turn stale/ incomplete data into actionable intelligence
Do you sometimes feel that you have no choice but to use incomplete data (with little to no success) or delete valuable contacts?
With Cognism you'll be able to:
refresh outdated info as prospects move or change jobs

update incorrect, incomplete, or unusable personal data with actionable business information

enrich your database with missing values and new fields
... all of which helps you improve your segmentation/ prioritisation and enable action.
Find buyers who are likely to buy
Get on the radar of companies searching for your solution right now
Wouldn't it be nice if you could identify which companies show interest in your company or your competitors RIGHT NOW and proactively reach out?
Or target those companies who are growing and have the budget to invest?
Cognism gives you access to contextual data points like hiring, funding, and job join signals so you can make better use of your time, creativity, and marketing budget.
We've also partnered with leading intent data provider Bombora to give you insight into accounts that are in-market so you can intercept them earlier in the buyer journey.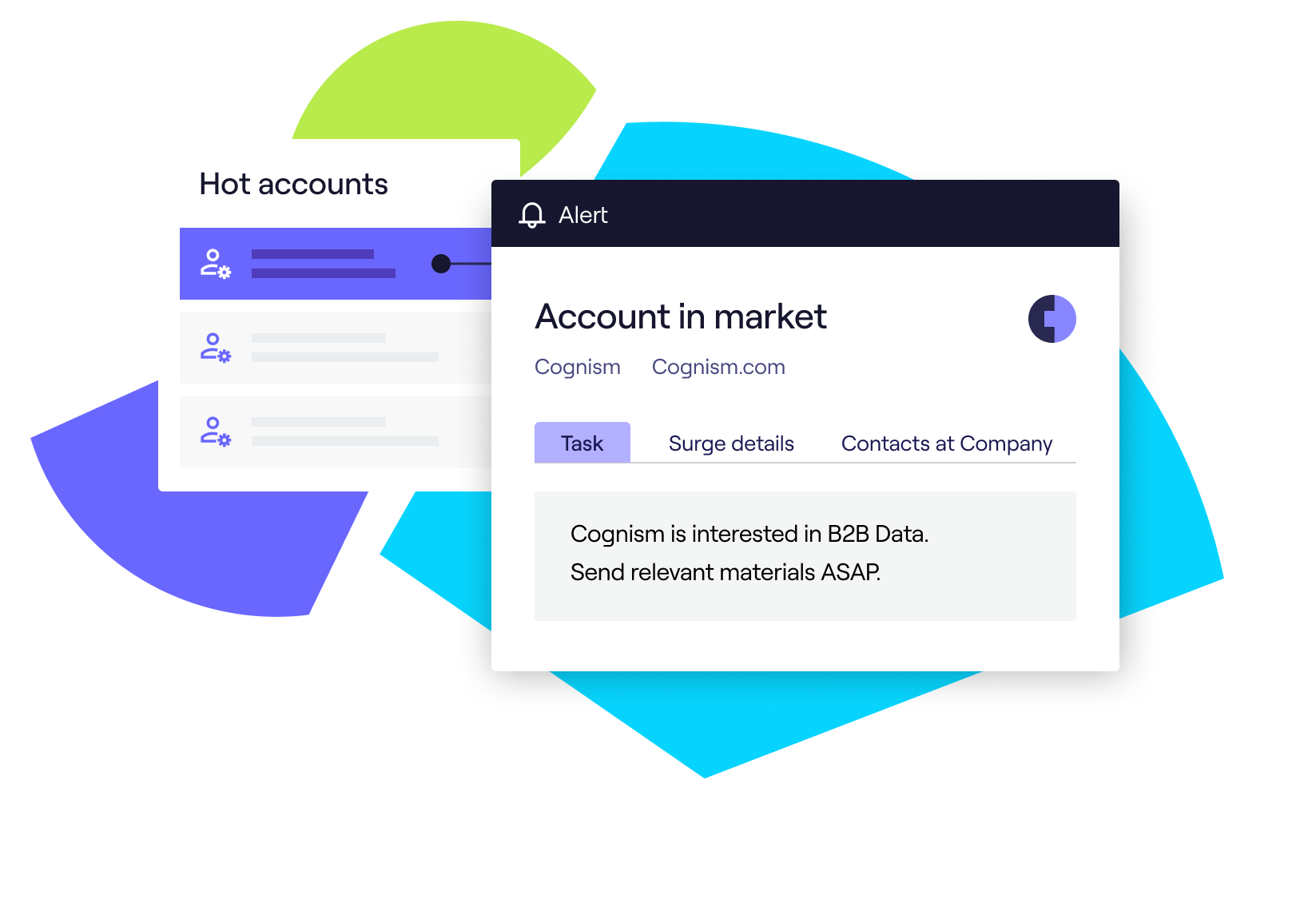 Why did over 1800 global companies choose Cognism?
Quality, complete data
Better deliverability with verified B2B emails
5x higher reach and 7x higher connect rate with 98% accurate, phone-verified mobile numbers
Improved efficiency and more results from fewer calls
International coverage
EMEA, NAM, APAC coverage

Easy international expansion with the most complete data in Europe

Faster, easier connections with the best mobile number coverage in the US
Compliance and security
GDPR and CCPA compliant
Connect with confidence with a notified database, business emails only, and mobile numbers checked against global do-not-call lists
Support and ease of use
Quick setup, low learning curve, and easy adoption

On-demand support and troubleshooting; 30s first live chat response time (on average)
Hear it from our customers
See how marketers generate predictable pipeline with Cognism