9 Clearbit Competitors & Best Alternatives [2024]
Clearbit provides account and contact data in real-time. Many businesses using this vendor benefit from a suite of business intelligence features and company profile insights, such as revenue or technology usage.
But lack of specific tools for efficient prospecting makes users explore Clearbit alternatives. For example, in a recent independent survey, participants mentioned that Clearbit's data quality (especially phone number accuracy) needs improvement.
The increasingly competitive landscape leaves the market open for other data providers to fill that space.
Let's see what Clearbit competitors can challenge it.
1. Cognism
Cognism is a sales intelligence platform with a high-quality contact database. It has contact data coverage in NAM and is a leading data provider in EMEA. Cognism's strength lies in its manually verified mobile numbers database and accuracy.
Cognism also supports the most popular prospecting workflows via its browser extension. For example, you can enrich LinkedIn profiles and Sales Navigator lists with mobiles and emails or look up contact or company data on corporate websites.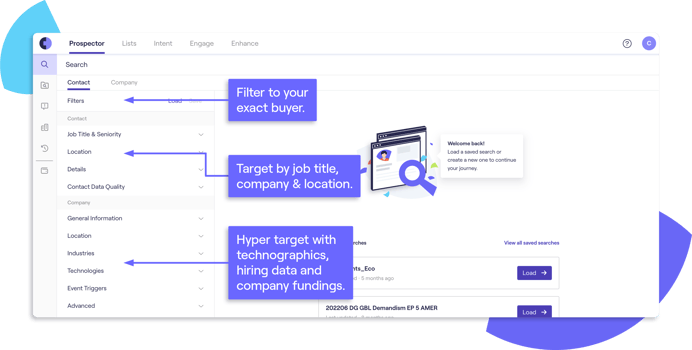 Here's what makes

Cognism the best Clearbit alternative

:

Cognism pricing
All packages offer unrestricted views and page-level exporting (up to 25 records at a time).*

Custom packages are available for teams with operational workflows; these allow for the building and exporting of large lists.
*Within a generous fair use policy
The contacts have been top-notch! They're always the right people we need to speak to (often in the past it was very hit and miss and 90% of the leads were people we wouldn't want to be speaking to). The contact information along with those positions is also very reliable as we're having very few bounce-backs.
QA
Joe Mackay, Marketing Operations Manager
$81k
worth of opportunities in 2 weeks
2. Dropcontact
This is a simple alternative to Clearbit for B2B email enrichment. The provider uses algorithms to generate up-to-date B2B contact data, such as business name emails and company information. However, it doesn't provide cell phone numbers.
Unlike Clearbit, this provider doesn't store data in a database.
Best features
GDPR compliance.

CRM integrations.

Data segmentation and filtering options.
Pricing
Subscription starting at $24/month for 1,000 contacts.
‍3. Reverse Contact
This data enrichment provider claims to be a cheaper Clearbit alternative for email enrichment.
Its core functionality revolves around real-time data enrichment using open-source intelligence (OSINT) methods. It gathers real-time data to enrich professional and personal emails but doesn't provide prospects' phone numbers.
Best features
Lead validation.

Zapier, Make, n8n, Pipedream integrations.

Browser extension.
Pricing
Pay-as-you-go packages start at $200 for 2,000 credits.

Subscription plans start at $99/month for 2,000 credits.
4.
6sense
6sense is an account-based orchestration platform that helps businesses identify, prioritise, and engage with prospects in real-time. It generates insights into buyer intent and behaviour thanks to AI and predictive analytics.
This Clearbit alternative may suit outbound teams who use intent signals to personalise their outreach.
Best features
Advanced lead scoring.

Real-time activity tracking.

Predictive AI in the highest package.
Pricing
Limited free plan.

Tiered paid plans.
5. ZoomInfo
This Clearbit competitor has a large database of professional and company-published profiles.
But ZoomInfo segments its database for specific functions and charges extra for regional and global data. Some international companies find "paying for the different regions like Europe or Asia" hard to justify.
Some GTM leaders voice their dissatisfaction with ZoomInfo's upmarket pricing and lack of innovation regarding the core product.
Best features
Packages for sales, marketing, recruitment, and operations teams.

Good US market data but expensive data passport for global data.

Robust features and integrations.

Proprietary intent data.
Check out our comparison of ZoomInfo alternatives and Cognism vs ZoomInfo page.
Pricing
ZoomInfo licence cost

is available after a consultation.

Tiers for sales, marketing, and recruitment.

Depends on the number of seats, credits, and add-ons.
Cognism defeated all the other lead generation providers by a huge amount. Its database had an 80% accuracy rate and the highest coverage of mobile numbers
Drift
Michael Iannuzzi, Director of Marketing & Sales Developmentcompetitor
6. Apollo.io
Apollo.io is a good alternative to Clearbit if you're looking for an affordable B2B database. It specialises in finding email addresses and executing email campaigns. It limits the number of mobiles in each plan.
Best features
Sequences for emails, calls, and tasks.

Email automation with

email templates

and A/B tests.

AI sales assistant.
Pricing
Feature-limited free plan.

Paid packages are based on credits.

By signing up, you grant Apollo a

license to access and use

your customer-submitted data to improve Apollo.io's data assets.
Check out our comparison of Apollo.io alternatives and our Cognism vs Apollo.io direct comparison page.
7. Leadfeeder
Leadfeeder is often considered a top cloud-based Clearbit rival. It's a B2B intent data platform designed to identify and capture leads based on your ICP as they land on your site.
Best features
Plug-and-play connectors or custom API workflows.

Customisable filtering system.

Lead and opportunity management features.
Pricing
Limited free plan.

Paid plan starting at $139/month.
8. Lead411
Clearbit competitor, Lead411, provides verified contact and account information for building lead lists.
Search for contacts and companies globally is limited to the highest enterprise plan or available as an add-on.
Best features
Bombora intent data.

25+ CRM integrations.

Company intelligence news.
Pricing
Paid plans with a limited number of credits are priced at $900 and $3,500/year per user.

Custom Unlimited plan for unlimited exports.

Multiple add-on features at an extra cost.
9. Sales Navigator
This Clearbit alternative allows you to find prospects and companies matching your ideal customer profile.
It also provides insights about leads such as their job industry, current company, interests and activity on LinkedIn, which help you tailor your outreach.
Best features
Account and lead insights.

Integration with the best prospecting tools, CRMs, and sales software.

Account management features.
Pricing
From $79.99/mo per licence when billed annually.

Custom enterprise pricing.
You don't need to be tech-savvy to use the platform and it seamlessly integrates into the tools you're using already. Best of all, it delivers fast results. Once you've signed up, you'll wonder how you ever managed without it
GWI
Joshua Silvera, Director of Sales Development
90%
reduction in lead list generation time
What is the best Clearbit alternative to get mobile numbers?
If you're looking for an alternative to Clearbit to get accurate mobile phone numbers, Cognism offers 2 x more mobile numbers than other providers. It also has a premium manually-verified mobile dataset with 98% accuracy (Diamond Data®).
Cognism is CCPA and GDPR-compliant and checks mobile numbers against DNC lists in the USA, Canada, Australia, UK and European countries, including Germany, France, Spain, Ireland, Belgium, Croatia, Portugal and Sweden.
Is Clearbit safe to use?
Clearbit says it takes CCPA and GDPR compliance seriously. It even offers users Suppression Settings for Prospector and Enrichment that exclude contact results with EU location data.
When it comes to cold calling, Clearbit doesn't indicate on its website if it checks the do-no-call lists. Why is this relevant?
The Information Commissioners' Office (ICO) has issued fines totalling £180,000 for two companies that made more than 480,000 unlawful marketing calls to businesses signed up with the UK's "Do not call" register.
What Clearbit alternatives are best for lead generation?
The best alternatives to Clearbit combine accurate and compliant contact data with intent data. One of Clearbit's competitors you should consider for lead generation is Cognism.
Thanks to its global B2B database and its partnership with Bombora's consent-based intent data, Cognism lets you generate targeted leads that match your ICP criteria. It also allows you to reveal lead's contact info on LinkedIn and corporate websites and enrich Sales Navigator lists.