14 of the Best Seamless AI Competitors and Alternatives for 2023
Seamless AI is a search engine for B2B sales leads. The tool helps sales teams find ideal customers, build prospecting lists and build a pipeline in real-time.
But is it the best option for your business?
This article compares the best Seamless AI competitors on the market so you can make an informed decision when choosing your next B2B data provider.
Scroll 👇to compare fourteen alternatives to Seamless, including features, pricing, and reviews.
The top Seamless AI competitors on the market right now
1. Cognism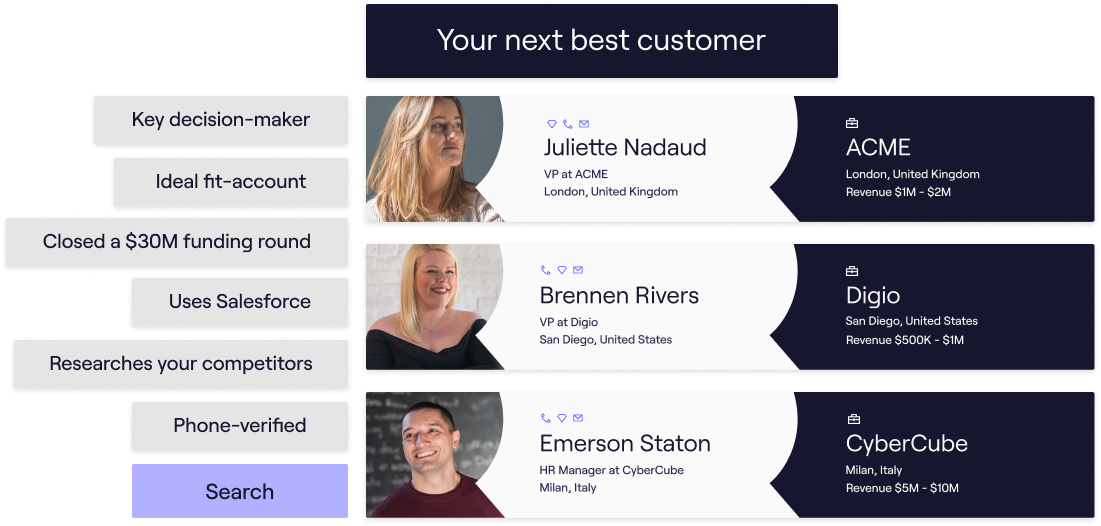 Find the information you need to make fewer calls, contact the most relevant people, and hit quota faster with Cognism. This sales intelligence tool boasts the largest database of mobile numbers in the US and the most complete data in EMEA - making it a fantastic Seamless AI alternative.
Top features:
98% phone-verified mobile number accuracy.
Exclusive on-demand verified mobile data set

Diamond Data®

.
Unrestricted access to person and company-level data.
Intent data by Bombora.
International coverage: EMEA, NAM, APAC.
Easy platform setup.
Integrations with CRMs and sales engagement tools.
Focus on quality GDPR and CCPA-compliant data.
Database checked and cleaned against global DNC lists.
Fast and friendly support team.
What customers say:
"Our sales managers used to make 100-150 calls per day. Now they can achieve their targets with 30 calls a day because prospects actually pick up the phone. That's more results, fewer calls." - Ultima
Pricing:
While pricing is a key factor when shopping for a Seamless alternative, Cognism wants to factor in your desired workflow and company goals before providing a proposal you're comfortable with.
What's more, Cognism offers packages for individual contributors with unrestricted views and page-level exporting.
For more information, check out the Cognism pricing page, or book a demo👇
2. Apollo

(Source: g2)
Apollo is a Seamless AI alternative that helps teams uncover leads quickly and efficiently. While the tool includes valuable features like automated persona lists, it also shares commonalities with Seamless in that data enrichment is only available on higher-tier plans.
Top features:
Free account option.
Chrome extension.
Automated persona lists.
Call recordings.
Pricing:
Apollo.io pricing is set per user per month, and you'll need credits for access to data. You can choose between Free, Basic, Professional, and Custom packages.
You'll find accurate pricing information on Apollo's website.
3. ZoomInfo

(Source: softwareadvice.com)
ZoomInfo is a Seamless AI competitor that provides real-time access to account and contact data. Its suite of business intelligence tools includes detailed company profile insights, including revenue, technology usage, number of employees, and more.
Like Seamless, certain features and credits to view data come at higher-priced packages. Moreover, while they have many features, phone verification or a research on-demand service is not an option.
Top features:
US-focused B2B database.
Suite of tools and add-on packages.
Chrome extension.
Intent data.
Pricing:
You can request ZoomInfo pricing from its website. ZoomInfo's packages follow individual pricing tiers for sales, marketing, and recruitment. Seats, credits, and supplementary tools play a factor in cost.
💡 See how sales intelligence tools like ZoomInfo and Cognism use intent data to identify accounts searching for a solution like yours.
4. Kaspr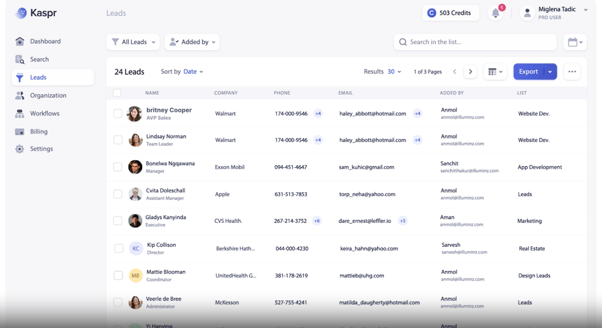 (Source: Kaspr)
Kaspr is another good alternative to Seamless AI. You can use this tool to access emails, phone numbers, and the relevant data you need to convert leads into long-lasting partnerships.
Top features:
Pricing:
You'll find up-to-date Kaspr pricing on its website. Package options include Free, Start Up, Enterprise, and Custom.
5. RocketReach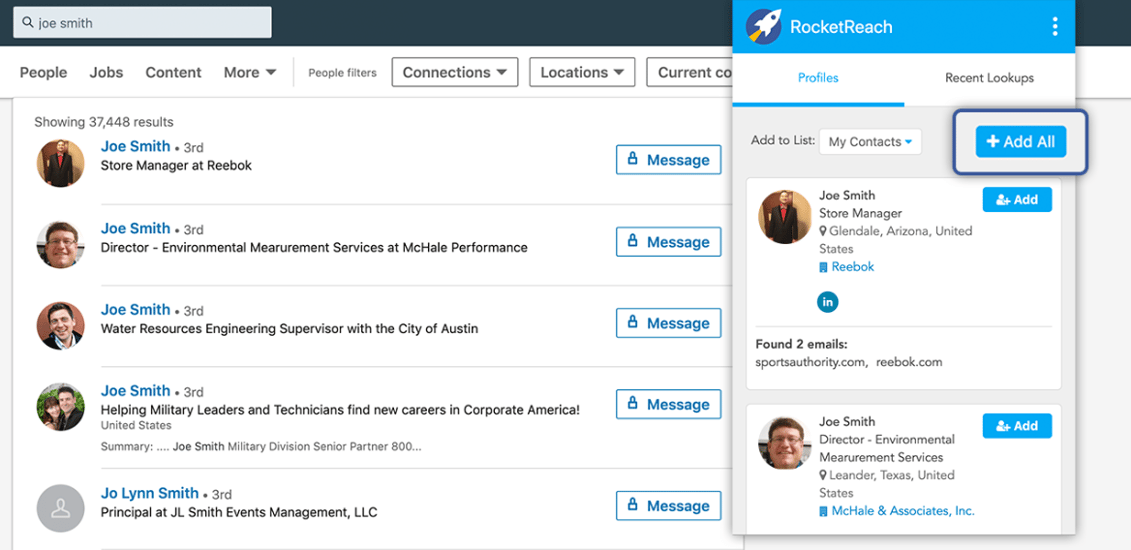 (Source: g2)
RocketReach is a sales intelligence platform similar to Seamless, providing access to a database of emails and direct dials.
Unlike other tools on this list, RocketReach does not offer unlimited searches for all plans. This option is only available for Enterprise packages.
Top features:
Simplified billing and invoicing.
Salesforce & Zapier integrations.
Technographics.
Tools to manage team usage.
Pricing:
Choose from Essentials, Pro and Ultimate email-only plans. Pricing and credits are based per user. You can add direct dials for an additional price.
Request up-to-date pricing information direct from RocketReach.
6. Hunter.io
(Source: Hunter.io)
Hunter.io is an email and domain finder that lists publicly available email addresses and automates email campaigns. It does not offer direct dials or intent data.
While its contact data is not the predominant focus, it's a good Seamless alternative if you want to automate your email outreach.
Top features:
Email searches and verifications.
Domain search.
CSV exports.
Cold email scheduling and tracking.
Pricing:
Choose from Free, Starter, Growth and Business plans. Subscriptions include unlimited team members who share common quotas.
You'll find up-to-date pricing information on Hunter.io's website.
7. Lusha

(Source: Lusha)
Lusha is a Seamless AI alternative that helps teams find contact information for prospects. Its analytics capabilities make it easy to identify leads and measure performance.
Lusha's features are limited, and you'll have to pay more for a package with the features you're business requires.
For example, there is no prospecting list export on the free plan and integration with certain CRMs requires a higher-tier plan.
Top features:
US-focused B2B contact database.
Free option available.
Contact exports on paid plans.
Intent data.
Pricing:
Packages include Free, Pro, Premium and Scale. Pricing is based on credits per user.
You can find up-to-date pricing information on the Lusha website.
8. Uplead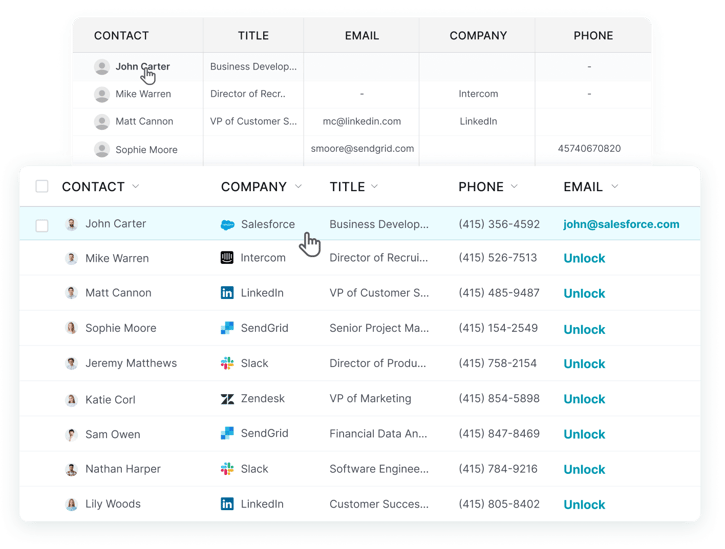 (Source: Uplead)
Another alternative to Seamless AI is Uplead - a B2B prospecting platform where you can find accurate B2B contact data. Contacts are filtered by job title, location, company size, and industry.
One negative about Uplead is that the tool only offers support via an online help centre. What's more, lower pricing tiers only allow one user to log in at a time.
Top features:
Technographics.
Intent data.
Chrome Extension.
Pricing:
Uplead provides annual single-user pricing tiers, including Essential and Plus, and a multi-user package called Professional.
Request precise pricing information for Uplead directly from its website.
9. LeadIQ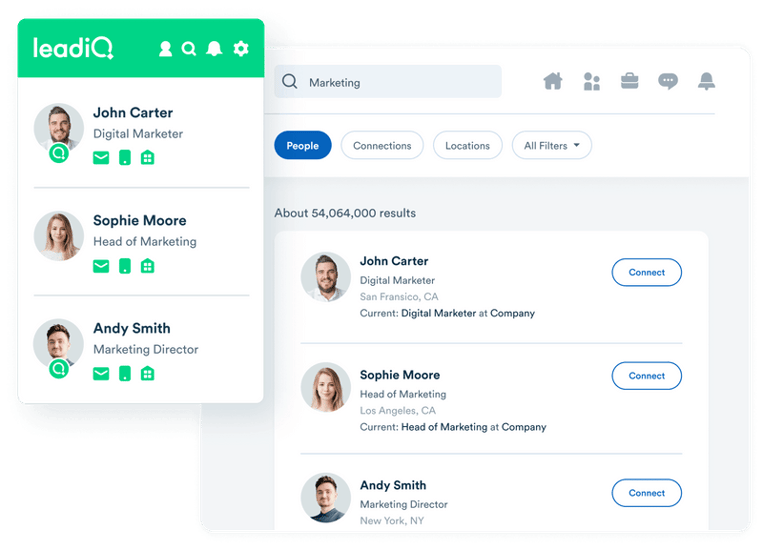 (Source: LeadIQ)
Another Seamless AI competitor is LeadIQ - a lead generation platform that simplifies prospecting activities with automation. LeadIQ integrates with all major CRM platforms like Salesforce.
While integrations are top-notch, LeadIQ is not fully compliant as they are a data processor and controller only. If you choose to use this B2B data software, it is up to you to ensure all data is GDPR compliant.
Top features:
Sales trigger

tracking.
File enrichment on higher-tier plans.
Personalised sales messages.
Outreach sequence sync.
Pricing:
LeadIQ has a free version and individual pricing plans, including Starter, Pro and Enterprise.
For accurate pricing information, request it directly from LeadIQ's website.
10. Adapt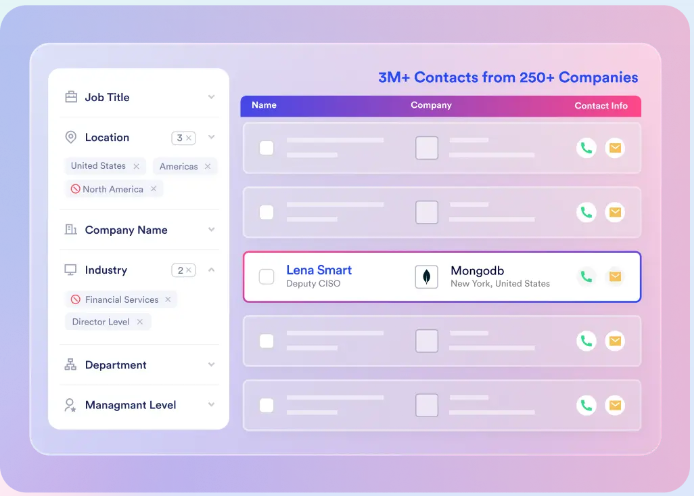 (Source: Adapt.io)
Adapt.io is a data provider and Seamless AI competitor that provides B2B data via easy-to-use software. This tool does not include intent data, and its GDPR compliance status is unclear.
Top features:
CSV and CRM export.
Lead scoring.
Data enrichment.
Chrome extension.
Pricing:
You'll need to fill in a form on the Adapt website to request pricing information.
Wondering why intent data is so important?
Cognism's intent data helped Kelly Services increase their B2B mailing list from 0 to 28,000 contacts:
"Cognism's intent data plays a key role in identifying these companies. Intent gives them the ammunition for a more tailored, targeted approach."
11. Lead 411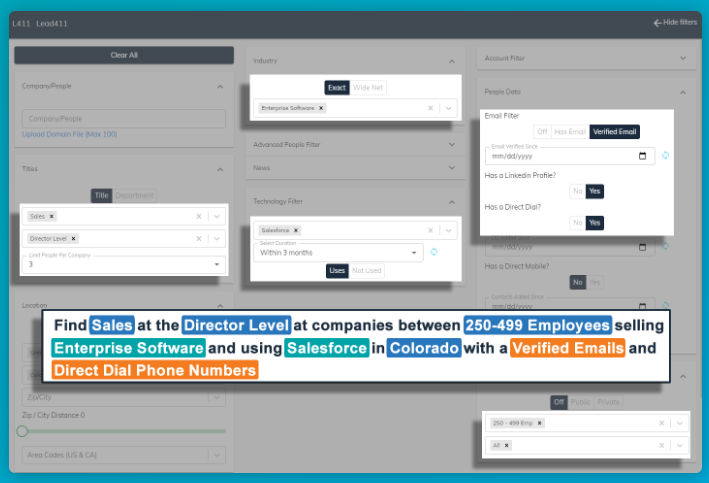 (Source: Lead411)
B2B data platform and Seamless AI competitor, Lead411, provides accurate and verified contact and account information for lead generation.
Something to consider when comparing this tool to Seamless is that it can get quite expensive. Also, customer support is only available via chat on basic plans.
Top features:
Real-time alerts.
Customisable filters.
Segmentation.
Pricing:
Lead411 has monthly and annual plans - Basic, Enterprise and Pro. You'll find up-to-date pricing on its website.
12. ProspectDaddy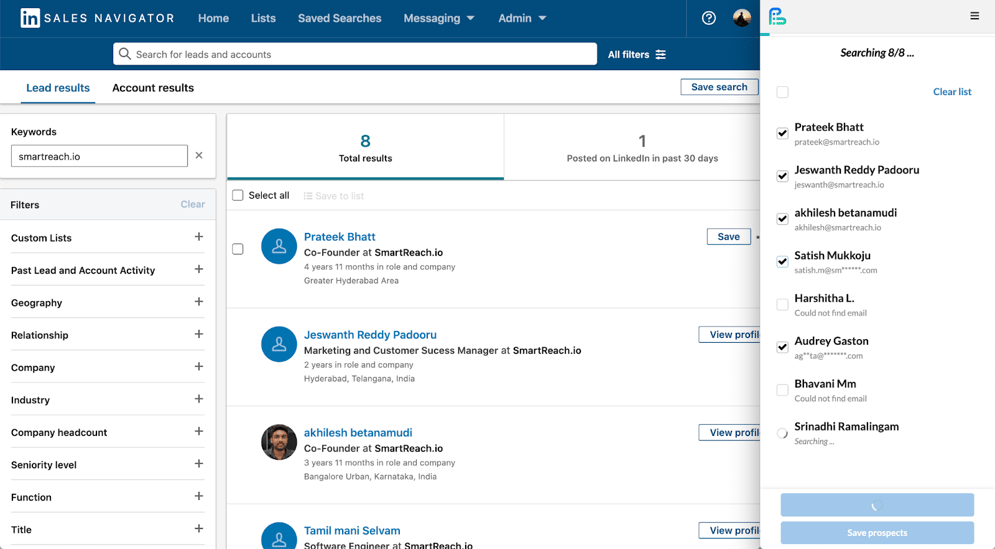 (Source: ProspectDaddy)
ProspectDaddy is a free email finder that helps automate workflows across LinkedIn, Gmail, and SmartReach.io. While it makes this list as an affordable Seamless AI alternative, it's not GDPR compliant, and any information you submit to the tool can be used to supplement its database.
What's more, its data accuracy cannot be guaranteed.
Top features:
Chrome extension.
Free to use.
Download outreach-ready prospect lists.
Pricing:
ProspectDaddy is free to use with 50 email credits per day, and if you're a SmartReach.io user, the limit is 150 emails per day.
13. Clearbit
(Source: G2)
Clearbit simplifies marketing by offering data enrichment, email verification, and reverse IP lookup.
If you're considering this tool as a Seamless AI alternative, be aware that it's a data processor, so it's up to you to ensure all data is GDPR-compliant.
Top features:
Option for free account.
Intent-based outreach.
Chrome extension.
Domain and email enrichment.
Pricing:
Choose from Free, Business and Powered by Clearbit. Each package fits a specific goal, such as email enrichment or flexible plans for a go-to-market team with intent-based outreach and conversion targeting.
You can request precise pricing information direct from Clearbit.
14. Skrapp.io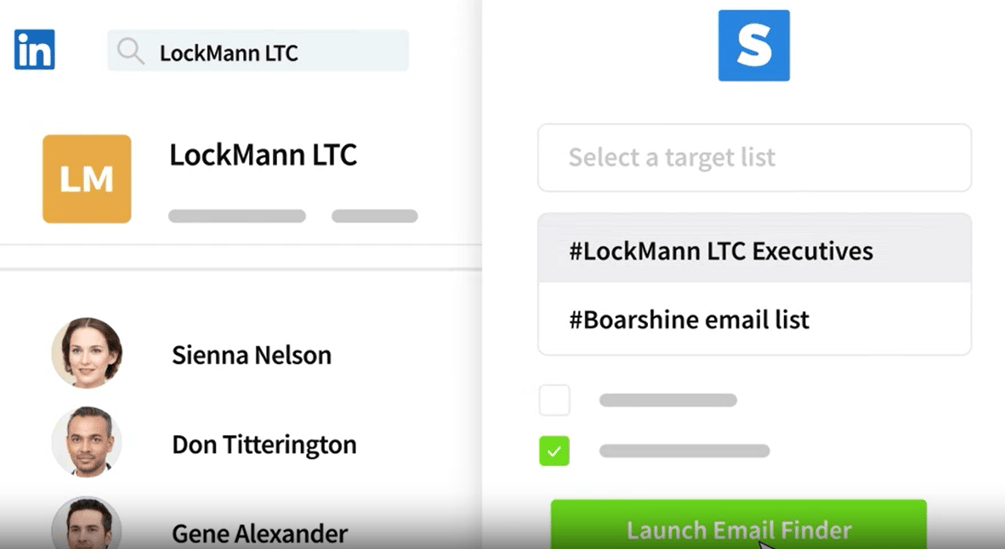 (Source: Skrapp.io)
The last Seamless AI alternative is Skrapp.io - an email finder for B2B sales and marketing teams. Its database comprises publicly scraped data and information collected from its users.
While the email finder is free, you'll need to purchase a monthly package to take advantage of features that are free on the other tools that make up this list.
Top features:
Free email finder.
Email verifier.
Chrome extension.
CSV export.
Pricing:
Choose the free email finder tool or sign up for a Starter, Seeker, Enterprise or Global plan that's billed monthly.
Request accurate pricing direct from the seller.
Tips for choosing a quality Seamless AI competitor
When looking at Seamless AI alternatives, consider if your favourite tool has all the features that are important to your business.
It's also a good idea to compare pricing.
Some sales tools cost more than others but offer better data coverage and features, while some are more affordable but might lack the product your business requires for success.
For example, intent data helps teams discover customers searching for a service or product like yours and are ready to enter the sales funnel.
This might not be an important part of prospecting for you. Instead, you might want a prospecting tool focused on accurate mobile numbers or contact data that's GDPR compliant. Something Seamless lacks.
You might also discover that some solutions, like Cognism, have unrestricted access to data on all plans, while tools like Seamless AI have credit limits.
💡 Find out more about how Cognism vs Seamless AI compares.
Don't forget to check out customer reviews and case studies to better understand how each platform works in the real world and how it compares to Seamless.
Which Seamless AI competitor is the best?
If you're looking for a Seamless competitor that gives you:
✔️ More mobile numbers that go through to the right contacts.
✔️ More confidence when prospecting.
✔️ More targeted leads.
✔️ And more incoming revenue.
Then Cognism is the best alternative to Seamless AI. Click 👇 to book your demo today!