Cognism vs ZoomInfo
How is Cognism different from ZoomInfo?
Access to global data without geographical restrictions (NAM, APAC, and leading EMEA coverage).

2x more cell phone numbers than other providers.

47 million cell phones in the US alone.

Manually-verified cell phone database with 98% accuracy.

16-step email verification process.

Integrations with your existing tech stack, including native Salesforce integration.

Simple, predictable pricing (with unrestricted viewing and page-level exporting of global data in all packages).*

CCPA & GDPR compliance with broader DNC list checks.
*Subject to fair use


Cognism vs ZoomInfo overview
ZoomInfo is a well-known vendor in go-to-market intelligence. Through acquiring competitors, it consolidates tech solutions needed to integrate different steps of the sales process into a single platform.
But prospective buyers notice ZoomInfo's "core product has stood still".
Cognism invests in innovating its sales intelligence platform and improving prospecting data to stay relevant for our customers.
James Isilay, Cognism's CEO and founder, said:
"At Cognism, we want to assure our clients that they can target their prospects in confidence, leaving compliance and data accuracy to us."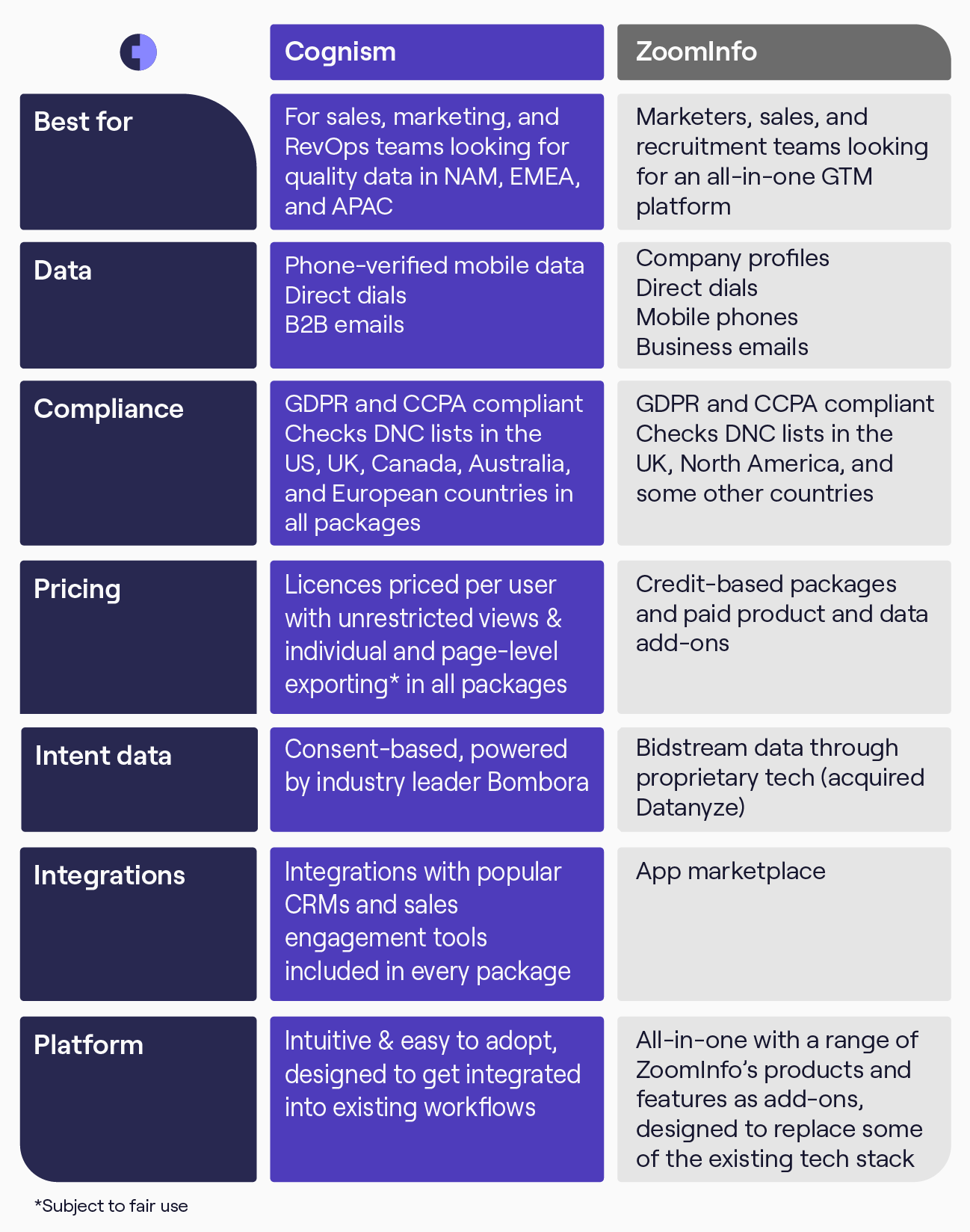 Cognism focuses on data quality, accuracy and compliance (CCPA & GDPR). It has coverage in the US and is a leader in providing EMEA contact data:
2x more cell phone numbers than other providers (47 million in the US alone).

Phone-verified cell phone numbers with 98% accuracy (Diamond Data®).

Verified B2B emails.
Cognism gathers B2B data via its proprietary sources and fills in gaps from third-party data providers, publicly available sources, manual research and strategic partnerships. Cognism processes millions of data points daily to build and maintain its Person and Company profiles and ensure its records are up to date.
Like Cognism, ZoomInfo has robust data-checking processes to ensure accuracy. ZoomInfo labels contact profiles in its database with a confidence score; this denotes the quality of information available.
ZoomInfo also has a network of voluntary contributors through ZoomInfo Community Edition. Its users agree to share their business contacts to help ZoomInfo keep its platform updated in exchange for limited access to ZoomInfo.
Verified cell phone numbers
The main difference between Cognism and ZoomInfo is that Cognism provides premium human-verified cell phone numbers, aka Diamond Data®, available within the platform. Our data research team checks the numbers' accuracy by calling the prospects. The result?
98% accuracy.

20% connect rate (vs 3% industry standard).

7x increase in connect rate.

5x increase in reach.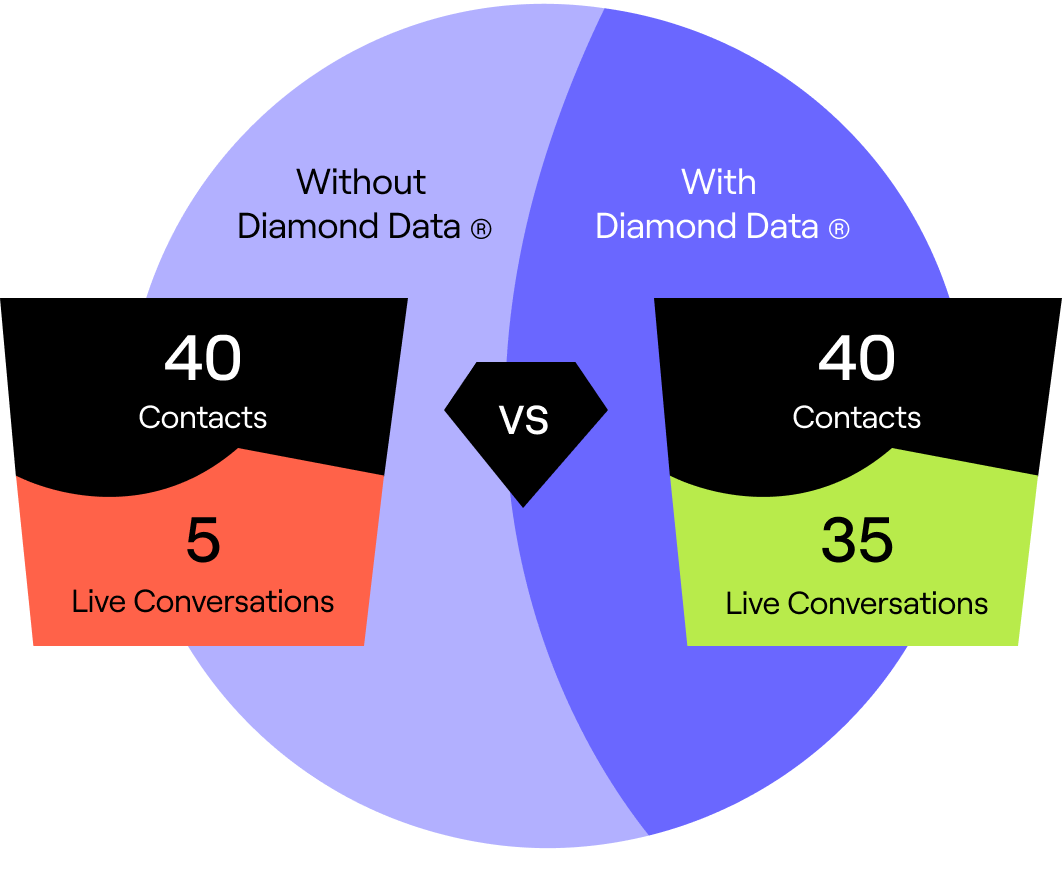 Cell phone number sourcing and verification service
Can't find a correct cell phone number for a decision-maker?
Cognism research team will work to source and verify that information on demand.
The service ensures you can access phone numbers you wouldn't have found otherwise.
It's become the most reliable way for B2B sales reps to run outreach activities since people started working from home.
"Cognism yielded more accurate mobile numbers and email addresses than ZoomInfo. We were sold from that point onwards."
"One of the most useful aspects of Cognism is using the expansive database to experiment with new markets that we wouldn't otherwise have considered."
Joe Allsopp, BDM at Evalian
"Approximately 4,000 leads each month are enriched by our SDR team using Cognism's database."
"Cognism has demonstrated high usage and product adoption across the sales organisation in the initial 30 days."
Michael Iannuzzi, Director of Marketing & Sales Development at Drift
Cognism vs ZoomInfo pricing
Neither ZoomInfo nor Cognism offer monthly subscription plans and require longer-term commitment.
ZoomInfo's pricing is based on a credit system, whereas Cognism licences are priced per user. Credit-based systems with limits on viewing and exporting data, monthly caps and resets often lead to unexpected costs and scarcity mindsets.
Users are focused on tracing credit consumption and developing best practices for credit usage instead of prospecting. Additionally, ZoomInfo offers 'data add-ons' such as Global Data Passport.
Also, ZoomInfo charges a credit for every company and contact export. It means users may use double the credits without realising if the account isn't already in their CRM.
Cognism's pricing model removes these pain points.
Seat-based pricing.




Packages for for individual contributors by offering unrestricted views and page-level exporting (up to 25 records at a time subject to fair use) in all packages.

Custom packages with credits for teams with operational workflows which need bulk-list building and exporting.
No extra charge for access to global data — NAM, EMEA, and APAC.

Access to emails, mobile numbers, firmographic data, technologies, and sales trigger events in all packages.

Access the Cognism Web App, Chrome Extension, and integrations.



Intent data powered by industry leader Bombora

Diamond Data® - Cognism's phone-verified mobile data asset
Intent data: Cognism or ZoomInfo?
Intent data is behavioural data that shows when an account is interested in buying. ZoomInfo and Cognism provide it from two different sources.
ZoomInfo gathers intent data from various sources and uses proprietary machine-learning technology to determine buying signals. It's believed ZoomInfo relies on bidstream data. It is available within the ZoomInfo Powered by DiscoverOrg platform.
Cognism's intent data is powered by an industry leader Bombora. You can access it directly via the Web App and Chrome Extension.
By combining Bombora's buyer intent signals with Cognism's contact data, users can find, prioritise, and connect with prospects who are searching for their solutions and are ready to buy. This allows Cognism users to speed up their sales cycle, improve targeting, and create a more relevant buyer journey.
Identify ready-to-buy prospects
Intent data powered by Bombora
12,000+ intent topics (vs

ZoomInfo's 4,000

).

Consent-based data is collected from a cooperative of 5,000 B2B sites, where B2B buyers search for solutions.

70% of its dataset is exclusive to Bombora.

Considers the historical baseline or typical content consumption when calculating intent.
"The intent piece came at the right time in order for us to meet our 2022 goals."

"Cognism's intent data plays a key role in identifying companies BDM target. Intent provides them with the ammunition to have a much more tailored, targeted approach."

UK Sales Enablement Lead at Kelly Services
Both ZoomInfo and Cognism are CCPA and GDPR-compliant B2B data providers. The key differentiator between Cognism and ZoomInfo compliance is that Cognism scrubs all mobile numbers against broader Do-Not-Call (DNC) lists.
Why is DNC list cleaning important?
If a salesperson reaches out to someone who has opted out of sales and marketing phone calls, they may be accused of not having "the legitimate interests" for contacting that person.
The Information Commissioners' Office (ICO) has issued fines totalling £180,000 for two companies that made more than 480,000 unlawful marketing calls to businesses signed up with the UK's "Do not call" register.
With Cognism, you can hide the number of contacts that opted out from receiving unsolicited phone calls and applied to the national do-not-call registry.
We also don't collect B2C emails and notify our database.
Get more information on Cognism's compliance status from Cognism's Head of Legal, Aksa Kalam.
ZoomInfo vs Cognism integrations
The main difference between Cognism and ZoomInfo's approach to integrations is that we don't try to replace your existing tech stack. ZoomInfo, on the other hand, provides an all-in-one GTM platform.
Cognism focuses on developing a sales intelligence platform that fits your current workflows for sales and marketing. Cognism invests in developing integrations with best-in-class tools and CRMs, such as Salesforce (two-way), Outreach, HubSpot, Pipedrive, Microsoft Dynamics, Salesloft.
ZoomInfo supports a range of integrations through its App Marketplace. But they have invested in developing an in-house full technology stack through competitor acquisition. So their preference might be for prospects to use it instead of external tools.
In an independent survey, some prospective buyers felt that because of adding "more features and functionality to their platform", ZoomInfo's platform "functionality, utility, and usability degraded significantly".
ZoomInfo and Cognism offer Chrome Extensions with similar functionalities. For example, both providers offer two-way integration with Salesforce. Cognism's extension additionally works over HubSpot, Outreach, and corporate websites.
Cognism Chrome Extension
We know where sales reps spend most of their time. We tailored Cognism extension for them to allow efficient prospecting.
Works with LinkedIn and LinkedIn Sales Navigator to enrich profiles and lists.

Works over Salesforce, HubSpot, and Outreach, so you don't have to switch between tools.

Works on corporate websites so you can view company details, tech stack, and key decision-makers without leaving the browser.

Supports multithread sales deals to tap into your prospect's coworkers to find other stakeholders.

Enables individual and page-level data exporting.
"ZoomInfo's plug-in took approximately 20 seconds to load a lead, and more often than not, the contact details were incorrect. This was a productivity drain."

"With Cognism, it's either instant or takes four seconds. The plug-in's velocity enables quick-fire prospecting allowing our salespeople to get on with what they do best - selling!"

Michael Iannuzzi, Director of Marketing & Sales Development at Drift
Cognism vs ZoomInfo—who wins?
NAM & EMEA data provider
Choose Cognism if you're looking for data coverage in NAM, EMEA, and APAC and the best European data. Its Diamond® verified cell phone data will be most suitable for heavy dialer teams.
Unlike ZoomInfo, Cognism prioritises integration with your existing tech stack, making sure the adoption is as easy as possible.
We also ensure pricing is simple and transparent, e.g. we don't charge additionally for regional data.
The best thing about Cognism's data is its versatility. You can find decision-makers for bulk emails as well as develop highly targeted cold calling lists for ABM campaigns. It provides contact and contextual data through partnerships.
Cognism and ZoomInfo supplementing each other
If you don't want to compromise, perhaps you should look into both.
Having two data providers is one way to stay ahead of the game.
Many high-performance revenue teams use Cognism in the UK and ZoomInfo in the US.
Invest in multiple data providers to ensure they have all of their target markets and required data points covered.
All-in-one prospecting platform
ZoomInfo is a known provider in the US. Like Cognism, it's CCPA and GDPR-compliant. Choose it if you're looking for an all-in-one solution and a vast product range for prospecting and sales automation. If you're looking for mobiles, Cognism may be a better choice than ZoomInfo.
ZoomInfo's pricing model is based on credit consumption and add-ons, e.g. Regional and Global Data Passports, to unlock data across different markets. It drives up among your team. Cognism removes this barrier by offering access to global data in all packages.
Explore our self-guided tours