5 Best B2B Contact Database Providers for Sales and Marketing
At Cognism, we often speak to businesses that want to expand their target audience or break into a new region. We also hear from reps frustrated with the lack of quality contacts for their campaigns.
Why do they turn to us?
Because most companies nowadays cannot function without a reliable B2B contact database. And Cognism is one of the best business database providers because we have a zero-tolerance policy on stale or incomplete data.
In this article, we'll show you which B2B database providers are worth considering.
What is a B2B contact database?
A B2B contact database is a systematized set of information about companies and their employees. It usually stores business phone numbers and email addresses but can be enhanced with internal and external data sources, for example, intent data.
A company contacts database can help you identify companies in your TAM and the most valuable prospects in your target accounts. Then, you can leverage the business leads database to deliver more personalized, relevant, and successful campaigns.
The best business contacts databases focus on:
Complying with privacy laws

Verifying contact data

Providing unrestricted access to B2B contact data

Expanding data coverage

Integrating with leading SDR tools

Easy setup

Providing additional functionality, like intent data and sales triggers
Let's quickly look at what B2B database providers make the mark.
Cognism's B2B contact database stands out amongst its competitors in terms of accuracy and compliance. Our Diamond Data has gone through an extra layer of phone verification. It results in 98% of accuracy and an increased speed to connect. You can also request to verify cell phone number for your most valuable prospects on demand.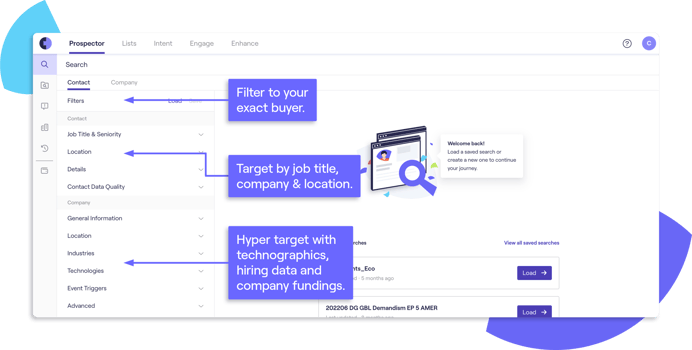 Why is Cognism the best B2B contact database provider?
2x more mobiles than other providers (47 million mobiles in the US alone).

Mobile phone numbers verified manually

(98% accuracy).

CCPA & GDPR compliance.

Notified B2B email addresses.

Unrestricted access to person- and company-level data*.

Global markets coverage (EMEA, NAM, APAC).

Seamless integrations with CRMs, Salesforce, Hubspot, SalesLoft, Outreach, etc.

Intent data powered by Bombora and sales triggers.



Cognism Chrome extension that works with LinkedIn, Sales Navigator, and directly on corporate websites, etc.
*Subject to fair use policy
Seat-based packages suitable for individual prospecting and operational workflows with list building.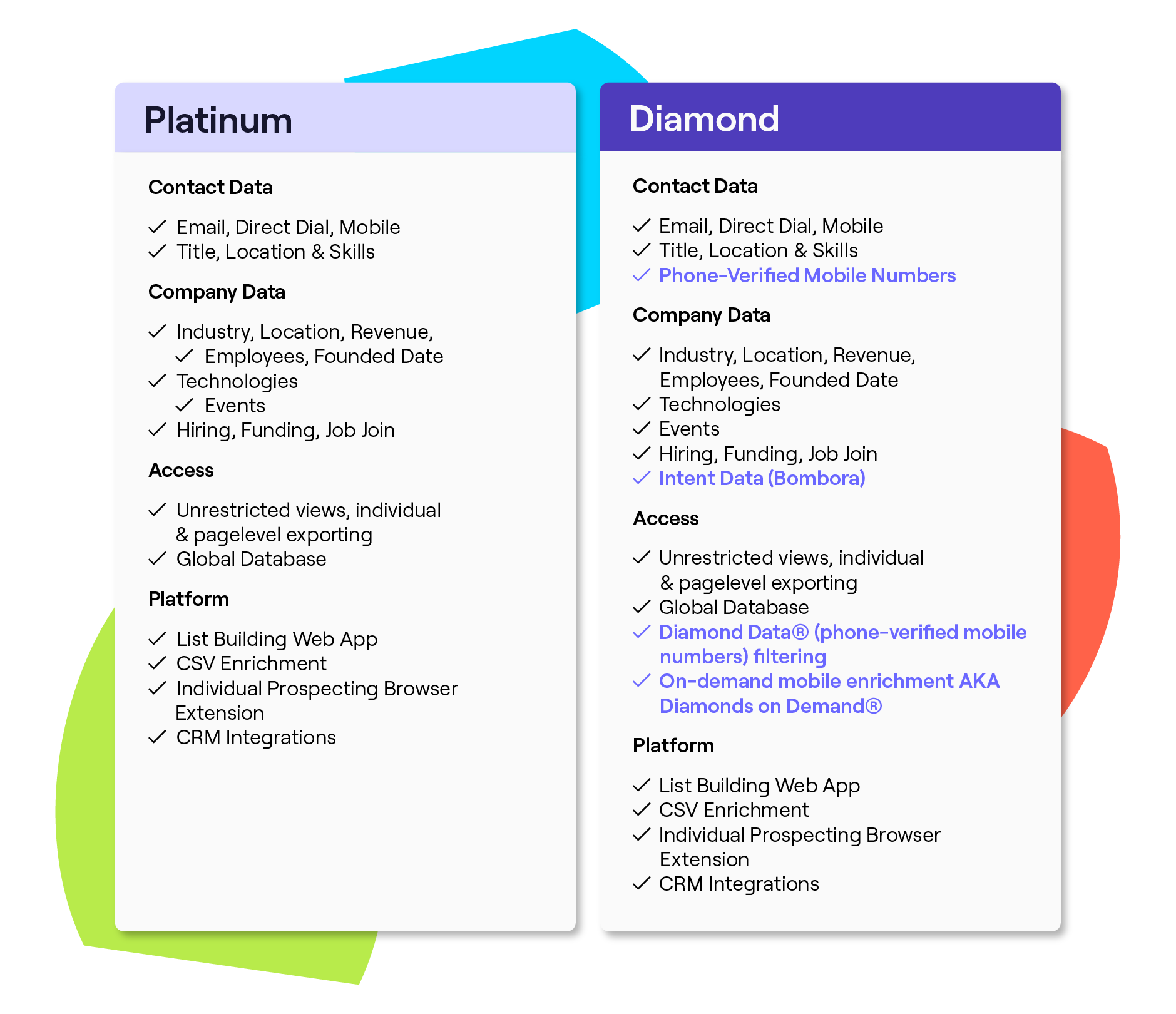 As a sales rep, I don't have to worry about the quality of data affecting my ability to hit quota. This saves a huge amount of time and enables me to book 80% of my meetings through Cognism.
SaaSLeads
Jack Vesztrocy, Sales Development Representative
80%
of demos booked with Cognism leads
£0.8 million
Cognism-influenced revenue

2. Kaspr
Kaspr is a B2B prospecting tool for recruiters to find talent's accurate contact data and SDRs to save time on their lead generation. With Kaspr's LinkedIn Extension, you can retrieve GDPR and CCPA-aligned phone numbers and emails. The data can be enriched in the dashboard and sent directly to your CRM thanks to multiple integrations.
Top features:
Correct contact data
Supports individual contributors working in sales or recruitment
Contact enrichment from a LinkedIn group or a post
Basic integrations with Hubspot, Pipedrive, Lemlist, and limited Salesforce exporting functionality
Kaspr pricing:
Free plan available

Paid plans at 30 EUR and 45 EUR a month

Custom plans available



💡 Find out more about the differences between Kaspr and Cognism.
3. LinkedIn Sales Navigator
It's best for generating B2B leads on the LinkedIn platform and reaching out to them via phone, email, or InMail. You can use its filtering options to target the best audience and see their public page, activity, and mutual contacts that can help you connect.
Top features:
Advanced lead recommendations based on your sales preferences and search history

Custom buyer interest alerts

Usage and ROI reports for sales insights

Integrations with B2B sales tools (SNAP, Outlook web, Sales Navigator mobile app, Cognism Chrome Extension)
Pricing:
Free trial available

Paid plans at $99.99 and $169 per user per month

Custom pricing
4. ZoomInfo
ZoomInfo is a sales intelligence platform that helps you research company information and find B2B contacts in your niche. It enriches the data with insights into their intent for an extra cost. It's a global leader, but if you're targeting Europe, mobile phone numbers may be in short supply, and you may exhaust their business contact database after a while.
Top features:
All-in-one solution for revenue teams, including chatbots and web-tracking

Quick and advanced search options to build broad or targeted campaigns

Automated sales plays to monitor market signals

ReachOut for Google Chrome Extension to access ZoomInfo data while on LinkedIn and corporate websites
Pricing:
Custom plans and packages
💡 Check out a list of ZoomInfo alternatives and competitors.
Approximately 4,000 leads each month are enriched by our SDR team using Cognism's database.
Drift
Michael Iannuzzi, Director of Marketing & Sales Development

5. Lusha
This B2B marketing database can be a good option for smaller teams due to its pricing. You can start for free and upgrade your plan as you scale. Like other companies on the list, it has a Chrome extension to discover business contacts and integrates with a mix of CRMs. Some companies use both Lusha and other providers to complement one another.
Top features:
Easy prospecting platform with standard filters

ICP lists export and management options

Credits management and analytics

Integrates with popular CRMs (Hubspot, Zoho, Pipedrive, Bullhorn)
Pricing:
5 free credits

Paid plans at $29 and $51 per user per month

Custom pricing available
What's the best way to build a B2B contact database?
The way in which you source business contacts for your database depends on your company's size and resources. Many companies find manual research too much of a hassle and decide to automate it.
The best way to build a B2B contact database is to use reputable sales intelligence platforms like Cognism or ZoomInfo. This type of tech ensures your data never degrades.
For example, Cognism Chrome Extension lets you find your leads' business emails and direct mobile phone numbers directly in your browser. The data is DNC-cleaned and GDPR-compliant so that you can reach customers in Europe, the USA, and the rest of the world.
What's more, the data is replenished every day so contacts are constantly being updated.
The Cognism platform lets you organize your data so that you're notified when your target company undergoes changes, such as staff changes, acquisitions, and financial results. With an up-to-date B2B contact base like this, you can spot opportunities early and use them to close deals.
Sounds too good to be true?
THG Ingenuity Cloud Services, a UK-based IT company, asserts the claims! It used Cognism to increase its revenue and decrease contact list-building time by 99.5%.
Listen to Stevie Howlett, Head of Global Sales Development at THG Ingenuity, explain what challenges the company solved by using Cognism data.
Why does your business need a B2B contact base?
Thanks to compliant and clean B2B contact data, you can deliver targeted advertising campaigns. They engage the right people, influence their purchasing decisions, and increase conversion rates.
It helps data-driven marketing teams to target the right audience with the right messaging and enhance workflows to improve alignment between marketing and sales teams.
Marketers can also use their in-house corporate contact databases to identify more ideal customer profiles and increase their campaigns' reach.
Should you buy a database of marketing contacts?
The short answer is no. You should not buy a database for marketing. Buying sales lead lists online involves some serious risks. Contact databases for sales often violate compliance regulations. The contacts on the lists are low quality and not exclusive to your company.
It results in unpredictable revenue, and your company may get a bad reputation in your industry. Investing in sales intelligence solutions to create your own targeted database is a better option.
Where to find business contacts for your database?
You can get basic information about your contacts from multiple sources. For example, people share their personal and organizational data on LinkedIn, Twitter, and company websites. You can research this available information manually for free. But it's time-consuming and you have no guarantee that the B2B data you gather is up-to-date.
There are also many B2B data providers and lead generation companies selling B2B data lists. But not all lists are made equal—they differ in terms of data quality, compliance, freshness, cost, and more. All of these factors influence how accurate your targeting is and your ROI in the long run.
Some sources hide customer data from public view, e.g., paywalled websites, DaaS providers, and financial and sales intelligence platforms. You can access their rich B2B contact databases via subscription, permission, or payment.
How much do business contact bases cost?
As you may have guessed, the best contact database providers are not free. Their price varies per software and depends on various factors, such as:
The number of B2B contacts

Their accuracy

Coverage

Filtering options

Lead scoring

options

Direct dials

availability

Compliance with local regulations

Integrations with other tools

Ease of use

Customer support
💡 It might be tempting to buy a contact database, but are many risks involved in buying lead lists.
How to improve your B2B marketing database?
Marketers have access to an increasing volume of information about their leads. But it is not the number of company contacts that will ensure the success of your campaigns.
It's the B2B contact data quality that counts.
You can enrich basic B2B marketing data with different types of data, such as the following:

Demographic data

related to personal and geographical characteristics, such as name, age, email address, direct phone number, location, employment history, and skills.

Firmographic data

based on company information, including company name, its location, industry, number of employees, and revenue information.

Technographic data

related to tech stack employees or the organization use.

Chronographic data

related to the events and changes that occur as time progresses, e.g., company location move, job join, leave or hiring, funding, acquisition, company IPO, and event appearances.

Intent data

is used to track users' online behavior and predict their intent to purchase based on the content they engage with.
What's the use of all this information?
For example, when your SaaS marketing team gathers lead details from people who downloaded your piece of content, it's not enough to personalize outreach or deliver nurturing campaigns. B2B data providers, like Cognism, fill in all the gaps and take the guesswork out of planning.
The best thing about combining all those types of information in your marketing contacts database is its versatility. You can easily identify key decision-makers and influencers to launch an email campaign. Or develop highly-targeted ABM campaigns.
💡 Find out more on how to enrich B2B data in your organization.
How to tell your database for B2B contacts is out-of-date?
With a lot of B2B data, it's easy to pollute your sales leads database. It can negatively affect your organization and revenue because it's not pointing in the right direction. But there are telltale signs that indicate it's time to update or refresh it:
CRM records missing important information

CRM is full of duplicates

Decreasing cold call success rate

Increasing email bounce rate

Difficulty building relationships with prospects

Difficulty personalizing the customer experience

Frustration within your team

Drop in productivity
It's natural that information in B2B contact databases degrades. People change jobs every day. Companies get acquired. Financial results change, and more. But it's not necessarily a bad thing—
Constant change is also an opportunity you can grab!
When another company acquires one of your customers, you can try to close an even better deal. Or when a company hires a new C-level manager, you can be the first to reach out!
You can profit from a contact database that's updated in real time. Find out how Cognism can help you track customer profiles against different data points and register for a demo 👇