12 Sales Triggers That Convert Leads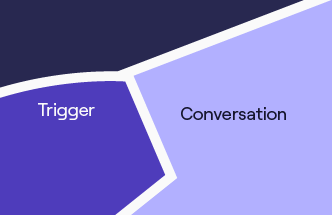 Are you using sales triggers effectively? Or are you missing a trick?
If you're not sure, then read on. You'll find out how to spot a potential trigger, and how to use them to your advantage.
What is a sales trigger?
Sales triggers (buying triggers, marketing triggers, or conversion triggers) can be defined as any event that could create an opening for contact with a prospect.
In some cases, this will be an entirely new interaction. In others, the trigger could mean reviving a prospect that has gone cold. Not using them means missed opportunities.
But, with a bit of research, you can become trigger happy in no time.
Trigger 1: New C-Suite executives
If a company you're B2B prospecting to appoints a new executive into a decision-making or strategic role, then this could be a signal to make your move.
New executives are likely to want to make their mark quickly, and won't be held back by corporate baggage. If your product or service could help to create a strong position, then they could be open to a discussion. It's worth taking some time for research.
Find out about the background of the new appointee. Think about whether the appointment could signal broader changes in the organisation.
The more you know about the circumstances of the new C-Suite and its strategic direction, the better.
Trigger 2: Company performance
Markets fluctuate, and company performance can change. Watch out for any particularly good or bad results for your prospects.
If a company has performed badly over a quarter, then your outbound sales software could help turn things around.
If they've performed well, then they're likely to have more money to spend on products that could help them even more. Follow company filings, share prices and analyst reports to see when you might be able to step in.
Trigger 3: New funding
New funding for any company is a clear signal that there is more money to spend. And what better way to spend it than on your offer?
Reach out confidently and early, demonstrating how you can help them meet their objectives.
This might be particularly useful if budgets were a previous barrier. An increase in available funds might signal a willingness to continue earlier discussions.
Trigger 4: Sector announcements
New products and services are coming to market all the time, and should give you a signal to jump. If your prospect announces a new offer, it could mean that they are venturing into a new area.
This might also mean that they'll need new or different types of support. Could your organisation help them reach their goal?
If your prospect's competitors make an announcement, it's likely that your contact will want to respond, and fast.
Could your product or service help them? If you answered yes to either of those questions, then use these announcements as your trigger.
Trigger 5: New legislation
Changes in legislation can often mean that business processes need to adapt. Anyone who uses personal data within the EU will know all too well the type of changes that GDPR is demanding.
If you can provide a solution to the challenges created by new legislation, then step in. Open the conversation with useful marketing material demonstrating your knowledge of the subject. And make sure to follow up with how your solution will help.
Trigger 6: Hiring strategies
Have you noticed a change in recruitment strategy of the company you are prospecting? This might be taking on new talent, hiring for new roles, or laying people off.
Whatever the change, it's likely to signal other internal developments. Could it be a new operating model? Or a new direction? Study the changes and identify where your product or service could provide solutions.
Trigger 7: Conferences and events
Most sectors will have regular conferences and events. Make sure you know when these are, what topics they cover, and which of your prospects will be involved.
This is a clear data driven marketing trigger. Should you have a presence at the conference? Or can you use the event to promote the support you offer?
Trigger 8: Major industry developments
Like legislative changes, major developments within an industry will mean that all companies will need to adapt. Think about the opportunities that the sector developments could open for your organisation.
Is extra support or guidance needed that you can provide? Or can your products or services deliver a solution to new challenges?
Trigger 9: Company relocation, expansion or merger
When a company moves offices, shrinks, grows, or merges with another, B2B lead generation opportunities are created. A merger, acquisition or expansion might mean that you can extend your offer to new parts of the firm.
Existing contacts might act as champions for your company, creating new prospects. And office moves might call for different types of support. Do your research to find out how your offer can help.
Trigger 10: Changing job role or title
Don't lose the contacts you have built just because they change roles. If they stay within the organisation, then the move might mean opportunities for you. They may be able to extend the use of your product or service in their new role or department.
Or they might become a champion for your organisation in another part of their firm. If they move to a new company, then the opportunities should be clear. Reach out with congratulations, and find out how you can continue to work together.
Trigger 11: Evidence of interest
Social media makes this one possible! Look at the kinds of areas your prospects are posting about.
Are they interested in particular types of product? Are there common areas that you can connect over? Are they expressing dissatisfaction with one of your competitors?
Following the social media activity of your prospects will give you invaluable intelligence.
Trigger 12: Celebrating success
Everyone loves a celebration! Keep track of industry awards and make sure you know when a prospect receives recognition for their success.
Get in touch as soon as possible, not with a hard sell, but as a way of building a relationship. Reaching out when your prospect is on a high could lead to more!
How to detect sales triggers
Success depends on how well you track these triggers. This takes work. But, luckily, there are several tools on hand:
You can set up Google alerts, to track news about your prospects and their industry sectors.
LinkedIn is an excellent resource, for both individual prospects and company news.
Sign up to company newsletters for early insight into appointments, products, and other events.
Do a regular scan of industry news, to keep up to date with developments.
Gather intelligence from sector analysts, to track company performance. Look at company filings and annual reports.
And keep an eye on any new funding awards, through Cognism's sales intelligence software.
If you want to use sales and marketing triggers to improve your results, talk to Cognism!
Our buyer intent data and sales trigger events help start conversations with accounts primed to buy and engage with empathy.
Register for your demo today 👇