What is a Go to Market Strategy? Easy Step-by-Step Guide for 2023
Are you looking to launch a new product or service?
Then you need a go to market strategy!
But what does go to market mean, and how can you use it to ensure maximum sales and customer satisfaction?
We explore all this and more below. Let's go 👇
What is a go to market strategy?
A go to market (GTM) strategy is a plan that helps businesses position a new product or service for launch, define their ideal customers, and coordinate messaging.
Designed to mitigate the risk of introducing a new product to market, a typical GTM strategy includes target market profiles, a marketing plan, and a concrete sales and distribution strategy.
Who needs a go to market strategy?
Anyone who finds themselves in the following three situations needs a GTM strategy:
Launching a new product in an existing market.
Launching an existing product in a new market.
Testing a new product's market for growth.
Why is this relevant for individuals and companies in the B2B space?
GTM strategies provide the information companies need to effectively position themselves against competitors, create scalable inbound and outbound models, and leverage appropriate tactics to achieve their goals.
Launches usually fail when businesses assume a market need for a product and invest in its development without gathering this information.
6 benefits of using a go to market plan
A good B2B go to market strategy helps business owners and their sales and marketing teams launch a product or service into the right markets quickly and efficiently.
It helps define target customers, develop an effective marketing plan, and create a scalable sales and distribution model.
Ultimately, this should result in the following go to market benefits:
1. Increased revenue
A well-crafted GTM plan boosts B2B sales over time.
By understanding your target customer and their needs, you can create products that will be highly valued and generate more revenue.
2. Improved brand recognition
An effective GTM plan should include marketing tactics to increase brand recognition.
This will help customers quickly identify your product or service and also help build trust in the market.
3. Reduced cost
GTM planning is a great way to reduce costs associated with launching a new product or service.
You can avoid wasting time and money on tactics that don't work by planning and having a clear strategy for success.
4. Increased efficiency
A GTM plan can help your team work more efficiently by setting clear goals and outlining the steps needed to reach them.
This will result in better use of resources, improved customer experience, and faster time to market for increased profits.
5. Improved customer relationships
A GTM plan will help you establish customer relationships and build trust in the marketplace.
When you understand your customer's needs, you can provide quality products that create a positive brand image. Plus, the more trusted your brand, the more loyal your customers are.
6. Competitive edge
An effective GTM strategy can give you a competitive edge over other businesses in the market as you'll be better prepared to launch new products and services.
Additionally, it can help your team identify potential opportunities and set a clear path towards growth.
What are the different types of go to market strategies?
The two main types of go to market strategies are sales-led and product-led.
A sales-led GTM strategy uses B2B marketing to drum up interest for a product, capturing it in content and demo forms. A product-led GTM strategy uses the product to acquire and retain users.
In a sales-led approach, salespeople reach out to prospects to convert them into customers. This is the GTM strategy that Cognism and countless other B2B SaaS companies use.
Choosing the right B2B data provider is crucial for its success in a sales-led strategy. Accurate and compliant B2B data ensures your teams are targeting the key audiences in core markets.
Consider a globally compliant B2B data provider like Cognism. Book a demo to learn more 👇

In a product-led approach, the product serves as a salesperson by providing so much value the user can't help but upgrade their package. Calendly and Slack are great examples of product-led growth in action.
6 steps to building a go to market strategy
Successfully launching a new product or service requires planning and strategic thinking. Follow this six-step go to market strategy framework for the best success:
1. Define your ICP
Your ideal customer profile or ICP comprehensively describes your perfect customer.
The kind of customer who can find massive benefits from your product or service while also being able to give you enough value in return to make your business profitable.
In most cases, this will be the ability to use your product to boost their bottom line, but there could be other benefits, such as:
Reducing costs.
Driving efficiency.
Improving the productivity/well-being of staff.
In return, your ICP delivers value back to you through revenue. They may also provide referrals, customer insights, and testimonials.
To develop your ICP, you need to know:
Who they are.
Where they work.
What kind of day-to-day challenges they face.
And you'll need accurate, up-to-date B2B data to help you achieve this.
Poor quality data will result in your teams targeting the wrong people. Quality data through popular B2B contact databases like Cognism or ZoomInfo ensures your teams create data-driven marketing and sales plans for the right people, resulting in faster growth for your organisation.
💡 Discover how to use a tool like Cognism to find and connect with net new prospects in assigned verticals faster.
2. Research your competitors
Understanding where your product or service fits in the existing landscape is key to any GTM strategy.
That's because learning about what your competitors offer and recognising the value they add helps position your product.
Start by assessing their G2 reviews page and filter by relevant business segments - for example, SME, mid-market, or enterprise.
This allows you to determine what potential customers like and dislike the most about competitors' platforms and what truly resonates with your ICP.
It's also worth considering how macro and micro trends could impact your launch now and in the near future.
Doing this helped Cognism differentiate itself in the market.
While other B2B data providers had to adapt to the introduction of GDPR in 2018, Cognism built compliance into its platform.
As a result, it's one of our key value props, threaded through all of our content and collateral.
3. Develop your messaging
Effective product messaging for a go to market sales strategy boils down to this:
Communicating the value of your product or service to your ICP in a way that resonates with their pain points.
And to be able to do this, you need to speak their language.
Start by listening to Gong recordings of sales demos with prospects or shadowing sales reps live. Pay attention to the language they use about their pain points and ambitions.
In Gong, you can also search for specific competitor names and review how prospects perceive them.
You can support this by taking words and phrases from case studies/G2 reviews and building your messaging around them.
Next, you need to understand your competitors' messaging on their sites and review how they position their product offerings. With this info, you can define your USP and how it compares to the competition.
Once you have this, you need to develop a brief for executives, including the key takeaways about your competitors' positioning compared to yours.
Here, you must lay out which personas you'll speak to and how to address them.
Finally, to set your messaging in stone, you need to organise a call with key company executives and come to an agreement.
It's worth noting here that there may be a lot of changes before you get to the finish line, particularly with input from your CEO on both messaging and product naming.
Follow this process 👇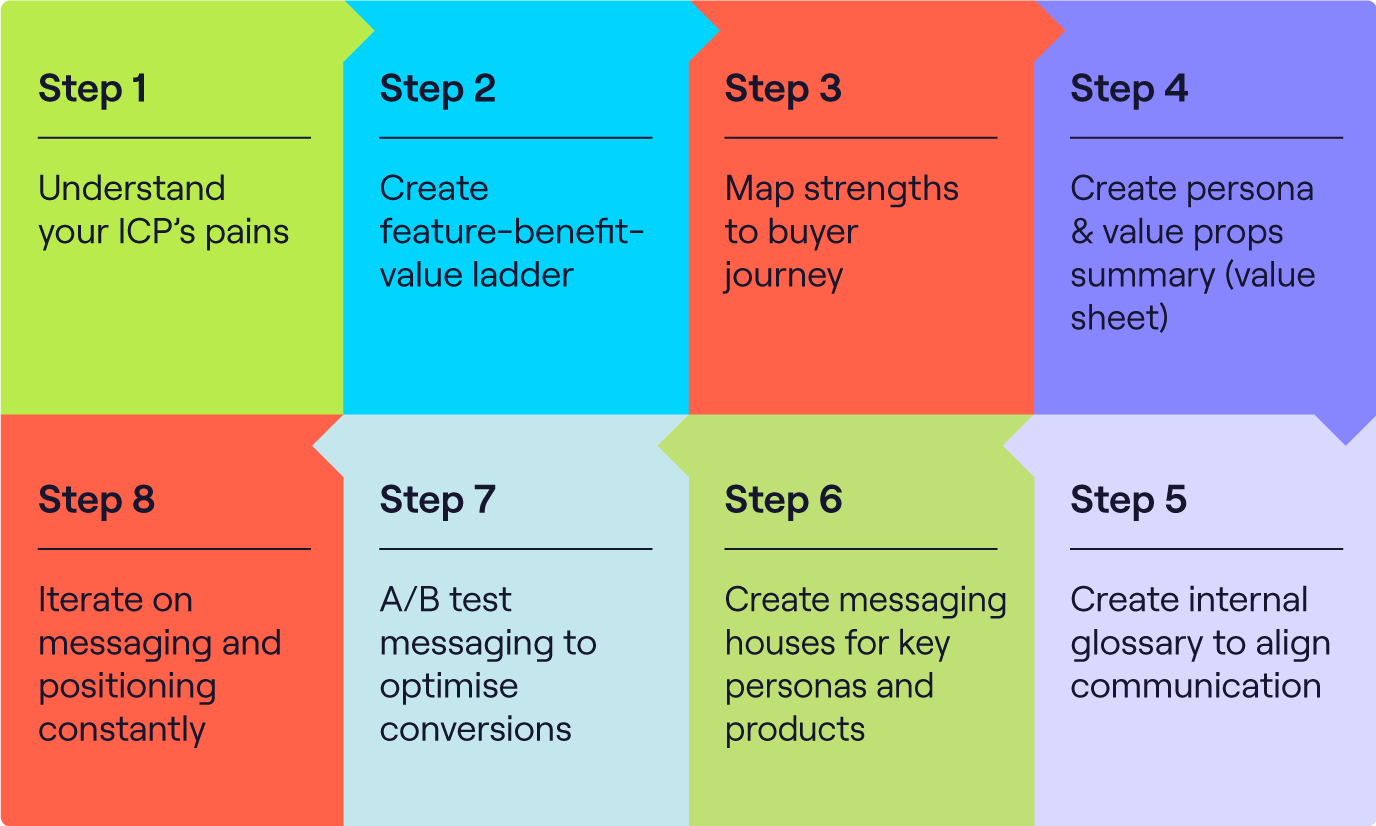 4. Set targets
Outbound
All good GTM strategies have clear models.
And you can build these models from the capacity/budget you have at your disposal. For example:
Say you have two outbound SDRs working on your launch.
If you review the number of cold calls, emails, and LinkedIn messages they send daily, you can work out their average output and response rates.
This means you can estimate the number of meetings each rep will book.
Next, you should use the meetings booked/opportunity rate to inform your reps' targets.
From here, you can factor in an average opportunity to close rate. For this, Cognism uses 25%.
This allows you to build your full funnel pipeline and map out data-driven targets and sales goals your reps will work towards each month.
Note:
If you see you're a long way off these targets, you may need to adjust a part of your go to market strategy to improve performance - such as your chosen ICP or your messaging.
Marketing
Now for tracking your inbound efforts.
At the beginning of your GTM strategy, aiming for a 50/50 split between inbound and outbound will allow you to:
Land on achievable benchmarks.
Measure the two against each other from an efficiency/success perspective.
This starts with an estimated cost-per-lead (CPL).
At Cognism, we bake in $30 as our worst-case scenario for content leads. Meanwhile, it's $250 for direct inbound demo requests from paid advertising.
Next, you need to overlay some predicted conversions from stage to stage across the sales funnel, which will differ for content and paid direct demo requests.
You'll also be able to determine how much budget you'll need to hit the same number of opportunities as outbound.
In this plan, you want these opportunities from content and paid ads. The idea is that you want to diversify and test different tactics as part of your go to market.
The table below shows how you could work this out and create targets for B2B marketing activities.

5. Choose your tactics
To reach your ICP, use various product strategies in tandem. These include:
Data
As we mentioned in Defining your ICP, you need quality data to target the right people.
A range of high-quality B2B data providers can help you do this.
Aside from Cognism, companies like ZoomInfo, Lusha and Apollo.io will provide you with targeted leads.
With up-to-date prospect data, your sales team can enhance their acount based selling and target individuals who are most likely to buy your product or service.
For example, Joe Mackay, Marketing Operations Manager at QA, said that the key result from using fresh and accurate data was creating $81k in opportunities in just two weeks.
💡 Read QA's case study to learn more about the benefits of using high-quality B2B data in outbound sales.
Marketing strategy
When creating your go to market plan, you must allow room to test, try and optimise. This will be your mantra.
Start with an offer. Then, adapt that offer to the lead sources you believe will most likely convert your ICP.
You'll need different offers for the top (TOFU), middle (MOFU), and bottom (BOFU) of the B2B marketing funnel. You'll also need to present the offer differently on every channel.
As BOFU marketing campaigns are full of quick wins and key learnings, they're always a good place to start.
Look at retargeting audiences on channels such as LinkedIn, YouTube, and Facebook. Build ABM campaigns on Google and Bing that target high-intent keywords.
You can start your TOFU and MOFU strategies from here, knowing you have the lowest-hanging fruit ticked off.
Content plan
If data is the key to your outbound approach, content marketing drives your inbound lead generation efforts.
When creating a content plan to promote your product or service, the first thing to remember is to do your keyword research.
Although free tools are available, paid platforms like Ahrefs and SEMrush are far more robust.
SEO tools like them allow you to review the keywords your competitors already rank for and identify niches you can dominate.
You can also track your target keywords' rankings and report your progress to the broader team.
Partnerships
If you're entering a new market with limited brand recognition, you must do some piggybacking.
Identifying companies with a similar ICP will help you do that, particularly if they have more brand recognition than you.
Teaming with them on co-marketing initiatives will get you in front of the right people, generating awareness and demand for your product or service.
Some of the best co-marketing initiatives include:
Joint

webinars

.
Joint virtual events.
Joint white papers/eBooks.
Guest blogging.
Content sharing (newsletters/social channels).
6. Provide feedback
Establishing a feedback loop between marketing, sales, and product development will ensure you action the key learnings from your GTM motions.
To create this loop, you need to make individuals accountable for different parts of your strategy.
Having these individuals report on their progress in regular meetings will help you overcome stumbling blocks collectively.
Of course, this will help you land on:
A winning ICP that you target on the right channels.
Messaging that converts.
A product that better solves your ICP's pain point.
Need a recap? Add this video on how to build a go to market strategy to your watchlist 👇
Go to market strategy examples
Here are three go to market strategy examples from B2B SaaS companies to inspire you! 👇
Salesloft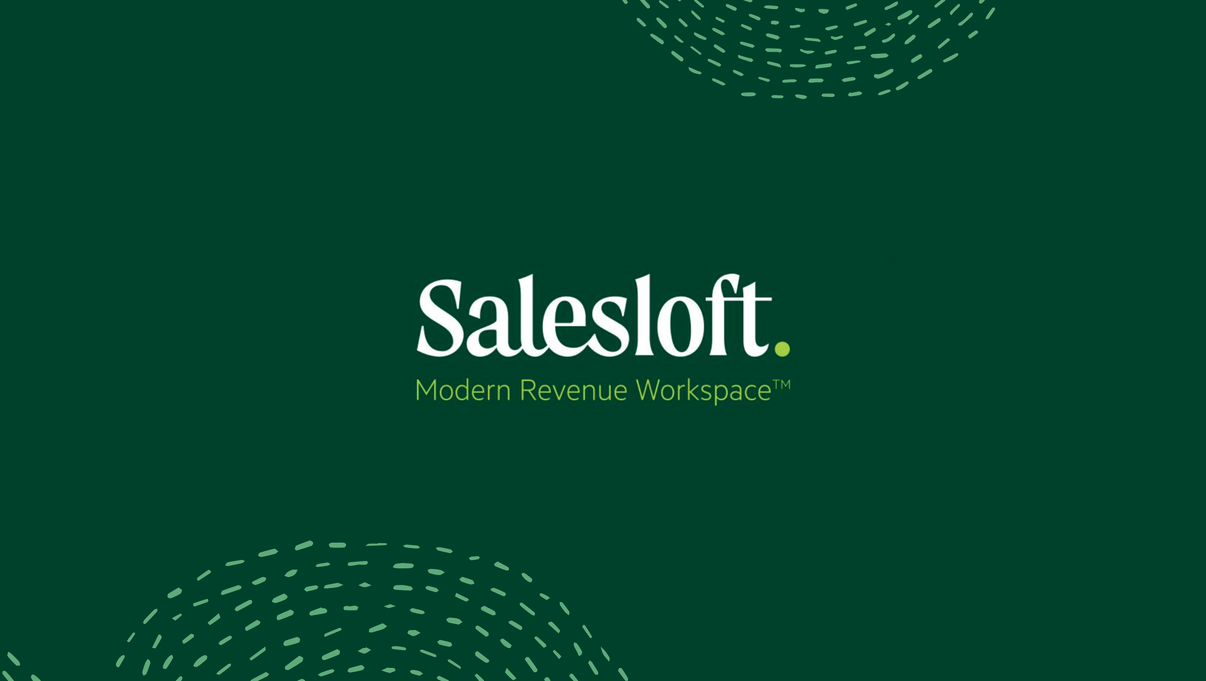 What: Rebrand and UI updates
Why: To tell a new story about sales where Salesloft equips sellers to create fantastic buying experiences because they enjoy a tremendous selling experience.
When: September 2021
How: Salesloft updated its story, messaging, logo, and colour palette while dropping the upper-case "L" in "loft".
The company designed this as part of its go to market planning to reflect how it had "grown and evolved as an organisation [serving] some of the world's biggest and best brands".
Regarding UI, Salesloft began transitioning to its modern User Interface in Summer 2021.
This included "cleaner visuals, better use of space, all with the same content-rich experience [users] love."
The changes focused on Salesloft's navigation bar design, tables, and icons.
Results: Recent G2 reviews suggest that Salesloft's UI updates have been successful, with one user praising their "intuitive, user-friendly platform".
They continue: "I like how easy it is to stay organised with the to-do's, reminders, and tasks. It makes you feel productive when you complete steps."
Cognism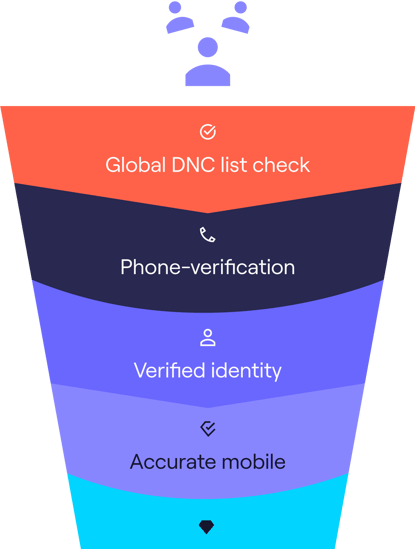 What: Verified contact data - Diamond Data®
Why: To provide the most accurate, compliant contacts for business development teams internationally and "minimise inefficiencies due to inaccurate job titles and incorrect/misdialled numbers and create a leaner, faster sales process."
When: October 2021
How: Cognism is an excellent example of a go to market strategy. It added phone-verified cell phone numbers and direct dials cross-checked against global Do Not Call lists to its platform. It then combined this with consent-based intent data powered by Cognism's partner Bombora.
But Cognism went beyond just phone-verified contacts in its Diamond Data® launch. Also included in the new wave of functionalities was Diamonds-on-Demand®.
This allows Cognism users to ask Cognism to Diamond-verify contacts on demand.
"Cognism then allocates internal resources to source and validate that contact data and notifies you within 48 hours, meaning you can get through to everyone you want to reach much easier – and with greater certainty than ever before."
Results: Diamond Data® is already providing value to Cognism customers.
For example, one G2 reviewer praises the company's "high-quality contacts" and the ability to filter between "different types of users including [Diamond-verified contacts]."
The functionality also played a key role in outsourced sales company SalesDRIIVN achieving £410K ROI in their first year with Cognism; the company's CEO shouted out the "phenomenal" UK and European direct dial data.
Gong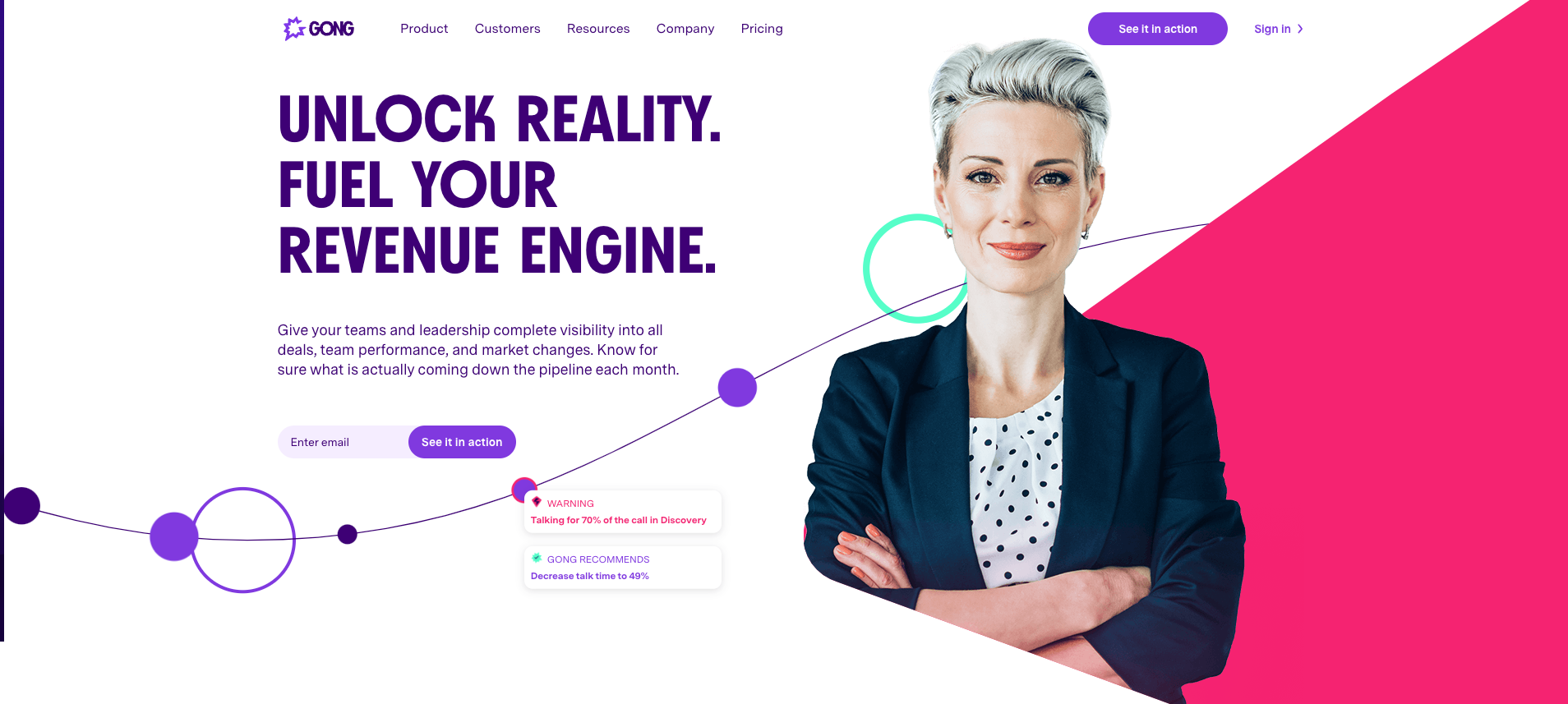 What: New visual identity
Why: To move beyond the company's "youthful, startup past" and "look more sophisticated".
When: October 2021
How: Chief Marketing Officer Udi Ledergor explained the steps Gong took to achieve their new visual identity:
"​​The new logo we chose celebrated people and aligned perfectly with our persona. There were our brand drivers, built right into the mark itself."
"There was Celebration (a vibrant burst of energy), Conversation (the social bubble), and Individuality (a unique G shape conveyed in the mark). The burst was still there, only now it had morphed into a mere outline of its former self, representing us more emotionally than before."
"And where photos of sales folks used to dominate the layout, now sat dramatic illustrations of everyday individuals who've transformed into sales superstars through the thoughtful determination of a pen."
"They humanised the brand with their disarming smiles and inspiring gazes. Our new brand characters and the style we chose for the illustrations also indicate our deep commitment to diversity, equity, and inclusion."
These are all components of a fantastic go to market strategy to take inspiration from.
Results: Aside from breaking LinkedIn and starting hundreds of debates on company Slack channels, Gong solidified its status as a sophisticated enterprise.
5-star G2 reviews still roll in regularly for the revenue intelligence giants, and their stock in the B2B SaaS space continues to rise.
Go to market strategy FAQs
Q. Who is responsible for GTM strategy?
A small group or pod of senior stakeholders from your business's sales, marketing, and product departments should be responsible for your B2B SaaS go to market strategy.
Compared to larger GTM teams, this structure allows stakeholders to bypass long feedback loops, iterate on the GTM strategy, and develop your product.
Alignment between pod members happens when you hold them all accountable to pre-agreed lead generation KPIs. At the start of your go to market, the pod should come together to:
Define your ICP.
Align over messaging and positioning.
Disseminate your findings across each department.
After this, the pod should reconvene in weekly catch-ups, which include:
Data deep dives.
Sales team struggles.
Key product pushback.
Q. What is the difference between market strategy and marketing strategy?
While market strategy concerns senior stakeholders in sales, marketing, and product launching a new product/in a new market, the marketing strategy is about your whole business building a brand to achieve long-term competitive advantages. In that sense, the market strategy is just one part of the marketing strategy.
In practice, a SaaS marketing strategy includes broad things like:
Processes.
Target audience.
Channels
Tools.
Tactics.
On the other hand, a market strategy includes specific things like:
The market you serve.
Deep product understanding.
Deep persona understanding.
Behavioural analytics.
Competitor analysis.
Positioning.
Packaging.
Pricing.
It encompasses how you'll go to market, who you'll target, and the sales tactics you'll use to convert customers.
Q. What is pricing strategy in GTM?
A pricing strategy isn't just a case of deciding how much to charge for your product/service; it also affects the customers you attract. This may change throughout a business' scale-up journey.
For example, you may start by targeting SMBs before targeting mid-market and enterprise customers.
In SaaS, you can approach pricing strategy in several ways - see below 👇
What does freemium mean in SaaS pricing?
In the freemium model, you offer a free trial and try to upsell the solution to users.
Lead generation platforms, for example, may cap this trial to a number of monthly credits, hoping the details prospects find are enough to convert some into paid customers.
What does flat rate mean in SaaS pricing?
In the flat-rate model, users pay one price to access all product features, usually in monthly or annual instalments.
What does user-based mean in SaaS pricing?
In the user-based model, pricing increases as you add more users. Work management software, Monday.com, is an excellent example of this.
What does pricing-per-feature mean in SaaS pricing?
In the pricing-per-feature model, users can purchase different packages that provide different levels of access to product features.
What does tiered pricing mean in SaaS pricing?
Depending on their price plan, customers get different access levels in a tiered package.
For example, Cognism uses a widget for its G2 reviews and pays a set monthly fee for the platform, up to 5,000 views. We must upgrade our package once we break the 5,000 views threshold.
What does pay-as-you-go mean in SaaS pricing?
A pay-as-you-go model is based on your consumption of a product/service; the idea is that you can upgrade and downgrade as you please.
What is markup pricing?
In markup pricing, the vendor adds a percentage on top of a physical product's cost to land on the customer's price.
What is dynamic pricing?
Dynamic pricing takes seasonal demand into account, increasing and reducing costs accordingly.
For example, vacation rentals are far more expensive when there's high demand, usually in summer.
What is skimming pricing?
In skimming pricing, the vendor sells a new product at a higher price, then reduces the cost after launch.
Electronics companies like Apple often use this model.
How do you decide your pricing in SaaS?
To decide the pricing strategy for your SaaS product, you should consider:
What competitors charge.
How you want to be perceived (e.g. premium vs. affordable).
How valuable your product is to customers.
How much it costs to build your product.
Demand for your product.
What is a channel strategy in GTM?
A channel strategy is a good go to market strategy for startups. It decides where and how you'll reach your customers and encourage them to purchase.
The channel strategy includes your SaaS marketing and sales functions, leveraging:
Online channels - Google ads, blogs, social media, user-generated content, influencers.
Offline channels - TV, billboards, flyers.
Outbound - Your sales team

cold calls

relevant personas to generate

leads or prospects

.
Referrals - Partner companies point new business your way.
In a channel strategy, consider the needs and expectations of your customers and how they want you to interact with them.
For example, a company wants to launch a new product and migrate existing customers to the new pricing.
They may use online channels, such as a product marketing newsletter, to raise awareness in the customer base while supporting this with direct outreach from sales.
The company will likely use different channels to make its strategy a reality for net new business. They may combine online channels like social media and Google ads with direct outreach from sales.
A winning go to market strategy template
Are you a sales or marketing leader launching a new product or expanding into new regions?
Then forget all the other go to market strategy templates and download this one! Our deck includes slides on:
ICP.
Key targets and KPIs.
Product pricing and packaging.
Revenue contribution per territory.
Inbound and outbound models.
Budget and spend.
Tech stacks.
And a whole lot more. Download your free copy now 👇