List of B2B Lead Generation Software & Tools [2023]
The list of lead generation tools available in the market is growing by the minute. It causes information noise and makes it nearly impossible to find the best software for your business.
But it's hard to take your business to the next level by doing data entry manually. This is where we're stepping in—
In this article, we've narrowed down the selection to the best B2B lead gen software and compared their pros and cons.
Flick through or use the menu below to learn everything you need to know. 👇
What is lead generation software?
Lead generation software helps sales and marketing teams discover new business opportunities. By automating manual lead generation processes such as finding accurate, up-to-date contact data, businesses can spend less time on research and more time nurturing prospects in high-value accounts.
Consider the time you can save with lead gen tools—
B2B sales reps spend 21% of their time researching and qualifying leads. In a 40-hour week, that's 8.4 hours or 2.5 months per year. Thanks to B2B lead generation software, you can automate the manual researching and lead qualification process. As a result, your sales reps are back on the phones building pipeline for your business.
Another key benefit of lead automation is that it has the ability to refresh stale CRM records. You can fill in missing data gaps and ensure that sales teams are always working with fresh, accurate, and compliant B2B data. As a result, you can generate targeted leads and save reps from relying on incomplete form data.
B2B lead generation software also typically includes a range of demographic, firmographic, technographic, and geographic filters. Because of that, you can home in on companies of the right size and in target industries and territories that are most likely to buy and sift out bad-fit prospects.
What are the best features of lead generation tools?
Advanced B2B lead generation platforms offer additional benefits to the user—from customer engagement, through analytics, to event triggers and buyer intent data.
Some of the features will be more useful than others depending on your sales goals.
For example, event triggers can help you understand when an account is in growth mode by notifying you when contacts in your B2B database change roles. As a result, you can get on the radar of companies in funding and/or hiring pushes, when newly appointed decision-makers are reviewing budgets and looking for early wins.
Other lead generation platforms can provide intent data for virtual prospecting. It is behavioural data on a company level that helps you identify accounts actively searching for your product or service. As a result, you can target key decision-makers when they're ready to buy. By prioritizing your prospects this way, you'll never waste time on tire kickers again.
It's therefore important that you analyze your business needs and speak to lead generation specialists in your company to pick the best type of lead capture tools. After that, you can narrow down the choice and consider other factors, such as a user-friendly interface and integrations with other tools you're using.
B2B lead generation software platforms: Feature comparison
Review the table below to see how top B2B lead generation software platforms compare on key features and functionalities 👇
| | | | | |
| --- | --- | --- | --- | --- |
| | Human-verified mobiles | Chrome Extension | Compliance | Intent data |
| Cognism | ✅ | ✅ | ✅ - Global | ✅ - Bombora |
| ZoomInfo | ❌ | ✅ | ✅ - CCPA | ✅ - Bidstream |
| Lusha | ❌ | ✅ | ✅ - CCPA compliant, GDPR aligned | ❌ |
| Clearbit | ❌ | ✅ | ❌ | ❌ |
| Apollo.io | ❌ | ✅ | ✅ - Global | ❌ |
| LeadIQ | ❌ | ✅ | ✅ - CCPA | ❌ |
| SalesIntel | ❌ | ✅ | ❌ | ✅ - Bombora |
| Seamless.AI | ❌ | ✅ | ✅ - CCPA | ❌ |
| Outreach | ❌ | ✅ | ✅ - Global | ✅ - Bombora |
| LinkedIn Sales Navigator | ❌ | ❌ | ✅ - Global | ❌ |
| DiscoverOrg | ❌ | ✅ | ❌ | ✅ - Bombora |
| Lead411 | ❌ | ✅ | ❌ | ✅ - Bidstream |
| Sales Leads | ❌ | ✅ | ❌ | ❌ |

Cognism
Cognism is the only B2B lead generation software on the market that provides phone-verified mobiles, a Chrome Extension, global compliance, and Bombora intent data. This helps to explain its status as one of the highest-rated platforms on G2.
ZoomInfo
Aside from phone-verified mobiles, ZoomInfo provides a Chrome Extension and CCPA compliance, while the company gives customers access to its bidstream data. This lead generation platform's coverage of the European market is limited because of GDPR constraints and it has fewer mobile numbers than Cognism in its database.
Lusha
Lusha provides a helpful Chrome Extension but falls short on human-verified mobiles and intent data. The lead gen system is fully CCPA compliant and is aligned with the GDPR.
Clearbit
Clearbit provides a Chrome Extension but has no human-verified mobiles or intent data. Meanwhile, as the lead generation tool doesn't have a notified database of contacts, it can't be considered compliant.
Apollo.io
Apollo.io provides a Chrome Extension and is globally compliant. However, it doesn't provide phone-verified mobiles or intent data. Similar to ZoomInfo, it has a US-centric contact database, meaning prospecting can be a challenge outside AMER.
LeadIQ
LeadIQ has a Chrome Extension and is CCPA compliant. This explains its strength in US data and its weaknesses outside of the region. The lead gen software has mobile numbers in its database with lower accuracy than Cognism and it provides neither phone-verified mobiles nor intent data.
SalesIntel
SalesIntel has a Chrome Extension and embeds Bombora intent data into its platform. The tool has strong US data but its European data is mostly unverified. Meanwhile, the company's stance on data protection laws is unclear and it has no phone-verified mobiles.
Seamless.AI
Seamless.AI has a Chrome Extension and is CCPA compliant, meaning its database is primarily focused on North America. The platform doesn't provide phone-verified mobiles or intent data.
Outreach
Outreach is a well-rounded B2B lead generation software platform, providing everything Cognism does with the exception of phone-verified mobiles.
LinkedIn Sales Navigator
LinkedIn Sales Navigator is a tool most reps use alongside a B2B lead generation software platform. And most of these platforms serve to make the data Sales Nav provides more actionable, for example, by providing email addresses and phone numbers of prospects in Chrome Extensions.
DiscoverOrg
With a Chrome Extension and Bombora intent data, DiscoverOrg is B2B lead generation software worth considering. That said, it isn't compliant, putting you at risk of ICO fines.
Lead411
Lead411 provides bidstream data and a Chrome Extension. However, similar to many players in the space, its compliance credentials are limited.
Sales Leads
As non-compliant B2B lead generation software without phone-verified mobiles or intent data, Sales Leads doesn't compete with the top providers on this list.
Which platform is best for B2B lead generation?
With a G2 rating of 4.7, real users rate Cognism as one of the leading B2B lead generation software platforms, outranking its main competitors ZoomInfo, Lusha and Clearbit. Phone-verified Diamond Data®, its Chrome Extension, commitment to global compliance, and Bombora intent data, set Cognism apart.
Diamond Data®
Diamond Data® is phone-verified contact data with a level of accuracy unparalleled in the industry. Since Diamond contacts have phone-verified, factually correct mobile numbers, B2B sales teams can use Diamond Data® to increase their speed-to-connect rates and start having more conversations with the buying committee in their target accounts.
Using Diamond Data®, Cognism customer, Keboola, was able to generate $125K in pipeline, as the company's Sales Manager of EMEA, Paul Donnachie, explains:
"A great example of the accuracy of Cognism's data is a $50k deal we won. I simply rang the prospect, booked a demo and now they are a client."
Cognism also has a Diamonds-on-Demand® service, which allows users to ask Cognism to Diamond-verify a contact on demand. Cognism then sources and validates that contact data, meaning you can get through to everyone you want to reach much easier and with greater certainty than ever before.
Chrome Extension
As we note elsewhere, "LinkedIn Sales Navigator is extremely useful for finding up-to-date job information and allows your B2B sales team to filter down on company size, industry, and technology. But it doesn't provide salespeople with actionable contact information. This results in your reps spending endless hours prospecting on the platform, hopelessly sending out InMails that don't get responses."
That's where the Chrome Extension comes in. According to Alexander Porter, Senior Business Development & Inside Sales Lead at Devo:
"[The Cognism Chrome Extension] is my favourite part of the platform! As a business development professional, I'm living and breathing LinkedIn.

Every day, I'm making lists of people we want to target. Where the Chrome extension comes in handy is in checking whether those people have contact details.

If they do, we can very easily export their data to HubSpot via the extension, ready for sequencing.

So the Chrome extension is incredibly helpful, because it saves so much time. All it takes is 3 clicks and the data's in your CRM. I also love the bulk export feature - you can load hundreds of contacts into your CRM at once. I haven't come across many similar Chrome extensions that offer this feature."
Global compliance
Global compliance is a headache for B2B revenue teams worldwide, with salespeople prospecting into different verticals and territories. Here's how Cognism allows you to generate targeted leads with confidence 👇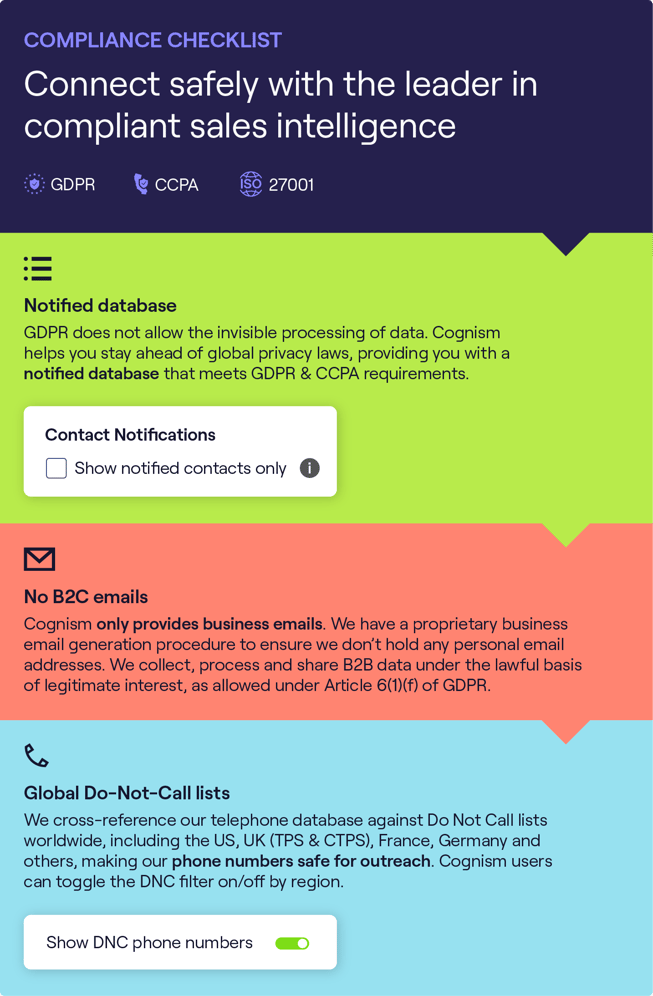 To reinforce this, a G2 reviewer states:
"The level to which they manage to take their GDPR compliance is a big plus over companies we tried out."
Cognism customer, Wavestone, adds:
"In order to support both marketing and sales as we scale, we need access to a large database of compliant data, and that's why we found Cognism."
Bombora intent data
By partnering with industry-leader, Bombora, Cognism is able to provide Surge® intent data. When compared to the quality of Bidstream data, Bombora notes:
Bombora Surge® intent data

Bidstream data

Company Surge® patented data science methodology identifies increased of decreased content consumption compared to historical baselines.
Research frequency, depth of engagement and content relevancy all contribute to measuring a business' interest in topic(s).
According to Forrester, "The company's (Bombora) consumption model has become the de facto standard in B2B marketing for third-party intent..."

Intent is surfaced when businesses interact with keywords that are scraped from content on webpages, without any notion of context or cadence of the interactions with a keyword.
Historical norms are not gathered over time, so no baseline consumption is created.
When bidstream is used to determine a person or business' interest in products or services, it comes with shortcomings.
While scale is large due to the billions of daily advertising bid requests, only a fraction of the events contain a robust data set.
Thanks to this high-quality intent data, Cognism customer, Ultima, achieved the following results:
"Our sales cycle is typically 6-8 months long. At Cognism, we saw ROI in 8 weeks from intent data and direct dials. One deal pays for a year's Cognism subscription [...] Cognism identifies the leads, allows us to target them based on the prospect's intent and then follow-up with the sales action. Using intent data has massively reduced our Time To Engagement."
B2B lead generation software FAQs
Scroll to see our answers to top B2B lead generation software FAQs 👇
Should I use free B2B lead generation software?
Free B2B lead generation software is useful for SMBs with small sales and marketing functions. However, the data free tools provide tends to be inaccurate and/or out of date. This means they are not scalable, wasting reps' time and draining revenue.
How do I generate B2B leads?
You can generate B2B leads through a combination of demand generation and sales. In this model, there is joint responsibility between both functions to generate leads through activities like cold calling and content marketing. However, demand generation is generally responsible for lead nurture and sales is responsible for the close.
How do I generate B2B leads on LinkedIn?
Demand generation and sales work together to generate B2B leads on LinkedIn. In a typical setup, demand generation runs targeted ad campaigns to their ideal customer profiles, generating leads through event sign ups and content downloads. Meanwhile, sales reps research and message ideal customers with the aim of booking meetings.
LinkedIn also allows marketers to build retargeting audiences which are served with a variety of content, including bottom of the funnel (BOFU) campaigns like direct demo ads, which helps close the lead nurturing process.
How do I generate B2B leads on Facebook?
Demand generation is usually responsible for generating B2B leads on Facebook. They do this by running targeted ad campaigns to their ideal customer profiles, generating leads through event sign ups and content downloads. Once they have this data, demand marketers enter prospects into lead nurture sequences, converting them over the long term.
Thanks for making it to the end of the page! Why not book a meeting with Cognism's sales team to see how our B2B lead generation software could work for you? 👇