Lead Generation Data: Where to Get It From?
Lead generation data has changed the way teams work.
Efficient teams inform their outreach activities based on market changes, competitor activity, ideal customer preferences, and so on.
While the cost of lead generation continues to increase, teams need to focus on acquiring accurate lead data to preserve resources and prioritise outreach.
This article will guide you through different types of lead generation data and where to get it from.
How do you get data for lead generation?
One of the easiest and most efficient ways to get lead generation data is to use company and contact databases that provide up-to-date information about your prospects. Lead gen data providers like Cognism allow you to find leads and their contact details in your target accounts thanks to the advanced filters (seniority, job title, etc.).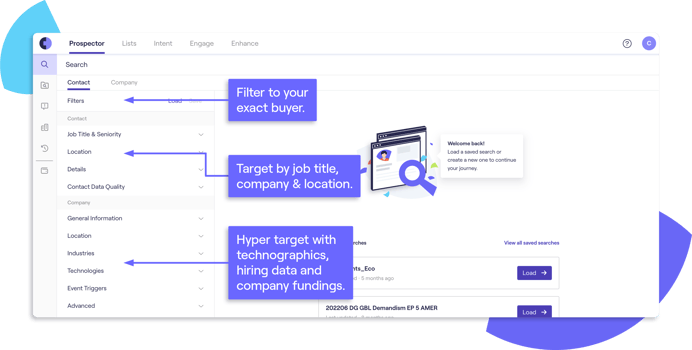 Additionally, you can use intent data and sales event triggers to prioritise prospects who are ready to buy. Then, you can sync their cell phone numbers and email addresses to your CRM.
For example, THG Ingenuity Cloud Services used Cognism's lead generation database to increase its revenue and decrease contact list-building time by 99.5%.
Watch Stevie Howlett, Head of Global Sales Development at THG Ingenuity, explain the challenges the company solved by using Cognism B2B data.
Get lead generation data from Cognism
Accurate and up-to-date global contact database.

The best mobile phone number coverage in the US.

The most complete data in the EMEA.

Manually verified

mobile data with 98% accuracy

and verification service on request.

Unrestricted access to viewing and page-level exporting global data in all packages (subject to fair use).

CCPA & GDPR compliance

(including broad DNC lists scrubbing and notified emails).

Sales triggers and firmographics in every package.

Seamless integrations

with your existing tech stack and workflows.

Web app and browser extension (works over LinkedIn, CRMs, sales engagement tools, and corporate websites).

How much is lead generation data?
Lead generation data providers, like ZoomInfo or Lusha, usually offer credit-based contracts or subscriptions.
The number of records you can reveal and export depends on the number of credits you purchase. You'll have to pay extra if you exceed the limit for any reason (i.e., bad data).
Some vendors also charge extra for data in different regions or platforms' features and capabilities. See ZoomInfo pricing to learn more about the credit-based pricing model.
Credit-based subscriptions make it difficult to predict the cost of lead generation. They also create a scarcity mindset among the SDR team members. They are more focused on optimising credit usage than on lead generation efforts.
The Cognism pricing model overcomes these pain points and offers unrestricted access to data. At Cognism, lead generation data cost depends on a licence type and your workflow. They suit individual prospectors as well as enterprises with list-building workflows.
Cognism offers two license types: Platinum and Diamond. Each licence unlocks access to:
Contact and company data.

Sales event triggers.

Technographics.

Prospecting web app and browser extension.

Integrations.
Additionally, the Platinum licence unlocks:
Phone-verified mobile numbers.

On-demand mobile enrichment.

Intent data.

What are lead generation data examples?
Lead generation data can be categorised in various ways. Here are the most common types.
1. Contact data
It's the most important type of data for lead generation. It consists of prospect phone numbers and email addresses.
Since working from home has become a new normal, access to prospects' mobile phone numbers is more valuable than to direct dials. With a prospect's cell phone number, you can speak to the prospect directly and avoid company gatekeepers.

2. Firmographic data
Another type of data for efficient lead generation includes company information, such as company name, location, and industry.
For a more targeted lead list, it's good to have the number of employees and even the company's revenue information.
3. Intent data
Intent data for lead generation refers to prospects' online behaviour as they do research online. The content they're engaging with indicates their intent to buy.
By incorporating buyer intent in your lead generation, you can speed up the sales cycle, improve targeting, and create a more relevant buyer journey.
"The intent piece came at the right time in order for us to meet our 2022 goals."

"Cognism's intent data plays a key role in identifying companies BDM target. Intent provides them with the ammunition to have a much more tailored, targeted approach."
4. Sales trigger events data
Another type of valuable data for B2B lead generation relates to the events and changes that happen in your target accounts. It includes events such as company funding, acquisition, hiring, and any major industry developments.
Timing is essential for lead generation, so sales triggers help salespeople and marketers determine when customers are most likely to move into the buying stage.
5. Demographic data
This is related to geographical characteristics, such as the prospect's location or employment history.
It's an important type of data when you're generating targeted email lists of CEOs in your ICP.
6. Technographic data
Technographics is related to either technology that an employee uses or technology that a company uses.
Having access to this type of data for lead generation lets companies qualify or disqualify prospects.
What is the benefit of combining different types of lead generation data?
Combining lead generation data points allows you to create more targeted campaigns with better ROI.
For example, you can supplement contact data with intent or sales triggers to narrow down your lead lists and focus on accounts that are in the market for your solution. You can also reach your most valuable leads before your competitors do.
Intent lead generation data provides insights into the best time to call the prospect's mobile number and how to personalise your sales pitch to seal the deal.
Access to different lead gen data points, like technographics, helps you further narrow down the lead lists when your product integrates with a particular solution or an account uses your competitor.

What is lead generation data?
Lead generation data is any information about your prospects that helps you convert them into customers. It usually consists of contact and company info but can be enhanced with intent data, technographics, and other types of data.
Accurate and complete data enables you to market your product to the customers in your ICP (via cold calls or outbound emails) and take them closer to purchasing.
Check out our resources about generating lead data:
💡 Lead generation for financial advisors.
💡 Lead generation for technology companies.
What is the purpose of lead generation data?
Data-driven lead generation helps identify the right customers at scale. Marketers and sales teams often use B2B contact and intent data to prioritise sales and reach prospects who are ready to buy.
B2B lead generation data is key to the growth of a business. It's valuable for sales and marketing teams and the wider organisation. It helps:
Should you buy contact data for lead generation online?
You need to be cautious when you decide to buy lead generation data. Lead data for sales online often violates compliance regulations (CCPA or GDPR in Europe). Cheap providers usually offer poor-quality data that isn't exclusive to your company.
Bad data results in unpredictable lead generation. That's why it's better to invest in sales intelligence solutions to create your own targeted lead lists.
What are the business risks of using bad data for lead generation?
Inaccurate lead gen data negatively impacts your entire organisation and revenue. Here are some telltale signs that indicate it's time to find a reputable data provider:
CRM records missing important information.

CRM is full of duplicates.

Decreasing cold call success rate.

Increasing email bounce rate.

Difficulty building relationships with prospects.

Difficulty personalising the customer experience.

Frustration within your team.

Drop in productivity.