What Is Lead Generation? A Guide for Professionals
Lead generation is the process of generating consumer interest in your product or service to convert that interest into a sale. You can generate leads by capturing visitors' contact information (called leads) via different channels, e.g., web forms on landing pages.
Fortunately, the days of picking up the phone and cold calling your way through the yellow pages are gone.
Modern-day lead gen gives you a lot more sales opportunities from high-quality prospects. And if you make the most of them, you'll see your revenue soar.
In this article, you'll learn:
Lead generation definition

It's importance

How it works in practice

Tips on optimizing lead generation funnel
What is lead generation in marketing?
No time to read?
Watch our explainer video defining lead generation in under a minute.

For many companies lead generation is the initial stage of the sales funnel.
In marketing, leads are potential customers who share their contact information to learn more about your products or services. Generating them allows B2B businesses to market to the right type of customers and take them closer to making a purchase.
Lead generation is crucial for any business growth. By focusing on generating high-quality leads, you provide sales teams with a contact base of consumers that match your ideal customer profile. This, in turn, increases revenue from conversions.
Lead generation is also important for building your brand's visibility and trust in your target audience. Even though not all of them are ready to buy your product when they first learn about it, you can nurture them until they eventually become sales-qualified leads.
It means they are less likely to give your sales team a cold shoulder when they reach out to close the deal.
How does lead generation work?
It can be a tricky business. First off, lead generation costs money to work. Secondly, it takes time to pay off. How much you spend and what return on investment you'll see, depends on lead generation strategies and channels you choose.
To cut a long story short—
It works best if you create an omni-channel lead generation strategy that reflects the customer journey. It allows customers to engage with your company in ways that work for them.
Click below to download Cognism's CMO, Alice de Courcy CMO success guide where she outlines the secrets to her success in the role to date.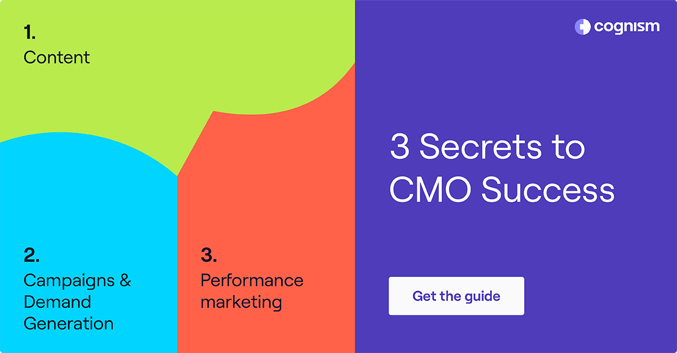 There are two main lead generation types: inbound (when you pull in leads via websites) and outbound (involving direct forms of marketing). Discover which ones can make the biggest impact on your business.
What is lead generation in digital marketing?
Online lead generation involves attracting traffic to your website and persuading visitors to exchange their contact details with you. Most businesses start their search on Google, so it makes sense to capitalize on this channel.
According to HubSpot's 2021 ROI report, the majority of companies use inbound lead generation methods, such as blogging and SEO. As many as 84% of them report it takes seven months to increase targeted leads. And only 42% of them increase lead-to-sale conversion rate.
Let's check out effective lead generation channels online.
Search Engine Optimisation (SEO)
Organic lead generation takes a couple of months to get results, but once you set it up, your website can attract a steady number of hot leads without paying for ads. Choose high intent keywords rather than high volume ones and optimize your content to get organic traffic from search engines.
Pay-per-click campaigns (PPC)
You can start generating leads from Google ads campaigns, even when your organic rankings are not yet there. You can even bid on competitor brand names and other purchase intent keywords.
Paid ads on Google or Bing may not be the best for targeted lead generation but they definitely provide a big influx of traffic to your website. You need to closely monitor it to avoid wasting your marketing budget too quickly.
Social media ads
Your prospective customers are bound to use social media platforms such as LinkedIn, Facebook, Instagram, or TikTok. You can reach out to them by posting content and paying for ads that run on those sites.
You can also take advantage of retargeting capabilities on social media sites.
Tip! Start using lead scoring to predict lead's readiness to make purchases.
What does direct lead generation mean?
B2B companies can leverage outbound marketing methods to generate more leads. They require finding and actively engaging customers that fit your ideal customer profile (ICP). They have especially big potential to fill in lead funnels in a niche or specialized businesses.
While the days of excessive cold-calling are gone, it isn't dead. To the contrary—
According to HubSpot's 2021 State of Marketing report, 18% of marketers think that outbound practices provide the highest-quality sales leads. Here are the best ways in which to achieve it.
Cold calling
This marketing tactic has been around forever because it works! Modern cold calling is very effective in B2B lead generation because you're pitching your product or service to a targeted contact list.
There are many lead generation tools available on the market that help you obtain accurate contact data. For example, you can find contacts that meet your criteria regarding a person's job title in a particular location and industry, filtered by the company size they are working for.
Tip! Learn how to build a contact cold-call list to maximize your lead-to-sales conversion rate.
Email lead generation
Cold outbound email marketing is one of the lead generation examples of generating new leads in a cost-effective way. If you get email addresses from a compliant source and tailor the content to the customers you are reaching out to.
Keep in mind that you are turning up unannounced in their inbox, so make sure it delivers true value.
Email signature marketing
American workers spend on average five hours a day in the inbox. You can maximize the power of your emails with email signature banners. You can promote your latest content, offers, webinars, or events.
Internal influencer networks
Using your business' influencers and thought leaders is probably one of the most overlooked lead generation strategies. You can develop content and distribution plans for these key stakeholders and build out a following for them on your key social channels.
People respond to people so growing a following from your colleagues' pages can be more effective than a company's LinkedIn page.
Brand alliances and partnerships
Depending on the size of your business, this will likely be a formal or informal lead generation process for you. You can start by looking at your customer base to identify companies with similar target audiences. The aim is to amplify each other's voices.
It can start as simply as a joint webinar, a guest post, or a monthly social share. Start small and build if you begin to see traction.
Tip! Check out our guide on lead generation for technology companies to get a competitive edge in the industry.
How to improve the quality of any lead generation campaign?
A recent survey of B2B marketing decision-makers in the U.S. revealed what makes lead gen difficult:
As many as 35% of marketers complained that buyers don't understand the value of their offering.

Close to 33% of them found it difficult to reach a niche audience.

Nearly 32% of

lead gen specialists

struggled to get in touch with decision-makers.
These challenges are universal regardless of lead generation strategies you might be implementing. Here's how to address them.
1. Define your leads
First of all, define your ideal customer profile (in B2B) or buyer persona (in B2C) and how to identify a qualified lead. Use demographic or firmographic data about prospects to find out their goals and specific pain points. You'll be able to address them later in your offer.
Tip! If you're a SaaS company, learn what technographic data is and how to use this data for your business benefit.
2. Tailor your content
Whether it is a landing page or a sales pitch, personalize your offer. Make sure you create compelling content that speaks to buyer challenges. Next, check if it's easy to grasp the benefits of it. You can try it out on a friend who is not familiar with your offering.
3. Invest in lead intelligence
Premium sales intelligence allows you to get relevant customer information in bulk. It pulls information about leads from various sources to educate you about them before you contact them directly. It's one of the reasons why 40% of B2B marketers said that one-to-one outreach was the main factor behind effective lead generation.
4. Align sales and marketing teams
On one hand, you may want to bring in a high volume of leads to keep lead generation goals. On the other hand, if you're not reaching your target audiences, your sales team will struggle with closing deals.
The main challenge here is to agree on what a good lead is and when to pass them on to the sales team. Even warm leads may feel put off when contacted too soon.
5. Evaluate your audience regularly
If you notice that your existing lead generation program loses traction, it can mean a couple of things. You can circle back to the beginning and check if your buyer's needs, priorities, or journey changed.
If it fails or you don't want to wait too long for qualified leads, you can use lead generation companies. They help you identify those that are most likely to buy and generate B2B data.
6. Use tools appropriate for the channel
Automating routine processes saves your time and budget for more complex lead generation programs. While CRM software is a must, you can find other tools to support your teams on channels you use for lead sourcing.
For example, you can perform A/B tests of your landing page, or use call recording software to monitor telemarketing lead generation. Listening to real conversations with leads is a great way of learning their goals and obstacles that prevent them from making a purchase.
7. Measure the success of lead gen programs
No matter how advanced your lead generation systems are, it's important to track your efforts. It allows your company to identify the best lead generation channels and room for improvement. Except for ROI, you can track various lead generation metrics to get a full picture of your strategy.
Key takeaways
Leads are your potential customers who can be nurtured and guided through the sales pipeline.

Lead generation means creating interest in your products and services by collecting customers' contact information. It is useful in any type of business.

You can for example create lead generation websites, blogs, forms, online content, offer discounts and coupons. You can use online and offline channels depending on your business model and resources.

Focusing on lead generation quality rather than volume is more profitable so it's key to calculate cost per lead per campaign, sales team closing rates, and compare it against your profit.
Cognism is the world's best B2B lead generation solution. Get a snapshot of what our technology can do for your business - we're offering 25 new leads, all for free!
Discover your next best customers today - simply click below to register.