LinkedIn Prospecting Guide [Tools & Techniques]
LinkedIn prospecting is becoming more and more popular among your competitors.
At last count, the platform boasted 660 million users working at 30 million companies. Of those 660 million users, 90 million are senior-level influencers, with a further 63 million identified as being in decision-making roles.
Last year, it was calculated that 80% of B2B leads were sourced via LinkedIn. Cognism's own outbound sales team has found great success using LinkedIn - so far this year, 39% of their meetings booked have come from the social network.
It's clear then, that if you're working in B2B sales, LinkedIn is a channel you simply must be on! LinkedIn prospecting is easy because you reach a highly receptive audience of potential buyers. Most of them are looking to expand their professional networks and share their knowledge.
How to prospect on LinkedIn?
The good news is you can use LinkedIn sales prospecting techniques to power your sales strategy. There are certain steps you need to take to turn a social network into a selling network.
We spoke to Gabrielle "Gabby" Doughty, Cognism's Senior Business Development Executive. She works for the Salesforce pod in our B2B sales team, tasked with finding prospects and pitching our Salesforce app.
Gabby gave us the steps she takes to prospect effectively on LinkedIn - steps that help you transform LinkedIn into a lead generation powerhouse!
💡 Find out how to use intent data for virtual prospecting.
1 - Know your prospects
Gabby's first step to LinkedIn prospecting is to always know who your prospects are. If you don't know who you're looking for, how will you find them?
Start by consulting your Ideal Customer Profile (ICP). It will tell you...
Who your perfect customers are.
Where they work.
What their job titles are.
What industries they work in.
If you don't have an Ideal Customer Profile at your business, then create one today! It's a very useful exercise - and it will help you out massively when it comes to outbound prospecting on LinkedIn.
2 - Find your prospects
Once you have your ICP locked down, you can start using LinkedIn for prospecting. Simply click on the Search bar in the top left corner. LinkedIn gives you the option to search for People, Jobs, Content, Companies, Schools and Groups.

Let's say that, after running a search, you find a company that fits your ICP. All you need to do to find the decision-makers in that company is:
Click on the company's profile.
Navigate to the menu on the left-hand side.
Click on "People".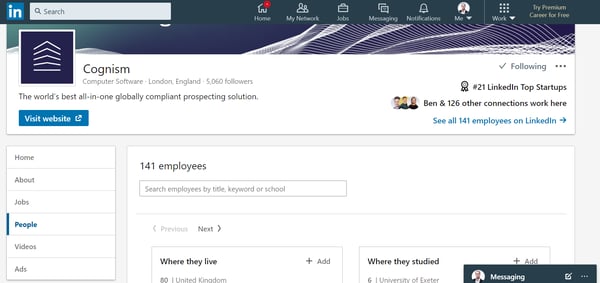 After clicking on "People", scroll down. You'll see a list of all the employees in that company.
Now, you have a couple of options. You can either connect with the people who look most relevant to you and get a conversation going on LinkedIn - or, as Gabby recommends, you can take a shortcut!
The Cognism Chrome Extension is a very useful tool that we developed specifically for LinkedIn prospecting! Simply install the extension to your Google Chrome browser, go to any LinkedIn profile and click the Cognism ident...and hey presto!
A tab will open up showing the prospect's job title, company, business phone number and email address - plus event-based data such as recent appearances and funding rounds.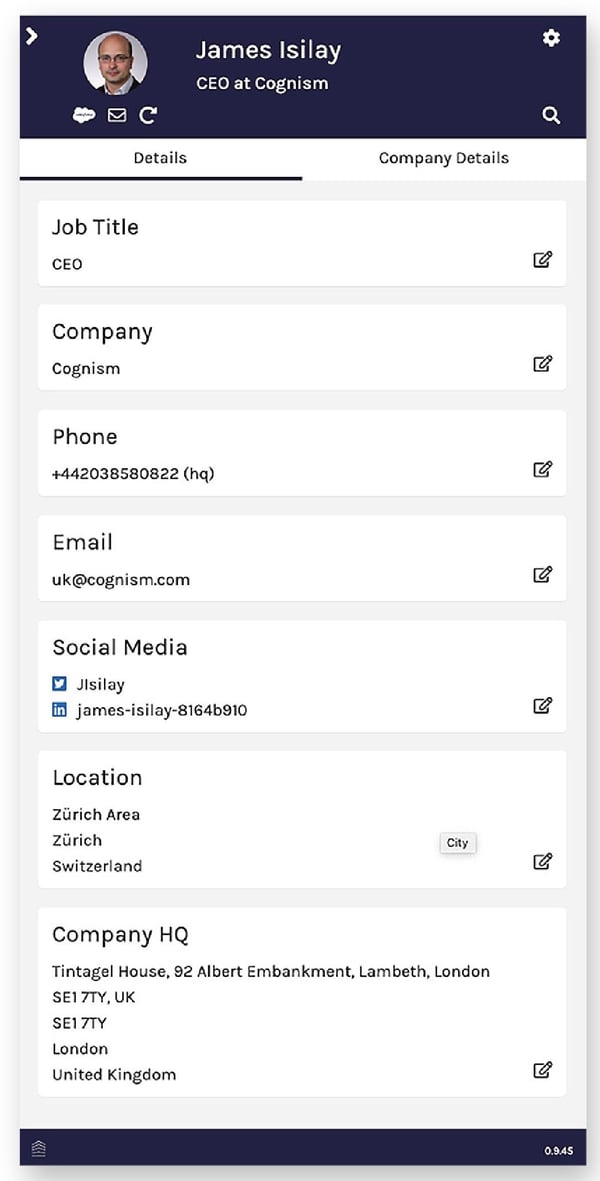 The Cognism Chrome Extension is a great tool if you want to bypass the following steps and go straight for an email or phone call.
However, with that said, the following steps will help you to "warm up" your cold LinkedIn prospects, meaning that your emails or phone calls will be more successful further down the line.
Another good tip for finding prospects that Gabby shared with us is to go on a company profile and click on "Similar pages" (right-hand side of the company's posts feed):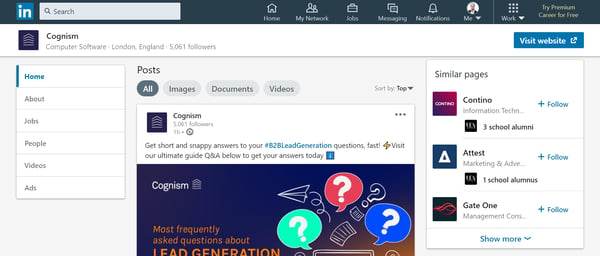 This will give you a list of similar companies that you can prospect to. Just repeat the steps described above for each one!
Tip! You might find this article defining what a prospect vs lead is helpful when reaching out on LinkedIn.
3 - Message your prospects
Now you've found your prospects, it's time to start engaging with them!
Gabby's advice is to create a process around this. Block out time in your calendar to do nothing else but send LinkedIn messages!
Gabby recommends an hour in the morning to send connection notes and then another hour in the afternoon to write any follow-ups. Make sure you stick to these times - don't let anything distract you!
You could go further by creating an Excel sheet or Google doc to track your LinkedIn prospecting messages. Include your prospects' names, when you sent your first message, whether their response was positive or negative, and when you sent your follow-ups.
Again, this will help you to build a system around your LinkedIn prospecting. It can be easy to forget who you've sent messages to, and when!
If you have an outbound cadencing tool, you'll be able to add these LinkedIn steps into your prospecting workflow. It's a great way of ensuring that you're prospecting to people across multiple channels. You can also keep track of all your activity and outstanding tasks in one place.
LinkedIn prospecting message
The first message you send to a prospect is also called the connection note. This is the box that opens up when you click the blue "Connect" button on a LinkedIn profile: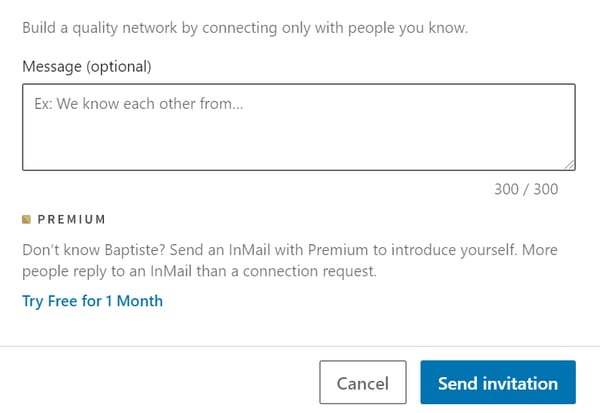 As you can see, LinkedIn gives you 300 characters to write your connection note.
It doesn't sound like much - but with a connection note, the intention isn't to pitch your product straight away - it's to drum up some interest and get a conversation started.
Here are Gabby's tips for writing a successful connection note:
Personalise your message - it mustn't read like a copy-and-paste. It must make the prospect feel as if they're the only person you've contacted today. Make them feel special!
Be short and concise - you've only got 300 characters; don't waste them!
Create a sense of intrigue - don't reveal everything about your product or service - just enough to whet the prospect's appetite!
Here's an example LinkedIn prospecting message:
Hi [first name],

I would be curious to know if you're open to new tech that would accelerate [company name]'s business development process?

If you're looking to acquire more clients, I'd be interested to chat. If not, I'm happy just to connect.

Best,

Gabby
Another top tip from Gabby is to do A / B prospecting test on your connection notes. Here's how to do it:
If you have some prospects who are the same seniority or work in the same industry, split them into 2 groups - Group A and Group B. You can track this on the Excel sheet/Google doc we described earlier.
Compose 2 different connection notes. Send one note to Group A and the other note to Group B.
If you get more positive responses from Group B, then you know to start using that connection note going forward.
The follow-up message
Assuming the prospect connects with you/sends you a positive response, you can block out some time to send a second message. This is called the follow-up.
With the follow-up, you can steer the conversation towards the benefits of your product. Demonstrate to the prospect how it will make their life easier.
If you can, name-drop some customers of yours - but only if there's something that links them to the prospect. The same industry, for example, or the same geographical location. You have an unlimited word count available now, so feel free to get creative!
Gabby shared an example of follow-up LinkedIn prospecting message with us:
Hi [first name],

Thanks for connecting!

Cognism's solution can help [company name] find your ideal customers, save prospecting time and grow your client base. We are helping similar companies in your space, including [company name] and [company name].

I appreciate you must be busy but it'd be great to open a conversation with you!

Do you have 15 minutes for a video call on [time/date]? Please let me know.

Best,

Gabby
It's important to end your follow-up message with a strong CTA. As ever in B2B sales, the goal is to get a response, whether positive or negative. "No" is better than nothing!
If the prospect responds positively - great! If not - qualify them out and move onto the next one. Don't let rejection stop your flow.
But what happens if you don't hear anything from your prospect? Give it some time - a day or 2 - and then send a reminder. Like this:
Hi [first name],

I understand you must be busy, but I just wanted to see whether you had considered my last message?

Best,

Gabby
Nine times out of 10, the reason why a LinkedIn prospect doesn't reply is that they're (like the rest of us!) busy with their day job. So keep your reminder message short and sweet - it might be just the nudge they need to get in touch.
4 - More LinkedIn prospecting tips
Gabby gave us some other useful tips for outbound prospecting on LinkedIn:
If someone in your network joins a new job, hit the congratulations button! This gives you the chance to pitch again.
If someone views your profile, connect with them straight away and send a message. These prospects are warm - they're actively looking for you and your product!
Good housekeeping - make sure your LinkedIn profile looks professional. Update your bio and include an appropriate photograph. Use the banner space - sales reps at Cognism have their email addresses and phone numbers on their banners.
You can create search alerts for funding rounds and new job joins - doing this is a great way to save yourself valuable prospecting time.
Connect with thought leaders in your target industries (typically these are people who will have 500+ followers). You can search through their connections to find more prospects.
Follow hashtags for relevant topics (Gabby follows the #salesforce hashtag). Check the hashtag every day and see who is commenting or asking questions. Start commenting yourself and open up some conversations!
Join some LinkedIn groups. Gabby has joined a few Salesforce groups, where she regularly comments and answers questions. These can be great channels for some creative outreach.
How does outbound prospecting on LinkedIn work?
Using LinkedIn for sales prospecting isn't an exact science. It can sometimes take a while to break through to a prospect, other times it can generate some very quick wins.
But hopefully our B2B prospecting guide for LinkedIn will help you to make the most of this vital sales channel.
The most important thing is to create a repeatable system for your LinkedIn prospecting. Follow Gabby's steps and dedicate a portion of your day to it.
Gabby had one last insight to share with us:
"I called one prospect 12 times, but I never managed to get through to him, always to the gatekeeper. I gave up calling and instead tried connecting with him on LinkedIn. All it took was one LinkedIn message to book a meeting!"
If that doesn't demonstrate the power of LinkedIn prospecting, we don't know what will! There's no time like the present, so start outbound prospecting on LinkedIn today. Good luck!
Cognism's outbound playbook
Predictable revenue isn't buried treasure. You're not going to find it and change your fortunes.

It's an end goal that you can achieve by constantly improving your sales process.

We've listed our favourite outbound plays to make revenue more predictable in 2022.

Up your outbound game - click 👇