How to Turn Website Traffic Into Leads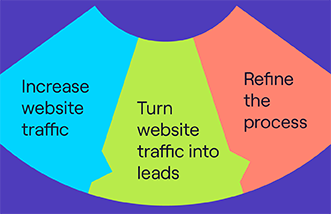 Generating B2B leads is a discipline of balance.
First, understand your total addressable market. Once you've done this, you need to strike a balance between generating as many leads as possible and generating the best leads possible. Somewhere between these two extremes lies your ideal marketing strategy.
We spoke to Cognism's Chief Marketing Officer, Alice de Courcy, to hear her advice on increasing website traffic, and turning that traffic into leads.
"If your product has a large TAM and can be used by most of the world, then prioritising quantity of leads makes sense. If you have a clearly defined TAM and ICP (Ideal Customer Profile) then you should be looking for quality over quantity."
"Some companies will hack together quantity traffic plays. If you search for almost anything you'll find a page they have on it. Keywords will be random and it won't add any value to the business. We do not use this approach because we don't want just any traffic, we want the right traffic. We start with quality and look at quantity after."
This is the B2B lead generation approach that we recommend. Generating masses of leads who might not be interested in your product will ultimately waste your sales team's time. Instead, focus on finding the right people first, and only once you've found them, focus on scaling up.
To see Alice's recommendations for increasing website traffic and converting website traffic to leads, scroll down! 👇
How to increase website traffic
In order to be selective with your lead generation, you need to have people to select from! Increasing your website traffic will allow you to do this. Alice gave us 8 ways to increase website traffic.
1 - SEO projects
Focus on high volume, high intent projects. We set a new SEO project every quarter and aim to rank on page 1 of Google. To see how you can attempt this, see our guide for creating high-ranking content.
2 - Backlinks
Create clever backlink plays. By offering something that other companies will want to utilise, such as research or an infographic, you will naturally receive backlinks. This is a great way to direct more traffic to your website!
3 - Consider creating a free tool
Look at who your ideal prospects are and provide something free that they will want to use. This will build a positive relationship between yourself and the user, and promote future website visits.
4 - List the great tools and software you're using
If you are using a B2B marketing product which is helping your business, tell people about it! Posting about your positive experiences with other companies will encourage them to share your opinion with new people. This will increase brand awareness and website traffic.
5 - Get listed on review sites
Encourage your current customers to leave reviews for you on websites like G2 and Capterra. Getting listed on these sites will drive a lot of traffic back to you.
6 - PPC
Make use of paid channels such as Google Ads, LinkedIn Ads, Facebook Ads, and Google Display. PPC costs more than the free channels, but when managed correctly, they produce great results. Sometimes you have to spend money to make money!
7 - Email marketing
When running drip email marketing campaigns, try to encourage website visits. It's usually easy for people to find content on a website. This isn't always the case with an email.
8 - Create a content hub
If you're able to create a video or webinar library full of useful content, it could become the go-to place for people who want to learn about certain topics. A content hub increases website traffic and will also establish you as a thought leader.
How to turn website traffic into leads
You can lead a horse to water, but you can't make it drink. If you hide the water, the horse won't be able to find it. If you throw the water at the horse, it will bolt. This analogy holds true in regard to how you convert website traffic into leads.
Chances for the website visitor to convert should be present throughout your website, but try not to overwhelm the visitor; if you do this, you'll lose them!
Once again, the secret is in the balancing of two extremes.
Alice gave us 5 ways to turn website traffic into targeted leads:
1 - Design your website with the user journey in mind
Place CTAs (calls to action) all over the site. It should be hard for someone to exit without being presented with an opportunity to take action. Talk to your web hosting provider about design elements such as CTAs or create your own website using a website builder.
2 - Test, track, optimise
One of the main benefits of using your website for lead generation is the home-field advantage. You can measure the success of website links and find out where people are dropping off. Data driven marketing will improve your results over time.
3 - Utilise chatbots
Chatbots will allow you to use different playbooks and tactics around the site. The chatbot can prompt people to take certain actions, speed up navigation for people interested in specific topics, and provide options for people to take.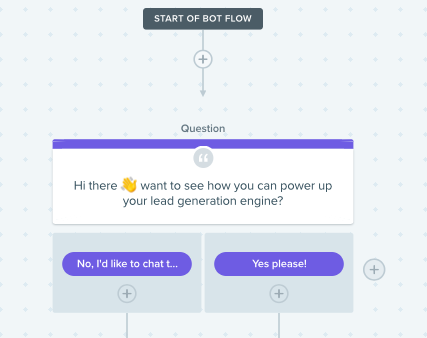 4 - Try lower commitment CTAs
If you're struggling to get visitors to request a demo, try playing with your CTAs and offer a lower barrier to entry. Test a few things out and see what works.
5 - Retargeting your web traffic
Make sure you have retargeting journeys set up across your marketing flows (LinkedIn, YouTube, Facebook, Google, etc.). The idea here is that if someone comes to your site and then sees your company again afterwards, you'll be building trust.
Refining the process
Metrics can be measured to figure out where leads are coming from, where they are being lost, and how you can improve the conversion rate. Alice recommends using the following methods.
1 - UTM links
For us, tracking UTM links is absolutely key. We want to understand which marketing activity is driving which traffic. For every activity we set up, we track it with UTM links. Google Analytics can then give you information on the makeup and origin of your traffic.
We built a UTM tracking link builder which you can use! Click the button below to download it.

2 - Marketing automation tools
These will also provide B2B data points on the makeup of your traffic.
3 - Measuring intent
Investigating intent can provide an extra layer of information and reveal higher quality leads. Platforms and tools will offer this information based on the trending keywords and activity of visiting companies.
Check out our marketing webinar
Thanks to Alice de Courcy for providing her expert insights into website traffic and lead generation. We hope you enjoyed it!

To hear more from Alice, here is a low-commitment CTA for you to check out! We hosted a B2B marketing webinar featuring some awesome marketing minds. The webinar covers topics such as:
Channel testing and optimisation: which channels convert?

Content plans that can get you to page 1 of Google

Low hanging fruit and MVP marketing

Marketing team structures and roles

Tops tips and tricks from leading SaaS marketers
Press ▶️ to watch.