What is B2B Sales?
Business to business (B2B) sales is the process of selling services, products or SaaS to another business. It's a challenging sales model that requires a skilled team of salespeople with strong communication and negotiation skills, as well as a commitment to data-driven decision-making.
There are many aspects to B2B sales. It involves everything from cold calling, sales email cadences, scheduling meetings, organising and conducting demos and researching buyers' pain points and objections. While the sales cycles are a lot longer and more complex than B2C sales, they result in higher-order values and greater incoming revenue.
This knowledge hub contains a number of resources that provide information and insights into B2B sales. Use the links below to navigate around this page.
Get started
B2B sales 101 | How does B2B sales differ from B2C? | Who conducts B2B sales? | What is the B2B sales process? | What are the essential B2B sales activities? | What are the most important B2B sales metrics? | How important is data in B2B sales? | What technology can help with B2B sales? | What is the future of B2B sales? | What other B2B sales resources are available? | Work smarter, sell faster with Cognism
Go from sales zero to sales hero with Cognism - click 👇 to book your demo.

B2B sales 101
What is the B2B sales process? Cognism's Senior Video Marketer, Emily Liu, is your guide to the 8 steps that'll convert prospects into customers. Press ▶️ to watch!



How does B2B sales differ from B2C?
B2C sales are different from B2B sales in that B2B sales are highly complex. B2C sells directly to a consumer while B2B sales targets a much harder demographic - business people, people who've done their research and are comparing multiple products to yours, all at once.

There are usually higher price points and multiple decision-makers to engage with, making the funnel last a lot longer than that of B2C. Especially since, if they're not already part of your funnel through inbound marketing, these businesses will need to be prospected and nurtured. This involves a lot of research and a clearly defined outbound strategy.
Who conducts B2B sales?
A lot of hard work goes into B2B sales. A business that wants to succeed will need a dedicated sales team to ensure everything runs smoothly, from the initial prospecting to converting a qualified lead into a sale.
This is normally done by Sales Development Representatives (SDRs) who manage:
Cold calling - contacting and conversing with leads over the phone.
Outbound email - sending sales emails to verified lead lists.
Social selling

- building relationships with leads and pitching to them on social media.
Once the prospect agrees to a demo or meeting, they're passed on to the Business Development Managers (BDMs) who negotiate deals and close business.
The success of B2B salespeople is also heavily reliant on marketing. Alignment between the two departments is crucial for pipeline building and expansion. The first step is for both teams to agree on their Ideal Customer Profile (ICP) and then collaborate on developing their company's Total Addressable Market (TAM).
A data driven marketing team is responsible for creating content that appeals to your ICP and promoting it through a mix of digital marketing strategies, including blog posts, whitepapers, email campaigns, paid ads and social media. All these activities increase the efficiency of B2B sales and speed up the sales cycle, by bringing a constant flow of warm leads into the funnel.
The B2B sales and marketing teams should work together, forming a larger revenue team.
What is the B2B sales process?
To secure a sale, you'll have to incorporate a number of B2B lead generation techniques all within a 6 to 8 step sales process.
Cognism's B2B sales process looks like this: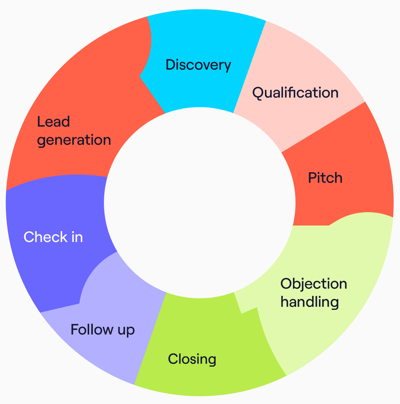 Here is a breakdown of the process:
1. Define your TAM
Figuring out who you want to target is a vital first step. Your TAM measures the potential of a lead and if they're worth pursuing; plus this ensures you don't waste any time or resources targeting the wrong people. Once you've done this, you can go through the leads you've generated through inbound and see who you'd like to enter your sales funnel.
2. Research
For sales success, you need to research your prospect, understand their pain points and offer them a solution they can't refuse. This also means knowing your product inside and out!

3. Qualification
You'll need to make sure your prospects are interested and worth the time of prospecting further. To figure this out you'll need to actually talk to them on the phone or put them through an email cadence. You might discover they aren't interested, or your research was wrong, leaving only quality leads for you to pursue.

4. Pitch
Once you've got a response from your prospect you'll know them a bit better, allowing you to tailor a pitch to suit their needs.
5. Objection handling
Most of your prospects are going to have objections. It's the B2B salesperson's job to have a valid answer to all of them. If a prospect raises an objection, chances are that they just don't have the correct information in front of them. It's important to stress that an objection shouldn't be viewed negatively; on the contrary, it's a sign that the prospect is very much interested in your product and is keen to learn more about it.

6. Close the deal
At this stage, it's time to discuss pricing and negotiate (if you can). It's also the point in the cycle where you find out other details like how many stakeholders need to sign off on the deal/what are the legal requirements you'll be working under.

7. Follow up
Just because a prospect's agreed to a deal doesn't mean it's set. They still need to sign on the dotted line. Leave a good impression by sending a follow-up email summarising the offer and everything you spoke about.

8. Check-in
Once everything is signed off, give the prospect some time to work with your product or service. Then, check-in with them to see how they're doing. This is a great way of getting feedback, both on your own performance and how well the product is working for clients.

What are the essential B2B sales activities?
Finding the best method for B2B sales depends on your industry, but there some core activities which need to be invested in. We recommend experimenting with a combination of the following:
Outbound prospecting - reaching out directly to your target market, introducing your company and what you do via

cold calling

,

outbound sales emails

and

social selling

. The end goal of this activity is to book a meeting.
Demonstration - Once you've got the meeting in your calendar, you'll need to demo your product to the prospect. Focus on benefits, not features, and show them how much value it will add to their business.
Closing - Here you'll need to finalise the sale by agreeing to terms and a price, as well as finding out any other information you may be missing, like how many other people need to sign off on the deal. This step ends with the prospect signing the contract, thereby officially closing the sale.

What are the most important B2B sales metrics?
Sales metrics help you to see how well your sales team is performing and how you can improve your overall sales strategy. They help sales leaders to measure everything from productivity to success rates and revenue.
Inbound and outbound can be measured against one another, while metrics for SDRs and MDRs are collected separately to gauge team and individual Key Performance Indicators (KPIs).
We asked our sales directors for a list of their must-track sales metrics. Then, we collected them together in an easy-to-digest infographic. Click the image below to download it!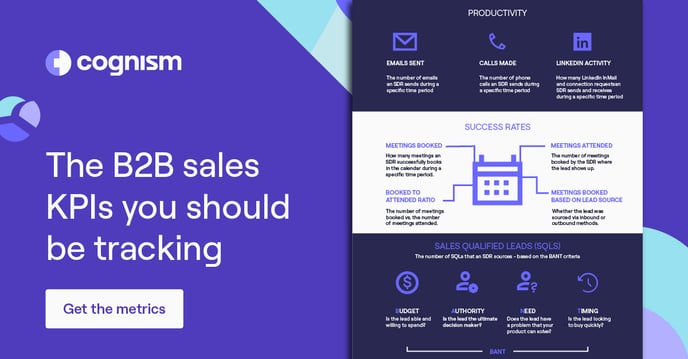 How important is data in B2B sales?
Accurate B2B data plays a bigger part than simply connecting you to the right prospects. It also helps you understand your customers and make better decisions.
That's why it's fundamental to B2B sales. Without high-quality contact data, leads can't be sourced correctly and opportunities will be missed. This impacts directly on a business's balance sheet in terms of lost sales and revenue.
Data is also vital for tracking the effectiveness of B2B sales. Sales forecasting, analytics and performance reviews depend on data and its successful application at every stage of the sales cycle.
What technology can help with B2B sales?
There are a variety of useful tools that can assist with your B2B sales and even help improve the way you do it.
From Cognism to Mailtastic, HubSpot to Pipedrive, Drift to Gong, we've curated a list of the best sales tools for everything from B2B prospecting to appointment scheduling.
Click to see the ultimate B2B sales tech stack.
What is the future of B2B sales?
B2B sales has come a long way since the first publication of the Yellow Pages (1966 in the UK!) to when Marc Benioff introduced the first-ever cloud-based CRM solution - Salesforce. More innovations are certain to happen over the next decade.
With the world currently in the midst of a global pandemic and many companies choosing remote working as the way forward, B2B sales is only going to evolve. It's set to become even easier and more efficient than ever with developments in tech, AI, sales data and lead generation.
What other B2B sales resources are available?
Cognism has published several unmissable eBooks for B2B sales leaders. You can download them here:
The B2B sales process handbook
In this guide, we provide a framework for salespeople to get started and improvise. This offers four key benefits: quicker onboarding; more efficient growth, a better-established structure, and easier forecasting.
Outbound plays that
actually

make revenue predictable

Our favourite outbound plays to make revenue more predictable.

Revive cold calling: Cognism's cold calling playbook
Breathe new life into your cold calling process with Cognism's playbook!

And, if they're not awesome enough, we publish great content daily on the Cognism blog - be sure to add it to your bookmarks.
Work smarter, sell faster with Cognism
If you're looking for a way to boost your sales and revenue, then Cognism's sales intelligence solution is for you!
Trusted by 1k+ B2B sales and marketing teams worldwide, Cognism helps you to identify and engage with more of your ideal customers globally. Search a unique, GDPR-compliant database, find best-fit prospects and outreach to them using intelligent, multi-touch sales cadences.
Turn strangers into customers with Cognism - click 👇 to book your demo today.