Cognism, a SalesIntel alternative
If you want to take your B2B prospecting to the next level, then SalesIntel is a good option. But will it provide you with everything your business needs to succeed, or is Cognism a better fit?
They both offer similar functionality, making it a tough choice. But, they do have their differences.
To help you decide which sales intelligence platform is best for your business, take a look at this complete comparison between SalesIntel and Cognism.
Scroll or use the menu below to navigate around this page 👇
Features | Data | Compliance | Pricing | Reviews | Why Cognism?
SalesIntel vs Cognism: how do they compare?
| | | |
| --- | --- | --- |
| | COGNISM | SALESINTEL |
| Packages to suit business size | ✔️ | ✔️ |
| Chrome extension | ✔️ | ✔️ |
| Web app | ✔️ | ✔️ |
| Intent data | ✔️ | ✔️ |
| Human-verified mobile numbers | ✔️ | ✔️ |
| Phone-verification/research on demand service | ✔️ | ✔️ |
| Do-not-call lists in US and Europe | ✔️ | ❌ |
| Unrestricted access to data | ✔️ | ❌ |
Where do Cognism and SalesIntel get their data?
SalesIntel gets its data from crowdsourcing, in which users of its apps and services contribute contact data to its Business Contact Database.
This means:
Whatever you link to SalesIntel and its services, you're agreeing to transmit your information to SalesIntel, and for SalesIntel to add this information to its Business Contact Database.
This data is then machine-verified or human-verified, depending on the credits you wish to use.
Cognism, on the other hand, gathers data via its proprietary AI technology. The data is verified by a team of data science experts and researchers, ensuring accuracy and compliance. This stringent verification process applies to Cognism's entire database.
But that's not all…
Cognism takes data verification to the next level through its exclusive data asset, Diamond Data®.
Diamond Data® comprises phone-verified mobile numbers that are 99% correct.
How is this level of accuracy achieved?
Cognism's data team follows this process:
They call every mobile number marked as Diamond Data®.

They confirm the accuracy of the mobile number and the identity of the individual.
Diamond Data® gives sales teams the ability to have 7x more live conversations (Diamond Data® connect rates = ~20% vs. 3% industry standard).
Here's the difference that calling factually correct, human-verified mobiles can make 👇

Want to see how much ROI you can get with Cognism?
👉 Click to try our free ROI calculator 👈
Now that you know where each platform gets its data, what about data coverage and quality?
SalesIntel's data is primarily US-focused. In their Privacy Policy, it states that the "SalesIntel Leads database profiles decision-makers and key influencers that are based in the United States."
The software does offer international data for 14 countries and growing, but does not stipulate which countries these include.
In comparison, Cognism has research teams in both the EU and the US. This makes it a great option for anyone looking to target both continents.
What's more, Cognism's EMEA data is the most complete of any provider and its mobile coverage in the US is bar none. This allows sales reps to have more conversations, even with prospects working from home.
What is the compliance status of Cognism and SalesIntel?
Cognism and SalesIntel are both reliable ways to attain contact databases, and they are in no way affiliated with private parties who sell illegal data lists.
It is however, unclear whether SalesIntel complies with all data protection laws although it states on their Privacy Policy that "as a data controller, SalesIntel is compliant with all such regulations, most prominently CAN-SPAM, which addresses electronic mail standards and opt-out clauses."
Cognism, on the other hand, follows strict privacy laws and a stringent B2B data verification process. The company ensures all data is legally sourced and of the utmost quality.
Furthermore, Cognism is regulated by the ICO and provides users with a notified database. It provides mobile numbers that are checked against TPS/CTPS lists in the UK and Do-Not-Call lists in Europe and the US.
For more information on Cognism's compliance status watch this video with Head of Legal, Aksa Kalam.

Cognism vs SalesIntel pricing
* Pricing information for Cognism and SalesIntel is dependent on your company's needs. For accurate pricing, please contact your preferred data provider.
SalesIntel offers annual subscription packages customised to suit the size and needs of your business. Pricing is based on the number of user licences, apps and modules required and the amount of credits needed for data export, research on demand and enrichment.
Cognism's pricing model was created to overcome the scarcity mindset and allow teams to prospect into their target accounts without worrying about credits.
Unrestricted access to contact and company data; technologies, sales event triggers and Diamond Data® are included in all Cognism packages.
All Cognism users are granted access to the following:
The Cognism web app.

All available integrations.
In addition to this, users have the option to include intent data (powered by Bombora) and Diamonds-on-Demand® (Cognism's research-on-demand service) to their package.
Cognism also offers credits as an add-on for bulk list-building workflows, used primarily by marketing and operations teams.
Don't be scared to test out each platform to see which one works best for your business.
You can book a call to discuss your needs with Cognism below 👇

Cognism and SalesIntel G2 reviews
Cognism users agree that it's a fantastic B2B sales intelligence tool with an easy to use interface:
"Cognism is a handy tool with a user-friendly UI. Its database is vast and covers many markets across the globe. We also really liked the friendliness and directness of customer support, as well as the onboarding procedure." - Georgios
"Cognism is great for putting together large lists based on segments and personas. On an operational level our sales team have drastically improved their efficiency while prospecting using the Cognism Chrome Extension. This tool enables all the required data to be sent to our CRM at the click of a button once a good lead is found, and the sales rep can work the lead immediately without needing to mess around with data entry. It saves a huge amount of time."- Damiaan
Cognism is a better choice for companies that consider data quality to be important. Many G2 users agree:
"Easily enrich individual Linkedin profiles or Sales Navigator account lists and it ensures your teams are always working with fresh, accurate, and compliant B2B data."- Maddison
"The data has so far been both reliable and accurate, and our outbound campaigns are landing in front of the right people, which means our response rates are increasing." - Shabri
"The data is really accurate - we've achieved some superb open rates, replies and clicks through to our website. I literally could not be happier with this product so far. It has genuinely saved me hours of time." - User in Marketing and Advertising
Other important information discovered via G2 is that clients feel Cognism has a lot of great features to offer. The platform is praised for having a smooth onboarding process and providing users with:
More mobile numbers.
Verified emails.
Firmographics.
Sales trigger events like hiring, funding, location move and more.
Fully blended intent data that's powered by intent data leader, Bombora.
That's worth a 'wow,' don't you think?
Why is Cognism a good alternative to SalesIntel?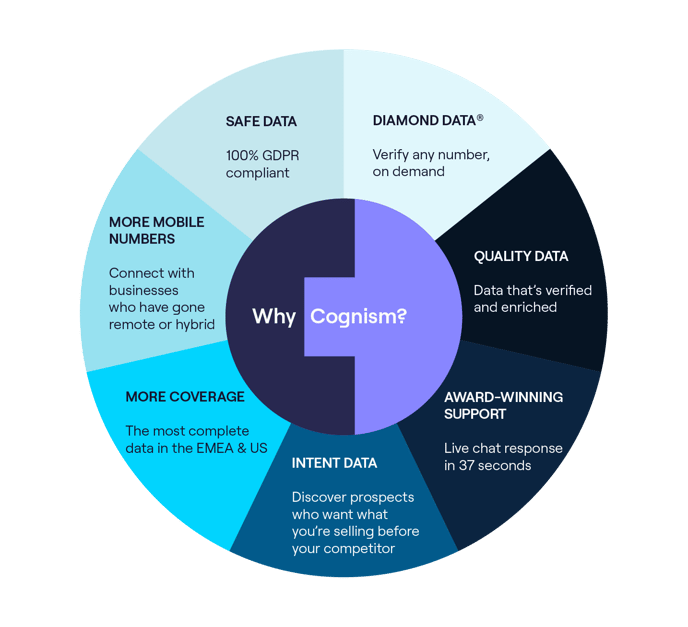 Cognism is a SalesIntel alternative with the most complete, correct and compliant data in the US. Even better, it's the only data provider phone-verifying mobile numbers, making it a great choice for global B2B prospecting.
But, if you're looking for:
No restrictions for do-not-call lists in US and Europe.
Restricted access to data.
Limited international data.
Then Cognism is not for you.
Cognism prides itself on being a premium sales intelligence solution offering the most accurate data on the market.
This means:
Mobile numbers that are verified and factually correct.
Bigger focus on quality.
Simple, intuitive interface and reliable tech.
GDPR and CCPA compliant data.
A fast and friendly support team who can assist you in real-time.
This is why Cognism is a good alternative to SalesIntel. Because you deserve:
More calls that go through to the right contacts ✔️
More confidence when prospecting ✔️
More hot leads ✔️
And more incoming revenue ✔️
Try Cognism, a SalesIntel alternative
Think Cognism is the SalesIntel alternative for you?
Book a demo today to see Cognism in action 👇