10 Lead Generation Companies & Services [+How to Choose]
Let me guess—
You're running a company and it's been doing great thanks to referrals and loyal customers. But your goal is to scale your business. And this requires exploring new ways to generate more leads.
Am I right?
If so, you need to build a sustainable pipeline. Your options are either building an in-house sales team to attract potential customers or outsourcing it to B2B lead generation companies.
The lead generation solution market is booming so there's no shortage of services. The only problem is finding the right one among all the others.

What are lead generation companies?
Lead generation companies collect consumer and B2B data and sell it to businesses looking to buy new leads. They use different methods to segment and categorize the data to make sure the buyers get relevant contacts.
B2B lead generation companies and software solutions get their leads from various sources through a combination of AI-enabled research and dedicated sales development reps. The best companies aim to deliver qualified sales leads.
Some large lead generation companies offer comprehensive services, such as:
Database management

CRM integration

Account-based management

Personalized marketing campaigns

Sales enablement software for your sales team

Scheduling appointments
Look for a company that can tailor its services to your needs or specializes in your niche.
How much do they charge for their services?
Some lead gen agencies charge clients a monthly subscription fee for using their services or software, while others charge per lead. The price per lead depends on the lead's 'warmth. Their cost varies depending on the industry, too. Healthcare and insurance leads are thought to be the most expensive.
Cold leads may be as cheap as $0.15, while hot leads can cost up to $100. Like most things in life, you get what you paid for. So if you go for the cheapest options, you won't see much return on your investment.
There are two more, less obvious factors influencing lead companies' prices—
Some lead list companies sent out contacts to multiple parties which "dilutes" their value. On other occasions, you will only get a fraction of leads in your total TAM. That's when your chosen leads agency offers exclusive lists of targeted leads and serves other businesses in your niche.
So, are lead gen companies worth it?
Lead gen companies are worth it when you receive qualified or targeted lead generation data with a real potential to convert. Look for lead gen companies that offer at least prequalifying services to ensure sales data's high quality.

Top lead generation companies list
According to Hubspot's State of Marketing report, 61% of marketers consider generating traffic and leads their biggest challenge. That's why we gathered the best companies offering lead generation services to help you find a good fit for your business. You can scroll down for a more in-depth description.
1. Cognism
Cognism is not a typical lead generation company. It is a premium sales intelligence platform with headquarters in the UK. It has a globally compliant B2B contact database. You can perform company and contact searches in EMEA, NAM, APAC markets.
Main features
Access to B2B emails and human-verified mobile numbers (GDPR & CCPA compliant, US & European DNCs checked)
Unrestricted individual and page-level viewing and exporting (no credits)

Integrations with popular CRMs and sales tools to prospect into owned accounts

Cognism Chrome Extension

that works over Outreach and Salesforce to enrich records without switching to another tool

Access to key account and lead information on company websites (e.g., company details, their technology stack, and key decision-makers)
Access to prospects' connections to close multithread deals

Sales triggers, technographics, and Bombora's

intent data
Pricing
All Cognism licenses give you unrestricted access to its phone and email database*, integrations, and Chrome extension
The cost of Cognism's subscription depends on the data type you need. Talk to the sales team to see which license is right for you
*Within our fair use policy


Not ready to book a demo?

💡 Click through our interactive workflows to see how intuitive our platform is. Or watch Localz video case study below 👇
2. Cience
Cience is one of the fastest-growing and top-rated lead-generation companies. It offers managed services for lead generation. It's great for startups and companies without sales teams. It allows you to interact with buyers and monitor your leads through a proprietary platform.
Main features
Demographic, firmographic, and technographic data

Building and maintaining CRM

Multi-channel outbound campaign launches
Pricing
Highly customizable based on the scope of the project

Schedule a meeting to get a quote
Clutch reviews: 4.5 out of 5
G2 reviews: 4.3 out of 5
Upcity reviews: 4.7 out of 5
Social: Cience Linkedin profile
Tip! If you're a start-up or in the SaaS industry, check out unique lead-generation strategies for tech companies.
3.
Belkins
Belkins carries out lead generation services in various industries, including healthcare, construction, and e-learning. It offers lead research with over 10 prospecting tools and email nurturing campaigns. It works with SMBs and startups struggling to connect consistently with prospective clients.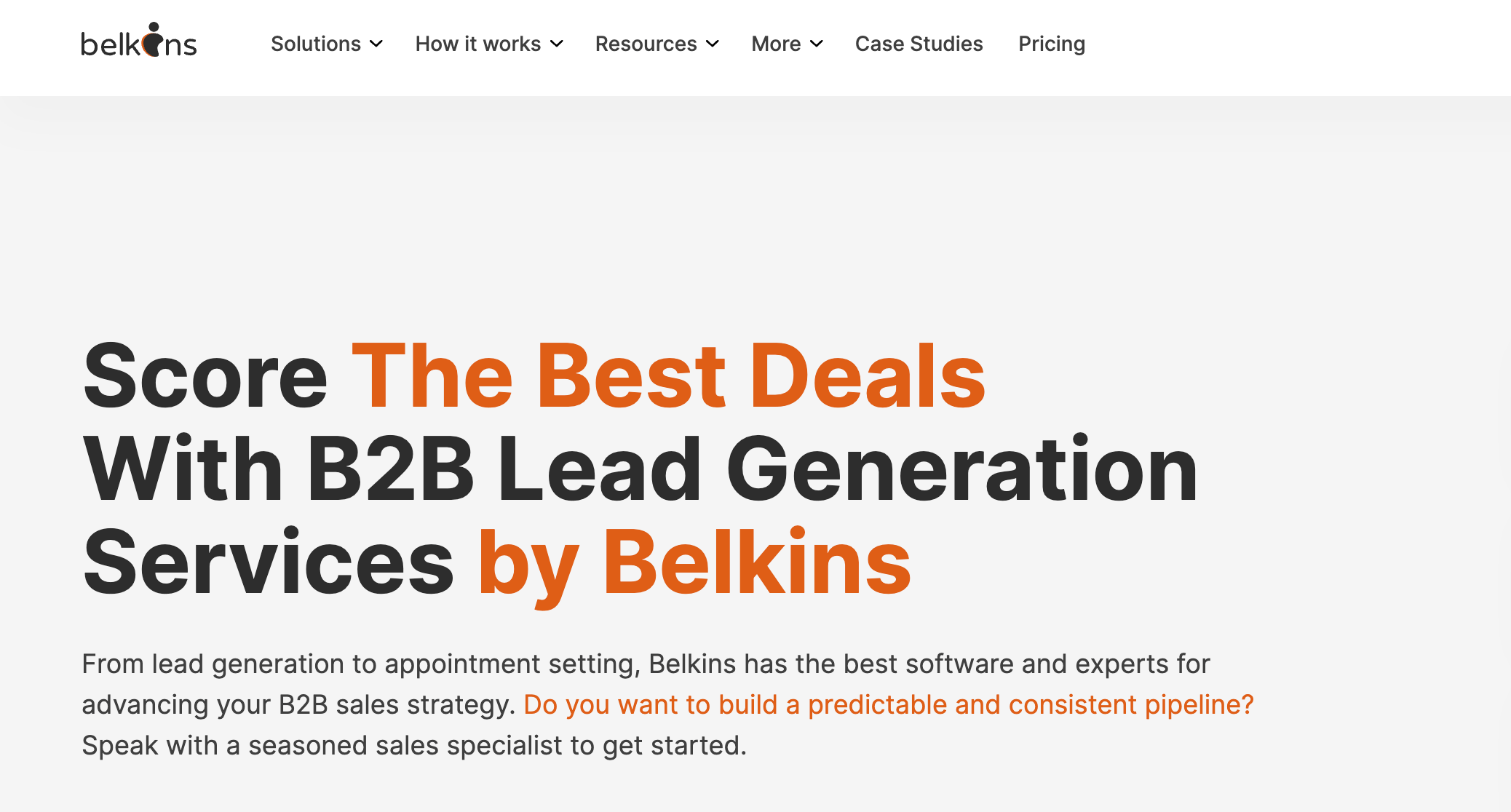 Main features
Pricing
Request a quote after a consultation
Clutch reviews: 4.9 out of 5
G2 reviews: 4.8 out of 5
Upcity reviews: 5 out of 5
Social: Belkins LinkedIn profile
Tip! Looking for free leads?
4. Callbox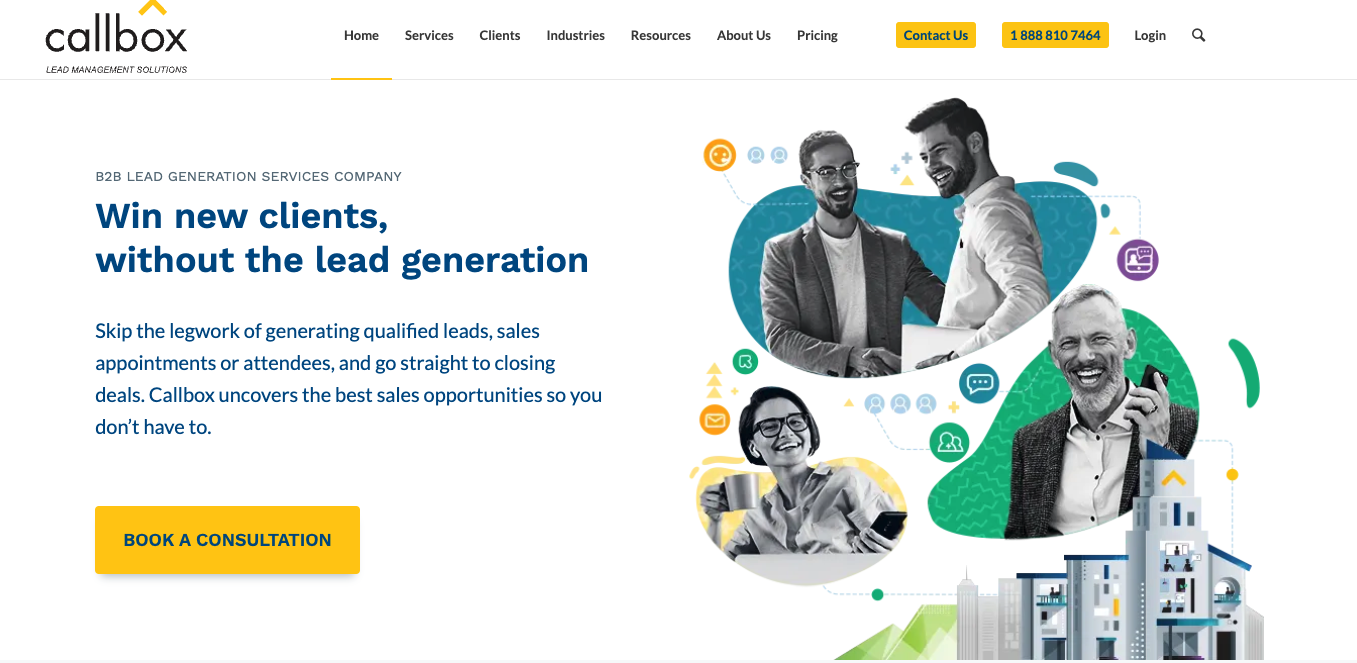 This lead gen company for small businesses provides comprehensive lead management and automation platform to enterprises and scaling businesses. Callbox uses a global B2B database to build target lists. It also provides telemarketing scripts and email templates for direct outreach campaigns, e.g., webinar promotions.
Main features
Lead nurturing tools and smart calling to qualify leads

Partnered with HubSpot to facilitate handing off qualified leads
Pricing
Book a meeting for a custom price
Clutch reviews: 4.5 out of 5
G2 reviews: 2.8 out of 5
Upcity reviews: not available
Social
:
Callbox LinkedIn profile
5. RocketReach



RocketReach is one of the top lead gen companies that helps IT businesses and startups in sales, recruiting, and marketing. It has a global database of emails and direct dials to enhance lead scoring. You can also use their extension to discover leads on sites like Google, AngelList, or Crunchbase.
Main features
Bulk lookups to fill in missing data points

API to integrate contacts directly into your app

Email analytics to fine-tune conversations and track performance
Pricing
Three individual plans starting from $468 for 1,500 lookups a year

Team and enterprise plans available after consultation
Clutch reviews: 4.9 out of 5
G2 reviews: 4.4 out of 5
Upcity reviews: not available
Social: RockerReach LinkedIn profile
6.

Minuttia

This is one of the top B2B lead generation marketing companies offering content marketing and SEO services. They can help B2Bs and Saas companies appear on top of search results to generate leads organically.

Main features
Work with B2B and Saas companies

Ofer content Strategy, creation, and audits

Website UX design and search engine optimization
Pricing:
Clutch reviews: 5 out of 5
G2 reviews: unavailable
Upcity reviews: not available
Social: LinkedIn profile
6. LeadGeneration
LeadGeneration (WebiMax) agency offers services of lead gen specialists who build B2B marketing campaigns for you on multiple channels. You get a dedicated project manager to help you identify your ideal customer profile and produce better-quality leads.

Main features
Integrations with HubSpot, Pipedrive, Zoho, Salesforce, and more
Exclusive lead lists and lead replacement policy
Combination of inbound and outbound lead generation methods
Pricing:
Request a quote after a free consultation
Clutch reviews: 5 out of 5
G2 reviews: 4.8 out of 5
Upcity reviews: 5 out of 5
Social: LinkedIn profile
8. Martal Group
This B2B lead generation company consists of 100+ sales executives and has four curated databases with 100 million contacts. They specialize in generating leads for B2B technology companies in the IT, SaaS, and telecom industries.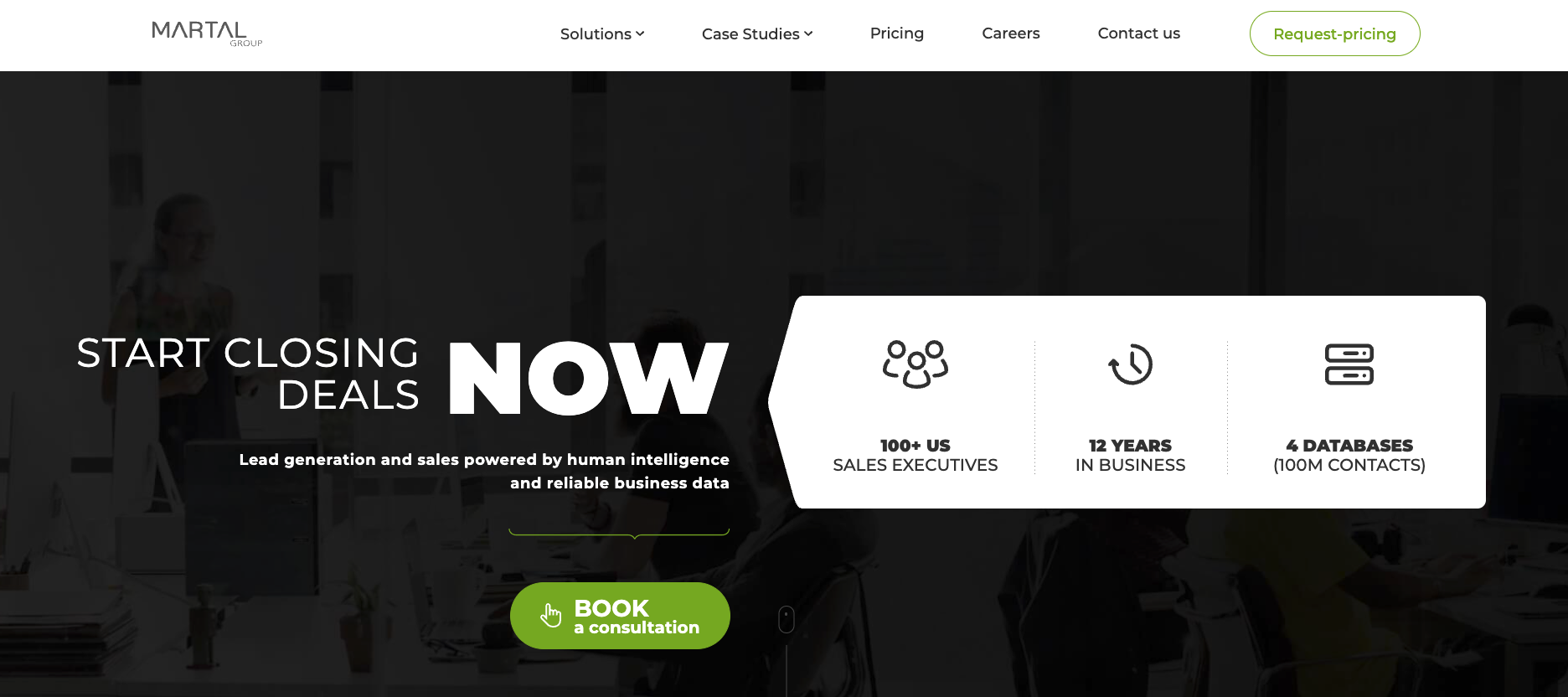 Main features
Weekly customized lists of pre-qualified leads and marketing campaigns

A dedicated management team that monitors intent data

Customer onboarding flow for new customers
Pricing:
Flat fee per month after the 3-month Pilot Campaign

To get a quote, speak to the sales team
Clutch reviews: 4.9 out of 5
G2 reviews: 4.8 out of 5
Upcity reviews: 5 out of 5
Social: Martal Group LinkedIn profile
9. Smith.ai
This company provides 24/7 sales lead generation services for SMBs. Smith.ai combines the power of AI technology and North-America based receptionists to capture and convert prospective clients.
Main features
24/7 handling of phone calls, live chats, Facebook messages, and SMS

Lead screening and intake form competition

Appointment setting
Pricing:
Virtual receptionist plans start at $240/mo for 30 calls

Outreach campaigns plans start at $400/mo for 100 calls

Live chat plans start at $140/mo for 20 live chats

Get a plan tailored to your unique business needs
Clutch reviews: 5 out of 5
G2 reviews: 5 out of 5
Upcity reviews: not available
Social: Smith.ai LinkedIn profile
10. Cleverly
This is a LinkedIn lead generation agency. It is focused on social media advertising and LinkedIn marketing. Their services include website design, copywriting, and conversion rate optimization.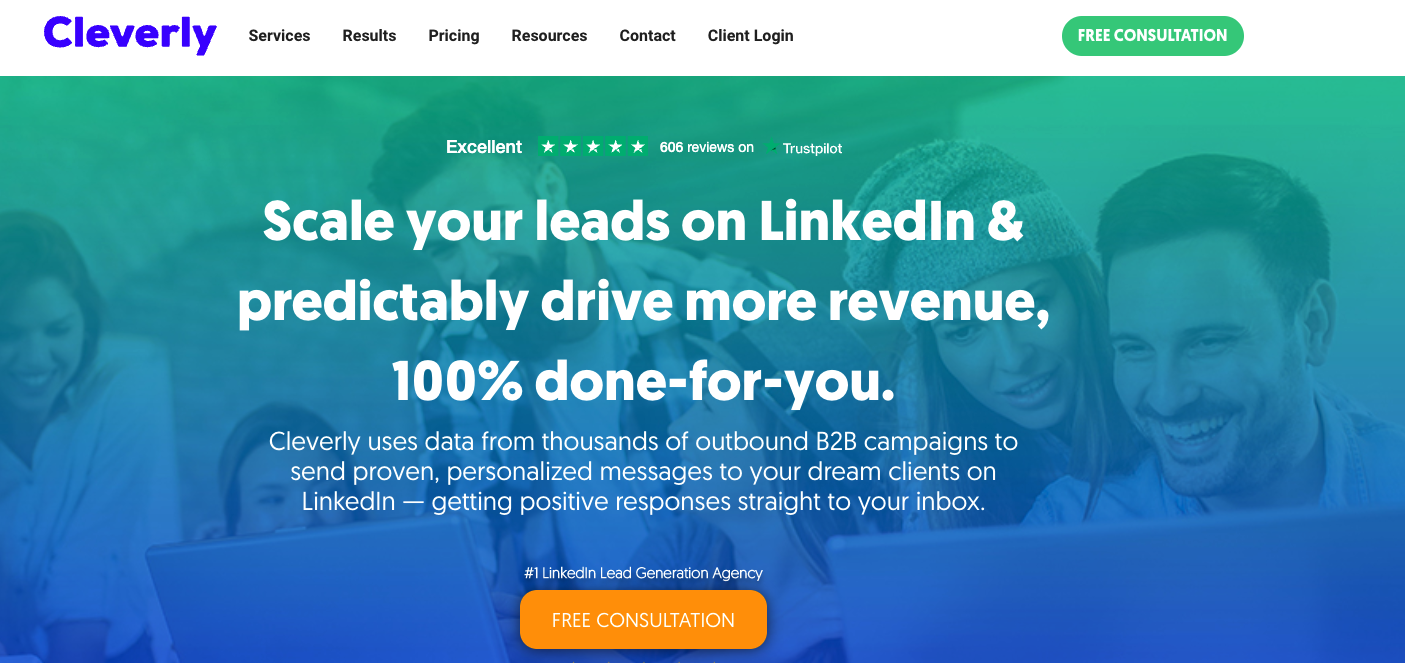 Main features
LinkedIn contact lists and cold outreach sequences

Recruitment services, e.g. candidate list building, A/B tested copywriting

Dashboard with key metrics and Zapier integration
Pricing:
Lead generations plans are $297/mo for 250 prospects and $397/mo for 500 prospects

White-label lead gen available upon approval for $397/mo

Other services are priced separately
Clutch reviews: 4.6 out of 5
G2 reviews: 4.5 out of 5
Upcity reviews: not available
Social: Cleverly LinkedIn profile
Tip! Before you sign up with any of the lead gen companies, check out the best strategies to generate leads.
How to choose a good lead generation company
Whether you're searching for lead generation companies for small businesses or enterprises, you need to consider the same finer details. The checklist below will help you evaluate lead services and make sure you're getting the best deal.
The best B2B lead generation companies won't mind discussing them.
1. Data compliance
Obtaining accurate sales data should be our number one priority when you use lead generation companies. Otherwise, you'll be wasting valuable time and resources trying to connect with people who are not interested in your product or service. You won't be able to fill in the sales pipeline with irrelevant leads and hit revenue goals.
Tip! Check out the video below that answers all your questions about B2B lead generation companies providing data.

2. Data source
Make sure the lead generation agency you hire sources leads in a compliant way. The likelihood of lead conversion is higher if leads agree to provide their contact details. You can ask the agency where their leads come from and how often their contact database is refreshed. Outdated information might not be correct even if it was provided voluntarily.
3. Data relevancy
Make sure that the data provided by the lead gen companies is usable. The obtained data has to serve your purpose (or purposes) which means it has to be easily manipulated. For example, does the company provide filtering and segmentation options for the data? If not, you won't be able to reach your ideal customers.
4. CRM integrations
Check if your lead generation vendor can bridge the gap with your sales and marketing teams by providing smooth integration with your company's CRM. It helps you monitor transfer, and manage generated data.
5. Sales triggers tracking
Does the company you're considering analyze sales triggers to increase the chances of conversion? The top B2B lead generation services analyze prospects' activity and performance, like hiring new executives or receiving funding to find new business opportunities for you.
Tip! Find out what sales triggers are and how they can improve lead conversion rates.
6. Data coverage
Double-check if the lead gen companies you're considering can deliver leads globally. Even if you're focusing your sales strategy on one location at the moment, it can change in time. Make sure that the company you choose can scale as you grow.
7. Local regulations compliance
Fines for breaching data compliance laws or not taking proper care of contacts' information can be hefty. So make sure the online lead generation company is registered with international and national regulators and addresses consent requirements.
Tip! Find how to generate leads in a compliant way using B2B data.
8. Services' flexibility
Most lead-generating companies offer a broad scope of services, from website development, to lead nurturing and scheduling appointments. Check with the company if they can tailor the offer to your go-to-market strategy. It's best to book a meeting with the SDR team to discuss your needs.
9. Pricing
Once a company provides you with a personalized solution, make sure the pricing is adjusted accordingly. Check if it is competitive and provides real value. For example, some online lead generation services resell lead lists to different clients or ask you to pay for invalid leads.
Tip! Learn more about the cost of lead generation and how to calculate cost per lead. Make sure you're not overpaying for leads and check which campaigns are most cost-effective.
10. The ownership of generated leads
Some B2B lead gen companies only rent their contact databases to you. It means you lose access to leads after the rental period. So if you're thinking about building a sustainable sales pipeline in the long term, choose a solution without an expiration date.
11. Support for in-house teams
Finally, evaluate your in-house resources. If you already have a sales team, consider how you can use a lead generation firm to support their work. Sometimes all you need to do is to provide the right sales intelligence. So they can better optimize the revenue operations process and have time to nurture active leads.
Tip! Read tips from our SDR team for winning sales or an interview with Karen Muldoon, Zendesk's sales leader, on becoming a successful SDR.