What Is Sales Enablement and How to Get It Right?
B2B sales is a competitive world.
When your salespeople have their heads buried in organizing CRM and admin tasks instead of being out on the field, your competition may get the edge on you.
That's why some companies turn to sales enablement to ensure the sales have all the necessary resources to win more sales. It doesn't magically translate to higher revenue but can help you streamline processes as you scale.
If you're wondering when is the right time to add a sales enablement function and what qualities make a good manager in this role, this knowledge hub contains all the information you need.
What is sales enablement?
Sales enablement means equipping the sales teams with the resources, data, and tech solutions to help them better engage prospective buyers and close deals more effectively.
On one hand, the goal of sales enablement programs is to give sales reps content that buyers want. On the other hand, enabling sales teams aims at providing them with continuous training and collaboration tools to deliver the best customer experience.
Sales enablement teams handle the creation of sales assets and sales training content. This can take the following forms:
Scripts, templates, and checklists

Slide decks

Battlecards based on competitor analysis

Case studies

Thought leadership content

ROI, TAM calculators

Ideal customer profile

Training and development materials

Onboarding and educational videos

Best practices for using sales tools

Reports on the success of sales enablement
When is investing in sales enablement important?
Gartner's 2022 survey of Chief Sales Officers finds that 73% of them expect sales budgets to increase. And sales enablement is going to be their top investment area. Not surprisingly, with increasing budget spent, investing in the planning process becomes key to optimizing investment and achieving ROI.
Sales leaders in the survey want to prepare for changes in the way sales teams and prospects interact. The pandemic has shifted B2B sales to digital with buyers becoming more interested in virtual experiences rather than in in-person events and conferences.
Why is enabling sales teams important?
Buyers are doing more and more research into solutions on their own before they engage with a salesperson. So when a salesperson finally gets to interact with a buyer, they need to make it count. Three key aspects highlight sales enablement importance:
Aligning departments and processes

: In the selling process, operating in isolation causes friction. Sales enablement programs simplify the customer journey and remove barriers between roles and functions to ensure a consistent customer experience.

Unifying sales tech stack

: Sales enablement role is to examine

sales tools

used for sales execution, customer retention, and lead generation. It takes a holistic view to simplify the sales process.

Collecting data and deploying AI

: This speeds up selling and assists sales teams in making data-driven decisions, improving everything from onboarding to engagement.
What are the benefits of sales enablement for a business?
Investing in sales enablement can benefit your organization in many ways! Here are a few of our favorites:
Added value

: The greatest benefit of sales enablement is that it allows your salespeople to add value every time they interact with a customer. For example, they can send a prospect a relevant case study quickly or use a current sales playbook during a discovery call.

Improved client acquisition

: Sale enablement essentially streamlines your sales process, regardless of how many collaborators are involved. It allows for the consistency and efficacy that businesses need to acquire new clients.

More selling time for your salespeople

: The sale enablement function is to support your salespeople, so they'll have more time to create relationships with customers.

Increase revenue

: Sales enablement teams indirectly impact the overreaching goals of sales—your revenue. You need to look at conversation rates when measuring the success of your sales enablement to track performance trends.
Who is responsible for sales enablement?
It's true, the name can be misleading—
Sales enablement is owned by both marketing and sales! The reason for this is that both teams should have input into sales enablement, and both teams reap the benefits.
Almost 50% of sales enablement functions sit under the Head of Sales, or simply one person who is responsible for organizational enablement. Some companies may opt to bring in a dedicated sales coach or content specialist to assist.
Much of the content that helps salespeople sell, such as videos, articles, and product guides, comes from the marketing department. On the other hand, the sales team will have a better idea of what prospects and customers require to make them buy. Marketing and sales working together in synergy is the secret to successful sales enablement.
💡Find out what's the role of marketing in sales enablement.
How to structure the team?
Sales enablement teams often have a leader accountable to the VPs of Sales and Marketing. The team may also consist of content creators, analysts, and technical experts. The size of a sales enablement team depends on the size of your organization and the sales team they support.
What sales enablement tools are there?
Tech is one of the cornerstones of sales enablement. Software that takes care of repetitive admin tasks allows salespeople to spend more time serving prospects and customers. Some of the examples include:
Sales prospecting and intelligence tools: They help build pipelines efficiently thanks to high-quality contacts you can use for your outreach strategy. For example, Cognism uses patented AI to provide globally compliant contact, company, and event data to help improve the quality of conversations.
Analytics and sales attribution tools

: They provide key insights that allow you to decrease sales cycles. They let you convert more visitors into sales-qualified leads. Seismic is a great example of content intelligence and analytics tool that automatically distributes relevant information to reps for any buyer interaction.

Sales learning and onboarding platforms

: This type of sales enablement software ensures that sales reps have the right skills and timely knowledge to make the most of every selling situation. For example, Allego delivers personalized, bite-sized training. It helps onboard reps, deliver consistent messaging, and adopt best sales practices.
There is also software that makes salespeople achieve better results, including data solutions, email sequencing software, conversational chatbots, and much more.
How to create a winning sales enablement strategy?
There's no silver bullet sales enablement strategy. Instead, companies should tailor sales enablement to their team and analyze how to reach their target audience with impact and resonance.
Winning with sales enablement takes planning and input from multiple teams across your organization. When formulating a sales enablement strategy, you need to commit to creating an effective framework, setting clear expectations on what needs to be delivered.
Your marketing and sales teams should work together to devise a strategy. Your sales development representatives speak to prospects and customers every day, so they know better than anyone what will resonate and what won't.
Once you have a strategy, use sales automation software to take on as many manual tasks as possible. Ensure the content you create is simple for your salespeople to find and share. After all, you're trying to help your salespeople drive engagement, not make more work for them.
Finally, take a data-driven approach to sales enablement. Collect as much data as you can on the back end and use it to iterate your processes.
What are the three elements of sales enablement strategy?
If you're looking to build a sales enablement strategy for your B2B sales team, you need to follow best practices. Here are three elements you need to incorporate.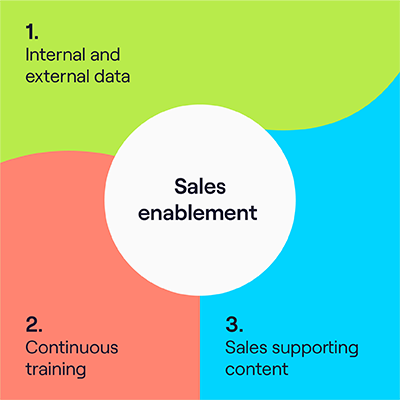 1. Internal and external d
ata
B2B sales and marketing teams deal with a massive amount of data, both internal and external. Part of sales enablement's role is helping them make sense of the data and how to use it to their advantage.
Sales enablement uses internal data gathered throughout the sales process. The goal is to identify areas of improvement in the process. For example, the sales enablement team may find that leads reaching the sales team are not qualified well enough. The solution would be to implement different lead scoring models.
Sales enablement is also the driving force behind bringing in external data solutions. For example, help identify ready-to-buy prospects with intent data.
2. Continous training
Continuous learning helps salespeople better refine their techniques and achieve more with their time. The best sales enablement frameworks incorporate regular training sessions tailored to how your sales reps sell to your buyers.
For example, training could include cold calling techniques, using technology to boost results, or anything else that helps make more sales.
Ongoing training is preferable to the traditional once-a-year classroom-style training program. Sales reps can also be coached individually on the areas where they struggle. This helps to boost rep retention rates.
3.

Sales supporting content

Providing buyers with the right content to help them make a decision is an integral sales enablement function. Sales enablement teams may own the process of creating this content, including demo decks, case studies, eBooks, and more.

They are also responsible for creating a knowledge base of resources that are easy for salespeople to access and share with prospects.
What's the difference between sales enablement and sales operations?
Some organizations will run revenue operations teams as well as sales enablement. At first glance, you may see some overlap of responsibilities between these two departments. They will also share the same goal of making sales teams more effective. However, there are differences.
The main difference between the two is that sales enablement focuses on tasks earlier on in the sales process, whereas sales operations teams work towards the end of the sales process. Sales enablement focuses on creating content and helping salespeople communicate with buyers more often and with more impact. On the other hand, sales operations perform tasks such as optimizing territories, compensation plans, and sales analytics.
Key takeaways
Sales enablement empowers sales teams to be better, providing them with the content, tools, and resources to engage with buyers at the right time and with the right message.
If you don't have a sales enablement strategy yet, you could be leaving money on the table. Here's how to start your sales enablement plan today:
Get your marketing and sales teams talking, with sales communicating what your ideal customer wants to know when they engage with your company.

Have marketing formulate and execute creative ideas that will resonate with your buyers.

Use technology to track results and streamline the process as much as possible.
The rewards will be seen in higher conversion rates and more revenue generated for the business.
Contact Cognism today
Cognism is the perfect addition to any sales enablement toolkit. Sign up with us and we will:
Arm your sales and marketing teams with the latest, greatest, and fully GDPR-compliant B2B data.

Help your revenue team meet performance targets with verified direct dials and email addresses.

Refresh and enrich your database using our patented AI-powered technology.
Click 👇 to book your screen-share and get the first 25 leads for free.