What Are Targeted Leads? 10 Strategies and Steps for 2023
You've sent out a B2B marketing campaign hoping to hook a bunch of prospects, and you do.
But, they aren't targeted leads and they don't convert.
What's the problem?
You're focusing on too large an audience.
What you need to do is narrow down your target audience to a set TAM - an audience who can benefit from what you're selling, and will be willing to hear your sales pitch out.
Once you hook these target leads, you've reeled in the big fish. They are the ones who will enter a nurture campaign and be more likely to convert.
In this article we're covering:
The top reasons why targeted lead generation is important for any business.
How to create a habit of lowering churn and attracting more quality leads.
How to create a versatile strategy that encompasses different channels and tools for a successful targeted approach.
Interested in how to get more targeted B2B leads? Start scrolling 👇
What are targeted leads?
According to Annuitas, nurtured leads spend 47% more than non-nurtured leads.
The trouble is most companies cast a large net, hoping to reel in as many leads as possible, rather than choosing to go a more targeted route.
And without these leads, there's no nurtured leads.
But what is targeted lead generation?
Targeted lead generation is breaking down a larger target market into smaller segments so you can focus more on the customers who better fit your ideal customer profile (ICP).
Targeted lead generation is important because it can help you take your sales prospecting to the next level, as well as:
Convert more qualified leads

Keep your team focused on bringing in high quality leads

Help you build better customer relationships

Lower churn and increase customer retention

Give you an idea of what your buyers need

Stand out from your competition
5 steps for generating highly targeted leads
Spraying and praying is an old fashioned notion in B2B sales.
Yes, you'll get leads.
But will they convert?
Probably not.
But how can you ensure your sales approach is streamlined to bring in hot leads over cold leads?
Here are 5 easy steps on how to get targeted leads:
Step one: define your ICP
Creating a good foundation is an excellent first step when it comes to generating targeted sales leads. To start, you'll need to discover and research your TAM and your ICP.
Your ideal customer profile (ICP) helps you define who you should be targeting, allowing you to eliminate anyone else who doesn't make the cut.
While your total addressable market will tell you how big your sales targeting lead pool is and how much revenue you can expect to generate from those leads.
To help you get started, try our 👉 TAM calculator!
After that, set reasonable sales goals your team can work toward. These can include increasing your month on month revenue, increasing your monthly qualified leads and reducing quarterly customer churn.
Step two: build a database
Now, start gathering contact data.
You can use traditional data gathering and capturing methods, however, doing this manually does take more time and can result in human error.
To avoid this, many companies choose to invest in sales intelligence tools like Cognism, to help automate their targeted B2B lead generation process and expand their targeted lead database.
You're likely wondering, where can I buy targeted leads?
Whatever you do, don't buy leads. Lead lists aren't always accurate or GDPR compliant, and can result in a hefty fine.
Press ▶️ to learn more about building an targeted lead list with a trusted B2B data provider:
Step three: segment your lists
Creating buyer personas and segmenting your prospecting lists will help you immensely.
How you choose to do this is completely up to you, but there are 4 main types of market segmentation you can use for inspiration:
Demographic segmentation: the physical and professional elements that differentiate prospects.

Psychographic segmentation: the actions and behaviours that differentiate buyers.

Behavioural segmentation: the thoughts and opinions that differentiate customers.

Geographic segmentation: the geographic factors that differentiate sales prospects.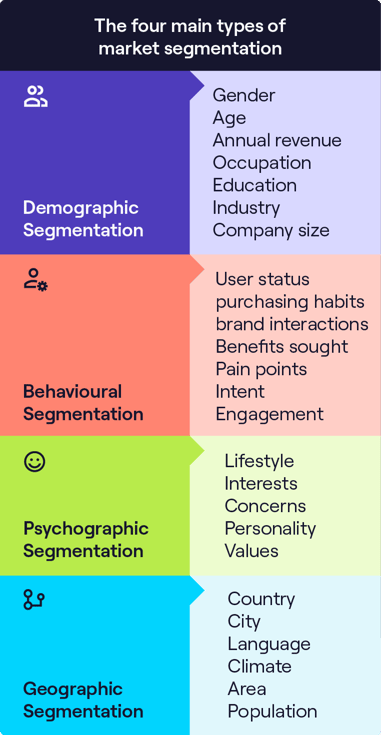 This data-driven approach to generating targeted business leads allow you and your team to stay organised while focusing on smaller groups of targeted prospects who are most likely to enter your sales funnel.
Step four: target and engage
Once you've segmented your data lists, you can start planning your outreach.
Each persona will require well thought out content with unique messaging, and having a streamlined database of target leads will make it so much easier to personalise your content for each.
Before creating content for your outbound lead generation campaigns, go back to your buyer personas and ask:
What pain points can I solve for each?
How can my product or service help them achieve this?
What content are they typically enjoying?
Bear in mind that each persona will also need content tailored for every stage of the buyer journey.
But, if you're sticking to these rules and creating B2B marketing collateral that adds value to your targeted prospects, the chances of attracting and converting quality targeted sales leads is high.
Learn more about creating content to drive revenue with Liam Bartholomew, Global Head of Demand Generation at Cognism 👇
Step five: nurture relationships
Once you've qualified and filled your pipeline with targeted B2B leads, focus on building relationships - it will do wonders for your business.
How so?
Happy customers mean a higher customer retention and lower churn.
Even better, they'll gladly recommend you at every opportunity. This means more referrals and a lower customer acquisition cost (CAC).
What sales leader wouldn't want that?
The best way to build relationships with your buyers is to enter them into a nurture campaign. This way you're giving them the information they need from you when they need it.
Plus, you'll be able to gather insights on what drives them for further improvement to your brand and your outreach.
Here are some good ways of finding targeted leads for free.
10 proven strategies for finding targeted leads
Creating content and distributing it for more targeted leads is easier said than done.
It takes communication, alignment with marketing, and careful planning.
Not to mention, a well thought out sales strategy, especially if you're after targeted business leads.
Here are 10 strategies that work for B2B businesses:
1. Sales cadences
According to HubSpot, email generates $42 for every $1 spent.
Making it one of the top targeted lead generation strategies.
However, email can be quite broad because you get marketing emails, sales cadences and newsletters, to name a few.
The answer is all of the above
Newsletters and marketing bring in prospects who have shown intent for what you're selling or the content you're sharing. These targeted leads are already warm, now they just need to enter a nurture to get them moving through your B2B marketing funnel.
For cold leads, sales cadences work to create awareness. If a prospect is interested they'll get in touch, helping you qualify them faster.
Those that aren't can always be entered into a rekindle nurture, unless they've opted out of any further communication.
Saif Khan, Cognism's Senior Business Development Manager, shares how to create the ultimate B2B prospecting cadence in this video 👇


2. Social engagement
LinkedIn might seem like just another social media platform, but it's a great lead source for B2B targeted leads.
In fact, according to Hootsuite, 4 out of 5 people on LinkedIn make purchasing decisions for their businesses.
Meaning, you're more likely to connect with a qualified B2B audience on LinkedIn than any other social platform.
How to get targeted leads on LinkedIn?
Start off by always sharing your lead magnets and building up a brand.
This means becoming a source of knowledge and building trust with your personal audience too.
This way, when a prospect sees a message from you, or one of your posts, they know you're someone who knows what they are talking about.
Secondly, upgrade to LinkedIn Premium.
It allows you to narrow down your searches with specific filtering and you can see who has viewed your profile. They just might be the targeted lead you were looking for and you can connect with them directly.
And, lastly, invest in LinkedIn ads to expand your reach. (More on this in the next strategy.)
Find out how social selling on LinkedIn can fuel your pipeline and bring in more pre qualified targeted leads. Click ▶️ to listen.
3. Paid ads
One of the most effective strategies for B2B sales success is to ensure you have an ad campaign live on every channel you utilise.
This goes for Google, Facebook, LinkedIn and YouTube, to name a few.
By running highly targeted ads for leads, you're ensuring that your audience sees your brand everywhere they spend their time.
What's more, the great thing about social ads is you base your sales targeting on your segmentation.
For instance, if you've segmented your lists into demographic segmentation, you can target prospects on a micro-level. If you've segmented your lists in behavioural and psychographic segmentation, then you can create targeted ads on a macro level.
Not only this but by running ads, you're increasing your social presence and building trust within your target market.
Here are our top lead generation and targeted lead ad strategies for specific platforms:
👉 For LinkedIn
👉 For Google
👉 For Facebook
4. Cold calling
Cold calling is probably the most popular way to get highly targeted business to business leads.
Of course, there's a reason for that…
It works!
If you're looking to hit bullseye on phone targeted leads then cold calling is the way to go.
Just ensure you stick to the following rules:
Always research your prospect before calling, and be prepared with a cold calling script for any scenario!
Always be positive, even if the person on the other end makes it hard. This can help build rapport and ensure you're seen as a professional if you happen to call again.
Let your target lead talk. You aren't going to get any selling done if you're barrelling over your buyer.
Always ask open-ended questions to keep the conversation going.
Learn from your calls. If you make a mistake, that's okay. Listen back and come up with a way to work around it the next time.
📞 Get targeted leads through cold calling with these top tips and techniques. Brought to you by Morgan J Ingram, Director of Sales Execution and Evolution at Jb Sales Training and David Bentham, Inside sales Director at Cognism.

5. Lead magnets
Good content can be your number one driver for getting targeted sales leads.
If your prospect is further down the funnel, share anything that informs them of the advantages, benefits and achievable ROI your product or service will bring to the table. This can include product brochures, pricing, case studies and more.
If they are just entering the funnel, you can choose to gate or ungate lead magnets like:
White papers
E-books
Guides
Reports
Courses
Templates
Tools
Gated content generates targeted leads who are willing to share their data with you via a form.
From what they download, you'll be able to pinpoint what interests them and share more for them to enjoy.
If you choose to ungate your content, you're making more of a long-term play toward creating demand by building brand awareness and offering value.
To ensure you're creating content your audience needs, listen to their pain points and pass them along to your marketing team.
6. Brand awareness
We've mentioned brand awareness a few times, but what does it have to do with your targeted lead strategy?
The more prospects know about your brand, the better your chances at converting targeted leads.
Plus, the more you put yourself out there, the more conversations you can have.
To create brand awareness, get sharing on social and look at hosting or attending:
Webinars

Workshops

Seminars

Networking meetups

Conferences
7. Landing pages, demos and forms
Your company website is a huge selling asset.
Not only can you have personalised landing pages for campaigns, but you can host your lead magnets, create pop-ups and banners and share valuable information about your brand.
To generate targeted leads, make sure each page fits a specific purpose so you can drive visitors to free trials, demos or lead magnets.
This strategy works best when prospects are directed to pages that offer them something valuable they can use, be it a free tool, a short form to sign up for a freebie or a downloadable piece of content.
At Cognism we've created two calculators for our prospects to use free of charge as part of this strategy. Here's the links to both:
8. Let bots do the talking
Your targeted sales leads might take their time making purchasing decisions, but once they know what they want you need to be ready to take action.
So, what happens if they reach out after hours?
Even if it's just to ask a simple question?
Of course we can't be online 24/7, but a bot can.
And if they can help out a prospect when you're unavailable, it's a win.
What's more, AI is so advanced, you can set up your chatbot to be completely on brand, follow a script and integrate with your CRM and website so you never miss another targeted lead opportunity.
9. Sales automation software
These targeted lead strategies may seem like a lot of work, but they don't have to be.
Thanks to innovations in technology, there are numerous lead generation tools that can help any company get targeted leads, manage and convert them.
From list building and prospecting to scheduled emails and reminders, sales automation helps free up your team's time so you can focus on qualifying leads and building relationships.
10. Referrals
Last on our list of sales targeting strategies is the easiest of the bunch.
If you've done a great job, offered the best customer service and signed the deal, your customers should be happy to refer you to their networks.
And in some cases, you might not even be aware they're doing it.
This is what many refer to as the dark funnel.
It's a term most used in B2B marketing, but it's a tactic that plays a big role in sales too.
This is where your buyers are spending most of their time, speaking about your brand, sharing content and recommending you to others.
Attribution software can't track dark social engagement so you might not even be aware that it's happening.
To stay on top of dark social, you'll need to show your buyers how beneficial your services are during the purchasing process and long after they've become a customer.
Great customer service goes a long way and according to Semrush, word-of-mouth drives $6 trillion in annual global spending accounting for 13% of all sales.
For a quick roundup of 2023s top strategies for B2B lead generation, press ▶️:

Find targeted sales leads with Cognism
Take your B2B prospecting to the next level with targeted leads software, Cognism.
Saving sales teams precious time, Cognism minimises manual search, admin and incorrect dials, as well as:
Starting a conversation with intent data and sales trigger events

Cold calling confidence with Diamond Verified Phone Data®

Unlimited views and unrestricted individual and page-level exports.

A notified database, business emails and mobiles cleaned against global do-not-call lists.
All this increases your chance of winning targeted leads by 74%!
Book your demo today and watch your sales skyrocket. Click 👇