13 Lead Generation Strategies & Tactics That Work
According to HubSpot, six in ten marketers make generating business leads their top priority.
It means they've probably learned the basics and now they focus on taking their lead generation strategies to the next level. The secret is to keep the pipeline full of the right type of leads.
If you're not quite there yet, feel free to take the ideas from this article and use them to gain grounds against your competitors next quarter.
In this article, you'll learn the best lead generation strategies for any business size 👇
The list of lead generation strategies below contains tried and tested techniques and innovative ideas. They will be relevant for small businesses and been-there, done-that marketers.
1.
Use sales intelligence
The result: List of prospects in your target accounts
B2B lead generation strategies today are about being relevant to the customer. They aim to generate lead lists of decision-makers in your target accounts. Sales intelligence tools help you achieve that effectively.
How exactly?
Sales intelligence technology continuously crawls publicly available websites to gather relevant B2B data. It can later match it to profiles in its database to keep historical customer data fresh and accurate.
Platforms like Cognism or Zoominfo allow salespeople to set up sales trigger alerts that notify you when an event, such as new C-suite hire, occurs in your target company. It also helps you search, analyze and identify qualified leads and close more deals.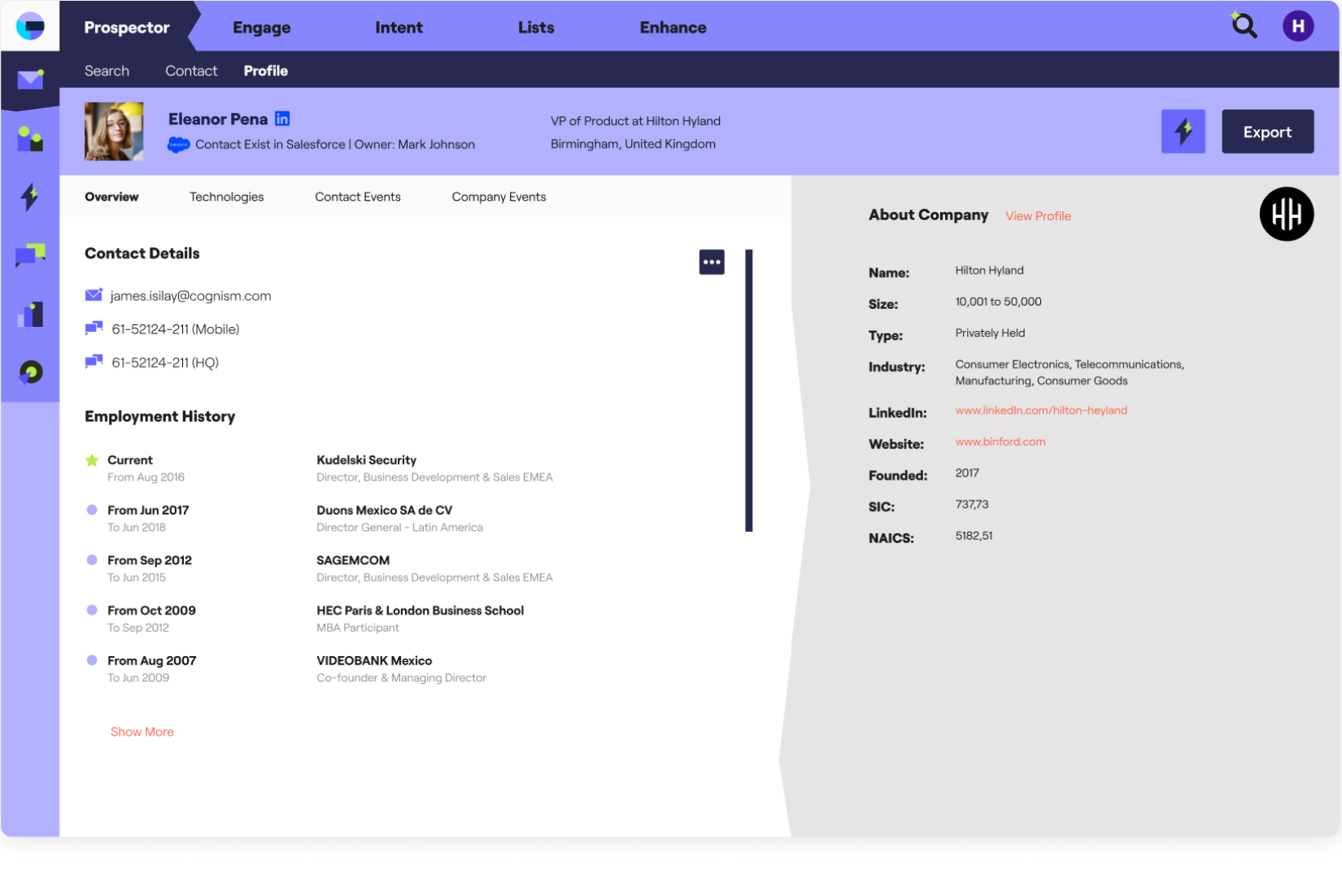 💡 Book a demo with our sales team to find out more 👇
💡 Read a case study of a lead gen agency ROCCI that used Cognism to generate new qualified leads for their clients at scale.
2.
Simplify your lead gen form
The result: Improved conversion rate
There are multiple ways in which you can collect lead contact information. But do you want to hear what's the best lead generation strategy online?
Keep the sign-up form short, and collect only the crucial information.
That's right! Just think about it from the user's perspective—
Half of your users use mobile devices to browse your website and they are busy. So make sure that you're not discouraging them with a long lead form that takes up all the space on their screen.
You can later fill in missing data gaps with advanced contextual data points and mobile numbers.
💡 See how to use Cognism Chrome Extension to enrich inbound leads who have left a personal email or office number. Or try it out now👇
Tip! Boost lead generation strategies with lead scoring models.
3. Use competitor analysis and SEO
The result: Targeted lead generation
Search engine optimization (SEO) is one of the highest-ROI online lead generation strategies, mainly due to the lowest customer acquisition cost.
Keyword research is your way to generate targeted leads which further improves the lead-to-sales rate. Start with exploring broad topic ideas that are relevant for your business in tools like SEMrush or Ahrefs. They give you long-tail keywords (three to five words) which are more specific and let you target your ideal customer more precisely.
To take SEO lead generation strategies to the next level, check what your competitors are focusing on. You can see what type of content works for them to better understand the market. It also helps to better predict KPIs and measure the success of your lead generation tactics.
Tip! Looking for ways to generate leads for free?
4. Leverage intent data
The result: Redefined sales funnel
The standard sales funnel has three layers: awareness, consideration, and conversion. But have you ever considered skipping one of them? What if there was a way to spend less money and make the sales funnel more efficient?
The first step in the sales process is to get prospects into your funnel through, say, paid ads, and work them down to the bottom of the funnel where they become paying customers. But every lead generation campaign should be tailored for your user.
The trick to skipping the top and middle of the marketing funnel is leveraging intent data tools. They track customers' digital activities to provide you with insights into the level of their interest in your product. You can then focus on generating qualified leads and leave your competitors in the dust.
Tip! Check out more methods for generating logistics sales leads and leads in finance.
5. Launch paid media campaigns
The result: Get leads fast
Unlike SEO, this is one of the best lead generation strategies in digital marketing to promote your content and quickly boost exposure. Some of the paid media examples include sponsored updates on LinkedIn, Facebook ads, or pay-per-click ads on Google.
The best part about Facebook advertising is that there are Facebook lead ads. They allow businesses to capture leads directly within the ad without requiring users to leave the platform or fill out lengthy forms on external websites.
The secret to a successful lead gen campaign on those channels is sorting out their technical side. A tiny mistake, like inserting a wrong link will cost you money and you won't see the return on your investment.
Besides that, a study shows that 63% of customers will leave a company after a single poor experience. And there's nothing worse from a user perspective than broken links or slow-loading images and videos.
Tip! Watch the video below to learn the best lead generation tips to optimize Google Ads.

6. Run retargeting and remarketing campaigns
The result: Expanded similar audience
The retargeting and remarketing goal is to engage leads who are most likely to make a purchase on your site. These lead generation marketing strategies use mainly paid ads aimed at prospects who engaged with your website or social media profiles.
When you first launch paid media ABM campaigns you base them on your buyer persona. Every retargeting campaign is usually more targeted than your initial campaign. Because you can fine-tune your audience based on the results of the original ad.
You can also use this tactic to find new business leads who share similar characteristics to your existing customers. Try Lookalike Audience on Facebook or Audience expansion on Google. The algorithm will help you expand your audience and generate quality leads. Similar features are available on other platforms as well.
Tip! You can use different methods to remarket your products or services, such as email or SMS. The average response rate for SMS marketing is 45%. In contrast, 20% of emails are opened and only 2% of links are clicked in them.
7. Go beyond Google and Facebook advertising
The result: Find the highest-quality leads
With the rise of new advertising platforms specific to niches, you can get more leads and more market share. Here's what you need to do—
Research your niche and see what alternative platforms your target audience is using. This lead gen strategy requires you to follow your common sense. You don't want to use a platform that is too niche. But don't underestimate how many users a platform has. It's better to test it out and see if it works for you.
Run ads and compare lead generation metrics such as clicks, impressions, etc. with your standard SaaS marketing campaigns to see which ones give you better results. You can optimize the new lead generation technique later for better ROI.
8. Use AI and automation
The result: Boost all lead generation strategies
Gartner's research predicts that artificial intelligence (AI) will dominate the market in the near future. It will save lead generation specialists manual work in generating leads.
You can incorporate chatbots and virtual assistants as part of your lead generation strategies. They also increase engagement on your website and nurture leads. For example, you can use AI to match leads with the agent who can best assist them based on visitors' interaction history with your website.
This is the best way to generate sales leads from the assets you already have. You can integrate bots with CRM systems and connect machine learning processes to business apps like Slack, Google Analytics, or email automation software. AI algorithms can then analyze collected data to provide insights about where your leads come from and their characteristics.
Tip! Learn the best ways in which tech companies can generate leads.
9. Offer demos and presentations
The result: Personalized user experience
Having said that using AI is one of the top lead generation strategies today, I need to give you a word of warning—
Too many companies try to automate too soon and struggle to hit their marketing targets. When automation goes wrong (or happens too early), it increases the distance between your business and a lead.
To avoid such small mishaps turning into bigger problems in the long term, it's always best to provide your prospects with a better and more personalized experience by offering live demos and presentations.
During a live call, you can ask prospects directly why they were interested in your product or service or what put them off. This feedback can help you to address any issues in your content and improve your product.
Tip! Learn how to conduct a perfect sales demo with tips from our experts.
10. Use video marketing
The result: Scaled reach
Video marketing should be included in your lead generation program for a couple of reasons. Services like YouTube are not only video platforms, they are also search engines where people come with a purpose.
YouTube has 122 million active users daily and on average they watch 16 minutes and 44 seconds of content every day. People prefer tutorials to read manuals, unboxings, and product presentations. It makes video marketing a great strategy to drive lead generation to your products and services.
If you combine this technique with other lead gen strategies, you don't need a lot of subscribers at first. Focus on optimizing your video content to rank in Google. You can also add hashtags to increase the social aspect of your campaigns.
11. Use your business network
The result: Promote lead generation content
This way of generating leads requires you to build a business network of partners and salespeople who can help you close sales. The trick to this strategy is to use the right type of person for your product so that your brand is credible.
Don't waste time making partnerships with random people. Reach out to industry experts who can endorse your brand to find the right business leads. They will be able to explain how your product benefits without scripted messages.
It can become one of your most successful lead generation strategies because people buy from people. According to a study, only 36% of customers trust the advice of employees in the company, and 59% trust that of peers in other companies.
12. Create a strategy for social media
The result: Get more visibility
Social media lead generation programs can be different for every company. For example, lead gen strategies for startups might aim at more visibility or awareness. It can be more complex for mature businesses that may have multiple sales goals.
But before you start creating content for social media channels, it's important to set sales objectives. Establish what you are trying to achieve from a marketing perspective. Then to implement it right, you'll need tools and processes. Create enough good content to be social.
If your traffic from social media lead generation methods is dwindling, try increasing visibility through a short video. According to a HubSpot Blog poll of 1,000+ global marketing professionals, 85% of them rank short-form videos as the most effective type of social media content in 2021.
Remember though, that social media changes all the time. So measure and optimize your strategy continually. Don't set it and forget it.
For more great tips and strategies, read this article from design rush.
13. Try interactive content and gamification
The result: Increased engagement
People are naturally sociable which makes them like to compete and win. If you find a way to add gaming elements to your lead generation strategies, you can encourage more prospects to go down the sales funnel.
Gamification can generate business leads by making e.g., email signup a requirement for participation. From inserting a wheel of fortune on your website to taking a fun test that matches you to a product or service.
You can also utilise gamification software to add gaming mechanisms to landing pages. Instead of placing premium content behind a gate, you can place the lead generation form after prospects have played the game. They are more likely to leave their contact details when they are already hooked.
Tip! Learn more about making a game out of lead generation with an example from a tech company.
Key takeaways
No time to read the full article? Don't worry, here's a recap of strategies that help you get leads for your business:
Use sales intelligence to find prospects in your target accounts

Simplify your lead generation form to improve the conversion rate

Use the competitor analysis and SEO for targeted lead generation

Leverage search intent to redefine your sales funnel

Launch paid media campaigns to get leads fast

Run retargeting and remarketing campaigns to expand your audience

Go beyond Google and Facebook advertising to find quality leads

Power all lead gen strategies with AI and sales automation

Offer demo and presentations to personalize user experience

Scale your reach with video marketing

Use your business network to promote lead generation content

Create a strategy for social media

Try interactive content and gamification to increase engagement
Feel free to mix and match them for maximum benefit.