How to Build a B2B Marketing Funnel: Steps, Tips & Strategy for 2024
Only 9% of marketing professionals are confident in their current content strategy. (Source: Semrush)
Understandably, answering buyer questions, deterring their doubts, and rebutting objections all in one marketing campaign can be overwhelming.
But there's a solution to this. One that will ensure your strategy wins more leads and lowers your CPL:
A B2B marketing funnel.
Having a funnel in place can give you insights into what your customers want and improve your marketing strategy.
Keen to learn how to build a marketing funnel and the top strategies you can use to bring in more hot leads?
We're diving in. Scroll on 👇
What is the B2B marketing funnel?
First off, what is a marketing funnel, and why is it so important?
A B2B marketing funnel is a series of steps designed to attract targeted leads to a website. Its main goal is to build brand awareness, increase loyalty and convert potential customers into qualified leads.
The marketing funnel describes people's journeys when they become customers and outlines the marketing activities that should be carried out at each stage of the funnel.
It's an integral part of B2B marketing because, while a B2B marketing funnel takes longer than a consumer sales cycle, it's more sustainable long term. Moreover, it helps segment your audience into different categories for personalized messaging based on where each customer is in the buyer journey. Resulting in a higher chance of sales success.
6 advantages of implementing a B2B marketing funnel
With that said, there are several benefits to using a saas marketing funnel to attract potential buyers, including:
1. A greater understanding of your audience
A B2B content marketing funnel can help you create a map of your ideal customers' typical buyer journey from their very first interaction onward.
By implementing this tactic, you'll gain greater insight into what your customer needs at specific points of their journey, deliver it to them at the perfect time, and lower your cost of customer acquisition (CAC).
2. Better brand awareness
The more recognition your brand has, the better! Why? Because it creates trust. When B2B buyers know who you are and understand what you're selling, it cuts the sales cycle in half. This leads to faster conversions, increased customer loyalty, and customer lifetime value (CLTV).
3. Supports SEO
By building a sales funnel for B2B marketing, you can increase the traffic to your website without paying hundreds and thousands for paid ads.
What's more, the more content you have available, the more link building opportunities you'll have to support your brand awareness.
4. Increased ROI
The only way you'll see results from your marketing campaigns is to keep working on them, which can be costly.
But, with a B2B marketing funnel, you're opening up numerous marketing opportunities for more long-term revenue. This is because you're gaining access to a customer's data, so you don't need to worry about making an immediate sale.
Instead, you can use this marketing data to personalize ABM campaigns, share knowledge and position your brand as an authority. So, when your B2B customers are ready to decide, your company will be top of mind.
5. Nurtures relationships
B2B funnel marketing is perfect for nurturing relationships and building brand loyalty. When you can access your prospective customers' contact data, you can enter them into an email nurture.
Do this by:
Sending out email campaigns to educate potential customers
Show them how your products work
Share case studies
Offer special discounts and freebies
6. Performance is easily measured
The best part about a marketing sales funnel is that you can measure your marketing team's performance through B2B marketing metrics.
This way, you can easily evaluate what's working and what isn't and adapt your strategy to get buyers moving down the funnel and increase conversion rates.
The 3 stages of a traditional B2B marketing funnel
Creating a funnel in marketing is crucial for understanding the organizational buying behavior of your target customers. Once you identify your potential buyers' pain points and motivating factors, you can develop an effective marketing funnel that increases your chances of getting a sale.
There are three B2B marketing funnel stages:
Top of the funnel (TOFU)

Middle of the funnel (MOFU)

Bottom of the funnel (BOFU)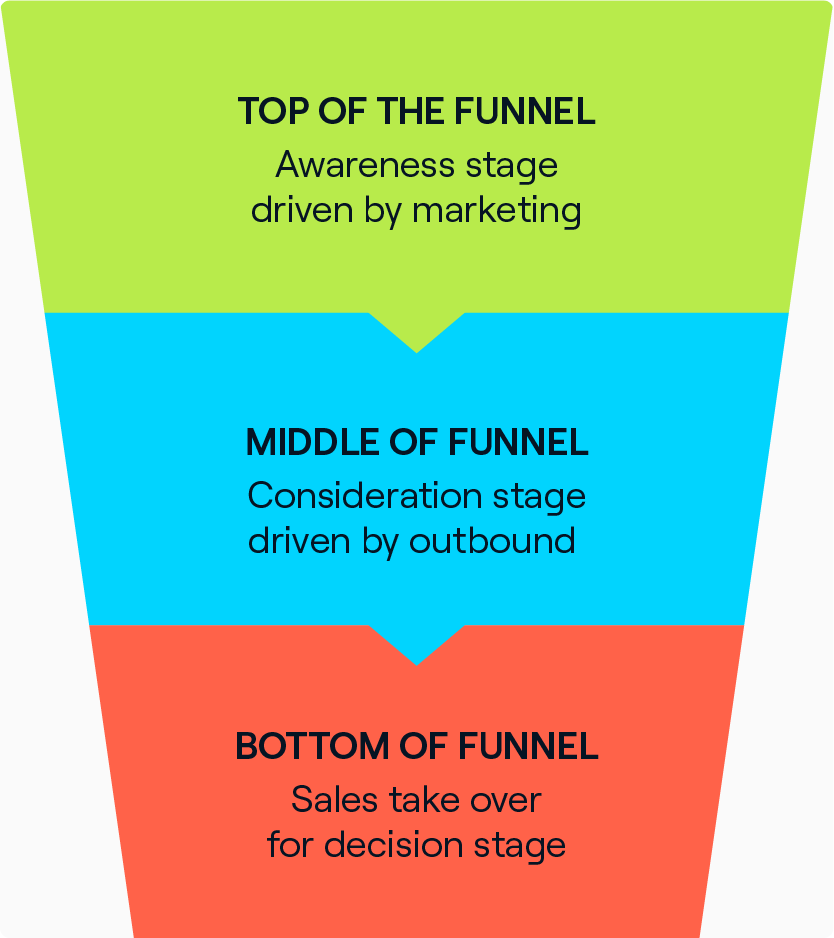 Let's discuss them in detail:
Top of the funnel (TOFU)
The top of the funnel (TOFU), or the awareness stage, is the first stage of the marketing funnel, where potential consumers become aware of problems within their business and start searching for solutions.
They know they have a problem but are not yet ready to buy.
At this stage, your aim is to increase brand awareness and generate more leads.
There are many effective techniques to raise awareness, such as:
Organic awareness
Publishing blog posts, YouTube videos, white papers, ebooks, and other helpful content can help you establish thought leadership and increase brand awareness.
Again, B2B buyers spend most of their time on independent research. So it makes sense to share free and relevant content, especially if you want to build trust.
Social media
Social media is one of the best channels to leverage at the top of the B2B marketing and sales funnel. Sharing social media posts can go a long way in connecting with prospects worldwide, establishing topic authority, and building meaningful relationships.
Paid awareness
Running online Google and social media ads can help create awareness and support your organic marketing efforts.
You can also use QR codes to increase brand awareness. Use a QR code generator to create a QR code, link it to your website or informational content, and put it up on your physical ads.
Users can scan the QR code to reach your website and interact with your brand.
It's important to use appropriate messaging in your awareness campaign to achieve your desired results and refine your incoming leads. Your campaigns should highlight your prospects' problems and offer solutions to help overcome them.
🔥 Top Tip🔥

Prospects in the awareness stage may not completely understand their problem.

Avoid asking for big commitments like scheduling a demo or contacting sales. Your focus at this stage should be lead generation through sharing helpful content.
Middle of the funnel (MOFU)
A customer is said to be in the middle of the funnel, or the consideration stage, when they have fully realized their problem and are actively looking for solutions.
This is the stage when you should introduce your product. Remember that it's still not the time to go into hard sales mode. Your customers aren't actively buying yet. They're more like browsing, looking for the products available in the market.
Your content and messaging will change at this stage of the funnel. You've already created awareness and generated interest. Now, it's time to give your customers context for consideration. Differentiate your product by highlighting its unique value proposition and why it's the best option for your buyer.
Remember, your prospects aren't buying for themselves; they're buying to improve business outcomes and gain a competitive advantage. When positioning your company's offerings, focus on how they can help your ideal customers achieve their goals.
For example, you could describe how your product can help increase profitability and what their potential losses might be if they don't take action.
The content you create at MOFU will play a pivotal role in pushing your prospects to the final stage of the B2B marketing funnel. Some content types to focus on during the consideration stage are:
White papers

Industry reports

Webinars

Quizzes or surveys

Product videos

Case studies
Your website also greatly impacts your customers in the consideration stage, especially if you sell SaaS software. Consumers will visit your website to learn more about your business and products.
A stunning website with an intuitive user experience (UX) will create a favorable first impression and increase the user's trust in your brand. In fact, according to Social Media Today, 75% of people determine a brand's credibility from its website.
MOFU is also the stage of a B2B SaaS marketing funnel when B2B companies should begin leveraging advanced marketing techniques like cold email, outbound lead generation, email remarketing, and retargeting ads to nurture marketing qualified leads.
Bottom of the funnel (BOFU)
The bottom of the funnel (BOFU) or decision stage is when a customer has shortlisted a few products and is ready to make a buying decision.
It's at this stage when a marketing development representative takes over the sales funnel in B2B marketing. They'll need to get into a full-fledged selling mode during this stage, so the prospect takes action. This action could be a direct purchase, a consultation registration, or a free trial.
However, B2B marketers still have a role to play. It's essential to create educational content and messaging for the decision stage so prospects don't have any doubts in their minds when buying.
Here's what you can offer to your prospects in the decision stage:
Free trials

Consultations

Testimonials

Quotes and estimates

Coupons and discounts

Training and tutorials
However, your sales team could still receive cold call objections from the buyers. They might feel that the price is too high or they need more time to think. Prepare your outbound sales team accordingly.
Finally, remove any friction from the sales process. Don't make your customers undergo a long pre-purchase process. Collect the minimum-required information at the buying stage and fill the remaining gaps after the purchase.
How to build a marketing funnel for the B2B customer journey
Now that you're aware of all the stages of a B2B marketing funnel, you'll want to learn how to create your own.
Start by looking at the marketing process:
There are five steps to follow here, awareness, consideration, action, re-engagement, and retention.
1. Awareness
Step one is to find a way to drive your B2B target audience to your website. After that, you'll need to map the customer journey.
What action do you want them to take when researching your brand?
Direct them to a form to find out more. Or, as they are still in the TOFU stage of your marketing funnel, encourage them to sign up for your newsletter so that you can start sending them valuable content.
2. Consideration
Once your potential customers have become aware of your brand, they'll start considering their options. At this point, it's crucial to get in front of your customer before your competitors do.
B2B marketing funnel tactics that come into play here include entering prospects into a nurture campaign. Valuable content is then shared to showcase why your solution is the best for their business.
3. Action
One of the most important stages of the marketing funnel is the action stage. This is where your buyer decides which product they want to buy by comparing features and benefits among brands and solutions.
They'll decide which one offers the best combination of features and benefits at the best price and take action to make it happen.
4. Re-engagement
You'll notice a few leads slipping through the cracks or presenting sales objections your team couldn't win.
You can still engage with them, building a relationship and warming them up for when the time is right. All you'll need to do is set up a fantastic email remarketing campaign to ensure they don't slip away again.
5. Retention
The last phase is not to forget about the customers you already have! Ensure top-notch customer service and use your inbound marketing team to share content that keeps them engaged. This can open up opportunities to upsell and encourage user referrals for new business.
As with all strategies, your funnel needs to have set goals and B2B marketing funnel metrics to ensure that those goals stay on track. Don't forget to outline these with your team before building your funnel.
Here's an example of a marketing funnel you can use as part of your business process:
B2B Marketing Funnel Template

Marketing Funnel Stages

TOFU

MOFU

BOFU

Awareness

Interest

Desire

Action

Retention

Goals

Metrics
B2B marketing funnel strategies to stay top of mind
Now that you know how to build a marketing funnel, you'll need a strategy to support your lead generation process. Even though every B2B business uses different tactics for its B2B full-funnel marketing, the core of any strategy remains the same:
Identify the problem, agitate it, and propose a solution.
You can use three types of B2B marketing strategies:
1. Content marketing
Quality is the key ingredient for any successful online marketing campaign. If your company has good-quality content, it's more likely to be read by potential clients.
First and foremost, ensure every piece of content you create answers your audience's key questions and showcases how your solutions can solve common pain points better than your competitors.
Your funnel content should be a good mix of written, audio, and video, which can be shared on your company blog or social media platforms.
Learn more about constructing your tailor-made marketing mix Mark Huber, Director of Growth at Metadata 👇

2. Search engine optimization (SEO)
Including SEO as part of your funnel strategy is crucial because it can increase your organic search traffic, build your online reputation and help increase your B2B marketing funnel conversion rates. You'll want to invest in a full-time SEO manager who is adept at on-page SEO strategies.
3. Pay-per-click advertising (PPC)
Every B2B sales and marketing funnel needs a paid ad strategy. Working alongside SEO, Google ads target high-search keywords, retarget your website visors, and drive traffic to customized landing pages to boost your campaigns.
4. Email marketing
The conversion process can take much less time if you utilise a well-thought-out B2B email marketing funnel strategy.
Using the best B2B marketing funnel tools on offer, you can configure different automated email sequences for your sales funnels. They'll be triggered automatically when certain events happen, such as someone signing up for your list or downloading an eBook from your site.
You can use lead nurturing sequences to share useful and practical content. This will help persuade your free trial (or demo) email recipients to become paying clients.
That said, no two B2B funnel strategies are the same. Your marketing tactics must depend on your consumers' requirements and your product's strengths
Here's one last strategy you might find interesting - flipping the B2B marketing funnel 👇


FAQ
What is the difference between a sales funnel and a marketing funnel?
A sales funnel is a process that leads potential customers to become paying clients. The marketing funnel is a series of steps that move prospects from awareness of your product or service to a consideration phase. Whereas the sales funnel qualifies leads brought in from the marketing funnel and encourages them to make a purchasing decision.
Do you need to create both a sales and a marketing funnel?
Yes. To fully comprehend the buyer journey and what action steps you must take at every stage, it's important to have an analysis of both the sales process and the marketing funnels.
Build your funnel with Cognism
That's the marketing funnel explained, and the best part about it?
Creating your own doesn't have to be a chore!
Not with the help of Cognism.
How so?
Our sales intelligence software can help you access account and contact data on demand. Land opportunities with the target accounts and prospects your sales team really wants.
Click to book your screen share 👇