What is a Sales Funnel? And How to Build One for 2023
Every SDR has experienced the pain of cold calling, pitching, and demoing only for a prospect to drop out of a sale at the last minute.
If you want to avoid near misses and skyrocket your conversions, you'll need a strategic sales funnel.
That's where this article comes in. We're covering:
What is a sales funnel?
Why sales conversion funnels are important for B2B businesses.
What stages of a sales funnel you don't really need.
A done-for-you sales funnel template.
How to create a buying funnel for your company.
Let's get started 👇
What is a sales funnel?
The definition of a sales funnel is the journey potential buyers go through when they take an interest in a specific product or service. This journey consists of a funnel of steps that sales teams use to convert prospects into customers, also known as prospecting.

Every interaction with your customers should follow the strategic framework of your SaaS sales funnel, especially if you want to convert more targeted leads.
To put the sales funnel definition in perspective:
A sales funnel begins with many potential buyers and narrows down to a smaller group of prospects.
As the customer journey progresses to the middle of the funnel, prospects decrease, and the sales cycle ends with either a closed-won or closed-lost deal.
As the sale progresses, the likelihood of closing increases. More information is exchanged, and the product's benefits become clearer to the customer.
If the deal is not moved to closed-lost, there is a higher chance of success. If it is moved to closed-lost, there is no chance of success.
See the list of the best sales pipeline management tools.
Four benefits of a sales funnel
You're probably thinking:
Why do I need a funnel to make a sale?

Can't I just call a prospect up and give them my pitch?
We're afraid that sort of lead generation strategy just won't cut it.
Especially if you want to hit your numbers!
Here are some of the benefits of having a sales process funnel in place:
1. A better customer journey
Take a page out of the sales marketing funnel and personalise your sales strategy. If you consider your target customers at every stage of their journey, you'll increase your customer lifetime value and boost conversions.
2. More understanding
Using various types of content, your sales team can get a better idea of what your customers need and give it to them at the exact moment they need it. You can use an automated sales funnel to do this. What's more, with understanding comes better communication, and you're better able to relate to the modern buyer.
3. Customer relationship management
By pushing leads through a customer funnel, you're building long-lasting relationships that result in easier conversions. So not only will your sales leads funnel shorten, but you'll likely get more hot leads in the form of referrals.
4. An improved sales funnel strategy
Constant communication means more opportunities for feedback, helping you improve your strategy and giving you an edge over your competitors. The best way to track these findings and act on them is to use sales automation software.
But, what will ultimately bring you the most sales funnel conversion rates is asking yourself this key question:
🤔 Where are my prospects in their buyer journey?
The six stages of the sales funnel
There are generally four to five sales funnel steps to any business funnel.

But one thing remains true for each one:

There's a bottom, middle and top.

Here's a lead funnel stages example: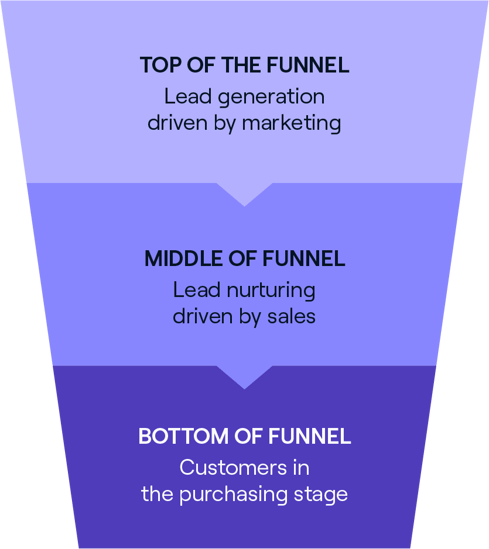 This is why you might hear many salespeople referring to 'bottom or the top of the sales funnel' to reflect where their prospects are in their journeys.
The better thought out your funnel is, the easier it is to make a sale.
At Cognism, we believe in going the extra mile, so our sales funnel model has six stages!
The six sales funnel stages are:
Let's look at them in greater detail:
Stage 1: Awareness
You won't find sales success if your prospective customers don't know who you are!

The awareness stage is where your prospect discovers your company, and the sales funnel process starts.

This can be achieved through word of mouth, cold calling, cold email templates, your company's outbound campaigns, a viral piece of content on social media, or a podcast.
It's also a good idea to get a list of your ideal customers ready at this stage.
Cognism Brand Ambassador Ryan Reisert says:
"Your prospecting list is your strategy. Stick to it. When it comes to your ICP or buyer personas, you want to be super tight from the get-go, so you're not wasting time with churn later down the line."
And, most importantly:
"Don't call everyone and their mom at the company. Call the person you think is the best person to talk to first. That's normally the person making the buying decision."
Stage 2: Interest
This is arguably one of the most important steps in your sales process. How you respond to a potential customer will set the tone for your relationship going forward.
When a prospect is interested in what you're selling, they'll show intent by filling out a form on your site, giving you a call, or sending you a message. At Cognism, we've found that the faster you respond to these B2B buyers, the better.
We call this strategy speed to lead.
Meaning our reps need to contact a potential customer within five minutes of them requesting information.
Alice de Courcy, our CMO, says:
"Your goal for booking meetings should be centred around creating an amazing experience for every person your sales reps speak to."
Make their customer experience a positive one, and you'll have no problem moving them to the next stage.
Stage 3: Evaluation
That initial call is important not only for the customer but also for B2B sales reps.
They'll ask a couple of qualifying questions to see if their product will be a good fit for the prospect. Any questions the prospect has will be answered while steering them toward a purchasing decision.
If your sales funnel leads aren't right, it's your sales representative's job to let them know politely.
Ryan says:
"No lead should go past your qualification stage if it doesn't meet the criteria of your next best client."

"Even if they came to you from an inbound lead or a referral. If they aren't in that criteria, just say to them, 'hey, based on what I know, I don't think I can help you.'"

"Don't take the call. Don't take the meeting. Don't even waste your time."
Once a lead is qualified, they'll likely do a bit more research to make sure your product or service will help solve their pain points. Then they'll leave the bottom of the sales funnel and enter the middle of the funnel.
Stage 4: Engagement
You'll want to do whatever you can to keep your brand at the forefront of your high-value prospects' minds, especially while they are in the consideration stage of your purchasing funnel.

One way to do this is through email outreach that helps them make a purchasing decision and offers them value. Ungated whitepapers, case studies, pricing, and webinar snippets are examples of content you can use.
You can support your opportunity funnel with your email signature. It's easier for recipients to engage with the content instead of attaching a bunch of PDFs.
Ryan adds:
"If you're keeping your funnel tight and focusing on targeted sales leads that are a good fit for your company, it should start to thin out."

"Resources like popular blog posts and marketing content can help drive these leads down your email sales funnel."

"Be very focused on the warmer leads you know you can help, and be okay with disqualifying the ones you know don't fit your ideal customer profile."
Stage 5: Action
At this stage of the B2B sales funnel, your prospect has entered the top of the funnel and finally made their decision.
If your prospect does sign on the dotted line…
Congrats, they're now part of your current customer base!
Stage 6: Retention
Just because you've sealed the deal doesn't mean the funnel ends.
Not only does this type of demand generation help you bring in more revenue, but it benefits all future funnels by feeding back to stage one with more brand awareness.
Focus on measuring your sales funnel metrics or lead generation KPIs throughout to ensure your funnel works from top to bottom.
This way, you can be certain of your path to conversions, no matter the types of sales funnels or customer journey.
For your sales funnel strategies to be successful, they'll need to work hand in hand with your sales process. To learn more, watch this video 👇.

Six easy steps for building a sales funnel
Need help creating your funnel?

We've put together a few easy steps to help you lay the foundation for better B2B sales.
The six steps to creating a sales funnel are:
4: Engage

5: Action

6: Communication
Step 1: Look at your audience
First things first - get to know your potential buyers. You can do this in a number of ways, including:
Creating a list of data points such as time spent on page, link clicks, time spent scrolling, etc.
The content they interact with on your social accounts.
Once you can determine what interests your buyers, you can then start mapping out their buyer journeys and creating new buyer personas for future prospects.
Ryan says:
"I only look at accounts that I know are the types of companies we want to be doing business with."

"They need to be the right size, have the right capital, the right leadership team, and use the right technologies, etc."
You'll want to find out the things your prospective customers don't like as well.
Their pain points.
What annoys them most about other digital sales funnels?
What actually influences them to buy?
Step 2: Establish goals
Now you know who your clients are, what frustrates them, and what they really want at every stage of the buyer journey - it's time to establish sales goals.
It's helpful to separate your sales funnel into top, middle, and bottom for this step.
Then ask yourself:

What would you like your customer interactions to be at each stage?
Increase traffic to a specific page on your site as your top of funnel goal.
Increase engagement during middle of the funnel outreach.
Double conversions at the bottom of your funnel.
Every business will be different.
Step 3: Create
Knowing your buyers and establishing your goals will help you narrow down the type of content to share at each stage of the sales funnel.

Your content strategy should be educational, valuable, and promote brand awareness.

Our top tip - take a look at what your competitors are doing and then do it better!

PPC ads, search engine optimisation, videos, and blogs are great for engagement. Prospects considering your product will appreciate case studies, how-to guides, and product explainer videos.

To help retain clients, share checklists, ungated tools, and whitepapers mixed with lead generation webinars, podcasts, and special offers.
You can also implement a drip email campaign to ensure your buyer gets what they need at the moment they need it while building the relationship.
This is best practice for customer sales funnels before pushing a product demo.
Step 4: Engage
Your plan of action when building a sales funnel works in a similar way to your goals - you should always separate each strategy into BOFU, MOFU, and TOFU.

Think about how you want your prospects to engage at each of these funnel steps.

When you create engagement for the middle of the sales funnel, you'll need to build trust with more of a direct approach.

But don't just call a prospect for the sake of calling.

You'll want to focus on sharing high-quality content via email or making calls with an educational purpose in mind, not just on meeting your MB quota.
Ryan adds:
"Your sales funnel is your opportunity pipeline, and that's where most people fail. They think they want this big wide funnel filled with lots of deals, so they appear busy. It's a bad thing."

"When I'm going through the forecast listening to someone say they have 10, 20, 40 deals. I'm wondering why? What's the purpose?

"You can't have that many at any given time. You won't be working them in the right way. If you are, then you should probably be expanding your team because there's so much demand for what you do."
Step 5: Encourage action
One of the most important steps for building a successful conversion sales funnel is to ensure that you include a clear and purposeful call to action at the end.
Pushing for a sale too soon might annoy your buyer, while waiting too long could have them choose a competitor.
So time really is of the essence!
How you present the sale is equally as important.
We suggest:
Not having too many fields to fill in on your form.
Offer some free added value.
Include a summary of next steps.
Step 6: Communicate
Lastly, always communicate positively and professionally.
Once your prospect converts, you'll have to retain your relationship with them; you want that to go off to as great a start as possible.
Speaking of retention, always continue your communication:
Check-in on how they are doing.
See if they need help using your product or service.
Send them educational content you believe will benefit them.
If they're pleased, they will continue to be a happy customer for many years to come.
They may also refer your business to everyone they know, bringing more loyal customers into your pipeline sales funnel.
Found this guide on how to build a sales funnel helpful? You can find even more sales tips over at our SDR zone👇.
Hit your number!
Prospecting cadences, cold calling scripts, on-demand training sessions - everything you need to power your sales funnel process.
Example of a successful sales funnel (including template)
One of the best sales funnel examples is Cognism client, Accountancy Cloud.
Using Cognism, they were able to build a sales pipeline and close five deals in the first six months!
To help you get started with yours, we're sharing an example of a sales funnel with this free sales funnel template: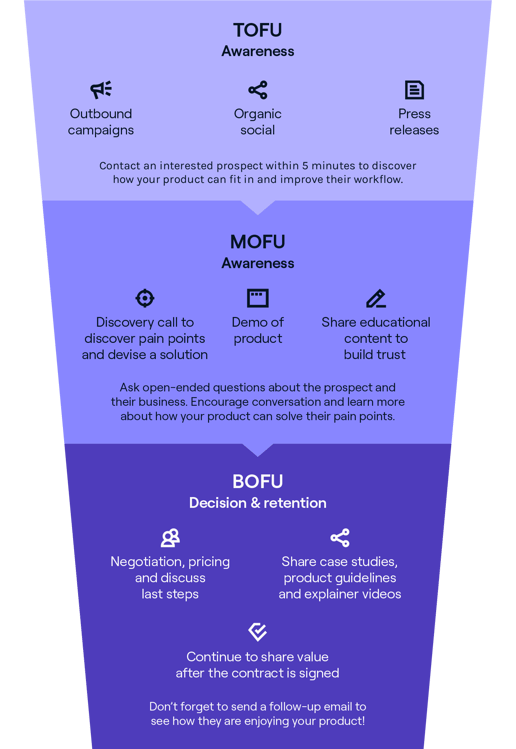 Remember to keep your funnel tight, or as Ryan says:
"Don't think of it as quality over quantity. You don't have to focus on one or two people at a time. You need quantity at the top of your funnel and then quality as they travel down."

"Think of your funnel in the shape of a nail, and be extra strict when qualifying leads to ensure only the customers you can help enter your nurtures."
🎧 Lastly, if you're keen to learn more about the different types of sales funnels across teams, listen to this sales podcast episode.
It explains the dark funnel and how it can improve your sales funnel conversions.
More buying funnel wins with Cognism
Creating a sales funnel doesn't have to be difficult.
Here's how Cognism can help you build your pipeline with the most accurate sales data on the market:
Minimise manual research, admin, and dialling incorrect numbers.
Get in early and increase your chance of winning upwards of 74%.
Use buyer intent data, and sales trigger events to start a conversation with accounts primed to buy.
Interested? Book a call with a data expert now👇