What Is Outbound Lead Generation? [Strategy & Services]
Outbound lead generation is a way to engage with potential customers who might not know about your product. It works via sales representatives sending out communications to potential leads.
The goal is to generate interest in a product or service and build a sales pipeline. The communication methods used for outbound lead generation include cold calling, direct email, social selling and direct mail.
Scroll 👇 for more information on outbound lead generation or use the menu to skip to a section.
What are outbound leads? | Who conducts outbound lead generation? | What are the top outbound lead generation strategies? | How does data impact outbound lead generation? | What's the difference between outbound and inbound lead generation? | Which method is best for B2B? | Outbound resources | The world's best for outbound lead gen
You may also be interested in the following articles:
What are outbound leads?
An outbound lead is any B2B prospect who has shown interest in a company's products or services but hasn't purchased anything yet. In order to qualify as a lead, the potential buyer must have shown interest in what you're selling. Then they can be entered into the outbound sales funnel.
There are 2 types of outbound leads. They are defined as:
Marketing-qualified leads (MQLs)
Any lead who has shown intent to buy your product. Intent is shown through their engagement with your business, i.e., if they've:
Engaged with your content.
Visited your web pages.
Downloaded any marketing materials.
Sales-qualified leads (SQLs)
An SQL is an MQL who has been picked up by one of your sales representatives. They have progressed through the funnel and are ready for the next stage in the sales process.
Who conducts outbound lead generation?
Outbound lead generation means tailoring your content and digital marketing strategies to attract the customers you want. This is done through both your sales and marketing teams.
Outbound sales team
The sales team consists of:
Sales Development Representatives (SDRs) - they research, reach out to and qualify potential leads using lead scoring models.

Marketing Development Representatives (MDRs)

- they follow up on any activity generated by MQLs.
Business Development Managers (BDMs) - they negotiate deals, present live demos and close new business.
Outbound marketing team
The marketing team consists of content marketers, campaign marketers and performance marketers. Each one serves a different function to help generate outbound leads. For instance:
Content marketers - create engaging content for your targeted audience.
Campaign marketers - run promotional campaigns through email, television, radio, print and your social platforms.
Performance marketers - manage paid advertising and brand marketing.
What is the best outbound lead generation strategy for sales?
Generating quality leads comes down to well planned and executed sales and marketing strategies. There are a number of methods that generate favourable results.
Cold calling
This outbound lead gen tactic has been around forever. Why? Because it works!
SDRs generate targeted contact lists and then cold call prospects on that list. Their aim is to organise a meeting or demo with the prospect.
To do cold calling right, SDRs need to research the best times to call and be well versed in pitching your product or service.
Outbound email
One of the most cost-effective and practical forms of outbound. With this method, SDRs send prospects email messages that encourage engagement and conversation.
The best forms of outbound email show benefit to prospects. The SDR should outline exactly how their product can add value to the prospect's business.
Social selling
In B2B, LinkedIn is the number #1 platform to conduct social selling.
Here, sales reps connect with and nurture leads by building their personal brands. This includes sharing content and adding value to potential buyers.
Tip! Learn more about unique lead generation for technology companies to stay competitive in a fast-paced environment.
Content marketing
Blogs, social posts, adverts, video media and SEO all fall under content marketing.
These tactics are used to engage and convert customers into leads by building trust and ensuring a relationship is built throughout the buying process.
Campaign marketing
A campaign can be run either online, on social, via email or even print. It's a form of B2B marketing that increases your brand's reach.
The goal of a B2B marketing campaign is to target more prospects who may not have heard of your company before.
Pay-per-click (PPC)
PPC is managed by your performance team. It's a quick way to build your brand and get your name in front of prospects who might have shown intent.
Pay-per-click means just that - you'll pay for every click a user makes on your online adverts.
---

---
How does data impact outbound lead generation?
Sales intelligence solutions like Cognism make it possible for organisations to access all the data you need - leaving your outbound strategies open to bigger and better opportunities.

Data can help you identify new business opportunities, establish your total addressable market and take full advantage of buyer intent.
When you take a data-driven approach to outbound lead generation, you're better able to consistently meet and beat your performance targets - using data in an intelligent way, to identify best-fit clients and the best times to contact them.
What's the difference between outbound and inbound lead generation?
The difference between inbound lead generation and outbound lead generation is that inbound is purely organic, while outbound requires a great deal of perseverance and effort.

Outbound leads who engage with your sales and marketing teams might not be aware of who you are or what you sell. Education and information are therefore very important to successful outbound lead generation.
In inbound, leads who engage with your sales and marketing teams are already aware of your brand and service. Inbound requires the prospect's permission, while outbound is interruption-based. This means that leads aren't aware that you're going to reach out to them.

The issue of compliance is critical for both inbound and outbound. Sales and marketing teams need to be aware of the data, telephone and email laws pertaining to the countries they're operating in.
Which method is best for B2B?
The method that works best for B2B sales largely depends on your company goals.
Outbound costs more to implement but it brings in more revenue, fast. It's recommended if you want to drive revenue growth and build a strong customer base quickly.
Inbound is cost-effective to implement but doesn't bring in as much business straight away. However, it does help you to forge meaningful customer relationships, leading to referrals and brand loyalty in the long run.

That doesn't mean you need to choose. Our advice is to merge inbound and outbound for the best chance of B2B success.
The 3 secrets to CMO success
In this eBook, Cognism's CMO, Alice de Courcy outlines the secrets to her success in the role to date.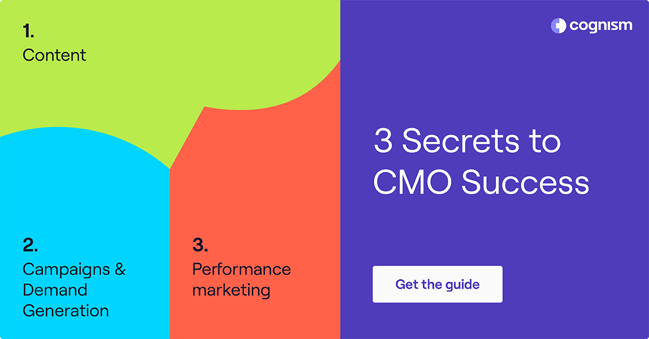 Outbound plays that actually make revenue predictable
We've listed our favourite outbound plays to make revenue more predictable in 2022.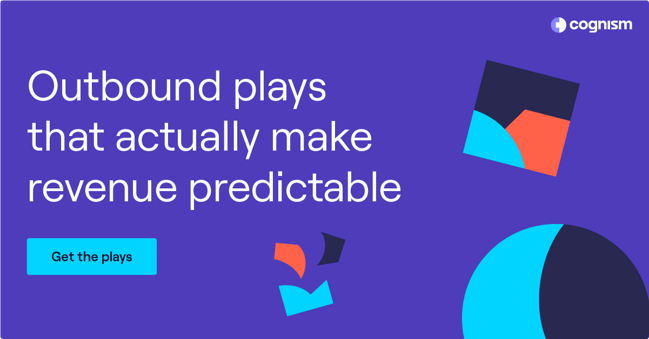 The world's best for outbound lead gen
Cognism is the European data provider of choice when prospecting for outbound or inbound leads.
If you're looking for a sales intelligence platform that does it all, look no further. Cognism is trusted by over 1k B2B revenue teams worldwide!
Click 👇 to take a tour of our tech.