10 Company Research Tools To Identify Target Accounts
The list of company research tools vying for attention is extensive. Many focus mainly on the North American region and a few European countries, like the UK and Germany.
Some offer stale data without in-depth insights, so users must conduct extra research to fill in the gaps or waste time speaking to the wrong people.
We've sifted through all that—we talked to our customers and checked the research tools websites and product review sites, like G2, Capterra, or Trust Radius.
The result?
A list of the best company research tools with the best data and international coverage:
1. Cognism Prospector
Cognism is the best company research tool because of its international coverage (EMEA, NAM, APAC). Our Sales Prospector lets you run a company search in our database and then find qualified contacts in target your accounts.
It offers intent data, sales events triggers and technographics to identify in-market companies and more targeted research.
Prospector has seamless integrations with Salesforce, Outreach, and other sales tools to minimise admin work and save time with bulk-exporting contacts at speed.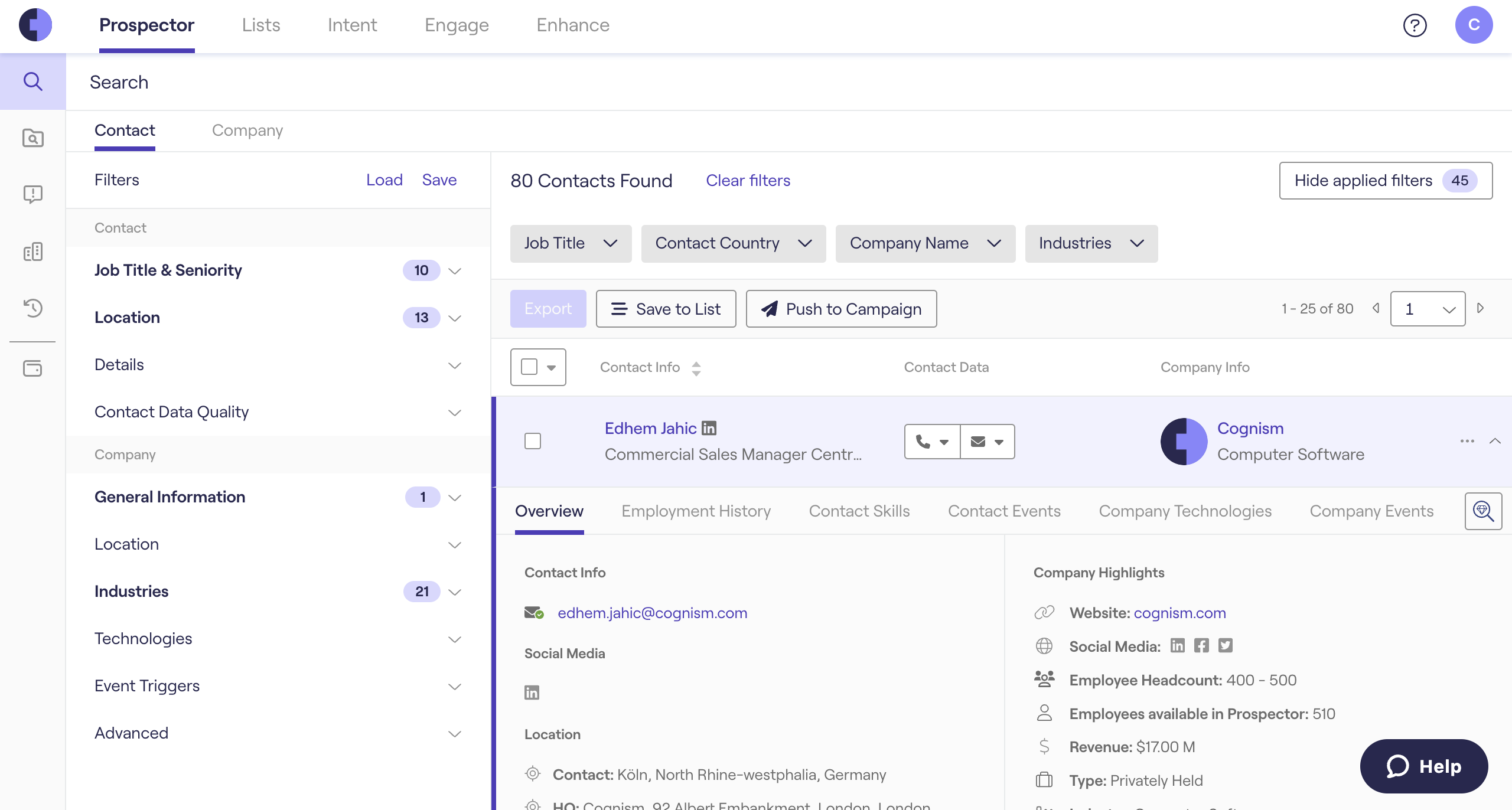 Key company research filters
Size includes a picklist of company sizes from Self-Employed to 10001+ employees
Include or exclude any keywords within a company's description.
Filter by Revenue range.
Filter by Company founded date range.
Type will search for business structures, eg. non-profit, privately held.
Include or exclude company domains. You can upload a CSV of domains by clicking on the three dots > Upload CSV.
Location will search for all the locations the company has a presence in or the HQ location of the company. This can be filtered by regions, countries, states/counties, cities and zip codes. You have the option to include or exclude a list of countries or states via a CSV file.

Industries can include or exclude from a picklist of options. You can also filter down by specific SIC, ISIC or NAICS codes.

Technologies can include or exclude from a picklist of options.

Event Triggers have options to search for companies that have just received funding, been acquired, company IPO, company event appearances and/or if the company is hiring. You can filter these down by dates and other specifics.

Settings will give the option to turn on Company Name Exact Match or Domain Exact Match and filter the search so that only companies with existing domains will show.
Complete company research with contact data 👇
*Subject to a generous fair use policy.
What do customers say?
The proof is in the pudding, so let's hear from companies that used Cognism.👇
Pricing
Speak to one of our consultants to see which license matches your needs, or check out general information about our

pricing strategy

.
2. Cognism browser extension
Cognism's browser extension works with LinkedIn, Sales Navigator, and company websites. It helps research company employees, view their co-workers, and identify relevant decision-makers in other departments. It helps close multi-threading deals and increase a foothold in new markets.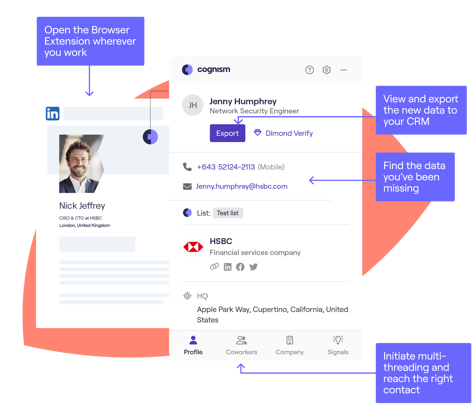 Key benefits
Browsing company websites: view information on target companies and their employees.

Prospecting on LinkedIn: enrich LinkedIn profiles with actionable data.

Viewing prospects coworkers for multithreading apprach.

Managing accounts in CRM and sales engagement tools: thanks to advanced Outreach and Salesforce integrations, sales reps can enrich their existing data without leaving the tools.
Pricing
The extension is available in all Cognism packages.
3. Crunchbase
Crunchbase lets businesses obtain high-quality information about private companies, salespeople, and investors. It provides sales reps with the necessary context for building prospecting lists, such as business objectives, industry, and firmographics.
Some users say its database is US-centric.
Key features:
Similar companies suggestions.
Automatic lead qualification and segmentation into smart lists.
Duplicate records management.
Pricing:
Free preview of profile pages.

Paid plans at $29 and $49 per user per month.

Enterprise company research solutions priced individually.
4. LinkedIn Sales Navigator
LinkedIn Sales Navigator is among the best-known tools for researching companies. It leverages LinkedIn's massive professional database to enable sales teams to identify and connect with leads.
LinkedIn Sales Navigator users often pair it with prospecting tools, such as the Cognism Chrome Extension, to enrich contact data with emails and phone numbers.
Key features:
Advanced search features and saved searches.

List creation and view similar options to

find more customers in your ICP

.

Alerts with up-to-date information about saved leads and accounts (e.g., growth, risk, career change, new decision-maker, etc.).
Pricing:
Core and Advanced packages cost $79.99 and $110 per month, respectively.

The Advanced Plus package must be negotiated with LinkedIn's sales team.
5. ZoomInfo
ZoomInfo is a GTM platform that provides B2B data for sales, marketing, and recruitment teams. It helps mid-market and enterprise clients research the market and generate leads.
Some of our customers targeting Europe found that ZoomInfo's mobile phone data wasn't enough after using the tool for a while. Check out UK-based data providers.
Key features:
Proprietary intent data.
A broad range of integrations and add-ons.
Browser extension.
CCPA and GDPR compliant.
Pricing:
Priced on a custom basis.

Unverified testimonies suggest ZoomInfo's cost starts at around $15,000 per year for three seats.

Single-seat deals are reportedly difficult to negotiate.
💡 Find out more about how Cognism and ZoomInfo stack up.

6. SalesIntel.io
SalesIntel is a company research tool that human-verifies contacts. Its focus is on the US market, with 22 million companies in its database.
Users report mixed results in some geographies, especially regarding direct dial accuracy.
Key features:
Integrates with popular CRMs.
Human-verified,

95% accurate data

.
Data segmentation/filtering.
News/People Alerts.
Pricing:
Individual, team, and enterprise licenses.
💡 Find out more about the differences between Cognism and SalesIntel.
7. Apollo.io
Apollo.io's an all-in-one sales intelligence platform with a database where you can research 30 million companies.
A data breach in 2018 impacted customer confidence in Apollo.ai's data security practices. Also, according to Apollo's T&Cs, Apollo uses customer-submitted data to improve its own data.
Key features:
Easy email sequencing.
API to connect CRMs and third-party tools (limits apply).
Includes an AI writing assistant.
GDPR compliant as both a Data Processor and Data Controller.
Pricing:
Apollo provides four plans - Free, Basic, Professional and Organization.
Paid plans include a 14-day free trial.
💡 Find out more about how Cognism and Apollo.io compare.
8. UpLead
UpLead is on the cheaper end of the company research tools spectrum, making it suitable for individual salespeople and small teams. Its database contains various filtering options.
Key features:
Email verification and duds replacement.
Smooth user interface.
Limited features in the free trial.
Pricing:
UpLead provides three plans - Free, Essentials, Plus, Professional.
Paid plans start at $99 a month.
9. Seamless.ai
Seamless.ai is a budget company research tool for teams that want to get prospecting cheaply. Seamless.AI pitches its platform as a "real-time search engine" rather than a database, the claimed benefit of which is fresher data.
Some users mention weak search filters, however.
Key features:
Works well with LinkedIn Sales Navigator.
Uses AI to crawl multiple data points.
Verified contact data.
Pricing:
Seamless provides 4 plans - Free, Basic, Pro and Enterprise.
The Pro and Enterprise packages are negotiated on an individual basis.
💡 Get more info on how
Cognism compares with Seamless.AI
.
10. LeadIQ
LeadIQ is an AI-driven company research platform that integrates with your usual suspects like Salesforce, Outreach, HubSpot, and LinkedIn. This company research tool doesn't provide intent data.
Key features:
Tracks sales and marketing triggers.
Generates personalised sales messages in five languages.
Chrome extension and web app.
Pricing:
LeadIQ provides four plans - Freemium, Essential, Pro and Enterprise.
Pricing starts at $39 per user.
Custom enterprise pricing is available.
💡 Check out Cognism vs LeadIQ comparison page.
What are company research tools for?
B2B sales and marketing teams use company research tools to get contact information and all the company data they need to segment audiences and facilitate sales.
Sales intelligence platforms, like Cognism, allow businesses to run a company search and filter their databases according to various criteria, such as the company, location, revenue, headcount, industry, company event triggers or keywords.
What is the optimal budget for the company research tool?
When comparing different company research tools, data accuracy and coverage are factors that have the biggest influence on pricing. Cheaper options may suffer from poor data quality and coverage, fewer integrations, tight usage limits, unsatisfactory customer service, poor UI, missing features, and poor compliance protocols.
Most tools base their pricing on credit usage. If you're looking for unrestricted prospecting, all Cognism packages include unlimited views and exporting of individual and company data.
What is the best company research software?
Cognism is the best company research tool because it lets you build targeted lead and account lists using advanced filters like company size, revenue, business structure, location, industry, event triggers (funding, hiring, etc.). It also provides the most accurate contact data in the US and Europe that adheres to strict international data privacy laws (GDPR and CCPA).
Are there free company research methods?
Yes, some market research tools have free versions or a free trial with basic functionality or limited searches. You can use them to learn the basics of the platform.
Other market research tools require you to speak to the sales teams that can advise on the best solution for you.
What should you look for when researching a company?
Before talking to a sales rep, or even when researching online, have in mind answers to these questions:
What level of data accuracy and coverage do I need?

How much data do I need?

Does it integrate with my existing tech stack?

How much precision is needed to target my ICP?

Do I need sales triggers?

Do I have particular compliance requirements for prospecting?

How highly do I value customer service?
Take the best company research tool on the market for a spin. Book some time in with our sales team 👇