The Best B2B Email List Providers for 2023
A B2B email list is a contact list that contains B2B email addresses. They can either be grown organically or they can be bought from a B2B email list provider. The former relies on manual prospecting to collect and collate data, whereas the latter automates the process, improving efficiency.
Scroll or use the menu below to flick through everything you need to know about B2B email lists and the best B2B email list providers on the market 👇
Why should you use B2B email lists? | Where can you buy a B2B email list? | Who are the top B2B email list providers? | What is the best B2B email list provider?

Why should you use B2B email lists?
There are different reasons to use B2B email lists, depending on your use case:
Sales
B2B sales teams waste a ton of time trawling through the web to find prospect email addresses which are often inaccurate and out of date. Email lists, on the other hand, can provide sales reps with timely, verified B2B data that they can use to support their cold emailing efforts.
Using a compliant B2B email list, sales teams can increase meetings booked and grow pipeline in a record amount of time. An example of this is when EdTech used Cognism's validated B2B emails to create £5.8 Million of pipeline in a day!
Marketing
Every data-driven marketing team's goal is to increase open rates and build a pipeline of quality MQLs. The promotion of digital and physical events helps achieve and exceed marketing KPIs. What's more, quality B2B email lists help B2B marketing teams build their business contact database while speeding up the implementation and reach of campaigns.
💡Here's an interesting workflow on how you can use validated B2B emails to generate marketing-qualified leads through webinars.
Where can you buy a B2B email list?
Whether you're looking to buy leads or an email list, there are a number of B2B email list providers to choose from. But while many promise to save sales reps time and improve efficiency, some include bad data that hampers prospecting. And ultimately, the less accurate your email list is, the less effective and time-consuming your cold outreach will be.
Here are some key criteria you should be aware of before assessing your options:
Cost
Additional features
Data quality
Compliance measures
Sales triggers and

company data

Usability
Who are the top B2B email list providers?
1. Cognism | 2. Kaspr | 3. Megaleads | 4. Medicoleads | 5. Blue Mail Media | 6. Thomson Data | 7. ZoomInfo | 8. Lead411 | 9. Lusha | 10. AeroLead | 11. CloudLead
1. Cognism
Cognism's global B2B data coverage and accuracy make it the ideal place to buy email lists for any B2B sales and marketing teams prospecting in multiple territories.
With the platform, you can generate leads based on set parameters, so you can ensure the emails you receive will fall within your total addressable market.
This data can then be utilised through your own outbound platform, making for a seamless, front-to-back, B2B prospecting experience.
What's more, Cognism notifies emails provided in its database- making Cognism as safe as it is effective.
With Cognism, you'll also get unrestricted access to actionable contact data (including a manually-verified phone numbers list), intent data, and sales triggers.
Thanks to Cognism Chrome extension, you can easily enrich Linedin profiles and Sales Navigator lists.
See Cognism in action by hitting the button below 👇

2. Kaspr
Kaspr is a B2B email list provider that offers instant access to emails so sales and marketing teams can build powerful and compliant B2B data lists. Use it to get emails from the web in real-time and for easy sales and marketing prospecting.
Kaspr offers plans and pricing based on what your business needs, and its website states the tool can boost email conversion rates by 50%.
3. Megaleads
With a guarantee of 97%+ accuracy, a minimum of 85% deliverability, and a low cost, MegaLeads is a solid B2B contact database provider.
MegaLeads claims to have one of the richest and most accurate USA executive databases, packed with full-record B2B prospects' email addresses and phone numbers.
They offer 200 free leads to get started, plus a free trial with no credit card commitment.
4. Medicoleads
Medicoleads connects marketers with healthcare professionals.
According to their website, they have the biggest, most reliable, and affordable medical mailing list - consisting of medical professionals from 120+ countries.
Medicoleads' policies guarantee 85% email deliverability and 95% accuracy on other data fields.
5. Blue Mail Media
Blue Mail Media's data pool has the ability to reach more than 100M B2B executives across multiple regions and industries.
They offer to design your email content, schedule campaigns, and track their progress, providing end-to-end email marketing services.
The B2B email and mailing list provider configures its customised data per industry, geographic region, demographics, size of the prospective market, and others.
6. Thomson Data
27% of US marketers have used Thomson Data, a B2B email list provider which follows GDPR-compliant practices.
They also offer some technology insights - such as cloud services, ERP, CRM, accounting, and productivity solutions.
7. ZoomInfo
ZoomInfo's database offers 129M+ verified email addresses and firmographics, including 300+ attributes, insights, and recent activity.
8. Lead411
According to its website, Lead411 offers inbox response verified emails that are 96% accurate, plus millions of verified contact records.
The provider has functionality for refining searches with sales triggers and a Chrome Extension, making it easier to hit your monthly contact allocation.
9. Lusha
Lusha offers a solid product for locating B2B contact/company details. In terms of compliance, Lusha is CCPA and GDPR-compliant.
Their database hosts 60M email addresses, and they offer five free contacts every month.
Check how Cognism's compliance credentials compare by reviewing the below infographic 👇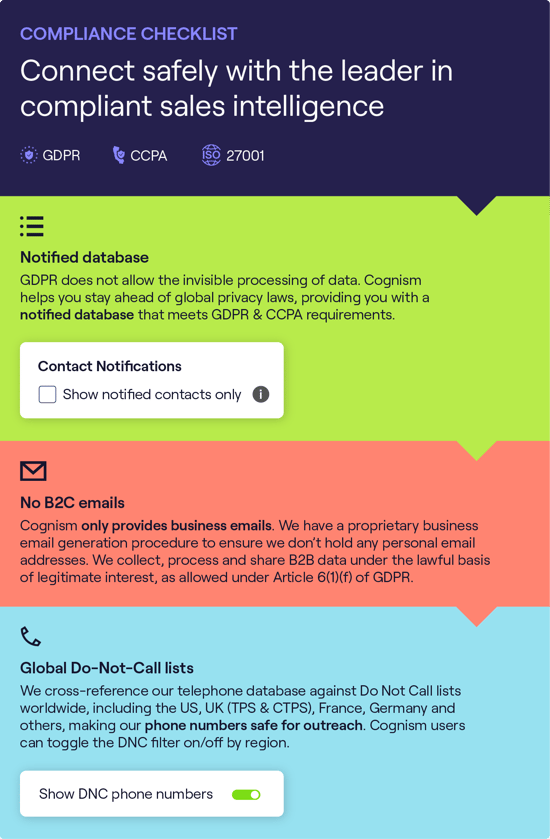 10. AeroLeads
AeroLeads offers a Chrome extension that can be used on LinkedIn, CrunchBase, AngelList, Xing, and more.
It's similar to the Cognism Chrome Extension, where you can click on any LinkedIn profile and generate contact information.
AeroLeads also offers an email verifier tool, which is said to reduce your bounce rate.
11. CloudLead
CloudLead is making waves - having won G2 awards for its marketing and sales intelligence.
It offers twenty free contacts, and its solution integrates directly into your CRM. It also has a 100% verification guarantee.
💡Keen for more email tips? Learn how to find accurate CEOs' emails and direct dials at scale.
What is the best B2B email list provider?
If you want broad-coverage, high-accuracy, and compliant B2B email lists, then Cognism is for you.
Here's what James Ski, Founder and CEO of Sales Confidence, says about the platform:
"Overall, we saw a 104% increase in engagement rates compared to when we hadn't used Cognism. Our website traffic over the campaign period increased by 255%. In total, Sales Confidence received 104 opportunities from Cognism. The platform is now an integral part of our growth mission."
Not only does it help teams increase email engagement while bringing in more revenue opportunities, but it also:
Assists email outreach with GDPR-compliant data for complete confidence.
Includes unrestricted views and individual and page-level exporting.
Offers global coverage and easy integration.
Whether you're prospecting in EMEA, AMER, or any other territory, we ensure that dead ends don't hold up your sales and marketing teams and that you can reach relevant decision-makers in high-value accounts.
See what Cognism's customers say - press ▶️ to watch!
Go on, make Cognism your new B2B email provider. Book a demo here 👇