5 Sales Emails That Get Responses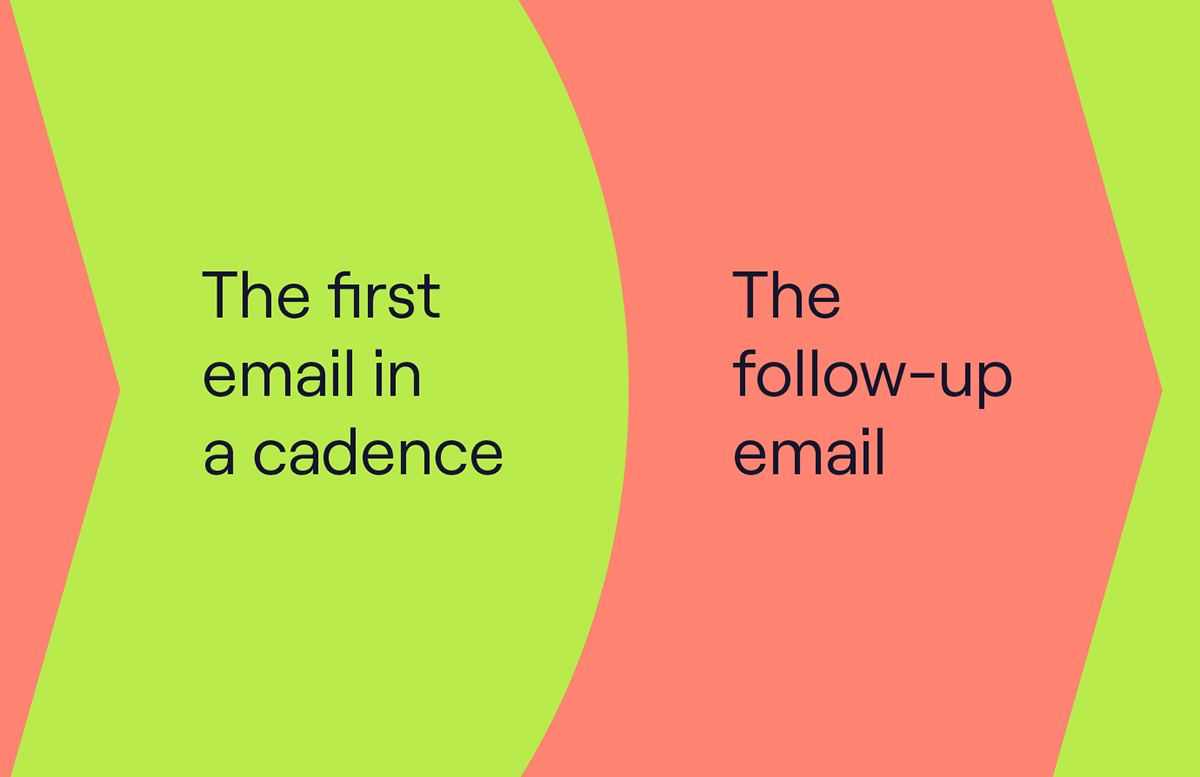 Writing a cold sales email is a skill that all salespeople have to master.
If you're a sales rep working in a scaling business, it's essential.
Think about it this way - you can send out 1,000 emails a lot quicker than you can make 1,000 calls. The scalability of the sales email makes it an attractive B2B lead generation method for a company with limited resources.
That said, writing a sales email is one thing. Getting it noticed by a prospect is quite another.
In today's world of B2B sales, competition has never been fiercer.
Last year, research firm The Radicati Group published its Email Statistics Report, 2019-2023. According to their findings, half of the world now uses email, and the total number of business and consumer emails sent and received each day will exceed 293 billion this year alone!
That's a lot of noise for your emails to cut through.
How then can you make your B2B sales emails stand out from the crowd, and crucially, get responses?
Here at Cognism, we are masters of the sales email. As a fast-growing, scaling company, we know how important the sales email can be to the wider sales strategy.
Our highly-targeted email campaigns helped us to achieve stunning growth in 2018 - a 657% growth in overall revenue.
So, we've studied the B2B data from our own email campaigns and we've identified five email templates, drawn from all stages of the sales cycle, which we believe will be crucial to your success as a sales rep.
If you're struggling to craft a sales email that works, or you don't know where to start - then read on!
The first email in a cadence | The follow-up email | The referral introduction email | Email to inbound contacts | The break-up email | Get the best sales content delivered to your inbox
Join our Senior Business Development Specialist Alexander Shorthose as he gives you some top tips for increasing your email response rates! Press ▶️ to watch our sales training video.
1 - The first email in a cadence


Why does this email work?
One-word subject line - one simple word: "Cognism!" Our email campaigns have shown us that one-word subject lines lead to higher response rates. The use of our company name creates intrigue and makes sure it sticks in the prospect's mind.
Short and concise - at only 60 words, this email is shorter than the average sales email, which is 125-150 words. Yet our campaigns demonstrate that the shorter the email, the higher the response rates.
Personalised - the email mentions the prospect's name and their company name. We've found that including both increases conversion rates by up to 20%. Personalisation can determine the success or failure of a sales email - make sure yours includes it!
Easy to read - keep the sentences and paragraphs as short as possible. If a sales email isn't easy for a prospect to read, it'll simply go straight to 'Deleted Items'!
Facts and statistics - the sales rep has included a statistic that shows the value that the Cognism platform can have for the prospect.
Clear and simple CTA - the prospect is being guided to one single outcome - are they free for a short phone call?
2 - The follow-up email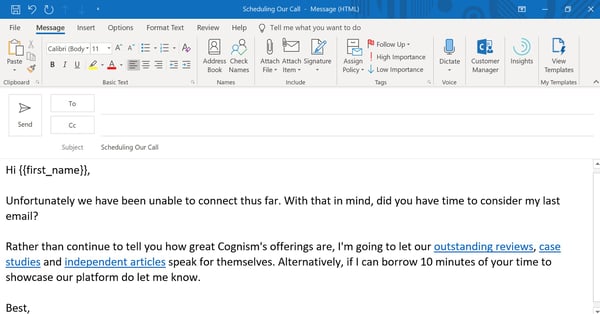 Why does this email work?
Subject line as CTA - the subject line acts as a de facto CTA, directing the prospect to take a specific action. Also note the length - only 19 characters.
Short and concise - at 69 words, it's shorter than the average sales email. The shorter they are, the more chance you have of getting a response!
Useful resources and advice - the sales rep has included links to reviews, case studies and articles showcasing Cognism's value. The links aren't just to the Cognism website, but to articles hosted on external sites. Doing this shows the prospect that you're not just there to sell, you're providing value for free. The prospect is much more likely to remember you and engage.
3 - The referral introduction email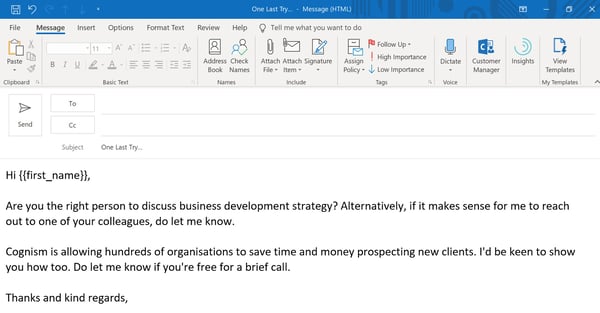 Why does this email work?
Humourous subject line - don't be afraid to use a little humour! It's a good way to engage the prospect and get them to open your email. Remember the old business adage: people will forget what you did, people will forget what you said, but they will always remember how you made them feel. Again, note the length: very short at 15 characters.
Brief and to the point - the sales rep has written a direct message that clearly states their reason for emailing. This email is only 68 words. Don't waffle; get to the point as quickly as possible.
Value statement - a short statement displaying the benefits of Cognism has been included - the platform will save time and money. Think of a short value statement for the product or service you're selling. What's the most important thing, or the two most important things that it does for your clients?
Short CTA - always include a CTA. Think about what you want to get from the prospect.

4 - An email to inbound contacts (following a whitepaper download)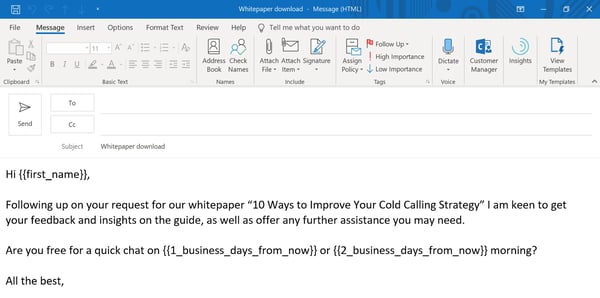 Why does this email work?
Clear subject line - the subject line makes it very clear why the contact is being approached. Always use the subject line to share the reason why you're getting in touch.
Short and concise - the shortest of our templates yet, at only 56 words. We've found that this email has got a 16% response rate, which is 4x the industry standard!
Show interest - the sales rep is showing that they're interested in what the contact thought of the whitepaper they've downloaded. This is an excellent way to build rapport. With emails to inbound contacts, it's all about creating a relationship, which you can then build on to potentially make a sale.
Offer advice - the sales rep is offering the contact some assistance. Again, this is a great way to get the contact to engage and build rapport.
Create urgency - the CTA gives the inbound contact a choice of times in which to respond. The times are not too far in the future. This is a good strategy, as it gives the contact time to read the whitepaper, but not too long for them to forget about it.
5 - The break-up email
We asked our friends at Juro, the contract management platform, which of their emails got the highest response rates, and they provided us with this winning break-up email.
Alex Moir, their Business Development Representative, told us that this email received very high response rates - both positive and negative!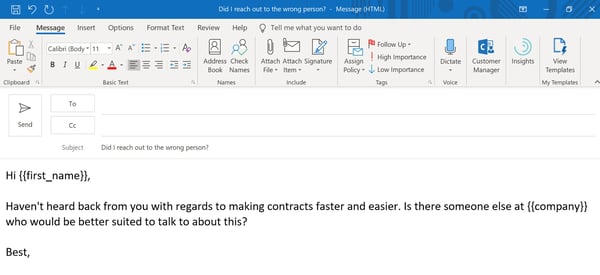 Why does this email work?
Short and simple - only 32 words. This break-up email cuts straight to the point, with a higher chance that the prospect will finish reading it, and therefore bother to reply.
An antagonistic tone - the wording suggests to the prospect that they don't have the authority to make a decision on the matter. When read this way at the end of a long string of sales emails, it can warrant negative responses. It can also result in a simple "I am the right person, but not right now" type of response, which can give you good leverage to reach out in a few months' time.
A referral request in the CTA - by asking the prospect to pass them on to a colleague, the sales rep is creating another chance for engagement. If the referral is successful, it can lead to a very beneficial outcome. This is one of the most powerful tools in a rep's arsenal, as it gives you the credibility of a recommendation by someone from within the team.
Get the best sales content delivered to your inbox
Those were Cognism's top five sales emails that get responses. Try them for yourself and see if they make a difference to your email outreach!
Would you like insightful sales content sent to your email address every fortnight?
Click 👇 to sign up for our sales leader newsletter!