Scaling an SDR Machine With Cognism's Premium Data
A market-leading IT cloud infrastructure powerhouse that delivers secure and transformational technology services and solutions uses Cognism's sales intelligence platform to:
Contribute to a significant amount of revenue

99.5% decrease in prospect list-building time
Build out the marketing and sales development team from the ground up
Number of employees: Enterprise
Industry: Information Technology & Services
HQ: UK
Teams using:
Sales & Marketing
Scroll 👇 to view the case study - or use the menu to skip to a section.

The company
THG Ingenuity Cloud Services is part of THG plc, which launched in 2004. THG (www.thg.com) is a vertically integrated, global digital-first consumer brands group, retailing its own beauty and nutrition brands, plus leading third-party brands, via its proprietary, end-to-end eCommerce technology, infrastructure and brand-building platform, THG Ingenuity.
With over 20 years of experience in the cloud computing space and over 130,000 customers worldwide, Ingenuity Cloud Services works with leading IT vendors to produce enterprise-grade technologies that empower businesses in industries across the globe.
The organisation also provides the underlying network infrastructure, hardware and software solutions that power the entire THG commerce platform, supporting an expansive network of over 160 e-commerce websites for some of the world's leading brands.
The challenge
We interviewed Stevie Howlett, Head of Global Sales Development at THG Ingenuity Cloud Services about his experience with Cognism.
Cognism has been working with the Cloud Services team since the end of 2020.
What lead generation gaps were there prior to using Cognism?
"Prior to Cognism, generating data took 5-7 days which was cumbersome. Alongside this, the data became outdated very quickly and was not replenished in real-time. This led to us exploring other providers which could better meet our business goals."
They trialled the Cognism platform against various other B2B lead generation providers in the initial vendor process. Stevie explained his reasons for choosing Cognism.
"Cognism's UK presence and its history of being very SDR-driven really appealed. Cognism's segmentation feature was another plus as it gave us the autonomy to produce searches at any time; this isn't something we were previously offered by alternative providers."
"In our trial, Cognism's European data was the strongest out of all the providers we assessed."
The solution
THG Ingenuity Cloud Services targets technical decision-makers in SMBs and mid-market businesses across the globe. They target businesses with requirements for high through-put, low latency solutions.
What is their typical SDR workflow?
"We have buddy systems whereby the sales development representatives schedule meetings for the AEs in their assigned vertical. The SDRs use Cognism to find the desired contact details in these segments, so direct control of the platform is integral to their prospecting output."
"With Cognism, we have reduced list building time from between 5 and 7 days to only 15 minutes."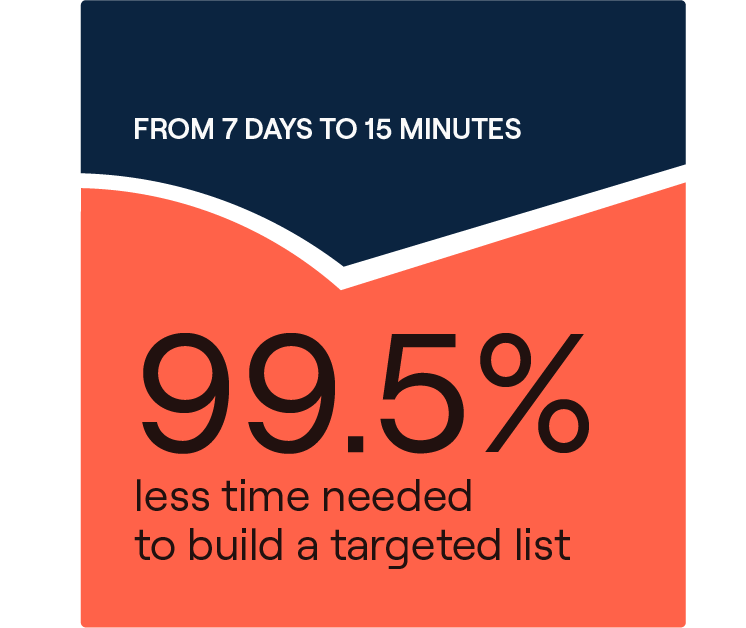 Which specific platform features do the SDRs find valuable in certain searches?
"The job join filter is great for targeting our desired personas when they move to a new business. The hiring filter is equally beneficial as it indicates a company's growth trajectory or if it has a particular hiring need for our services. Having this information not only creates personalisation but it arms SDRs with the right information when speaking to a potential customer."
"We've also recently implemented intent data. We have an intent workflow with the buddy system and plug the intent data into our weekly marketing and sales engagement campaigns."
Stevie explained which other Cognism products are integral to their daily prospecting efforts.
"The team uses the Chrome Extension daily. The real perk is that the data is replenished in real-time. New contacts are constantly being updated."
"Cognism's Diamond Data® is also a game-changer. SDRs are ringing real mobile numbers which means they're getting in front of the right people and aren't wasting any time calling dead numbers."
Stevie described how using Cognism's automated workflow functionality enabled them to advance their sales engagement tech stack.
"Cognism taught us about the power of automating sales cadences improving overall efficiency."
"As a result of the proven value from sales engagement, we have now invested in an advanced sales engagement platform, Salesloft. SDRs can now execute a multi-channel sales approach and sync the leads into our CRM at the click of a button."
"In addition to using Salesloft in our tech stack, we have also invested in Cognism's partner Lead Forensics. This is an industry-leading solution for turning our anonymous website visitors into actionable leads for our SDRs to call."
"Salesloft and Lead Forensics combined with Cognism has drastically scaled our SDR and marketing machine."
"This tech stack will empower the Sales Development team as well as the Marketing team to push ahead with demand generation and ABM campaigns. THG Ingenuity Cloud Services intends to provide their customers and potential future clients with a great experience by sharing their industry knowledge and expertise through valuable content."
The results
The firm has seen significant success from using Cognism's premium B2B data.
"The freshness of the data combined with the automated functionality has drastically sped up our prospecting. Generating campaigns in just 15 minutes allows the SDRs to prospect and hit quota in ample time."

"THG Ingenuity Cloud Services have seen significant ROI with Cognism and the platform continues to be our most successful SQL marketing channel."
Try Cognism's sales intelligence solution
Over 1,000 revenue teams around the world trust Cognism to:
✅ Build qualified B2B contact databases
✅ Plan and launch their outbound campaigns
✅ Power up their social selling
✅ Meet and beat their revenue targets
Why not see for yourself? Book your live screen share here 👇