Lead Automation: How It Grows Your Sales and Marketing Funnel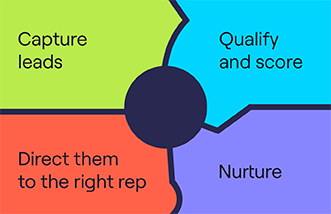 Tired of misalignment between sales and marketing teams?
You're not the only one!
There's no magical way of solving this issue, but you can try lead automation. It completely changes the way leads are handed off from marketing to sales.
It also helps both teams to evaluate leads and sync their goals. Think of it as the yin and yang of attracting and nurturing leads ☯️
In this guide, you will learn everything about automated leads to seamlessly pass them through the marketing funnel.
Scroll👇 or use the menu to get started!
What is lead automation?
Sales lead automation involves streamlining different touchpoints where leads can enter your sales funnel to better determine their importance.
By using automated lead generation you can analyze leads' characteristics and hand them off to the right people in sales at the right time.
Automating the lead generation process helps ensure that businesses target the right leads and improve planning—forget about not having enough or having too many contacts to reach out to. Also, you won't lose valuable ones deep in your CRM.
When you automate leads, your teams usually have better communication with prospective customers. Both sides are better informed about what is happening and what to expect next.
How to streamline lead automation?
There are four main stages of the customer journey in which you can automate leads.
1 - Capture the lead
You can't have a lead automation process without getting the lead in the first place.
For example, a visitor to your website becomes a lead when they fill out a contact information form.
Once the lead has been captured, the next step is to qualify the lead 👇
2 - Qualify and score the lead
So, a lead has come through.
The next step is to evaluate the intent of the lead.
This lead automation stage is crucial because it helps B2B sales teams to identify the best opportunities that'll close.
There's also a speed factor involved here—
The sooner you qualify leads, the better. Because the salesperson can focus on reaching out to leads where the intent is at its highest.
And if there's too much waiting around, the score of the lead will drop pretty quickly!
With lead automation solutions, leads can be qualified and scored without human intervention based on e.g., the channel they came from, technographic or firmographic data, or other characteristics.
3 - Give the lead to the right salesperson
When the leads have been sorted through don't just give them to whoever might be free in the sales team.
It's not a free for all process. Lead automation helps you to assign the right leads to the right salespeople.
For example, if you have a lead through from someone in the UK, automation will assign the lead to someone in the UK sales team.
In another scenario, you have a lead from someone based in the mid-market or enterprise segment. If that's the case, lead automation tools will assign the lead to someone in the mid-market or enterprise sales team.
4 - Nurture the lead
Once your lead has been captured and qualified, they'll need to be nurtured at every step of the customer journey.
It's the final piece of the puzzle.
And it can be really time-consuming if you don't automate the process.
With a platform like Intercom, you can automate lead by building out email nurture or drip campaign.
Using lead automation technology to quickly build relationships with your leads, speeds up converting them down the sales funnel.
When automated, lead nurturing is a real game-changer. Because it's the best way to stay at the top of customers' minds.
What are lead automation examples?
As we've said, lead automation kicks in throughout different channels or touch-points. Let's see what automating leads means in practice. 👇
Install a chatbot on your websites 🖱
Chatbots have been a revelation for how sales and marketing teams can interact with their customers.
And with a lead automation platform like Intercom or Drift, you can interact with leads the moment they submit a query through the chatbot.
You can capture and understand the intent of your leads instantly.
It's a real game-changer.
Connect forms on landing pages to CRM
A landing page is a great tool in a B2B marketer's toolbox.
But if the B2B lead generation process from the landing page is manual, you can wave goodbye to converting them further down the funnel.
That's why it's important to use a lead automation tool that connects landing pages with your customer relationship management system (also known as CRM).
Important information about the leads becomes visible both for the sales and marketing teams. And it avoids a lot of back and forth, trying to figure out answers to questions such as:
What information have I got on the lead?
Who is the lead being assigned to in the sales team?
And much more.
An example of software that helps you to automate leads through landing pages is Unbounce.
Gate some of your content
It's not enough to just "sell" your products anymore.
Customers aren't going to interact with you if you don't know what you're talking about.
So, never underestimate the power of content marketing. People who get value from the content will interact with you because your insights into a topic have been memorable. That's where your leads come from.
You can automate sharing content on your social profiles in peak audience times. It will increase your visibility and engage more leads.
Don't forget to set up automatic replies to your prospective customers!
Alternatively, you could have a gated piece of content such as an eBook. Once someone has filled out their details, consider automating the transfer of these details into the CRM.
Once again, it's going to be useful for your sales team. Because they can quickly follow up with these leads if the opportunity is hot.
Automate lead email campaigns
We've briefly touched on this, but email nurturing is important.
And manually doing this will almost certainly be a time-consuming, painful, and quite frankly pointless process.
Because you won't be able to target your leads at the right time - it's far from systematic.
That's why it's important to use a platform that takes out the complicated stuff for you. And Cognism's sales intelligence solution is great for this.
Lead automation at this stage is important because you don't have to manually refresh email lists. The software can run the checks for you and get rid of any spammy accounts, for example.
Sales and SaaS marketing teams can make sure that the leads that are being nurtured are qualified at all times. Again, it streamlines things so you can focus on the best opportunities.
What are the benefits of lead automation?
It's best not to complicate things when it comes to lead generation. Sales and marketing teams' hands will be full enough just working on aspects like messaging in emails and focussing on the leads in the first place.
Lead automation is just fuss-free and has plenty of benefits for your organization:
Increased team efficiency
What's behind a dynamic duo of a sales and marketing team?
It all comes down to productive lead generation. Without it, opportunities begin to slip away. Because leads with the wrong intent are being chased.
With lead automation, it's the reverse. Because sales teams can follow up with the best leads. In other words, the ones that are likely to convert.
Generates targeted leads
And let's not forget the wonders it does for the marketing team. The more information they get about the leads coming in, the more they can refine their messaging.
Each time a lead is generated, it's another piece of the ideal customer profile (ICP) puzzle.
And this means that over time, targeted leads with the best opportunity for closing are the ones coming through. Again, it comes back to this:
Lead automation helps sales and marketing to target, qualify, and nurture the right leads, with the right content, at the right time.
Key takeaways
That was a lot of information, so here are the key points to recap:
Lead automation helps sales and marketing teams to evaluate the relevance of every lead that comes into the business.
It helps focus on the best opportunities and shorten the sales cycle,
You can explore many lead automation solutions for different lead gen channels.
Lead automation process means sales and marketing teams can always be on the same wavelength.