What is Saas Marketing? How to Do It Right in 2024
SaaS marketing is a business model that's become increasingly popular over the years.
One where you'll find loads of opportunities for business growth and no shortage of competition.
This makes being a SaaS marketer tough.
How do you stand out from your competitors while creating meaningful and memorable advertising for a product or service with no tangible form?
We've got the answers in this guide, as well as the following:
What marketing for SaaS means.

The difference between

B2B marketing

and software marketing.

How you can develop a SaaS marketing strategy.

Measuring the performance of your SaaS campaigns.
Let's get started 👇
What is SaaS Marketing?
SaaS Marketing stands for Software as a Service marketing. It's a type of marketing that focuses on digitally promoting and generating leads for subscription-based software.
This software is normally cloud-based and advertised as an easy solution to a business's main pain points. Due to the intangible nature of SaaS products, it's generally harder to market. Buyers need to be frequently reminded why the service is valuable with regular updates and added functionality.

What makes SaaS marketing unique?
There are several reasons why B2B SaaS marketing is different from other types of marketing.
Most notable is that it's B2B marketing for SaaS companies and their products.
But that's not all that separates this kind of advertising from the average B2B marketing strategy. Other reasons SaaS marketing is unique include:
There's no physical product to sell in SaaS. B2B marketers need to get extra creative when promoting features without losing the message of what software actually does.
Every ABM-focused SaaS marketing plan needs to target the main decision-makers in a company.
Inbound SaaS models don't focus on individual decision-makers but cast a wider net to attract different audience segments.
Since SaaS doesn't sell a once-off product, customer churn is a much larger issue. You'll need to implement a strategy that encourages retention and builds long-lasting relationships with buyers.
The SaaS sales cycle is longer than the average B2B sales cycle. B2B marketers need to consider this when creating content for each stage of the customer journey.
With the rise of product-led growth and self-service analytics, sales teams aren't always needed to close a deal. Especially if your SaaS product is low-cost.
Potential customers will be comparing you to your competitors. Product and content need to work together to ensure there's always up-to-date marketing material to use in this scenario.
Pricing for SaaS products is normally tiered and based on the number of users and company size. Marketers need to make this information as clear and detailed as possible to ensure leads don't lose patience at the very start of the marketing funnel.
While these points highlight what makes marketing for SaaS companies so different, it also showcases how challenging it can be to sell SaaS effectively.
To succeed, you'll need to create a strong brand, create engaging and relevant content, and plan an ironclad SaaS marketing strategy. You can also consult with a marketing agency for SaaS to make things more professional.
🎧 Learn more about SaaS digital marketing in this episode of Revenue Champions. Cognism Brand Ambassador Ryan Reisert speaks to Breezy Beaumont, Head of Growth and Marketing at Correlated, about how they market their SaaS product.

10 SaaS marketing strategies to level up your business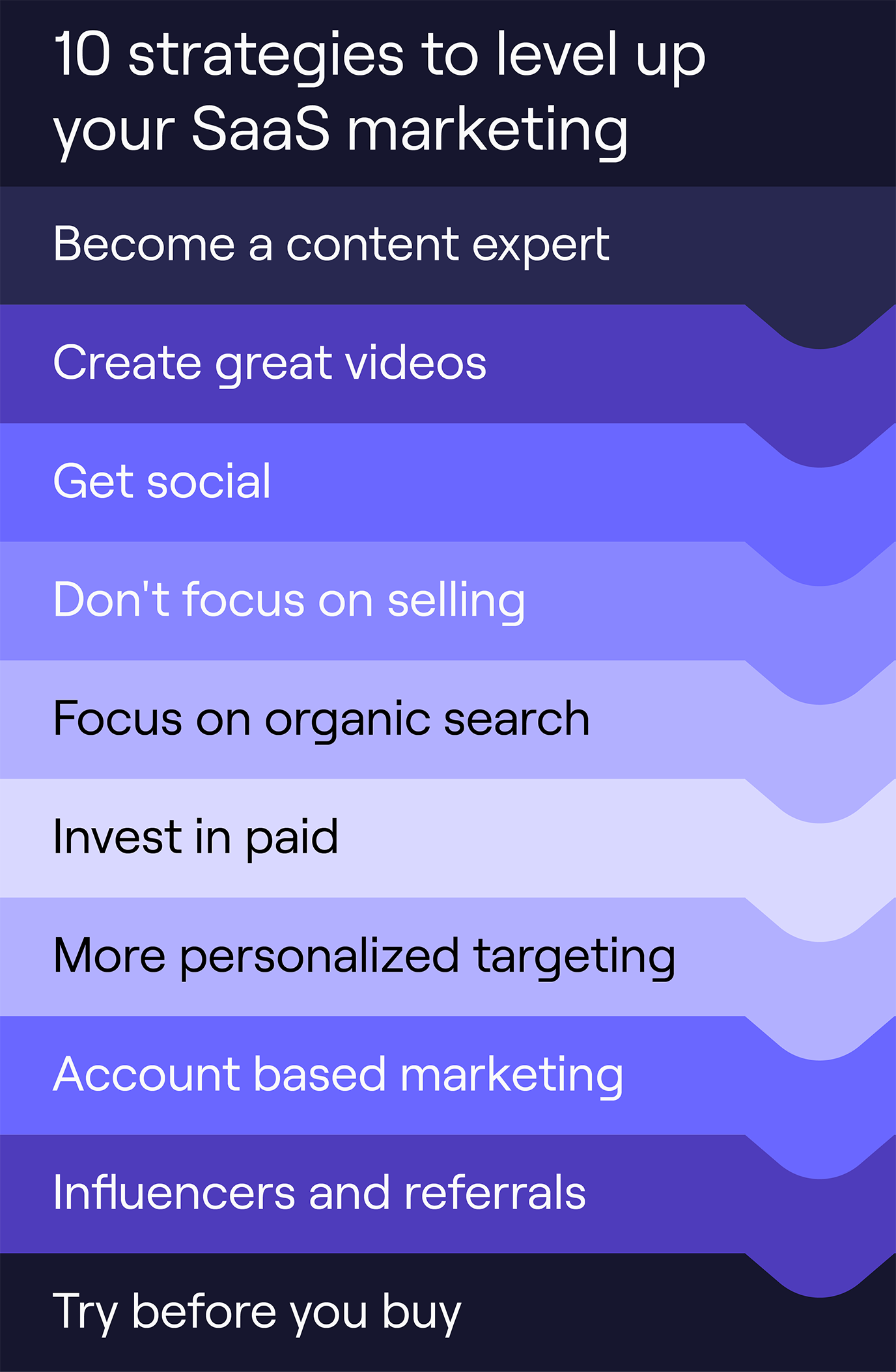 1. Become a subject matter expert
Think of your website as a resource where your customers can find answers to their most probing questions. Each blog post should offer value on topics you've pledged to become experts on. Whether that's B2B sales or something a little more niche to your industry, like creating the best HR surveys.
You want to create good content that attracts different buyers to your site. So when you're putting together your content strategy, consider your ideal customer profile to ensure you're appealing to the content they want to read.
Keep in mind that SaaS content marketing isn't limited to your blog. You can create podcasts, videos, and guides to help establish your brand as the go-to expert.
2. Create great videos
According to Wyzowl, 66% of customers prefer watching a video to reading about a product. And who are we not to give our potential buyers what they want?
Establishing video as part of your content marketing strategy is key to SaaS marketing success. Share snippets on LinkedIn, in blog posts, and create a FAQ series on YouTube.
For example, Cognism has been running an 'unboring' campaign across social with video snippets like this one, which has done wonders for engagement:
All of this will help increase your brand awareness and secure your reputation as the go-to expert for your chosen topics.
Even better, video snippets support your SaaS SEO efforts by increasing organic traffic to pages where they're embedded.
3. Get social
The more prospects are aware of your brand and the value you offer, the more marketing qualified leads (MQLs) you'll bring in for your MDRs to pass on to sales. That's why getting out there and posting across your main lead source channels is a must.
However, don't post for the sake of posting. Like your content marketing plan, you must share social media posts that encourage engagement, clicks, shares, and referrals. The more prospects see your brand and how trusted it is, the more inbound leads you'll bring in for your SaaS business.
Cognism does this by sharing interesting tips, blog snippets, and polls on LinkedIn. Here's one example that's doing well:
Another strategy to consider when marketing SaaS products is to create a community. Whether it's a Slack group or a group on Facebook or LinkedIn.
Connecting with your customers is a great way to get insight into their needs and how you can improve your offering. Gong is an example of a SaaS company that does this very well. Check out their Visioneer Community, where customers can network, learn, and share insights.
4. Don't focus so much on selling
SaaS marketing is about creating demand for your product or service rather than going after leads who aren't interested and have no idea who you are. So the next SaaS marketing strategy is to forget lead generation and focus on demand generation.
When you create awareness and interest in your B2B software, instead of pushing an immediate sale, you're encouraging more hot leads to enter the B2B marketing funnel. Leading to:
More satisfied customers.

A lower customer acquisition cost (CAC).

A reduced churn rate.

Target records exceeded for both sales and marketing.

Increased productivity across teams.
5. Focus on organic search
A favorite SaaS marketing strategy for startups is organic search.
Why?
Because it's affordable and profitable.
And nothing works better for gaining organic traffic than optimizing your search engine optimization (SEO).
Look to hire an SEO specialist to target relevant keywords with good search volume. They'll ensure your site ranks well, leading to more traffic from strategic search terms.
For example, since Cognism implemented a strategic organic SEO strategy, website traffic has increased from 6k to 35k in a year, with impressions surpassing 4 million.
Another way to boost your SEO efforts and get ahead with your SaaS digital marketing is to consider accepting and writing guest posts for other sites with a good domain rating.
💡 You might also be interested in our on-page SEO checklist.
6. Invest in paid
Marketing is about more than reaching prospects organically. When marketing a software product, you'll need to ensure you're seen wherever your potential customers spend their time. That's where paid advertising comes in:
Create targeted ad campaigns for major social media platforms like Facebook and LinkedIn.

Invest in Pay Per Click (PPC) with Google ads to support your SaaS SEO efforts.
Here's an example of one eye-catching paid ad campaign from Cognism:
To win with paid ads, set aside a marketing budget and A/B test all your ads. This ensures you're only putting your highest-performing ones out there.
7. Hyper-personalized targeting is a must
As mentioned above, creating targeted SaaS marketing campaigns will help support your inbound marketing efforts.
Using intent data and list segmentation is just the cherry on top for hyper-personalized cold email marketing. Quality, up-to-date marketing data is necessary when creating these hyper-personalized campaigns.
You can also look into setting up marketing triggers to target specific events related to your service. Then automate your campaigns to be sent out at the optimal time.
8. Consider account-based marketing
Hyper-personalized campaigns are great for converting targeted leads, but they can be done even better with your sales team's help.
One growth strategy many SaaS startups invest in is account-based marketing. By aligning your B2B sales and marketing teams, you can sell directly to your best-fit, highest-value accounts without requiring long nurtures and lead qualification processes.
In fact, according to Optimizely.com, 85% of SaaS companies say account-based marketing delivers higher returns than any other marketing approach.
💡 Click this link to learn more about creating a winning ABM campaign.
9. Influencers and referrals make a difference
Every potential customer will take your reviews and testimonials seriously. This is why ensuring your customer success team responds to queries as fast as possible is important. If you're providing a great service, your customers won't hesitate to shout it from the rooftops.
And that's where referral marketing comes in. Most of your long-term customers will want to refer your brand to their friends and colleagues, but some might need an incentive. You can set up a referral program to reward loyal customers by offering a discount or prize each time they refer a new customer.
Another effective SaaS marketing strategy is to use influencers to talk about your brand. These can be subject matter experts with good followings on LinkedIn or big names in your industry whose opinions are respected by your target audience.
10. Try before you buy
Always, always encourage a demo. Whether it's a button attached to a sticky menu on your blog, a chat that pops up on your website, or a CTA on your paid ads.
You wouldn't buy a car before giving it a test drive, would you?
It's the same thing with a SaaS demo.
A demo allows buyers to see what they're getting before they commit to a purchase. Plus, it allows them to ask questions and highlight pain points they need your solution to solve.
It also allows your sales team to handle objections and explain why your product is better than your competitors.

Another option that many B2B companies like Asana, Dropbox and HubSpot have found successful is a "freemium" SaaS model.
How does it work?

There's no such thing as a demo and a trial. Rather, these SaaS companies give limited lifetime usage but require upgrades when certain product limits are reached.
Bonus strategy for SaaS B2B marketing! 🎥 This video highlights the six steps for SaaS sales success using a go-to-market strategy. Click to watch.

How to measure SaaS marketing success?
How do you know when your content marketing for SaaS is working?
You'll have to start by setting goals or targets for your team. After identifying what you want to achieve, start monitoring your SaaS marketing metrics. These will forewarn you of any problems with your campaigns before they become an issue. They will also highlight any growth opportunities.
Here's an example of how Growth Advisor, Gaetano Nino DiNardi measures SaaS performance:
You'll want to look at your funnel from the top, middle, and bottom. Just remember to check in on your customer after the sale.
Here are nine metrics you should consider measuring:
1. Website traffic
A little context goes a long way. To understand how your site performs, you should know what users do once they arrive on your website. You can discover these buyer journey insights via your website analytics software.
Look at how much traffic you're getting and the bounce and conversion rates. A high bounce rate could mean prospects aren't finding your page useful or your site navigation is off-putting. Once you pinpoint the problem, you can fix it, resulting in more incoming revenue.
Use Google Analytics to see which posts are most popular and why. This will help you create content that's valuable for your audience. You'll also be able to tell if there are any issues with your SEO strategy.
2. Brand search volume
Brand search volume is a great SaaS metric for determining brand awareness. It's calculated by the number of visits to your website that originate from branded keywords on search engines.
You can get a head in branded search by:
Adding your brand name to the end of blog titles
Including your brand name in meta descriptions
Bidding on your branded keywords
Use this data to discover how your brand is being discovered and if there's an opportunity to increase your search volume.
Don't forget to compare your brand search volume to your competitors. This way, you can quickly discover branded gaps and act on them.
3. Product page entrances
Like website traffic, monitoring traffic to your product pages is important for ensuring you're giving B2B buyers a good user experience. Do this by providing prospective customers with the information they need when they visit your site.
Entrances should be measured alongside branded clicks and time on page to better determine the accuracy of your messaging and each page's ease of use.
You'll likely find that your product pages need ongoing optimization to attract target customers and meet marketing goals over a certain time period.
4. Number of conversions
Conversion rates are a user engagement metric that tracks your marketing performance. It looks at how many users engaged with your marketing, took the action you wanted them to, and entered your SaaS marketing funnel before converting to a sale.
You want to measure conversions across your sales funnel. Look at the number of leads at each touchpoint.
How many of those were qualified?

How many converted into a sale?
This way, you can see where things might go wrong in the user journey and change it for your next campaign.
5. Quality of your leads
Next, look at the quality of your leads. Are you targeting your ideal customer profile? You might think you are, but the quality of your leads will tell you otherwise.
Unqualified leads will only waste your SaaS marketing team's time and keep your SDRs from meeting their sales targets. Try lead scoring to help you establish good leads from bad ones, so you don't waste any time on prospects who aren't going to buy.
6. Cost per lead (CPL)
Use your CPL to determine:
Which channels are your best sources for leads.

How well you're refining your social targeting.

How much money you can spend on acquiring new leads.
7. Customer lifetime value (CLV)
The CLV metric is the total revenue a customer will generate throughout your business relationship.
It helps you to decide on the budget for your annual SaaS marketing plan and which channels you should focus on for content marketing.
8. Customer acquisition cost (CAC)
Customer acquisition cost is one of the most important metrics for evaluating the performance of your marketing efforts.
You should strive for the lowest CAC possible, especially if you present these revenue metrics to your board. Your CAC will also help you stay within your SaaS marketing budget and ensure you're getting a good ROI.
9. Customer churn
Customer churn refers to the rate customers cancel their contracts with you. It's an important metric for SaaS growth marketing because retaining customers is far cheaper than acquiring new ones.
You'll want to ensure your customer churn rates stay as low as possible. Always check in with your current customers to see how you can improve their offering.
💡 Have a look at this article on B2B marketing metrics for more metrics that matter in software product marketing.
FAQ
Q. What does SaaS stand for in SaaS marketing?
SaaS is a business term that stands for Software as a Service.
Q. How do you market your SaaS product?
A mix of inbound, outbound, and account based marketing are good strategies when marketing a SaaS product.
Q. Do you need marketing data for SaaS marketing?
Good, GDPR-compliant data is important if you want to target the best leads for your business. We suggest not choosing to buy leads but rather investing in a trusted sales intelligence tool like Cognism.
Q. What types of SaaS marketing techniques are no longer effective?
SaaS advertising has come a long way over the years. Strategies that were once successful are no longer beneficial in B2B.
Gated content, optimising campaigns for MQLs instead of pipeline, and paying analysts expensive fees to produce corporate whitepapers are a few outdated techniques to avoid.

Drive more growth with Cognism
Discover how the top SaaS companies drive growth with our guide to next-level B2B data.
Inside you'll find:
The main challenges SaaS marketing professionals face.

How companies found success while using Cognism.

The metrics that Cognism customers achieved, such as generating ROI in 2 days, booking 3x more meetings every week, and more!
Click to read it now 👇