10 Ways to Generate Logistics Sales Leads [2024]
When it comes to lead generation for logistics and transportation companies, the best approach is often a mixed one involving both inbound and outbound techniques.
It ensures you hit your target audience from multiple angles and reach as many high-quality logistics and operations managers as possible without putting your eggs in one basket.
Today, you'll learn the best methods, from cold calling decision-makers to writing case studies. As you read, think of which ones would work best to fill gaps in your current plan.
1. Identify and target key accounts
A strong lead generation strategy in logistics and transportation starts with a list of target companies and the decision-makers who work there.
It ensures that your lead generation tactics are directed at people who care about your offerings. And it prevents you from wasting time reaching out to businesses that are a bad fit.
To identify these target companies, create an ideal customer profile (ICP), a description of your ideal customer. You'll use it like a botanist uses a field guide when they're out searching for a specific plant species.
As you look for logistics sales leads to add to your list, you compare their set of attributes to those outlined in your ICP.
Manual internet research with an ICP takes a long time and might not be effective. There's a much faster way to find prospective clients—
With a sales intelligence platform like Cognism, you can generate lists of target accounts and lead lists that match your ICP criteria in seconds.
Simply filter the B2B database by company size, industry, location, prospects' job titles and seniority to generate a logistics lead list.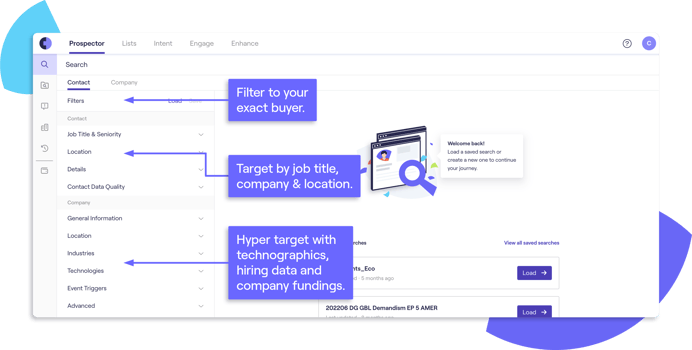 For example, you could build a list of all the operations managers, supply chain managers, and logistics managers of companies with 500+ employees in North America and EMEA.
You'd also get accurate contact data like email addresses and mobile phone numbers, along with their names and other information. So getting in touch is a breeze.

2. Leverage intent data
Intent data platforms like Bombara track leads digital journey across 5,000+ premium B2B websites and use this information to identify when they have buying intent and what they're in the market for.
Having this information is critical to getting clients in logistics business because it enables you to reach out with a personalised message at the perfect time, when your chances of booking a meeting are highest.
For example, if a logistics manager was spending a lot of time perusing pricing pages of transportation companies, you'd know it's probably a good time to reach out.
Cognism partnered with Bombora, the leading intent data provider on the market. With the combination of accurate contact data and 12,000 intent topics, you'll know which logistics and transportation leads you should contact first.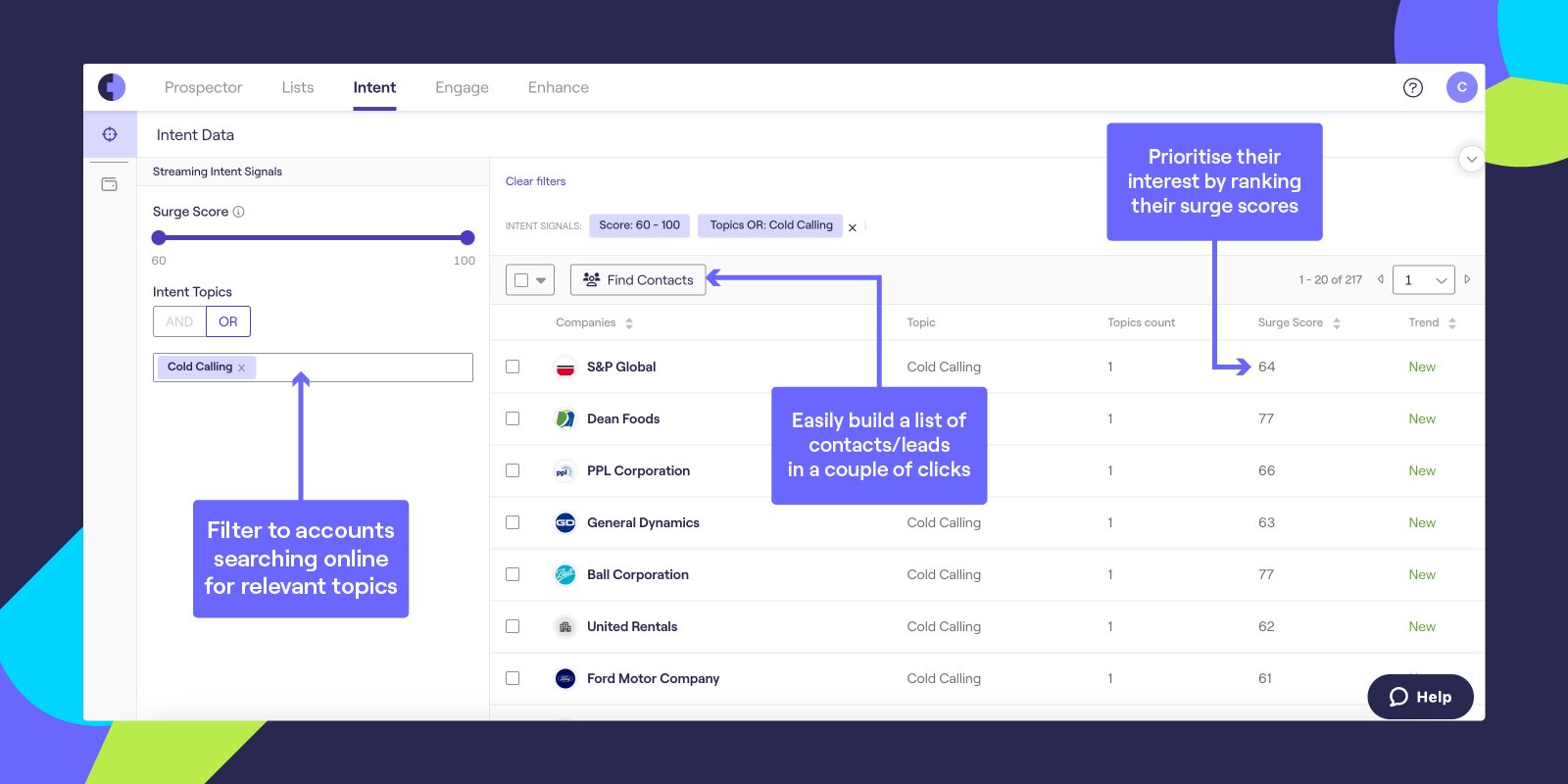 As a result, your lead generation process will become a whole lot more efficient.

3. Cold call valuable leads
Cold calling starts with quality contact data. Use Cognism's Diamond Data® to find verified work and mobile phone numbers of the decision makers on your list.
Diamond Data® is Cognism's premium human-verified cell phone numbers database. Our data research team checks the numbers' accuracy by calling the prospects. The result?
98% accuracy.

20% connect rate (vs 3% industry standard).

5x increase in reach.

7x increase in connect rate.
Cognism's data team can also source and verify cell phone numbers on demand. No other vendors, like ZoomInfo or Apollo, offer similar services.

Quality data prevents you from calling dead numbers and landlines, which is a huge waste of time, not to mention a disturbance to the flow state you want to be in during a cold call block.
Worried about bothering busy operations and logistics managers? Don't be — As long as your message is relevant, you won't be bothering them.
Also, there's a cold call opening strategy that'll help you come across as a problem-solver right off the bat.
After a few seconds of niceties, get right down to business. Tell the lead you're calling because logistics and transportation companies like them have been experiencing problems X and Y.
For example, if you were cold calling a logistics manager to offer a one-stop-shop for logistics management services, you might bring up:
How frustrating it can be to manage relationships with multiple vendors.

How costly it can be to experience shipping delays.

How most 3PLs fail to foresee potential issues, and thus end up putting out big fires.

How 3PLs are using old techniques and thus overcharge customers.
If you choose your pain points well, leads on the other end of the line will start paying attention to you.
They'll want you to keep talking if they have the problems you mentioned. They'll want to know how your logistics services can solve them.
To streamline cold calling, embed the most relevant pain points into a reusable script. Check out our B2B cold calling scripts for inspiration.
4. Develop prospecting cadence
Leads in complex logistics and transportation sales usually require multiple touches over several weeks before they're ready for a sales meeting.
To give them these touches, across various mediums, consider developing a prospecting cadence.
Here's an example of a month-long B2B cadence:


If you were to follow the above cadence, your first day with a new lead would involve:
Calling them.

Emailing them.

Sending them a LinkedIn message.

Connecting with them on LinkedIn.
On day 3, provided the lead hasn't responded, you'd call them, email them, and send them a video message. See how it works?
Basically, you're turning your outreach into a process that you repeat for each lead. This allows you to spend less time wondering how to interact with any given lead, and more time executing.
If you see a lead on day 17, you know you need to call them. If they're on day 30, it's time for a final email.
It's worth noting that all of these touches should be personalised, the earlier ones especially. Logistics and operations managers have a lot going on.
They won't respond unless they know the message is designed for their eyes only.
Often, sales reps track each lead's position in the cadence using a sales engagement platform like Outreach.
These platforms also allow you to pre-write sales emails that auto-fill with data about each lead, thus automating some of the outreach process.
5. Engage multiple stakeholders
Logistics and transportation lead generation typically involves engaging multiple stakeholders, from the COO and the logistics manager to the financial controller.
When so much money is on the line, you're going to need to get a sign-off from several high-level employees.
Don't wait until a late-stage presentation to start getting these stakeholders involved in the evaluation process.
Go after them early. Engage multiple decision-makers from the company during the lead generation phase.
For example, you could identify three logistics leads from a key account, and send them all cold emails, with each email tailored to the lead's specific job responsibilities.
And you could message all of them on LinkedIn. Cognism's browser extension makes it easy to reveal a lead's coworkers and their contact information while you're using LinkedIn.
When you use the multi-threading sales approach, you'll create buzz in the office. You'll get them talking to each other about your solution.
By the time you hold the first meeting, your service will have already been a lunchtime conversation topic. It will have produced lively debate, focused research, and solitary consideration.
And that means the people who come to the meeting will be prepared to seriously evaluate your services.
6. Expand to new markets
If business is going well and you feel you can take on more, consider expanding into new markets. This opens up a whole new world of leads for you.
For example, if you were only managing logistics and shipping for small- and medium-sized businesses, you could now start offering your services to middle-market companies.
Or, if you were only handling shipping on the East Coast, perhaps it's time to start offering your services to companies in the Midwest.
Another move is to expand your service package.
Customers love it when their partner is able to handle several or all of the steps in the supply chain and logistics management process. It means they have to coordinate with fewer vendors, and that things will run more smoothly.
Therefore, with an expanded service offering, you'll gain an elevator pitch that's more salient to the majority of leads.
7. Monitor competition
Watching your competitors, identifying their successful lead generation tactics, and then emulating them is a great way to generate leads in the logistics industry.
For example, you could go to their website and hunt for design ideas that'll help you convert more of your website visitors into leads.
Perhaps your competitors in the logistics and transportation industry have recently updated their homepage and messaging. Or added social proof to highlight their credibility and experience? It might be time to audit your website!
Then, you could see what they're doing on social media. Which social networks are they using to market their brand? Are their posts getting a lot of engagement? What qualities achieve this result?
Regardless of tactic, the procedure for emulating a competitor's lead gen ideas is simple:
Find something they're doing that's successfully attracting leads.

Ask questions to figure out why it's working so well.

Consider if/how you could do something similar or better to get more logistics leads.
If you'd like to automate the process, try out a competitive intelligence tool like Crayon. It provides real-time intelligence on your competitors.
8. Incentivise referrals
Word-of-mouth is one of the oldest marketing strategies that works really well for logistics companies. Hearing about a great experience with lead logistics provider from a trusted colleague has more power than we'd like to admit.
Now, businesses incentivise customers to promote their services to peers. This has become one of the most cost-effective ways to generate quality leads in logistics and transportation.
To encourage your customers to sing your praises, offer them a reward they receive if the lead they bring in turns into a customer. This could be a slight discount or an add-on to their current package.
Globalia Logistics, for example, offers freight forwarders 25% off their membership fee up to a maximum of four per year for every lead that becomes a member due to their referral. It means members can reduce their fees to zero for four successful referrals in one year.
Remember, once you have a good lead from your customers, follow up on referrals immediately to make the most of it.
9. Create case studies
Creating and promoting case studies is a great way to convince transportation leads that your business can achieve the desired results.
A case study is basically a story about how you helped a customer reach their goal or overcome a challenge.
They usually follow a pretty defined structure:
Explain the customer's goal.

Name a challenge standing in their way.

Describe how you helped them overcome the challenge.

List the amazing results the customer received all thanks to your ingenuity and service.
To illustrate, check out the case study on Noatum Logistics' website.
It tells the story of how they helped a client in the mining industry transport eight cable reels and 23 tons from Shanghai to Peru in just five days.
This is going to really help them attract leads who need efficient air transport, as well as leads who value creative problem-solving.
Consider creating your own case studies, one for each of your major segments. Find those moments when your team exceeded expectations, then simply tell the story.
After creating a few of these, you'll have gained some extremely persuasive marketing material that you can send to leads in cold emails and post on your website.
10. Prepare a customised offer
Another way to generate logistics sales leads is to prepare a customised offer for them. Especially if the lead represents a large amount of potential revenue,
Do some research and identify their potential needs and pain points. Leverage data from sales intelligence platforms like Cognism (i.e. sales trigger events, technographics, or intent data) to form a deep understanding of the company.
If you have intel on their current vendor, then use that information to construct an offer that emphasises differentiators and paints you as the better choice.
Perhaps write a simple one-page proposal outlining your plan, the service package, the costs, and the benefits they'll receive from working with you.
In a cold email, mention that you've prepared an incredible offer for them, and ask them to take a meeting with you to see and discuss it.
This should turn a few heads, especially if you give them a sneak peek at the stellar price or incredible plan in your email.
How do logistics companies get clients?
The best way to get logistics sales leads is to combine B2B contact data with the intent. It allows you to reach the right leads at the right time with personalised outreach.
If you liked what you read, check out our guide to inbound marketing.