B2B Sales Process | The 8 Stages of Every B2B Sales Cycle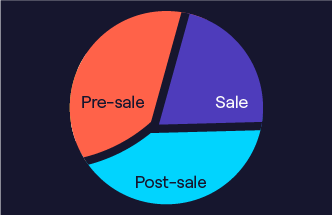 A B2B sales process is a set of steps designed to help salespeople convert prospects into customers. It's a scalable, repeatable instruction manual for sales success.
Here at Cognism, our 8-step sales process is the cornerstone of our sales strategy. It's helped us to stay focused and hit our revenue targets, even during the challenging working environment of COVID-19.
In this article, we're going to run through our sales process step-by-step and explore why having one is so necessary for a scaling company.
Scroll 👇 to find out more - or use the menu to skip to a section.
Cognism's Senior Video Marketer, Emily Liu, explains the B2B sales process in a quick video tutorial. Press ▶️ to watch!



Why you should develop a B2B sales process
Most salespeople enjoy the freedom that comes with their role. The ability to bring their personality in to every cold call and adapt to changing conversations. However, the best salespeople aren't artists, they're scientists. They use B2B data to form insights and create a strong sales process.
A SaaS sales process provides a framework upon which a salesperson can improvise, while providing four additional benefits:
Having a more rigid process in place makes it easier for new starters to get up to date.

Breaking a sales strategy into stages makes it easier to identify aspects which aren't working, and adjust them.

Having a more structured sales approach will make it impossible to overlook important steps.

Seeing where your ideal customers are in the sales process makes it easier to forecast more accurately.
The B2B sales process explained
The first thing to do before you start prospecting is to research your target market and define Total Addressable Market (or TAM). Once you've done this, you will be ready to kickstart the sales process.
Calculate your own TAM with Cognism - give our free TAM calculator a spin! Click 👇

We've broken our one into 8 separate stages, which are outlined in the infographic below. This is Cognism's B2B sales process!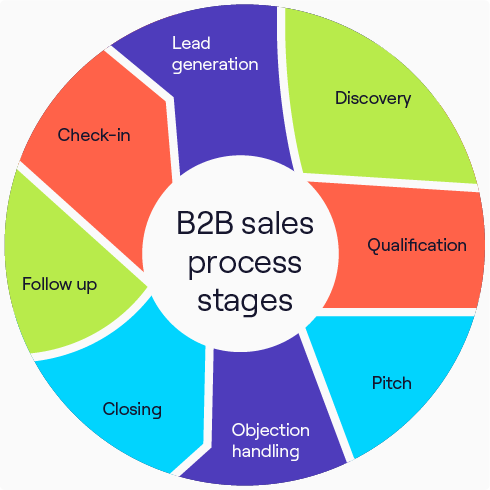 1 - Lead generation
Lead generation is the process of finding qualified leads; people who've expressed interest in your product and who you should reach out to! If you have a good understanding of your total addressable market and the right lead generation software in place, this step should take no time at all!
Cognism Prospector is a B2B lead generation platform which will give you access to 16 data points on over 400 million business profiles worldwide. By using our software, you will be able to discover potential leads with ease. Once you've done this, you just have to build a list of people to reach out to—with or without a lead generation specialist!
2 - Discovery
Every good salesperson should know their product inside out. Every great salesperson should also understand their prospect's business. By putting in the groundwork and trying to understand the prospect's pain points before you speak with them, you'll be able to provide them with solutions. This research stage prepares you for sales discovery calls.
Researching the prospect also gives you an opportunity to qualify the lead before you pick up the phone. Here are some tips:
Connect with the prospect on LinkedIn. Check their recent activity. What have they commented on? What have they shared? Have they written any articles or been featured in someone else's? Insights like these can be great for building rapport on your cold calls.

Click on their company's website. Have they published any news stories or press releases recently? Scroll through their blog, if they have one. Take note of the language/terms that are used by the company. Again, this is all good information that you can use in your calls.

Read up on the latest news in their sector. Subscribe to industry news websites or LinkedIn groups. When you call the prospect, you want to sound like an expert - not just in your field, but in theirs!
Bottom line is - even though discovery can take a bit of time, it'll make your calls far more successful.
3 - Qualification
Now that you've done the groundwork, it's time to get on the phone.
During the first section of your sales call, you should use a lead scoring system to assess the prospect's suitability as a customer.
Ask them open-ended questions, throw in some key-business terminology, focus on their problems and determine whether you could solve them. If not - don't force it!
Time is of the essence, and if you have a good lead list, you'll have plenty of other people to speak to!
4 - Pitch
You should by this point have a good idea of the struggles the prospect faces. If so, you'll be able to deliver a pitch which is tailored to solving their problems.
This is where your creativity comes in. The most detailed sales process in the world can't replace charisma or charm...this is why we often avoid detailed scripts.
A good scripted sales pitch should last around 30 seconds. During this time, you'll need to show the prospect that you've done your research. Hit on key points of value which are relevant to them. Here's some tips:
Quote the types of businesses that the prospect's company prospects to - this is a great way to demonstrate that you've done your research!

Arouse curiosity in the prospect. Avoid over-explaining your product or service; you want the prospect to follow up with some questions.

A sales pitch isn't an excuse to list all of your wonderful features. Prospects don't want to hear it! Focus instead on how your product can help them. What results can they expect to see if they become a user?
5 - Objection handling
A prospect will rarely be ready to buy immediately after your pitch. They'll most likely have some questions which you'll need to answer.
When it comes to objection handling, the prospect is never wrong. If you flat-out disagree with a prospect's objection, they'll hang up. Instead, listen to what they have to say, and reposition your offer in a way which answers their question. The chances are they've just not heard the right information yet.
Over time, you'll develop an arsenal of objection resolutions. Until then, just listen to the sales objection, acknowledge it, and propose a reasonable solution. If this goes well, it'll be time to close the deal.
6 - Closing
This stage of the B2B sales process should be the most exciting part for the prospect. You've demonstrated the value of your product, handled all of their cold call objections, and convinced the prospect that your solution is an investment that can't be passed up on!
Discuss prices and negotiate if necessary. Offering some free added value to the deal can help get it over the line.
Also, be sure to discuss all of the remaining steps before the call ends, including speaking about all of the stakeholders that need to sign off on the deal. This will ensure that there are no surprising bumps along the way; now the signed contract will be in sight!
7 - Follow up
After the sales call, send the prospect a follow-up email. Due to the number of people that are usually involved in signing a B2B purchase, it's important that you leave a good impression!
Keep it professional and provide next steps. Include a summary or (even better!) a recording of your conversation, as well as any additional useful information. Leaving the conversation on a positive note will leave the door open for repeat sells and upsells.
Plus, if you're going to continue working with the new client, you'll be getting your new working relationship off to a great start.
Top tip: a good way to be professional is through a sales email signature.
8 - Check in
Congratulations! Your target prospect has become the client. There's just one step left.
After you've waited for the client to see the value of your product, it's worth reaching out to them one last time. Check in with them to see how they're doing.
Not only can you gain great feedback from this step, but if they've been enjoying the product, you can ask for a case study or referral. This will give you a great new lead to restart the B2B prospecting process with!
You can use a tailored email signature to gain this feedback quickly. Just add a CTA that links to a customer feedback form - this is super easy if you avoid manually doing it. And use a free generator instead.
Tip! Don't forget to measure your lead generation costs and the lead-to-sales rate at the end of each campaign. It will help you identify the most effective sales channels.
Get more sales insights!
A sales process can provide a great framework for your sales strategy, but how do you build upon it?
By downloading even more great content from Cognism!
We developed an objection handling handbook, containing plenty of tips, tricks and valuable information to steal!
Click 👇 to access.