What is a Marketing Development Representative (MDR)?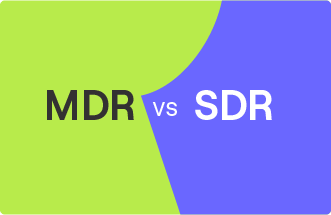 Marketing Development Representatives (MDRs) are specialized salespeople who bridge the gap between marketing-qualified leads (MQLs) and sales-qualified leads (SQLs).
They do this by following up on all marketing-generated leads - from hand raises to direct demo requests - across all your lead source channels.
In this article, Cognism's Chief Marketing Officer, Alice de Courcy, and VP UK & I, Jonathon Ilett, explore the definition of an MDR and how they can help your business align sales and marketing goals and convert more good-fit customers.
Without further ado, let's start 👇
What is an MDR in marketing and sales?
What is a marketing representative? Alice and Jonathon, explain everything you need to know about this exciting role that helps align sales and marketing. Press ▶️ to watch!
What do marketing development representatives do?
The role of a marketing development representative is to handle all sales-related queries that come through marketing. This means staying on top of any leads generated through content, webinars, social campaigns, and events.
MDRs might have to make the occasional cold call, but their main focus is responding to inbound marketing requests as quickly as possible. Jonathan explains:
"Marketing representatives sit hybrid between the sales function and the marketing function. They directly report to sales and follow all the training on standard sales processes for actioning leads."

"They also give feedback directly on any content marketing channels we focus on at Cognism. So, essentially they're reporting to both a sales leader and our CMO."

"The way I like to view it is that SDRs target cold leads - they're basically spearfishing, whereas the MDRs' primary focus is to qualify leads. They have much more in-depth conversations, like an account executive would on a discovery call."

"The benefit of this is that the talent pool of your MDRs progresses much faster towards those AE roles."
💡 Discover how MDRs increase conversion rates 👈
Why does your sales team need MDRs?
SaaS sales teams need market development representatives to nurture their leads in the B2B marketing funnel and create additional sales opportunities.
For example, to turn MQLs into qualified sales leads, an MDR will take several steps to qualify the lead further. This helps to create more sales-qualified opportunities (SQOs) and gives BDMs a better chance of converting the leads that marketing passes to them.
MDR sales create a more efficient sales funnel because they take time to understand a prospect's business and internal workflows. Then they decide whether or not they'll be a good-fit customer.
For example, they may deem a prospective customer with a small total addressable market (TAM) to be a bad fit, so they'll filter them out of the sales pipeline. Ensuring your SDRs receive the most targeted leads while saving them time speaking to inbound prospects with a higher chance of conversion.
Why does the marketing team need MDRs?
Marketing development representatives act as liaisons, linking sales and marketing to qualify content-generated leads and increase sales revenue.
"With MDRs in the team, marketing and sales share a genuine joint interest. And with closer collaboration, the two teams can more predictably turn MQLs into sales-qualified leads."

"At Cognism, 50% of marketing's pipeline and revenue comes from the MQLs that MDRs work on. For the MDRs, 100% of their target comes from the MQLs delivered to them by marketing." - Alice.
The MDRs and the marketing team are vested in each other's success.
For example, marketing writes the outreach cadences. Then the marketing development specialists use them to follow up on MQLs generated by content. This makes marketing vital to the sales process.
And when Cognism introduced market development representatives, we saw excellent results, as Alice explains:
"Since introducing this role, we've created an incredible feedback loop, huge buy-in from the sales team, and conversions have skyrocketed from 3% to 10%."
Tip! 💡 Take your marketing to the next level with this 'What is B2B marketing?' guide.
Further aligning marketing and sales
Marketing is also responsible for delivering an agreed number of "actionable MQLs" per MDR per month.
This allows MDRs to achieve their monthly sales qualified leads (SQO) targets, feeding directly into marketing's overall SQO target.
MDRs report on this to marketing weekly, and marketing monitors this metric daily.
🎧 Are marketing representatives the missing link needed to unite sales and marketing? Listen to this sales podcast to find out why the answer is yes!
What are the key

MDR responsibilities?

A sales and marketing representative takes ownership of all marketing leads produced by your wider B2B lead generation strategy. A typical example would be a prospect who's filled out a form to gain access to an eBook.

MDRs then follow up with these prospects by putting them into a sales cadence, with the end goal of booking a meeting.

But, inbound B2B marketing leads don't often fit your ICP and have limited knowledge of your product/service. So, the most important role marketing development representatives perform is the qualification of inbound leads.

That means MDRs play a vital role in qualifying inbound leads in and out, enabling your business to convert more good-fit customers.

Because of the details MDRs go into during the qualification process, their insights also help keep your company's ideal customer profile (ICP) relevant.

For example, they can identify trends in good-fit customers from particular industries and regions, allowing the wider business to focus on them.

🎬 Interested in learning more about the responsibilities of an MDR? Watch this quick employee spotlight, where one of Cognism's MDRs shares his thoughts and advice on his role.

💡 Read this article to learn how you can become an MDR who crushes target!
What's the difference between an MDR and a BDM?
Ultimately, the job of the marketing development representative is to book meetings with prospects who are likely to become customers. Whereas the business development manager's job is to close the business generated by a combination of the SDR and MDR teams.
Between the roles, there are some essential transferable skills. As an MDR, for example, you ask a lot of questions about your prospects' processes; the goal is to understand whether they're a good-fit customer.
This is also an essential communication skill for business development representatives, who go even deeper into discovery to qualify sales leads further and eventually close the deal.
What's the difference between an SDR and an MDR career?
Sales development representatives are focused on cold outreach. They conduct this across several channels, including email, cold calling, personalized LinkedIn messaging templates, etc.
Their role is to get people who've had no prior engagement with your company interested in your product/service.
On the other hand, market development representatives deal with warmer and more targeted leads. As a result, they require more in-depth product knowledge and an excellent understanding of your company's ICP.
The two roles also require different skill sets. Because MDRs have to focus on inbound and content leads, they have less time than SDRs.
This means they have to be highly organized to perform the role successfully.
Alice says:
"At Cognism, SDRs are promoted to MDRs before becoming BDMs. Interestingly, this is the reverse of most companies' processes, where the most junior employees work as MDRs."
There are two key reasons for switching this up:
Cognism has better-qualified BDMs due to the detailed nature of the daily conversations MDRs have.
The value of inbound leads and MDR marketing can be driven home across the whole organization.
Alice continues:
"As every new BDM has been through the hybrid position, they better understand the SaaS marketing engine. This brings the revenue team closer together, breaking down barriers between sales and marketing."

"We believe specialization leads to success. So when experimenting with anything new, we always put our best foot forward and assign our most talented people to that role. The market development specialist is a living embodiment of both of those principles. It's key to us generating revenue as well as generating a consistent and predictable pipeline from MQLs to SQLs."
💡 Want to hire more enterprise market development representatives but not sure how to start? Read this article on how to hire MDRs (by people who've done it).
Key takeaways
The marketing development representative's job means closing the gap between MQLs and SQLs. The role involves:
Helping

B2B sales

teams focus on high-quality leads, increasing the chance of a conversion.
Elevating the role marketing plays in the revenue engine.
Aligning sales and marketing.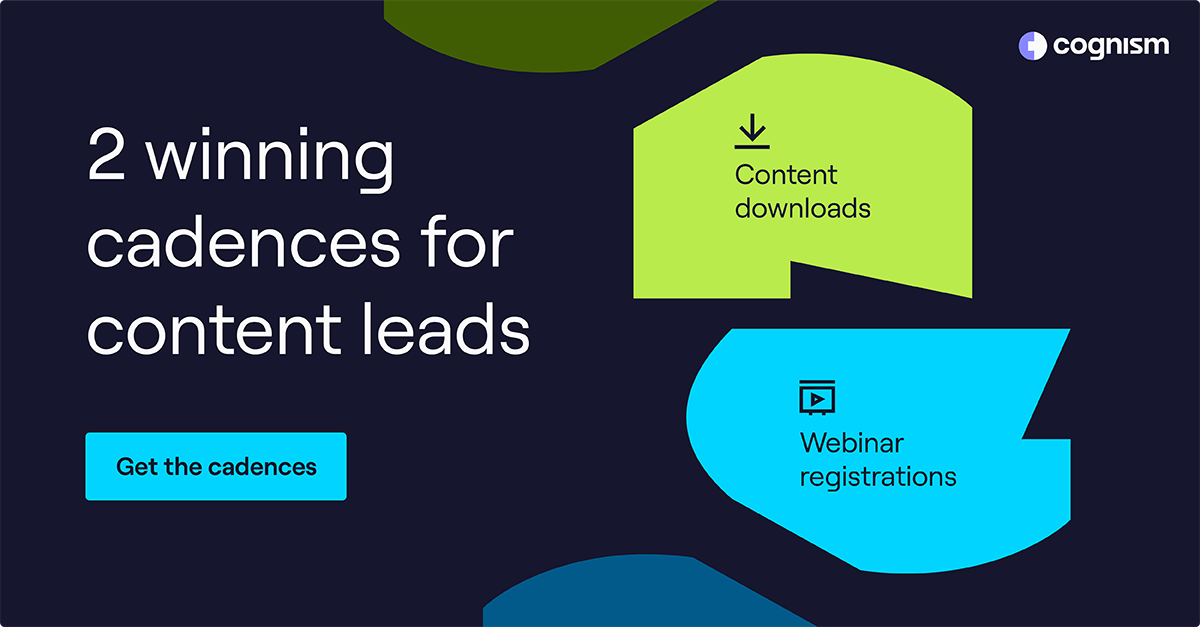 If you want to help nurture your content leads, check out winning cadences from our MDRs! ☝🏼
Are you ready for your next sales role?
There's no doubt about it, marketing development representatives are the future of sales. If you're looking for a sales-related role to start or grow your sales career, Cognism might have just the thing.
Click to see our open positions 👇