10+ Sales Pipeline Management Tools [+Tips]
No successful sales team can go without sales pipeline software, as these tools let you monitor your sales reps' performance and better understand their successes and failures.
Reporting dashboards help identify the leaks in your pipeline and weak areas of the sales process that need improvement. They also present your sales activities in an easy-to-understand, visual way with charts and diagrams.
Let's look at the best tools out there.
What are sales pipeline management tools?
Sales pipeline management tools are digital solutions that help create processes around sales activities and organise your prospecting initiatives for higher close rates.
1. Cognism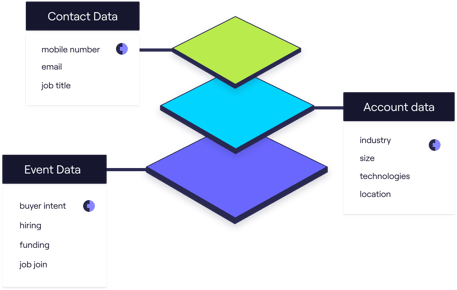 Cognism is a sales intelligence platform essential to building a strong sales pipeline. It provides accurate account and contact information, intent data, and sales trigger events (e.g. job change alerts) to improve your sales pipeline.
With Cognism, you can access contacts from around the world — EMEA, NAM, and APAC. You can easily integrate Cognism's platform with your existing tech stack, including Salesforce, Hubspot, Outreach, and dozens of other sales pipeline tools.
Key features
B2B emails and phone numbers database.

Sourcing and verification service on request.

CCPA & GDPR compliance

with broad DNC list cleaning.

Seamless integrations

with CRMs and sales enablement tools.

Sales triggers and firmographics.
Pricing
Book a demo to get a product walkthrough and custom pricing.
The SDRs target enterprise, mid-market and small organisations in different sectors ranging from utilities, social housing and retail. These segments are then sliced and diced by the SDR so they can start prospecting to that particular segment. If they find a perfect fit account, the SDR will go into Cognism, research the company, select the contacts and import them into HubSpot for outreach.
Localz
Gary Rosier - Taylor, VP of Sales EMEA
500%
increase in opportunities generated
93.3%
decrease in SDR prospect researching time

2. Pipedrive
Source: Pipedrive
Pipedrive is an all-in-one sales pipeline management software focusing most of its features on supporting sales operations. With this tool, you can automate most of the daily sales tasks and improve workflows, leading to a higher close rate.
Key features
Lead segmentation.

Activity reminders.

Contact history.

Online forms.
Pricing
Essential — €14.90.

Advances — €27.90.

Professional — €49.90.

Power — €64.90.

Enterprise — €99.00.

Add-ons at extra cost.
3. Salesforce CRM
Source: Salesforce App Exchange
Salesforce is one of the best-in-class sales pipeline management tools. Many teams value its flexibility and multiple options for customisation. That's why it's often a top choice for bigger sales teams.
Key features
Contact management.

Pipeline and forecast management.

Sales insights.
Pricing
The cheapest plan is €25 per user monthly, which includes the most basic features. The highest plan dedicated to fast-growing companies is €300 per user monthly.
4. Insightly
Source: Insightly
Insightly claims to be a "modern" CRM that is built to adjust to companies' growth stages with its customisable features. It offers features for sales pipeline management that both small and big teams use to increase velocity and scale their sales.
Key features
Lead routing.

Sales pipeline tracking.

Email templates.

In-depth analytics.
Pricing
Insightly offers different pricing suited for marketing, sales, and service. The cheapest plan is $29 per user per month, while the most expensive plan reaches $2,599 for maximum 10 users.
5. Keap
Source: Keap
Keap (formerly InfusionSoft) offers a range of sales pipeline features for small business owners who want to organise and scale their sales processes. Its interface is simple and user-intuitive. And the Keap app lets you manage sales on mobile. Advanced features like lead scoring, discounts, and promo codes are reserved for the highest plan.
Key features
Lead generation.

Smart automations.

Curated email templates.

Easy mobile access.
Pricing
Pro subscription is $199/mo for a maximum of 1500 contacts.

Max is $299/mo for a maximum of 2500 contacts.

The subscription increases with the number of prospects in your pipeline.

Custom plan available.
6. Zapier
Source: Zapier
Zapier is an automation tool that helps streamline sales activities without the help of a developer. By using Zapier, you can also build logic and introduce necessary workflows to make your sales pipeline management and communication with prospects much more accessible.
Key features
Multi-step zaps.

Filters with plenty of conditions to use.

Webhooks.

Task scheduling.
Pricing
Zapier offers five subscription plans, including a free version with a maximum of five automations. Paid plans start at $19.99 and the most expensive costs $99.99. The price of a selected plan increases with some tasks exceeding the limit.
7. Salesmate.io
Source: Salesmate
Salesamate is a CRM with product management software. It helps to manage the sales pipeline by associating products with deals. It's a platform where you can manage your products, customers, and sales all in one place.
Key features
Deal management.

Marketing automation.

Sales forecasting & analytics.
Pricing
Monthly subscriptions start at $15 per user for basic features and $40 for a whole pack. They also offer enterprise subscriptions with custom pricing.
8. Close
Source: Close
Close is a pipeline management software designed for teams of all sizes. It can easily adjust the growth stage your company is on. It helps you onboard sales reps, set targets, and visualise progress. Global calling for sales teams based anywhere in the world
Key features
Sales automation & sequences.

Predictive dialer to call multiple numbers.

Built-in VoIP and SMS.

Leaderboard.
Pricing
Close offers three plans, both monthly and annual subscriptions. The cheapest monthly subscription starts at $119 per month and includes three users.
9. Zoho CRM Plus
Source: Zoho
Zoho CRM Plus is a service that moves away from traditional data entry and lets its users automate the maximum number of activities with workflow, process, and campaign integrations. It saves the sales team time while offering a 360-degree pipeline overview.
Key features
Multiple pipelines.

Sales forecasting.

SalesSignals.

Assignment rules.
Pricing
Zoho CRM offers four plans and two bundles. Zoho CRM Plus is one of the bundles costing €69 per user per month when billed monthly or €57 when choosing an annual plan. This bundle lets you unify and benefit from sales, marketing, and customer service features. The cheapest standard licence costs €14 per user per month (annual billing).
10. FreshSales
Freshsales is one of the modern pipeline management solutions that lets you quickly identify high-potential leads using AI models. With the insights generated by their algorithms, you can better understand your customers and find the most optimal way to manage sales.
Key features
Lead assignment.

Email campaigns.

Reminders.

Advanced analytics.
Pricing
Monthly or annual subscriptions.

A free plan.

Growth ($15 per user per month).

Pro ($39 per user per month).

Enterprise ($69 per user per month).
11. HubSpot CRM
Source: HubSpot
Hubspot CRM is designed for sales teams, marketers, customer success, support teams, and founders. It offers many features that you can find in most sales pipeline management tools in a simple and intuitive dashboard.
Key features
Pipeline visualisation.

Email templates.

Email tracking.

Complex processes automations.
Pricing
Professional - €441/mo (includes 5 users)

Enterprise - €1,180/mo (includes 10 users)

Free option with limited product capabilities.
What is a sales pipeline?
A sales pipeline is a visual representation of the sales process. Your pipeline is the journey a B2B prospect takes as a customer. It will consist of several stages. Each stage represents a different step on the journey.
Different organisations set out their pipelines in different ways, but examples of the stages could include:
Contacted

Decision-maker involved

Demo stage

MQLs and SQLs

Deal closed
Why do you need to manage a B2B sales pipeline?
Most B2B leads are not ready to close immediately and must be filtered through a pipeline. A stable and reliable sales cycle helps you meet your end goal of closing deals and generating revenue.
Why is using sales pipeline management software important?
Using sales pipeline management beneficial to the effective management of your sales and revenue generation:
It makes the sales process clear and easy to manage/understand.

It makes managing your sales less time-consuming.

It makes revenue forecasting easier.
5 tips for managing sales team pipeline
Nazma Qurban, Cognism's Chief Revenue Officer, suggests the following:
1. Follow up
Today, buyers have more choices than ever and with that comes an increasingly competitive market for sales and marketing professionals.
It is, therefore, key that your sales team follows up on leads with a phone call or email to guide them through the pipeline.
As many as 57% of C-level and VP buyers across industries prefer the phone call, versus directors (51%) and managers.
2. Implement weekly reviews
In order to make sure that your SDR team are following up on leads and managing their outbound sales pipelines, it's a good procedure to implement weekly reviews.
This could include reminders to email or call a customer that hasn't recently been contacted for a specified amount of time, e.g. 2 weeks.
3. Document your process
To ensure uniformity and consistency within your team, it is vital that you document every stage of your sales process, from the initial call to acquisition.
Throughout your sales pipeline, you should ensure that your campaigns are supported by a well-maintained and updated CRM. A sales team will only be as good as the data they are working with. To make this process as effective as possible, ensure all sales pipeline management tools seamlessly work together.
4. Monitor the length of your sales cycle
After analysing the pipelines of hundreds of companies, Implisit found that the average length from lead to close is 102 days. But this varies from industry to industry.
At Cognism, the average length of a sales cycle is 21 days, but it can range from 24 hours to 6 months, depending on the product and target audience.
With such a range, it's vital to understand and monitor each lead within the sales pipeline to ensure that they are being handled in the best and most appropriate way.
5. Avoid tricky leads
Although you want your sales pipeline to be full and healthy, you should only convert leads that you feel you can genuinely help.
Businesses should use a sales manager and a qualifying process to ensure that leads are qualified from the very beginning of the sales pipeline to the very end.
In implementing a qualifying process, you will ensure that your pipeline is full of B2B prospects who are genuinely interested and those you can help.