Top cold calling tips
Cognism's sales team are experts in the art of the cold call. They've put together their ten top tips for refining and improving your cold calling strategy.
1 - Planning makes perfect
Your cold calling strategy cannot be simply picking up the phone and getting on with it. You need to sit down and plan. If you're calling to pitch a product or service, you must take the time to educate yourself about it.
Doing this will increase your chances of success, because it changes the way you speak. If you know everything about the product you're selling, you will speak with confidence and authority. This builds trust with your prospects.
A good cold caller must be a product expert - you must know everything there is to know about the product you're selling.
2 - Define your objectives
Before you start, you must work out what you're looking to achieve from your cold call. Are you looking to secure a face-to-face meeting? Are you trying to invite them to an event? Keep your objective in mind and don't stray from it.
Remember, cold calling is just one part of a multi-stage sales process. It's not the entire sales process. Do what you need to do on your cold call, no more and no less. Don't bring up pricing, for example, if your mission is to book a demo - it's irrelevant at this stage.
Work out your goal for each cold call before you pick up the phone. Stay 100% focused on it and don't allow yourself to deviate.
3 - Research your prospects
We've already spoken about ICPs and sales triggers. These can be very useful on your cold calls, in terms of knowing who and when to dial.
But, as helpful as they are, ICPs and sales triggers can only take you so far. You have to dig deeper into your prospects find out as much as you can about them.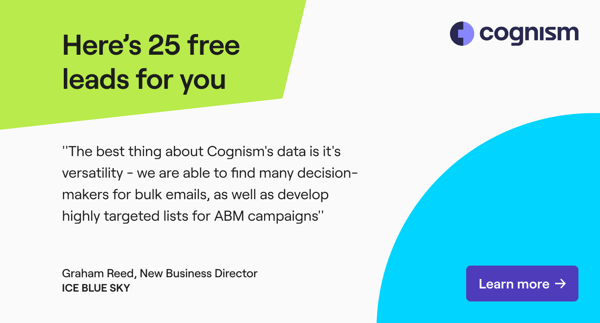 Here are some tips:
Look up your prospects on LinkedIn.

It's a straightforward way to gather valuable information which could "warm up" your cold call. LinkedIn profiles can also help you to verify if the prospect is in a decision-making position.
Has the prospect published a blog or written any articles online?

If so, read them! They'll help you to work out the kind of person you'll be talking to. If the articles are data-heavy and full of facts and stats, then you know to adjust your pitch accordingly. Always try to speak the way your prospect speaks - it's a great way to build rapport!
Are there any career events in the prospect's life that you can mention?

For example, have they recently won any industry awards or had a big promotion? Use these events in your cold call to help forge a stronger relationship with them. Remember that everyone likes to be flattered from time to time!
Conduct your own primary research on every one of your prospects. Use the insights you gain to make your cold calls even more successful.
4 - Timing is everything
There are times of day when people are happy to take cold calls. There are also times when it's just not convenient. Research when the best times are in your industry.
Contrary to popular opinion, lunchtime can be a very good time of day for cold callers. It's the time when PAs and secretaries ("gatekeepers") take their lunches, while the CEO or Director ("decision-maker") often works through lunch. You could cut out the gatekeeper altogether by calling at this time!
Research the best times to cold call and get dialling! Study your most successful cold calls and see if they happened at similar times of day.
5 - Get past the gatekeeper
If you do find yourself talking to a gatekeeper, you need to have a plan to get past them and get through to the prospect. Here are some ideas:
Try to sound senior - keep calm! Speak confidently, slowly and concisely. If you can do this, you will sound experienced and important. The gatekeeper may be less inclined to hold you up.
Don't sell to the gatekeeper - remember the gatekeeper is not a decision-maker, so don't pitch to them. In fact, say as little as you can get away with. But always be friendly and professional.
Give the impression that you know your prospect well - use first names when you ask to speak to your prospect.
More than 50% of cold calls are answered by some sort of gatekeeper. Devising effective strategies to deal with them is an important first step for any sales rep.
6 - Qualify your prospects
Jonathon Ilett is the Sales Director at Cognism. He is responsible for managing our team of BDMs, as well as conducting demos and negotiating and closing deals with VP and C-suite decision-makers.
As such, he is well-placed to give us a run-down of cold call qualification, why it's important and the best tactics for getting it right.
What is qualification?
"Qualification is the process of evaluating whether a prospect is a good fit for your product or service. The core principle is to identify the prospect's pain and judge if your solution can be prescribed to fix it."
Why is it important?
"All salespeople are fighting against the clock. We've all got targets to hit and a finite amount of time in which to hit them. You don't want to be wasting your time on a prospect that isn't a serious contender for making a purchase."

"This is why qualification is important - it saves you time and means that you can quickly see if the prospect is a good candidate to be progressed to the next stage."
How can you qualify correctly?
At Cognism, we teach our sales development reps (SDRs) to qualify cold call prospects according to the BANT criteria:
Budget

- Is the prospect able and willing to spend?
Authority

- Is the prospect the ultimate decision maker?
Need

- Does the prospect have a problem that your product can solve?
Time

- Is the prospect looking to buy quickly?
All of the questions we recommend our SDRs ask during their cold call qualification are based around these four areas.
Jonathon had some more tips:
"Use open-ended questions to get the prospect talking. These are questions that don't elicit a 'yes' or 'no' response. They help to get a conversation going. The more information you get from the prospect, the easier it is to qualify them."

"If you find you can't qualify the prospect, walk away. Never close a client that you know you won't be able to deliver to."
Sample questions
What does your current business development process look like?
How does your sales team generate new leads?
Who would normally be involved in buying decisions for new tech?
What tools are you currently using?
What regions are you looking to prospect into?
Have you used data providers in the past?
What did you like about them? What did you dislike?
What are your current business growth goals?
Are you in a position to take on new clients right now?
Use the BANT criteria to qualify prospects on your cold call. Ask open-ended questions to make the process easier.
7 - Use a script
Charlie Beale is a Business Development Manager at Cognism and the co-writer of our SDR Playbook. He was responsible for developing the cold call script that every new SDR at Cognism is given.
This script is at the heart of our B2B outbound strategy and we're delighted to present it to you now, in full!
The structure
The script is broken down into the following 5 segments:
Opening
Pitch
Questions
Conversation
Closing
It's important to stress though that this is used as a general guide, not an absolute rule. At Cognism, we encourage all our SDRs to find their individuality in selling. We all convey our messages in different ways, using different tones and vocabulary. The structure is there to help our reps with the flow of the conversation, not to pin down their every word.
After all, the last thing any prospect wants to hear is someone reading robotically down the phone - that's the surest route to cold call failure. When it comes to cold calling, one size definitely doesn't fit all.
Opening
This is the very start of your cold call. More often than not, if you're calling a senior-level prospect, it's the gatekeeper (typically a PA or secretary) who will pick up the phone.
"Hi, it's Charlie from Cognism. Is (first name) available?"
The gatekeeper will likely respond with:
"What's it regarding?"
This is your chance to get creative. If it's a first-time call, here are some replies you can use:
"New business."
"Your client acquisition process."
"How you find new clients."
Think about how you can make this work with your offering. If it's a follow-up, try:
"Oh, I'm just following up on an email I sent to (first name)."
"I'm just chasing up on some emails. They'll know what it's regarding."
When speaking to the gatekeeper, don't be afraid to think outside the box. It could make the difference between being put through to the prospect, or never having your message passed on.
One great tip which we teach our SDRs at Cognism is to always sound senior. If the gatekeeper thinks you're a management-level peer, rather than a salesperson, they're much more likely to transfer your call.
Assuming your call is transferred and the prospect picks up…
"Hi, it's Charlie from Cognism. How are you?"

"Good."

"Great! Look, (first name), I'll keep it brief as I appreciate you're busy. I came across (company name) online and I can see you do (B2B sales/marketing/other). Have you got 30 seconds for me to explain the nature of my call?"
It's vital to establish rapport early on in your cold call. Acknowledging that the prospect's time is limited, and asking for their permission to continue, is a good way to start.
"Okay."
Pitch
Once you've got the all-clear from the prospect, it's time to pitch. Again, the pitch isn't something that's set in stone. It can change depending on the SDR and who they're talking to. But there are 3 things it must be:
Clear

- the prospect must be able to understand it. Make sure you adapt the pitch for each prospect. It must be relevant to them and their industry.
Concise

- think of it as a springboard to further the conversation; you don't need to reveal absolutely everything about your business. One good tip is to think of your pitch as a tweet - what can you convey in 280 characters or less?
Easy to remember

- you don't want to get tongue-tied or lose the flow on your cold call. Keep in mind 2-3 facts or stats and use them every time.
An example would be…
"We help companies like yours prospect and gain new clients by giving you access to our lead generation tool that contains over 400 million B2B profiles."

Or…

"We provide companies like yours with direct and accurate contact details for key decision-makers in your target industries and locations. Ultimately saving you an abundance of time prospecting."
When you've delivered your pitch, it's time to progress to the next stage.
Questions
Asking open-ended questions (questions that don't require a simple "yes" or "no" answer) is one of the most essential things any cold caller can do. Remember that in any cold call, the prospect must do 70% of the talking, while the salesperson should do only 30%.
Why is this? Because the more the prospect talks and feels they're being listened to, the more likely they are to buy. In a recent study by HubSpot, 69% of buyers said that the one thing they wanted from sales reps was to "listen to my needs."
Open-ended questions are a great technique for showing the prospect you're a good listener. They open up the conversation, allowing you to gain vital insights that'll help you in the last stages of the call.
Here are some good examples:
"How do you currently go about finding new clients?"
"What does your outbound process look like at the moment?"
"How are you generating new leads?"
"What are your frustrations with your prospecting data currently?"
These types of questions usually work very well with senior-level prospects, as they are focused around common pain points for a business - finding new customers, B2B lead generation and data quality.
Conversation
Having delivered your pitch and asked some searching questions, by now your cold call will be in full swing. There are a number of routes your call could go down. The prospect could hang up, or they could be very much open to a conversation.
There are a number of tactics you can use to keep your prospect engaged. Here are some good methods for getting the most out of your conversation:
Tonality
Tonality - the way you speak - is very important. You must always sound excited and enthusiastic (the old "smile and dial!"), especially if the prospect is being blunt and unresponsive.
A lot of times, the prospect will be doing this on purpose to see how you react. Remember that often you'll be calling people who are sales professionals in their own right, and know all the tricks of the trade.
Pauses and hyperbole
We teach our SDRs to use pauses and hyperbole to emphasise certain points. For example:
"Our lead generation tool gives you access to 400 million B2B profiles...globally."
Just using a simple pause will ensure that important points are quickly highlighted and are more likely to stick in the prospect's mind.
Mirroring
Doing this can lead to great results on your cold call. All you have to do is keep your ear out and listen to how the prospect speaks and the words they use. Then, imitate the way they talk. It's as easy as that!
What's the purpose behind this? It's proven to be an effective way of building rapport and increasing the odds of being "accepted" by the person you're talking to. It relaxes the prospect and makes them feel more comfortable talking to you.
Repetition
Don't be afraid to repeat what the prospect says in a questioning tone. You'll be surprised how much someone will reveal when they're questioned like this.
For example, if the prospect says something like:
"All my sales team manually find their leads."
You should then respond with:
"Your sales team find ALL their leads MANUALLY?"
Repeating their words back to them acts as a guide, leading them towards revealing more about their business - what the process looks like, how long it takes, the amount of resources they put into it.
These are further pain points which you can then address one by one, steering them ever closer to the final stage in your cold call.
Closing
Following a conversation, you might be ready to go in for the close. If you feel like you can close early, if you've addressed all the key pain points and the prospect has shown interest in seeing your product in more depth - go for it!
"Look, (first name), I appreciate this is a lot to take in over the phone. It would be great to show you the tool and run some live searches for you. Have you got 15 minutes free later this week?"
At this point, you're likely to encounter some objections. The prospect will come back with some obstacles that you'll have to overcome. One of the most common ones that'll crop up at this stage is:
"Please could you send me some more info first?"
Some good responses to this are:
"I could send you some more information, but by the time you've read through it, I could answer the questions you have. What would you like to know?"
Or...
"It would be quicker and more useful to show you the platform. How does (day) at (time) sound?"
An element of judgement is needed, however. If you feel the prospect is on the move or very busy at the time, and perhaps pushing harder for a demo will irritate them, you need to judge whether sending them a further email would be easier.
In which case, a good option is to find out exactly what information they want in the email. Like this:
"What would you like me to include in the email?"
This will get the prospect to reveal their concerns, which you can then address on the phone - eventually leading them back to the close.
Try out the above strategies for handling objections and persuading a hesitant prospect to agree to a demo. Before you do so though, you must first gauge the receptiveness of the prospect. Some people do not respond well to being pushed for a meeting.
When you get to the close, always make sure you qualify the prospect further before you let them go. Like so:
"Great! In order to tailor the demonstration as best as possible, so you get the most out of it, I just need a few details. Please can you tell me about your target (industries/job titles/ locations)."
This will help the BDM or account executive to personalise the product demo to exactly the prospect's needs, increasing the chances of a sale. Then, when that's over, it's time to end the call.
"That's great, thanks a lot for your time just now (first name). I really appreciate it. Do you need anything else from me or would you like me to include anyone else on the call?"
You can also repeat the agreed time of the demo back to the prospect. It's another way of making sure the demo stays in their mind and means that (hopefully!) they'll show up.
"That's great, thanks a lot for your time today (first name). I look forward to seeing you on (day) at (time)."
What's the best cold calling tip?
Write down a cold call script that works for you - but don't stick to it rigidly. Follow a set structure but within that, give yourself room to be flexible.
8 - Learn how to handle objections
Knowing how to handle objections during a cold call is a key skill that all B2B salespeople have to master. Especially so if you're working in a scaling business, which may have limited manpower, resources and technology at its disposal. When you're scaling, you need all the wins that you can get!
By learning how to handle objections smartly, you will increase your chances of closing a sale.
What is objection handling?
HubSpot defines objection handling as:
"Objection handling is when a prospect presents a concern about the product/service a salesperson is selling, and the salesperson responds in a way that alleviates those concerns and allows the deal to move forward."
It's important to remember two things about objection handling:
Objections aren't a sign that the prospect isn't interested.

Quite the opposite, in fact - they're an indicator that the prospect is interested, but doesn't yet have a full understanding of your product or service. It's your job as a salesperson to give them that understanding.
Most objections are entirely valid.

You can't just brush them off. You have to provide insight and give the prospect a compelling reason to buy from you.
Why is objection handling important?
Being able to handle objections effectively can determine whether a deal is won or lost. Always address objections on your cold call as quickly as you can. The longer you leave it, the stronger the prospect's concerns will become - and the harder it will be for you to change their mind.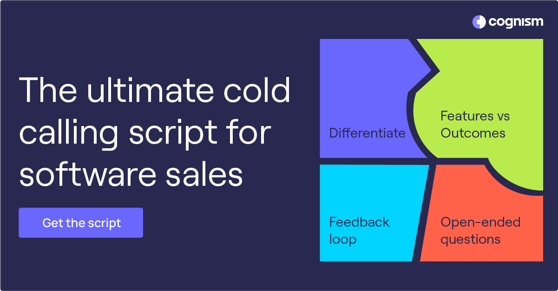 A five-point plan for cold call objection handling
In B2B outbound, preparation makes perfect. This is especially true when it comes to handling objections, which could come at any time during your cold call and be about any subject.
Don't improvise and make it hard for yourself. Instead, ensure you have a process in place. Cognism's sales team uses the following five-point plan when they face objections on their cold calls:
Listen

Listen to the prospect and their objections.
The more the prospect feels like they're being heard and understood, the more likely they are to buy.

Ask

Ask qualifying questions (see above).
The more information you gain from the prospect, the easier it is to handle their objections.

Solve

Create a sense of urgency. Remind the prospect of the costs of not buying your product now.
Answer the prospect's most urgent objection first. This makes answering all the other, less troublesome objections much easier.

Confirm

Find out if the solution you've offered meets the prospect's requirements. Ask them if they're happy with what you've suggested.
Repeat the prospect's words back to them - for example, if they've objected to the pricing, you can say,

"I understand the pricing is higher than you expected."

Move On

Don't spend more time on one objection than is strictly necessary.
Listen to the objection, ask questions, define it, provide a solution - and then progress to the next one.
Never go back to an objection once you've addressed it.
Investigate each objection, ask searching questions, listen to the prospect, uncover the reason behind each one - and then use the information you've learned to handle them effectively.
9 - Analyse and adapt
To understand how well your cold calling strategy is working, collect as much data as you can. Take notes on every call. Everything you hear is information that may come in useful later. Even if you're logging calls in your CRM later, don't rely on your memory.
What times of day are best to call? How many calls does it take to get through to a prospect? How long are you spending on each call? How can you improve these numbers? Record your calls and go through them with your mentor, to look for ways to enhance your skills.
One useful piece of advice is to A/B test your cold calls. Try out different versions and approaches. Do certain lines or ways of speaking work better than others?
Be scientific about your cold calls - log your results, analyse the data and learn from any patterns that emerge.
10 - Keep calling!
It's a well-known fact that cold calling is a numbers game. On average, it takes eight cold call attempts to reach a prospect. Get a toll-free number and start calling your prospects. The more calls you make, the more opportunities you have of making a sale. So even if you've had a bad call or numerous rejections, always make one more dial.
The trick is to remain positive and persevere. Never give up. Rejection is a fact of cold calling life. But there are tactics you can use to turn even the most difficult cold call to your advantage.
If the prospect says they're not interested, ask them "Why?" This makes the prospect come up with reasons for their rejection - reasons that may help you to improve your pitch or technique in the future.
Don't take rejection personally. Stay professional, ask the prospect for feedback and thank them, even if it's negative. Then, take a deep breath and move onto your next call. Never let rejection affect your confidence!