What Is Account-Based Engagement in Marketing (ABE)?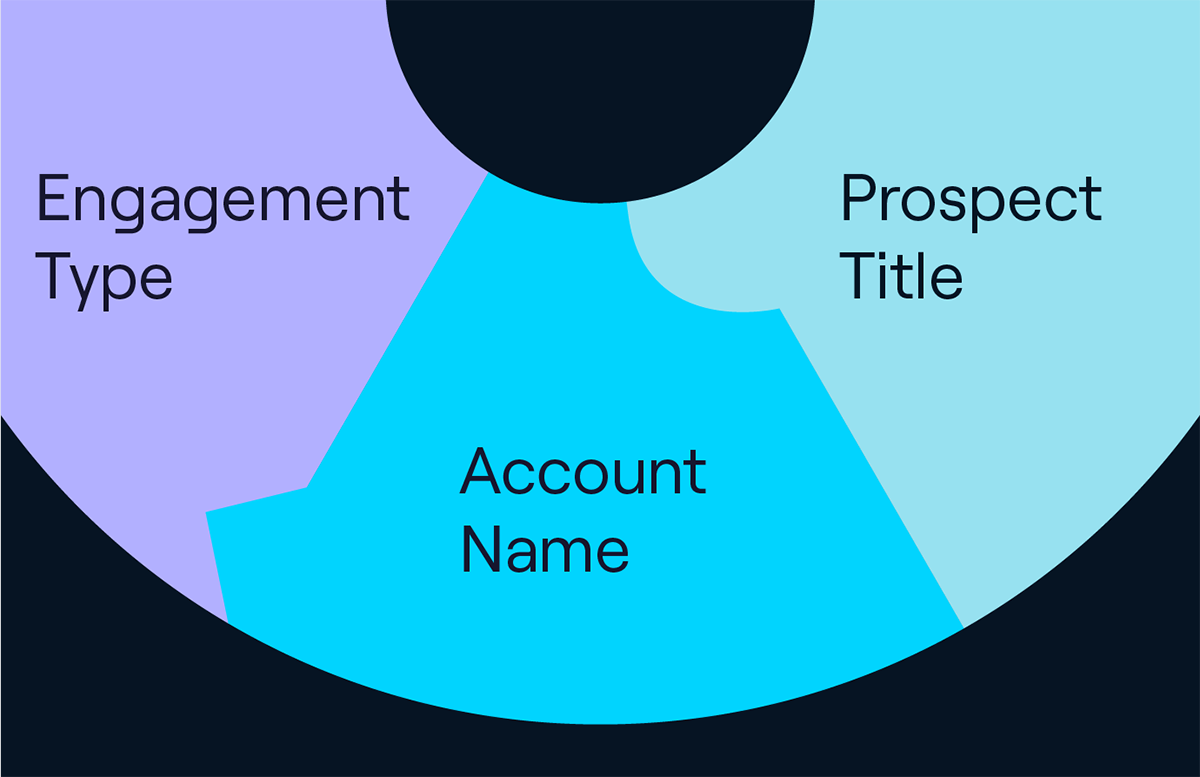 Measuring account-based engagement is an integral part of account-based marketing. It is a concept that's taking the B2B marketing world by storm.
Unlike traditional forms of marketing, where the net is cast wide in the hopes of catching large volumes of customers, ABM is all about getting hyper-focused and granular. It's the new gold standard for lead generation in marketing.
The key to ABM success lies in identifying a small number of high-profile accounts and targeting them with personalised campaigns.
That's the easy part. The hard part is in knowing how well your ABM campaigns are doing. Closing a deal off the back of an ABM campaign is one way to measure key metrics in marketing. But sales alone aren't the be-all and end-all of good ABM.
The guiding principle of ABM is to build and maintain deep and meaningful relationships with your target accounts. To measure success in growing those relationships, you'll have to track engagement.
In this article, we'll explain what ABM engagement is, how to track it and, most importantly, what you can do with the insights you'll gain. Starting with…
What is account-based engagement?
Account-based engagement (ABE or ABM engagement, in short) is any interaction a prospect has with your ABM activity. There are two types of engagement:
Digital engagement
This includes any online interactions from your B2B prospects. For example:
Opening an email
Visiting your website
Downloading a piece of content
Reading a piece of content
Filling out a survey or form
Signing up to a newsletter or mailing list
Physical engagement
This includes all real-world interactions from your B2B prospects. For example:
Onsite visits or event attendance
Phone calls
Direct mail
SMS
Demo attendance
How to track account-based engagement
At Cognism, we regularly help our customers to run targeted ABM campaigns. We encourage them to track the engagement they have with their prospects by using the following template: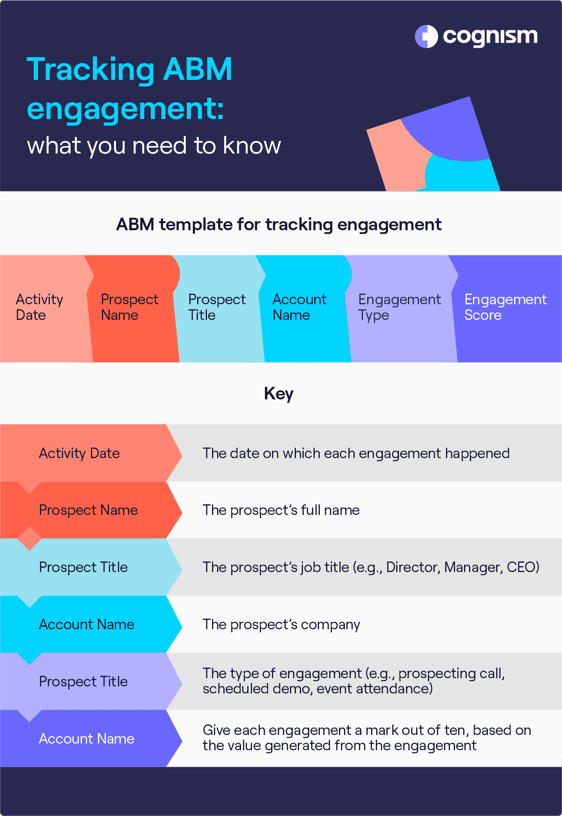 We've found this template to be a useful way of tracking ABM engagement over time. Not only does it list each engagement on a day-by-day basis, but it also shows how each interaction feeds into the success of the entire campaign.
Our advice is to keep your eye on the engagement score. Before you start your ABM campaign, define your goals and set engagement scores against each goal.
For example, a prospect answering an email could be a score of 5, while booking a demo could be a score of 8. Add up all the engagement scores to see how well each campaign is doing in relation to others.
A quick trick here is to track your engagement scores in Excel or Google Sheets. There's no need to shell out on expensive reporting solutions when you're just starting with ABM.
What can you do with this data?
The insights you'll gain from measuring engagement can be invaluable to the continued success of your ABM efforts. Here are some questions to get you thinking:
Are certain days of the week more popular for engagement than others?
Do you find that you get a higher number of engagements on certain days than others? Are certain engagement types more popular on specific days?
The answers to these questions will tell you when are the best times for launching your ABM activities. They'll inform your ABM campaign schedule and help you to maximise engagement from your prospects.
How do individual prospects engage with your company?
As we've said, account-based engagement works when it's highly personalised and relevant to each prospect.
Look out for patterns in their behaviour. Do they engage with certain channels but not others? Do they usually respond at certain times of the day? Are there particular messages or engagement types that they respond best to?
Use the information to get even more personalised. Double down on what works and build a campaign that's laser-focused on the prospect and his or her needs.
How well are each engagement types performing?
ABM is a multi-channel undertaking. You have to interact regularly with your potential buyers across a number of different channels and media. It's the only way to keep that meaningful relationship going.
But - that doesn't mean you should throw your messages out there and hope for the best! Instead, find out which engagement types work best for each prospect. Then you'll know which engagement types you need to concentrate on. Use the template we've provided above to keep track of this.
The secret of ABM engagement
ABM engagement is about time.
It's the same with any purchasing decision you make in any walk of life - the more time you spend in a shop, for instance, the more likely you are to buy something.
So it is with B2B buyers. The more time they spend interacting with your company, the more interest they're showing in buying from you.
Tracking account-based engagement is the vital first step in measuring the success of ABM. It's simple to understand, easy to track, and can give you some useful insights early on. Simplify the process even further by making use of our tracking template. Be sure to share your successes with us!
Follow Cognism on LinkedIn
For the latest and greatest B2B marketing insights, connect with us on LinkedIn 👇