12 Lead Enrichment Tools: List of the Best for 2023
Lead enrichment tools on this page:
Lead enrichment tools can save your day when you have nothing more on a lead than an email address and first name.
Let's face it — prospects don't want to fill out lengthy online forms! And they'll probably leave your site if they see one.
Plus, as a busy SDR, you don't have time to manually collect lead data.
Fortunately, many lead enrichment tools can auto-collect and update this data over time.
What are the best lead enrichment tools out there? We've compiled a list to help you find a good match.
Let's dive in 👇
🔥 Tip! Skip the list and get 25 free leads matched to your ICP from one of the best lead data enrichment tools - Cognism 🔥
12 of the best lead enrichment tools available now
There's a wide range of lead enrichment tools out there, but which will fit your company the best?
Let's look at the most popular lead enrichment software, so you can make the best choice based on your requirements:
1. Cognism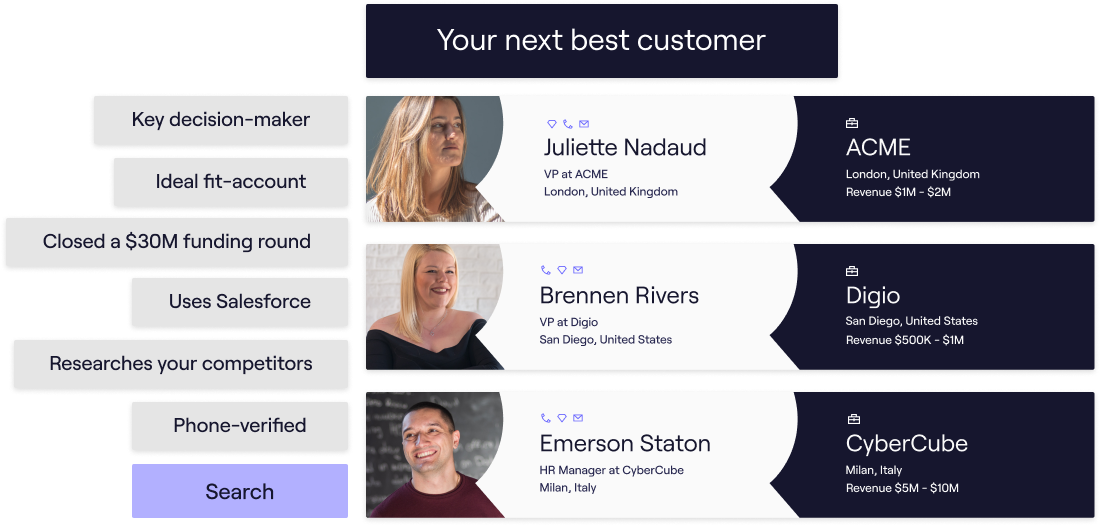 Cognism is a B2B data provider that lets you enrich your lead data without credit restrictions. The tool helps you get all types of lead data — from demographics to intent.
It also supports lead generation with manually-verified mobile numbers called Diamond Data® so your sales team can reach decision-makers faster and with fewer calls.
Top features:
98% phone-verified mobile number accuracy.
Exclusive on-demand verified mobile data set

Diamond Data®

.
Unrestricted access to person and company-level data.*
Intent data by Bombora.
International coverage: EMEA, NAM, APAC.
Easy platform setup.
Integrations with CRMs and sales engagement tools.
Focus on quality GDPR and CCPA-compliant data.
Database checked and cleaned against global DNC lists.
Fast and friendly support team.
*Subject to fair use
Pricing:
Cognism wants to factor in your desired workflow and company goals before providing a proposal you're comfortable with. You can see how its pricing model works here.
📞 Book a call with a data expert to discuss data enrichment from Cognism.
2. Clearbit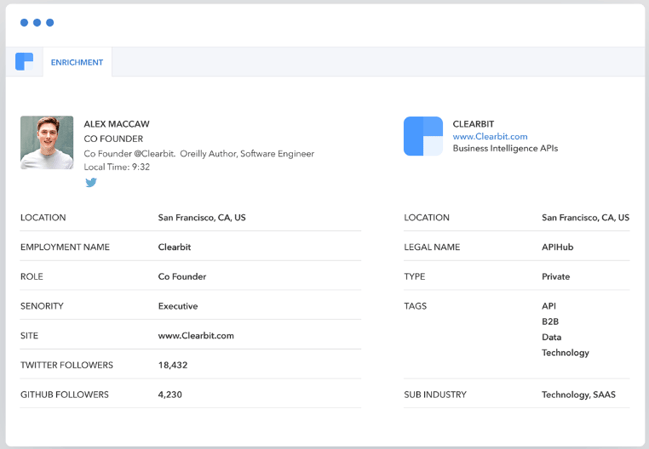 (Source: G2)
Clearbit is a lead enrichment tool that offers real-time data enrichment. It collects demographic, firmographics, intent, and other data. However, users often mention its outdated data, which may be because Clearbit doesn't offer phone verification/research or an on-demand service. Check which Clearbit competitors do.
Top features:
Option for a free account.
Real-time data enrichment.
Intent data.
Segmentation.
Pricing:
Account options include Free, Business and Powered by Clearbit. Each package fits a specific goal, such as email enrichment or flexible plans for a go-to-market team.
Clearbit's pricing is not publicly available. You must book a demo to get a personalised quote.
3. ZoomInfo

(Source: ZoomInfo)
ZoomInfo is a B2B contact provider that offers a database of company profiles, contact information, and organisational hierarchies. Due to its suite of tools and add-on packages, it can get quite expensive compared to other tools on this list.
Additionally, ZoomInfo has a comprehensive database of US lead data, as its main focus is the US. However, they aren't as strong in other markets, such as EMEA.
Top features:
US-focused database.
Suite of tools and add-on packages.
Intent data.
Pricing:
Zoominfo's pricing is not publicly available. You must book a demo to get a personalised quote.
Its pricing model follows individual pricing tiers for sales, marketing, and recruitment. Seats, credits, and supplementary tools are factors in each pricing plan.
4. Enricher.io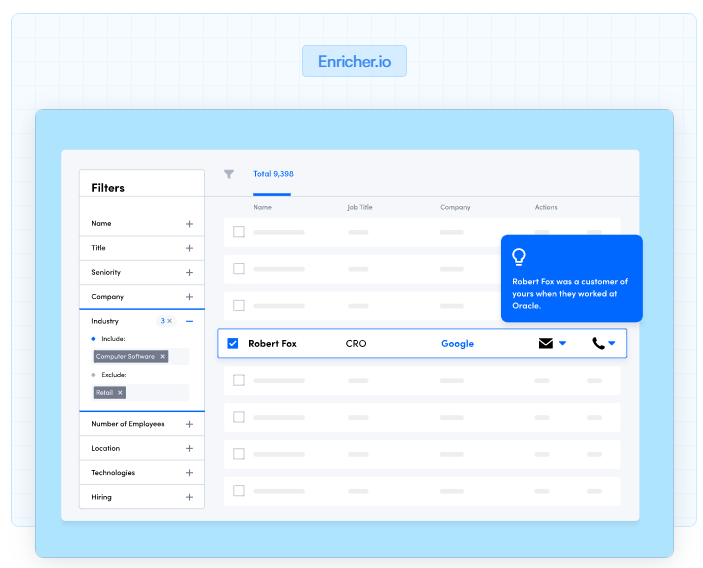 (Source: Enricher)
Enricher is an automated lead enrichment tool that helps augment lead information with secondary and tertiary attributes. Its database helps you search and enrich your CRM data with contact, demographic, and social information. However, strict credit limits make the tool inconvenient for many teams.
Top features:
Auto-enrichment.
360-degree contact and business view.
Integrations with popular CRMs.
Pricing:
Paid plans start at $279 per user per month and offer 10 000 credits.
5. FullContact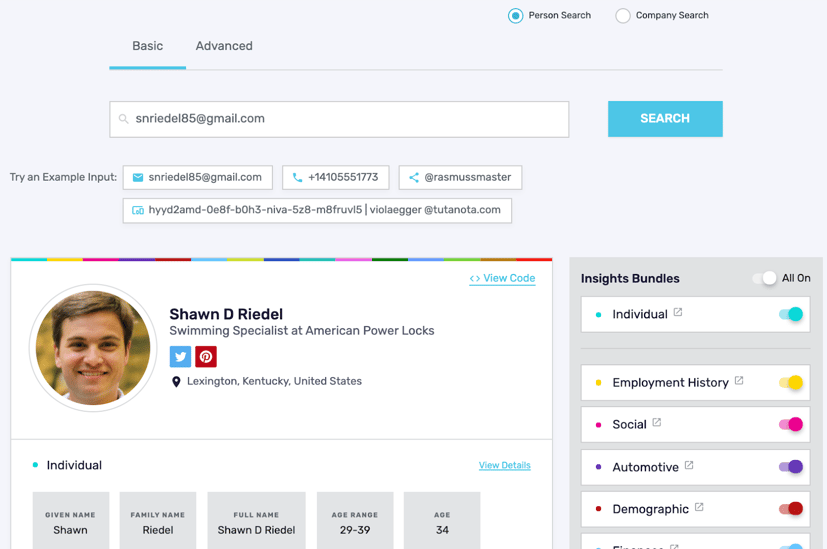 (Source: FullContact)
FullContact is a comprehensive customer intelligence platform specialising in contact management and enrichment. The platform uses advanced data-matching algorithms to merge and update contact records
It's important to note that this tool does not offer human validation for their data, nor do they have a global database - it is US-focused.
Top features:
Individual omnichannel identifiers.
Advanced demographics filters.
Improved customer segmentation.
Pricing:
You must book a sales call to get a quote or uncover the packages it offers.
6. Pipl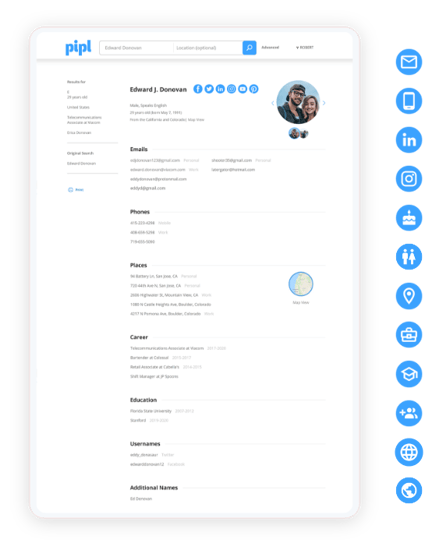 (Source: Pipl)
Pipl is a data, and people search engine that specialises in providing comprehensive information about individuals. While investigators and business intelligence firms use Pipl, it also offers a data enrichment module that sales teams can use.
You can utilise Pipl for lead enrichment, but it requires manual analysis and integration into existing lead management processes.
Additionally, this solution does not offer intent, firmographics or behavioural data, and there is no human validation for contact data.
Top features:
Basic demographic data enrichment.
Segmentation.
Automated identity trust decisions.
Pricing:
Pipl's pricing is not publicly available. You must complete a form to speak to a sales representative.
Time for a data

health check?

🩺
Refresh. Fill in missing data gaps. Get accurate B2B data.
7. BeenVerified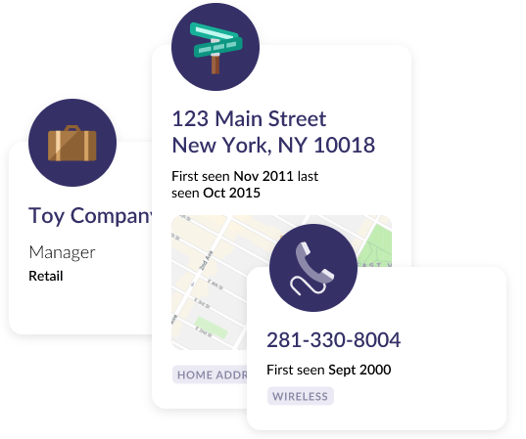 (Source: BeenVerified)
BeenVerified is an online platform that provides access to public records and background information on individuals. While you can look up additional information on specific leads, performing lead enrichment at scale will be a challenge — the tool doesn't offer integrations with other tools.
Top features:
Basic demographic data enrichment.
Reverse phone check.
Pricing:
Plans start at $26.89 per month.
8. InsideView Enrich (now Demandbase)
(Source: Demandbase)
InsideView Enrich (now Demandbase) is a lead enrichment solution that provides comprehensive company and contact data. It helps businesses enhance their lead profiles with up-to-date information, such as job titles, industry, company size, and contact details. The tool integrates with popular CRM systems and offers real-time data updates.
One con with this solution is that it can be expensive as features like B2B data and personalisation need to be added on.
Top features:
Real-time data updates.
Integration with popular CRM systems.
Intent data.
Form enrichment.
Pricing:
For detailed pricing information, you need to contact Demandbase.
9. Datanyze

(Source: Datanyze)
Datanyze is a market intelligence platform specialising in technology tracking and lead generation. With Datanyze, you can identify the technologies and software tools used by your target accounts and get insights into technology adoption, market trends, and contact information for key decision-makers.
Unfortunately, the platform structures its pricing based on credit limits, which can be inconvenient for many sales teams with high lead volume.
Top features:
Technographic data.
Enriched data.
Chrome extension.
Pricing
The free plan offers only ten credits monthly. Paid plans start at $29 per month and are strictly limited by credits.
10. LeadGenius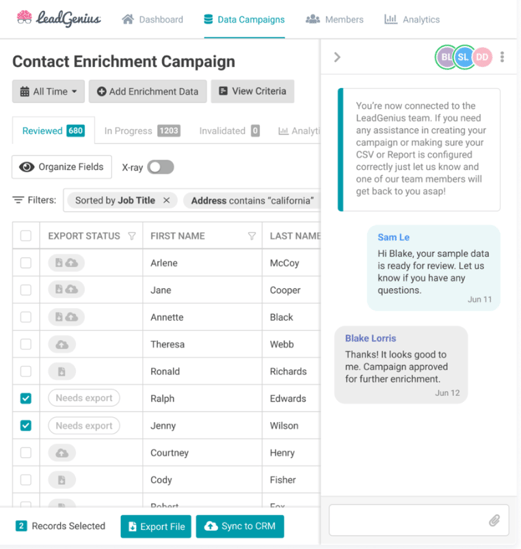 (Source: LeadGenius)
LeadGenius is a lead enrichment tool that combines human intelligence with machine learning to gather and enrich lead data. LeadGenius helps with lead generation, data verification, and custom research. While it covers many countries, the tool doesn't offer integrations with intent data providers.
Top features:
Lead enrichment.
Contact tracker.
Duplication removal.
Pricing:
There is no pricing information for LeadGenius on its website. Instead, you'll need to fill in a form to request more information on package structure and costs.
11. BuiltWith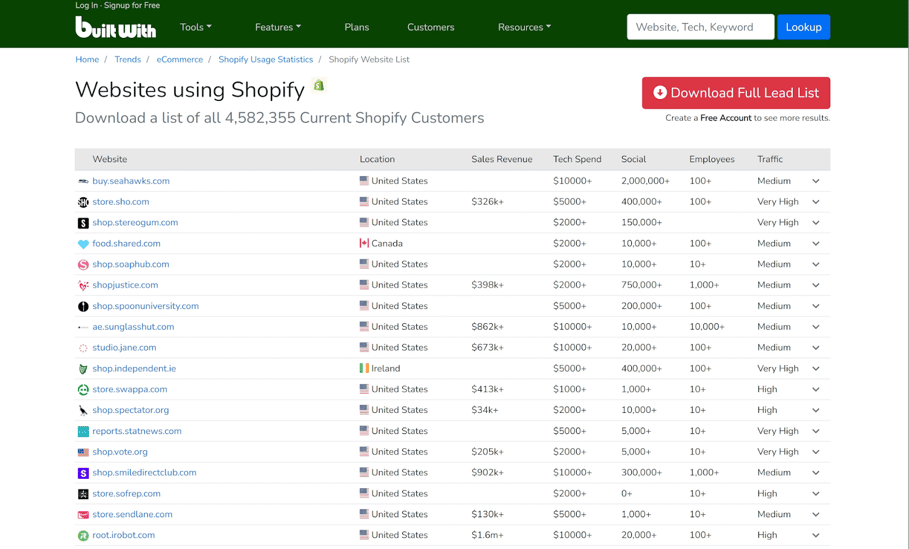 (Source: BuiltWith)
BuiltWith is a web technology profiler that helps identify the technologies used by websites. It provides advanced technographic data such as frameworks, CMS platforms, analytics tools, advertising networks, and other companies' technologies on your lead list.
In BuildWith, you can access a vast database, but you can't be sure about data quality as no human data validation is offered.
Top features:
Web technology profiling.
Firmographic data.
Competitive analysis and lead discovery.
Pricing:
Paid plans start at $295 per month.
12. Leadfeeder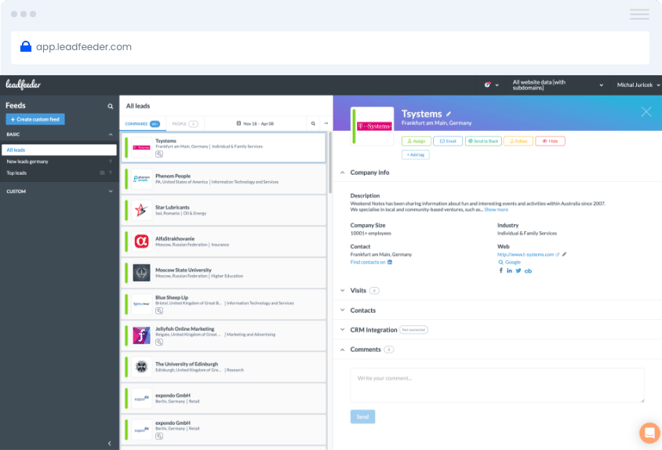 (Source: Leadfeeder)
Leadfeeder is a sales lead enrichment tool that identifies the companies visiting a B2B website. The software provides detailed insights about their activities, such as the pages they viewed, the duration of their visit, and the sources that led them to the website.
However, unlike the other tools on this list, it doesn't provide lead intent insights.
Top features:
Behavioural and demographic filters.
Website visitor tracking.
Powerful firmographic enrichment.
Pricing:
A free plan lets you collect data on a maximum of 100 companies and store it for only seven days. Paid plans start at €199 monthly (if paid for the whole year upfront).
Tired of hearing, "Wrong number?!"

😢
Give your SDRs back their confidence with Cognism's phone-verified numbers.
What are lead enrichment tools?
Lead enrichment tools help you get more information and insights about potential leads or prospects. By using lead enrichment tools, you can collect additional data about leads and, as a result, better understand your target audience.
Lead enrichment tools typically leverage various data sources and databases to gather information about a lead. They can search for and collect details such as contact information, job titles, company size, industry, social media profiles, and more. The collected data is then organised and integrated into your CRM, ensuring every potential customer has a comprehensive and enriched profile.
How does lead enrichment work?
Lead enrichment is a process that involves several steps to enhance the quality and depth of lead data. Here is a step-by-step walkthrough of how lead enrichment tools work:
Data collection:
Lead enrichment tools gather data from diverse sources such as public databases, social media platforms, and business directories. They employ algorithms and scraping techniques to extract relevant information related to leads.
Data matching:
The collected data needs to be matched with existing lead records in the company's CRM or database. This step ensures that the appended data is associated with the correct leads. Matching can be based on unique identifiers like email addresses, phone numbers, or other identifying information.
Data appending:
Lead enrichment software adds new data points to the existing lead records once the data is matched. This includes additional contact information such as phone numbers, email addresses, or physical addresses. It may include professional details like job titles, company information, industry, social media profiles, and other relevant data that provide insights into lead preferences or behaviour.
Data validation:
Automated lead enrichment tools often employ validation techniques to maintain data accuracy. This involves cross-referencing the collected information with multiple sources or using data verification services to validate email addresses, phone numbers, or other contact details.
Data integration:
The enriched data is then integrated into the company's CRM or marketing automation system. This allows sales and marketing teams to access and utilise the updated lead information for targeted campaigns, personalised communications, lead scoring, and segmentation.
Ongoing enrichment:
Lead enrichment is an ongoing process. As new leads enter the system or existing leads' information evolves, a lead enrichment tool provides automated workflows or scheduled updates to continuously enrich and update lead data.
What are the benefits of lead enrichment?
There are five core benefits of using a lead enrichment tool for businesses:
Deeper understanding of leads: get more valuable information about your leads — demographics, job titles, company details, and social media presence; develop comprehensive buyer personas and tailor your marketing and sales strategies based on a more nuanced understanding of your target audience.
Personalised engagement: deliver personalised and highly targeted engagement — create customised messages, offers, and content that resonates with individual leads' preferences, pain points, and behaviours. Personalised engagement fosters stronger connections with leads and increases the likelihood of conversion.
Improved lead nurturing: gain more insight into lead behaviour, interests, and needs to create highly relevant and

tailored nurturing campaigns

; build trust, establish credibility, and nurture leads towards purchasing.
Accurate lead scoring: get a more comprehensive view of a lead's attributes, activities, and interactions to assign appropriate scores that align with your sales and marketing criteria.
Better segmentation: segment leads into distinct groups based on various criteria such as industry, job title, geographic location, or behavioural patterns; deliver targeted marketing campaigns and personalised experiences that resonate with each segment's specific needs and preferences.
Which lead enrichment tool is the best?
Cognism is a lead enrichment provider that gives you access to quality, GDPR-compliant data.
Even better, you get:
✔️More mobile numbers that go through to the right contacts.
✔️More confidence when prospecting.
✔️More targeted leads.
✔️And more incoming revenue.
When you choose Cognism, you're choosing data you can trust. Click 👇to book your demo today!