Drip Email Campaigns: 3 Great Examples
A drip email campaign is a great way of building stronger relationships with leads. We recently released a blog post explaining what drip email marketing is, and how you can introduce it into your marketing mix.
To give you a few ideas on how to run your own drip email campaigns, we spoke to James Sutton, Campaign Manager at Cognism. James, among other things, is responsible for creating and nurturing fantastic drip email campaigns.
What makes a drip email campaign successful?
When creating a drip email campaign, your purpose shouldn't be to close deals; leave that to your sales team! You should instead be providing a gentle reminder that you're there and can provide value.
While you're 'warming up the lead', you should always be providing value. A successful drip email campaign should be mutually beneficial. The lead will consider you a valuable contact if you're sending useful content.
James has had a lot of success with mixing up his messaging.
"Different people prefer to interact in different ways. Make sure you're sending a mix of video content, case studies, decks and more to ensure you're connecting with each lead in their preferred way!"
James offered to put together a few examples of successful email marketing campaigns he has been running. Feel free to use James' advice to build your own campaigns!
3 great drip email campaigns
'Rekindle' drip campaign

The purpose of James' 'Rekindle' campaign is to re-engage with existing leads in our database.
Leads who we failed to convert from past marketing campaigns or content downloads are marked as 'nurture' and entered into this lead nurturing campaign.
"For this type of campaign, it's important to be non-obtrusive. If you irritate 'nurture' leads, they'll be quick to unsubscribe."
This is down to the fact that you've not yet shown them a lot of value. Sure, they might've downloaded some content or signed up for a webinar, but how many times have you signed up for something and then forgotten all about it? (We do it all the time!)
This contact might know as little about you as you know about them. Setting up a nurture campaign can help you to get to know each other.
For this reason, start with general messaging, and then branch the leads off as you learn more about them.
In his 'Rekindle' campaign, James puts two links into his email - one for sales content, one for marketing content. Depending on which link the recipient clicks, they'll be moved to the relevant funnel.
It's worth thinking about how you want to segment your audience. If you're a salesperson running a drip email campaign, offer articles on two types of products. If you're a realtor running a drip email campaign, offer articles on types of housing.
By learning more about the lead, you'll be able to offer them a more contextually relevant solution.
'Free Trial' drip campaign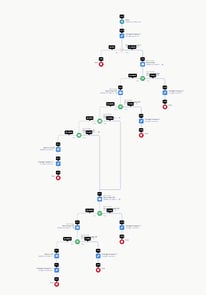 The purpose of James' 'Free Trial' campaign is to engage with prospects who've been shown value. The success rate for these campaigns should be higher because you've already established yourself as a valuable contact.
Cognism recently offered 25 free leads to people searching for B2B data. Upon signing up for this, they're entered into James' drip email campaign, where they'll be sent further advice on how to contact the leads they've generated.
"The goal here is to demonstrate thought leadership and personal support. This adds depth to the trial and the human interaction will make you more memorable."
If this campaign sounds more direct than the 'Rekindle' campaign, it's because it is. We already know these prospects are interested in B2B lead generation, and they already know we can provide it. Now, it's just a case of breaking the ice.
We also offered 25 free leads to people in the 'Rekindle' campaign. If they signed up, they would be moved into the 'Free Trial' campaign. James loves to interconnect his sequences. It can improve the relevance of your messaging, with minimal additional effort.
James found that the email offering 25 free leads to people in his 'Rekindle' campaign was the most effective one he sent.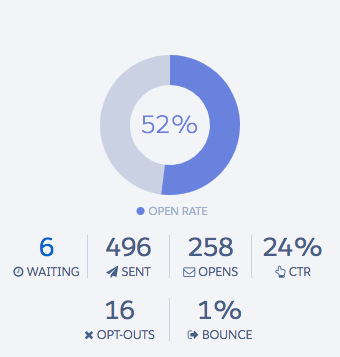 'Additional Value' drip campaign

The purpose of James' 'Additional Value' campaign is to engage with leads who've already downloaded gated content. The advantage you have here is that you already know which content this lead is interested in, so you can provide more of the same.
By regularly providing helpful content, you'll demonstrate the value of your company, and build a positive relationship with the lead.
"Every email in a drip campaign should provide value. Make sure that your emails are useful. Show that you have thought leadership in the right area."
In this campaign, James' CTA (call to action) is a demo request. The leads will still be able to view the content without booking a demo, but it's there if they're interested.
The demo request should be positioned as free value - an opportunity to learn more about a potential solution. If your leads feel as though they're being pushed into a demo that they don't want, you'll lose them.
If you set up an 'additional value' drip campaign successfully - you'll be booking meetings with leads who already trust you, and your SDRs will love you for it!
Key takeaway
Making sure that you have a good structure for your drip email campaign is only the first step. Use data from previous drip email campaigns to refine future campaigns, review the sequences as they're running and nurture them.
"One of the many great things about drip email campaigns is that you have the ability to change them in an instant. If something isn't working, change it! If something is working well, use it as inspiration for your other campaigns."
Like many areas of data driven marketing, the value lies in your ability to improve over time.
Extend your marketing reach!
Many thanks to James Sutton for sharing his expert techniques with us. We hope you enjoyed it!
If you want to increase your campaign efficiency and reach, then you need good data. By using fresh and accurate data you will be able to communicate with more of your target prospects.
With 16 data points on over 400 million business profiles, Cognism offers a global data solution. You'll be able to identify and capitalise on new opportunities, with the help of our award-winning Customer Success team. Find out how Cognism data can boost your revenue and book a demo today!
To speak to one of our experts, click the button below!