Researching your B2B target audience: top tips
Your target audience should be at the core of every marketing decision you make. This includes the decisions you make on your product, branding, messaging, language, positioning and keyword strategy.
Our B2B lead generation platform won G2's 'Best Estimated ROI Product' award this year. Partially due to the importance we place on getting to know your target audience before you reach out to them.
6 tips for finding your B2B target audience
Here are our top tips for researching your target audience. Keep scrolling 👇
1 - Understand your product (and the problems it solves)
Try to avoid thinking only about the capabilities of your product. We know it's easy to get a little overexcited about the specifics and intricacies of your solution. But your target audience are probably not experts in this area. They want to know what you can do for them, not what you're capable of!
By understanding the problems your product solves, you'll be able to discover which people face these problems. These people will form your target audience. Here's an example:
Last year, Sony released an industry-leading pair of noise-cancelling headphones. The technology that went into these was incredibly exciting…to engineers!
Sony understood that the majority of their customers wouldn't care too much about the specs of their product. What matters to them is the problem the headphones would solve - annoying external noises. This was music to their ears …(sorry!)
Based on their understanding of the problems their product would solve, Sony produced a targeted marketing campaign.
Focusing on how the product benefits the customer, instead of the features, can improve your marketing campaign decisions.
2 - Understand your customers
Another great place to learn more about your target market is by considering your current customers. By examining your current customer base you will be able to identify trends and create a data driven marketing plan.
The trends you're looking for should be easily qualified or quantified, so they can be used to search for more, similar people. This will help you to scale your business as you grow.
We recommend looking for professional information such as job title, industry, location etc. Using these types of data points will make it easier for you to segment your audience. But more on that later!
3 - Understand your competitors
Understanding your customer base gives you a good idea of which people you've been targeting successfully. Researching your competitors can show you which people you've been missing out on.
If your competitor has a target audience which doesn't match yours, you should ask yourself why.
A good way to get an insight into this is by running an SEO competitor analysis. By seeing which keywords your competitors are ranking highly for, you can work out which people they're looking to target.
Once you've got this information, you need to decide whether you'd like to emulate or avoid their strategy. Competitor research can give you confidence in your approach, whatever you decide to do!
4 - Analyse your website and social media traffic
Most social media platforms, including LinkedIn, give you the ability to view your analytics.
It can be valuable to see who has been looking at your content. By comparing this information with the analysis of your current customer base, you can find people who have been looking into your solution, but for whatever reason, haven't bought it.
If there's a trend of people who've been engaging with your content but not buying your product, it's worth creating a marketing campaign to target them.
5 - Segment your target audience
Once you have an understanding of your target audience, you should split it into different groups. This will allow you to run better, targeted campaigns.
For B2B prospecting, we recommend splitting them into separate target personas, based on their job title, industry, location and additional sales triggers.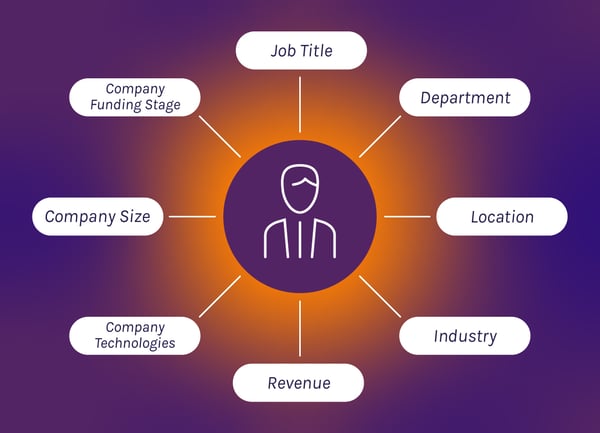 Once you've split your target market into these separate personas, you'll be able to address them with greater clarity. You've turned raw B2B data into specific, targetable identities.
6 - Continue to research your target audience
Over time, your market will evolve. This could be a result of new innovations, cultural changes or societal change. As the requirements and tastes of your audience change, it's important that you change with them.
Understanding your target audience will provide the foundation for your robust marketing strategy, but beyond that, you should always keep up with the research. A lack of flexibility has caused the demise of seemingly infallible world-class brands, like Nokia and Kodak.
We recommend repeating the steps we've outlined every 6 months. Continue to research your target audience and look out for changes in the market. If you can master this, you will always stay ahead of the game.
Find more B2B contacts
Those were our top tips on researching your B2B target audience. The next step is scaling your contact list, which becomes very easy once you know who you're looking for!
Cognism will give you access to 16 data points on over 400 million contacts worldwide. With the option to search by job title, industry, company name, revenue and more, it will turn your research into results in no time at all.
Find out if Cognism could be a good fit for you, by clicking the button below!