How to Identify B2B Target Audience & Contact Them?
Wouldn't it be ideal if you could get more quality leads from your marketing campaigns?
I know it would.
And I know how to do it in seven steps.
Forget about casting your net far and wide. And instead, take control of identifying your B2B target audiences. It will determine your winning B2B marketing campaigns.
We've asked Mike Sanchez, the VP of Revenue at GrowthGenie, where he takes a lead role in the target market and audience identification, for tips.
How to find B2B target audiences?
At some point, you might realize that your B2B target market is large and varied. You're unable to personalize your campaigns, and they aren't as successful as they could be. It means it's time to get more granular and discover B2B audiences.
Here are seven steps to follow.
1. Understand what problems your product solves
Avoid thinking only about your product's features. Focusing on how they benefit the customer will help you make better B2B SaaS marketing campaign decisions.
By understanding the problems your product solves, you'll also be able to discover which B2B audiences face these problems.
Mike Sanchez from GrowthGenie, recommends that companies use their product internally before they go to market. This gives them a chance to get internal feedback and find new use cases for their solution.
You don't always have to do this before you start selling, but understanding your product is always a good way to determine how to target B2B customers.
2. Use a sales intelligence tool
Sales intelligence tools, like Cognism, let you run a highly targeted company search and find B2B target audiences based on your requirements. You can then refine and segment the lists thanks to advanced search filters like company revenue, location, tech stack, event triggers, prospects' job titles and seniority levels, etc.
Using these types of data points makes it easy to identify new audiences. But Cognism also lets you find additional decision-makers at existing customer accounts. It's a great option for account managers who want to grow key accounts and sell into additional departments.
Once you've created a targeted prospecting list, you can tap into Cognism's global B2B contact database to get prospects' actionable contact details, such as B2B emails and mobile phone numbers.
💡 Interested to know more? Here's how Cognism helped Mint, a retail & brand manufacturer, engage with B2B audiences in its original target industry and expand its TAM outside its silo 👇
"Cognism has enabled us to engage with a much larger network of individuals including our original target industry, but above and beyond we have now been introduced and seen positive results when engaging with new industries."

"Previously we didn't even realise that one of our challenges was that we had siloed ourselves into the health and beauty industry."

"Cognism actually made us aware that we could begin targeting new industries and we have seen a lot of engagement since."
3. Create ideal customer profiles (ICPs)
Defining ICPs helps narrow down the market and analyze different types of target audiences that are the most profitable. In B2B marketing, it's best to use firmographic and technographic data. It provides insights into companies' size, industry, operations, and even the software they use.
Here's Mike Sanchez's idea for segmenting the B2B market:
I like to build ICPs based on pain points. This is the most important distinguishing factor when I look at our customer groups.

After this, I'll look at the prospect's company. Different companies will have different ways of operating and different goals. This information could change the way that you approach an account.

Finally, I'll look at any sales triggers and intent data that might be relevant. These can help you make a more timely and relevant approach.
You can filter ICPs through the total addressable market and start growing your target market in different niches.
4. Understand your competitors
Understanding your B2B audience data gives you a good idea of which people you've targeted successfully. Researching your competitors can show you which people you've been missing out on.
If your competitor targets the B2B market or an audience that doesn't match yours, you should ask yourself why.
A good way to get an insight into this is by running an SEO competitor analysis. By seeing which keywords your competitors rank highly for, you can work out which industries they're targetting.
Once you've got this information, you need to decide whether you'd like to emulate or avoid their strategy. Competitor research can give you confidence in your approach, whatever you decide to do!
5. Analyze your website and social media traffic
Most social media platforms, including LinkedIn, allow you to view your analytics.
You can start your target audience analysis by checking who has been looking at your content. Then, compare this information with the analysis of your current target customer base. It's one of the best ways of identifying new B2B target audiences—
They were looking into your solution but haven't bought it.
If there's a trend of people engaging with your content but not buying your product, it's worth creating a marketing campaign to target them.
6. Hang out where your clients are
A good way to identify your B2B high-value audiences is to figure out where they spend their time. Figure out which online communities they are a part of and join them. You'll be able to find like-minded people in these groups who could also be good fit customers.
Research people with specific pain points and obstacles. You might find some use cases for your solution that you weren't aware of.
The social proof part of any marketing process is a huge component. If you're posting on LinkedIn and social groups, you're establishing yourself in that field.
B2B marketing is company-to-company, but it's still really people buying from people. Establishing yourself as a trustworthy and knowledgeable person will help you discover new target groups you can market to.
7. Continue your B2B audience research
Your market evolves over time. This could be a result of new innovations, cultural or societal changes. As the requirements and tastes of your audience change, you must change with them.
Understanding your core audience is the foundation for your robust targeted marketing strategy in B2B. But you should always keep up with the research. Think of world-class brands, like Nokia and Kodak—
A lack of flexibility has caused the demise of the seemingly infallible.
If you want to find new B2B target audiences, you should repeat the steps outlined earlier. Continue to research your B2B target market and look out for any changes. If you can master this, you will always stay ahead of the game.
💡 Here's another example of a company that benefited from targeting the right B2B market with Cognism.
"We create highly targeted searches based on the requirements of each region. In Cognism's highly granular filtering system, I refine and segment the list based on these requirements in order to find our desired audience."
What is a target market in B2B?
B2B target market consists of companies in your TAM that are most likely to purchase your product or service. They share similar characteristics, such as job title, industry, company size, location, or annual revenue.
Targeting the right market helps you create engaging content that addresses your B2B audience's pain points and attract high-quality leads.
Is the target market the same as the target audience?
No, they are similar concepts but not the same.
Who is your B2B audience, then?
B2B target audience is a fictional group of people with specific problems and needs that you want to target with personalized marketing campaigns and offer your products or services as a solution.
You can have several audiences in our target market and deliver different campaigns to each of them.
Your target audience should be at the core of every marketing decision you make, including your product, branding, messaging, language, positioning, and keyword strategy decisions.
Here are a couple of questions you can ask yourself when defining a B2B audience:
What's their industry?

What's their job function?

What is their level of seniority?

What's the buying process in the company?

Where are they located?

What social media channels do they use?

What are their pain points?

What content do they consume online?

What thought leaders do they follow?

What type of companies do they work for?
How is the target audience different from the target market?
Both target audience and target market refer to people interested in your offer. However, the target market is a broader group of potential customers. The target audience is a specific segment of the target market.
For example, a B2B target market can be mid-sized SaaS companies, and your B2B target audiences can be spread across different locations and industries or vary in revenue.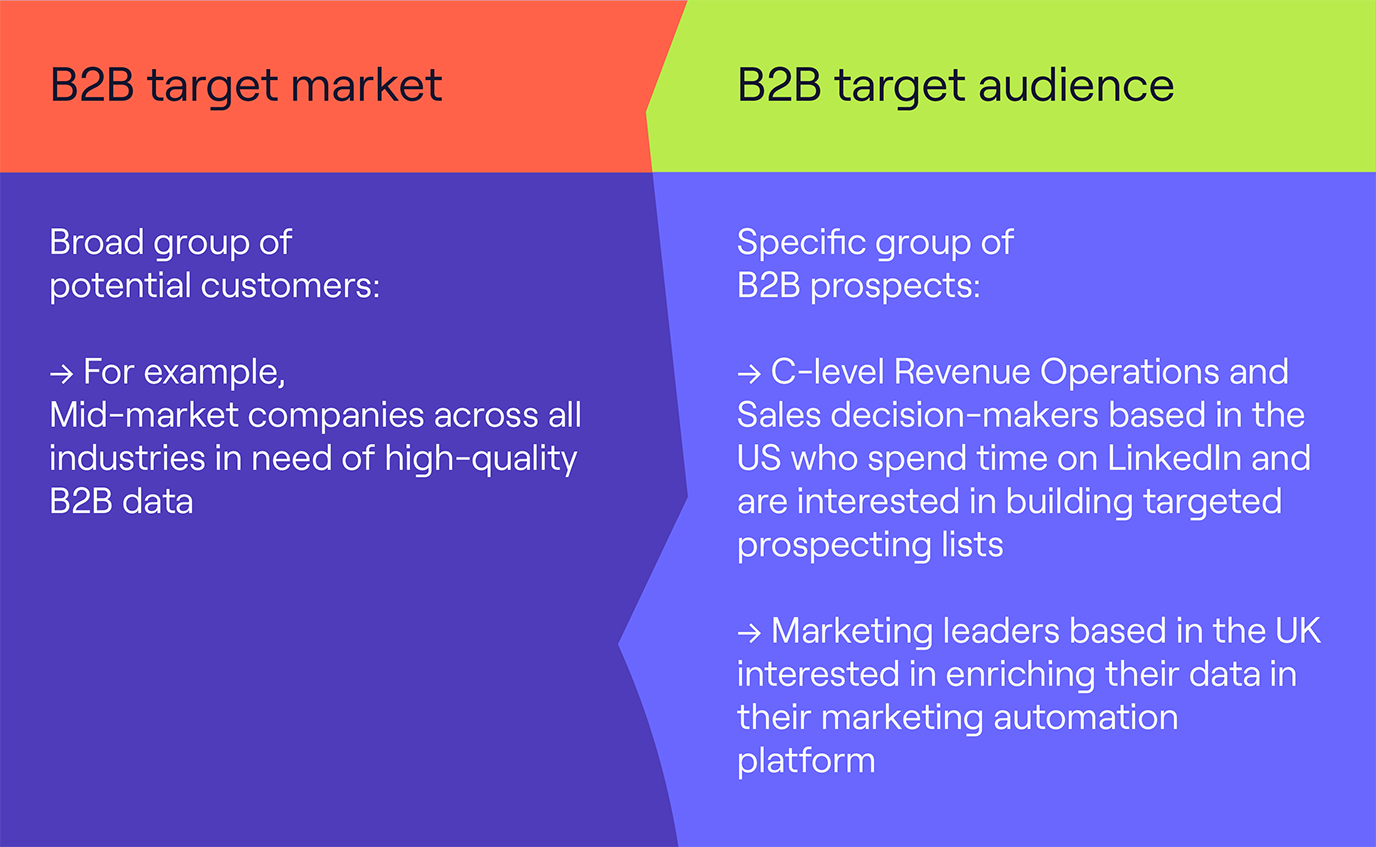 Being able to differentiate between the target audience vs the target market is key to creating marketing strategies that convert.
Why is it important to identify target audience customers?
The short answer is—
If you don't determine your target market, you can't sell to your target market.
To ensure efficient B2B marketing and sales processes, you want to spend as much time as possible speaking to the right target groups. That means understanding your target market and audiences inside out.
Mike Sanchez, explains why identifying the target audience is important:
It will provide you with a seamless route to scalability. It will provide you with the path of the least friction. You'll find more clients, and you'll find better clients.

It's no secret that customer retention is more cost-effective than acquisition, and if you're bringing in better customers, you're generating more revenue.
Mike also explains why defining your B2B target audience early gives you extra advantages:
Sales teams need to be able to adapt. With businesses moving online, their requirements are changing, meaning their pain points and needs are changing, too.

The modern sales team needs to be able to capitalize on emerging markets quickly. It means quickly identifying new target markets, ideally before your competitors.
Contact your B2B audience directly
Cognism will allow you to search your B2B audience by job title, industry, company name, revenue, and more, turning your research into results in no time. Then, you can tap into your prospects' B2B emails and cell phone numbers to contact them directly.