How to choose a B2B data provider
The more up-to-date and accurate data you use in your B2B sales and marketing activities, the more likely you'll achieve success.
The reason is simple – with current, accurate business data, your sales team won't waste time speaking to the wrong people. It also makes it much easier for marketers to craft messages that speak to your prospects' pain points.
There are so many B2B data providers in the marketplace right now, all making claims like they're the biggest or most accurate. How do you know which one to go with?
It's all about the questions you ask.
In this article, we'll look at the things you should consider when selecting a B2B data provider.
Want to ensure that the data your team has is the best it can be? Simply keep scrolling - or use the menu below to navigate around this page 👇
How accurate is your data? | What can I do with the data? | What insights can your data give me? | How complete is your data? | How compliant is your data? | How much does your data cost? | What is the provider like to deal with? | Cognism's B2B data eBook | The world's best B2B data
The top questions to ask a B2B data provider
Get the lowdown on how to choose your B2B data provider with Emily Liu, Cognism's Senior Video Marketer! Press ▶️ to watch her tutorial.

1 - How accurate is your data?
The most important consideration should be your data's accuracy. Every piece of inaccurate data can have disastrous effects for a SaaS sales team. It could cause...
Your salespeople to waste valuable time trying to contact someone who has changed jobs and is no longer at the company.
Your company to lose clients to your competitors.
In contrast, fresh data helps you speed up your pipeline, narrow your target to people who may want to buy from you, as well as create a context for your outreach.
Ask your provider how they source their data. Ideally, you want as much of it as possible to come from well-known, reputable sources.
Also, ask them how much of the data has been self-entered. When people volunteer information, it's much more likely to be correct.
You must also find out how regularly the provider's data gets refreshed. People change jobs a lot – you don't want your team to be prospecting to decision-makers who have long since moved on.
2 - What can I do with the data?
It's great to have reliable B2B data in your business, but you need to be able to do something with it.
The most effective way to create a cold call or email list is to create a detailed ideal customer profile (ICP) and then use your data provider's software to filter the entire data block into a list that matches that profile.
This is incredibly effective because you can target a narrow group of people who are likely to be receptive with a message that speaks to their specific pain points.
Ask your provider the following:
How can you manipulate their data?
How many data points do they monitor and are you able to filter down?
Is their solution compatible with your company's CRM? Your salespeople must have the ability to transfer information quickly and regularly refresh the data they generate.

3 - What insights can your data give me?
How do you know when it's a good time to contact a prospect? When do they actually want to hear from you, rather than give you the brush-off? It's the eternal secret of outbound sales!
You can find clues by looking at companies and their activity. If companies behave in a certain way, it's a signal that they could be interested in you and your product. These could be events such as:
A new round of funding.
A new CEO.
Recently acquired another company.
There's often a lot of movement of people inside companies too. If a contact you know well gets a promotion, they may have more scope to do business. You'll also need to get to know their replacement.
We call these events sales triggers. Depending on how well your data provider monitors company news and financial insights, they could be able to provide you with these sales triggers as soon as they happen, so you can reap the rewards.
Ask your provider about their insight and intelligence options.
4 - How complete is your data?
You also need to know how in-depth your B2B data provider goes when they compile their data. The deeper they go, the more information you can use to target new prospects.
Some providers will offer you information on criteria such as the technology stack they use, annual revenue and much more besides. If you think this information could make a difference, make sure your provider can offer it.
Some B2B data providers will have more complete data in specific industries or territories. In most cases, you'll want to use a provider that is strong globally, across all sectors, because your sales strategy may change over time.
Ask your provider about the types of data points they supply on each profile.
5 - How compliant is your data?
Issues of data privacy and compliance will be foremost in many buyers' minds. New rules and regulations are being issued globally every year; you want to be working with a supplier that meets the demands of international regulators.
As a standard, ask your provider the following data compliance questions:
Are you registered with national or international regulators?
Are you a fully GDPR-compliant data provider?
Do you use GDPR-compliant CRM and storage software?
Does your data address all B2B consent requirements?
Do you collect only relevant and necessary data for legitimate business interests?
Do you keep detailed and accurate records of how you collect and process data?
Have you partnered with any legal entities in order to ensure compliance?
The penalties for non-compliance can be severe (see this incident involving British Airways), so it's critical that you investigate your provider's compliance status thoroughly.
6 - How much does your data cost?
Price will obviously be a significant factor in the B2B data provider you choose. Like most things in life, you get what you pay for.
If you go for the cheapest options, you'll probably do a disservice to your sales and marketing teams. On the other hand, you need to calculate your return on investment – what is good data worth to your business?
The best data vendors will be confident in their data and their offering around it, so they should offer you a guarantee on accuracy.
7 - What is the provider like to deal with?
When weighing up which B2B data provider to go with, think about what they're like to deal with. Do their values align with yours? If you're to forge a long-term relationship, which is what you want, you need to make a connection.
You also need to evaluate your provider on their customer success. Data solutions can often be complex, especially when you're using them for the first time. Make sure your vendor is strong at onboarding, as well as having a support team to help with any queries further down the line.
Review sites like G2 are excellent for judging how well a company treats its users. Make sure you compare all the vendors you're looking at against customer service, not just data quality.
Cognism
'

s outbound guide

We've listed our favourite outbound plays to make revenue more predictable in 2022 - click 👇 to download our guide.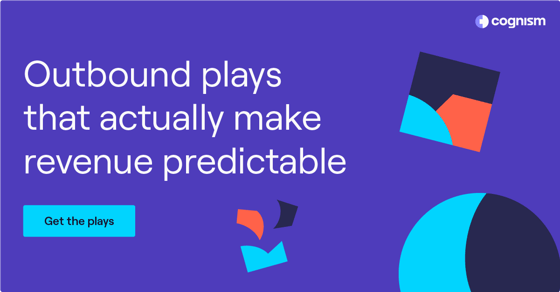 The world's best B2B data
We'll give you the data. We'll give you the tools to action it.
All you need to do?
Just add salespeople.
If you want your team to not just hit but exceed target every single time - register for a demo with Cognism, the leading globally-compliant B2B lead generation solution.
And if you don't believe us...then listen to what our clients say.