What is Outbound Sales vs. Inbound? [+Tips for Reps]
Outbound sales is a branch of B2B sales. It refers to the process of a seller, typically a sales rep of a company, initiating engagement with a prospective buyer through sales activities such as cold calling, email prospecting, social selling and networking.
This page aims to answer the most urgent questions surrounding outbound sales. Scroll 👇 or use the menu to skip to a section.
Who conducts outbound sales? | What is an outbound sales strategy? | What is the outbound sales process? | What are the main outbound sales activities? | What are the most important outbound sales metrics? | What is outbound sales software? | A guide to B2B outbound sales | Kickstart outbound sales with Cognism
What types of outbound sales reps are there?
In SaaS sales, outbound is conducted by a sales team. The main objective of an outbound sales team is to generate revenue and scale up the business quickly.
The team is often divided into 2 groups with separate, distinct responsibilities. They are:
SDRs focus on the actual outbound sales; this process is also known as B2B prospecting. They are responsible for creating opportunities and booking meetings. Their key tasks include: cold calling, outbound email, qualifying prospects and booking demos.
Business Development Managers (BDMs)
BDMs are responsible for closing deals and generating revenue for the business. Their key tasks include: conducting demos, negotiating deals, drafting contracts and closing business.
What is an outbound sales strategy?
An outbound sales strategy uses a variety of sales techniques, with the end-goal of closing deals with new clients. In outbound sales, the following activities are important in terms of achieving that goal.
B2B lead generation - generating customer interest in your product or service.

Outbound

prospecting

- reaching out to prospects via

direct dials

/email/social media.

Connecting with decision-makers - finding, reaching and persuading decision-makers through organisation mapping and company hierarchies.
Conducting demos - conducting a live demo

(this

helps prospects understand the value impact for their business).
Closing deals

- negotiating terms with the prospect and making a sale.
It's important to bear in mind the challenges that salespeople can face, such as email and cold call blocking, high cost vs. low yield, and the difficulties in tracking and analysing results when creating an outbound strategy.
What is the outbound sales process?
The outbound sales process is a set of steps designed to help salespeople convert prospects into customers. It's a scalable, repeatable instruction manual for sales success.
This is the 8-step sales process that has helped Cognism to consistently hit company revenue targets:
Lead generation

- finding people

who have expressed interest in your product and who you should reach out to.
Sales discovery

- researching the prospect's pain points before speaking with them.
Qualification - assessing the prospect's suitability as a customer.
Pitch - delivering a pitch tailored to solving the prospect's problems.
Objection handling- listening to what the prospect has to say, and repositioning your offer in a way which answers their questions.
Closing - discussing prices and negotiating if necessary. Offering some free added value to the deal can help get it over the line.
Follow-up - providing the prospect with next steps after the deal is signed.
Check-in

- gathering feedback from the prospect. If they've been enjoying the product, you can ask for a case study or referral.
---

---
What are the main outbound sales activities?
There are three main outbound sales activities:
What are the most important outbound sales metrics?
The best way to measure your outbound sales team's performance is to track Key Performance Indicators (KPIs).
KPIs are incredibly important in outbound sales, where deals are signed and revenue is calculated on an ongoing, monthly basis. These are the most important outbound sales KPIs:
SDR KPIs
The KPIs tracked by Cognism's Sales Development Representative team. These include:
Productivity metrics - the number of emails sent, phone calls made and LinkedIn activity an SDR generates (e.g.: the volume of InMails and connection requests sent to prospects).
Success metrics

- including the number of meetings booked and attended by prospects. Also the number of SQOs (Sales Qualified Opportunities) the SDR creates, based on the BANT (Budget, Authority, Need, Timing) criteria.
BDM KPIs
The KPIs tracked by Cognism's Business Development Management team. These include:
Personal metrics - the average dollar amount of each BDM's deals, plus the number of demos attended vs the number of opportunities won.
Monthly recurring revenue (MRR) metrics - in dollars, the amount of MRR booked by each BDM, the MRR target for each BDM, and the percentage of the target won by each BDM vs their target.
Demo metrics - the number of demos booked vs the number of demos attended by prospects.
Pipeline metrics - a variety of KPIs tracking the sales pipeline, including the total number of open opportunities, the total number of opps moved to demo and to contract, plus the total number of lost opps vs the total number of closed-won opps.
Inbound vs outbound
The final outbound sales metric to look at. This involves:
Comparing your inbound and outbound metrics. The percentage of inbound and outbound conversion rates are compared, followed by a comparison of the monetary value of inbounds and outbounds that are won.
Finally, comparing inbound vs outbound revenue won (in dollars). All of this comes together to determine the total amount of revenue generated from both inbound and outbound sales.
What is outbound sales software?
Outbound sales is conducted by teams of people, but it can be greatly optimised and accelerated by technology. Sales teams around the world have adopted outbound sales software and made it part of their daily function.
There are a large number of B2B outbound sales tools available. Cognism has curated a definitive list for outbound sales leaders - click to see the ultimate outbound sales tech stack.
A guide to B2B outbound sales
Master outbound sales leadership with Cognism's comprehensive eBook. We uncover the processes, tactics and resources that took us from $2.5M to over $25M ARR in a single year. Click to read 👇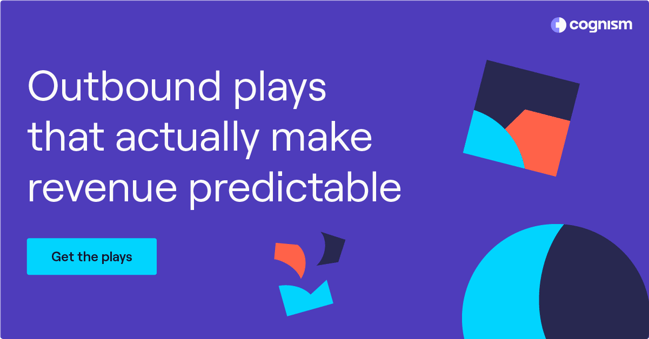 Kickstart outbound sales with Cognism
From globally-compliant B2B data to integrated dialling for cold calling, Cognism is the all-in-one outbound sales solution. Our products are trusted by over 500 B2B sales teams worldwide, helping them to meet and beat their revenue goals.
"We found that some of our best deals are coming from outbound because we're able to target more relevant companies. Thanks to Cognism, we've developed a way better understanding of our ideal customers."

- Sean Wallace, CRO, Flowingly
Keen to see how Cognism can revolutionise your outbound sales? Hit the button below and sign up for your free demo today!