What is Outbound Sales vs. Inbound? [+Tips for Reps]
Inbound vs outbound sales - what's the difference?
Here's a quick summary:
Inbound sales is when a potential customer or prospect reaches out to your business to ask about a product or service. Outbound sales is the result of a sales rep reaching out to a potential customer who has not yet expressed interest in a product or service offered by the business.
In B2B sales and marketing, we all want more leads, more clients, and more revenue, and that's where these tactics come in.
But which is better for B2B lead generation? Inbound or outbound?
We discuss the answer and get into greater detail on the definition of inbound and outbound sales below 👇
What's outbound?
When it comes to inbound vs outbound sales, outbound is the more traditional of the two. It's where a sales rep or an SDR initiates engagement with a prospect and delivers a sales pitch to them.
Outbound is particularly important for growing SaaS sales teams. If you're a growth-stage SaaS company, then chances are, most people won't have heard of your brand. Getting an outbound sales strategy up and running is your quickest route to generating new revenue.
Outbound sales is a way of going direct to your market and pitching your product. It's the best choice for businesses who want to generate some quick wins and grow their customer base fast.
You can fast-track outbound sales in local and global markets thanks to B2B data providers like Cognism or Zoominfo. Book a demo with our sales team to find out how to scale your business quickly 👇

Why choose outbound over inbound sales?
The main benefit is - outbound is fast!
With high-quality B2B data, outbound sales yield immediate results and allow for strategic messaging to be created. If you do it correctly, it results in qualified leads. Outbound enables highly-targeted outreach to your ideal customer profiles.
💡 Read a case study on finding ideal target customers with Cognism sales intelligence platform.
Another big advantage is that your sales team will be contacting people in your target audiences who will be interested in your product or service, but aren't yet aware of it. It helps you build a pipeline of sales leads in the same amount of time it takes to pick up a phone!
The main difference between outbound vs inbound sales is that outbound sales are typically more costly than inbound marketing, as the majority of the tactics involved require paid delivery systems.
Here are a couple of examples of outbound sales:
A notable difference between outbound and inbound sales is the techniques used by a sales team to sell. Cold calling is a big factor in outbound sales. Watch this video 👇 for some great cold-calling tips.

What's inbound?
So, what exactly is inbound sales and how it's different from outbound?
Well, as the name suggests, it's a lead generation strategy where your prospects come to you - and if they stay engaged with your content, they'll convert into customers.
These leads are drawn in by marketing campaigns, the content you've published on your blog, or your favorite lead source channels. The main inbound channels for attracting targeted leads are content marketing, SEO, and social media marketing.
Because inbound aims to draw people in, it's essential to ensure that…
Your content is valuable and engaging
Your brand is easily discoverable online
The focus of inbound marketing for lead generation is to help clients rather than sell to them. You must help your prospects define, research, and solve a problem. You must ensure you reach these clients in the early decision-making phase in order to positively influence their decision.
💡 Read a case study to learn how to scale effective lead generation with Cognism's B2B data.
Why choose inbound over outbound sales?
Inbound is 'reverse' prospecting, as it's the sales lead who initiates contact. This opens up numerous benefits for why, when it comes to inbound sales vs outbound sales, inbound holds its own:
Lower expenses (as both paid and organic marketing are used here).
Higher trust and more credibility between your leads and your company.
Increased website traffic and higher-quality leads.
The opportunity to nurture leads if they're not yet ready to convert.
Here are a couple of examples of inbound sales methods:
Blog posts - make them engaging, easy to read, and based around keywords that your prospects will be searching for.
Organic social media posts - Facebook, LinkedIn, Twitter, Instagram, etc. (AKA social selling)
Paid search -

clever and engaging paid ads across your channels to capture the attention of more targeted leads.

eBooks -

longer-form content that answers the burning questions your leads are asking.

Video -

create a YouTube channel for your business and develop fun and informative videos. Repurpose content from your best-performing blogs and eBooks. If you're lucky, some of them will go viral!

Webinars and podcasts -

invite thought leaders and influencers in your industry to participate. Build up that all-important trust and authority around your brand.
There are a number of inbound sales strategies that can be used to boost your campaigns. Press ▶️ to learn the most successful ones we've come across at Cognism 👇

Outbound vs. inbound: key differences explained
Understanding the difference between outbound sales and inbound sales will help you determine which approach works best for your business goals.
In summary, the key differences are:
"Inbound sits within the marketing sphere and is where a customer approaches your business while outbound sits within sales and requires a sales representative to take action by approaching the customer."
Which method is right for your business?
By now, you're probably wondering "what's best for me?" The answer is not so simple!
Determining whether outbound sales vs inbound sales is best for you largely depends on your customers, business model, and your budget/ability to invest.
So, rather than pondering whether to use outbound or inbound sales, ask yourself the following questions:
How much time do I have to execute?
Who am I talking to (targeting)?
Is it the right time for me to invest?
Which customers do I want to target?
Which is most likely to have a higher ROI?
Which method aligns with the trust and credibility I'm trying to create?
However - and this is the final word…
You don't even have to choose!
There's really no need to pit inbound and outbound sales against each other. They are two separate approaches that each offer their own advantages. Using a combination of inbound and outbound allows you to merge your entire marketing funnel and sales funnel into a single, efficient machine - working to accomplish your lead generation and sales goals.
87% of sales and marketing leaders say collaboration between sales and marketing enables business growth - so what are you waiting for?
If you're an inbound marketer and you're not seeing the results you want, invest in outbound to generate some quick wins.
If you're an outbound salesperson and you're not seeing quality leads coming in at the top of the funnel, invest in inbound to attract your ideal audience.
Inbound vs. outbound? The truth is...neither's better for B2B lead generation.
You need both to book meetings!
A guide to B2B outbound sales
Master outbound sales leadership with Cognism's comprehensive eBook. We uncover the processes, tactics and resources that took us from $2.5M to over $25M ARR in a single year. Click to read 👇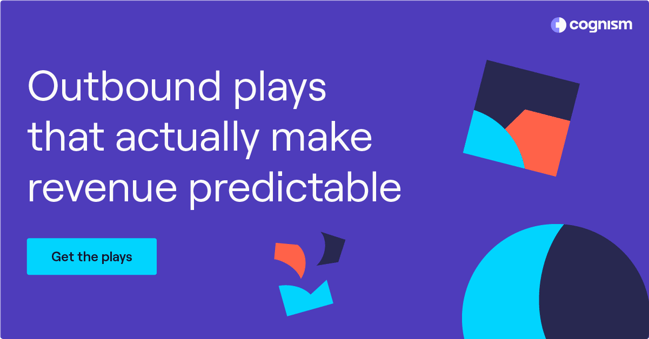 The key to better sales
Cognism's data and prospecting tools can power both tactics - inbound and outbound sales. Our database is updated daily by our revolutionary AI and is 100% compliant with worldwide data regulations.
Keen to see how Cognism can revolutionise your outbound sales? Click 👇 the button below and sign up for your free demo today!