When is the Best Time to Cold Call in B2B Sales? [Updated for 2023]
Successful cold calls can only happen if your prospect answers the phone.
Which is all dependent on when you call them.
But what is the best time to cold call?
To help you get more "hello's" than "beep, beep, beeps," we've put together some stats showcasing when the best times for cold calling are. Plus, we'll be diving into when not to call so you can increase your cold calling success rates!
Scroll for the answers 👇
The best times to cold call
The best time to call prospects largely depends on your industry and your target prospect, but there's a lot of data available that points to specific trends.
When is the best time to cold call?
The best times to cold call are between 9 am - 4 pm while most prospects are at work, and 10 am - 2 pm provides the best response times.
This is according to data collected and analyzed by PhoneBurner. It makes sense that buyers will be more open to answering calls during work hours, so they can rest and unwind in the evening. There are a lot of free time clocks out there you can use to keep track of work hours and get back to buyers at the right moment.
Mornings before lunch and toward the end of the workday are the best time of day to cold call. That's 10 am - 11 am and 3 pm - 5 pm.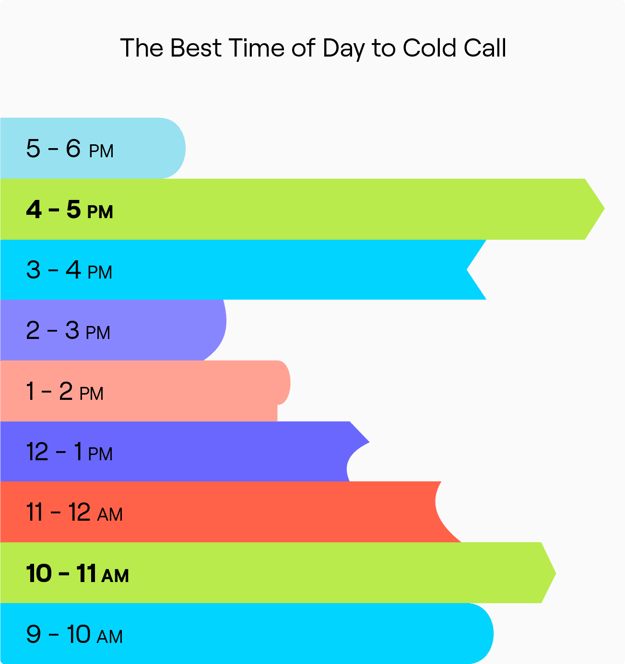 Looking at the typical structure of a day in the office, late mornings are when decision-makers are more likely to be wrapping up tasks before taking a break for lunch. While late afternoon is when they'll be winding down and less likely to start new tasks.
That's why these are the best times to make cold calls, as prospects will be more open to talking.
When is the best day to cold call?
That being said, there must be days that are better to make calls on than others, right?

According to a study by Gong, Wednesday and Thursday are the best days to cold call.
Mid-week is understandable, as it's when most buyers will have settled into their workflow and will welcome the chance to talk business.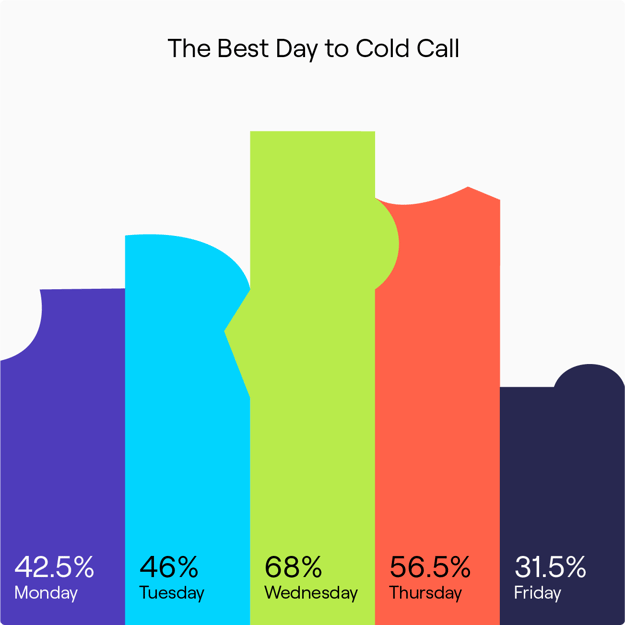 The worst times to cold call
On the other hand, there are times when you really shouldn't cold call prospective leads. For example, cold calling at night is a no, no. 🙅‍♀️
First impressions matter, so if you're interrupting someone on a weekend or after hours when they are spending time with their family, you'll only succeed in harming your reputation.
The same goes for calling too early in the morning. Even if you know a prospect wakes up at 5 am to hit the gym, you'll only annoy them if you take away their free time.
Any time before 10 am, your buyer is most likely organizing their day and getting into the swing of things.
So to recap, the worst times to cold call are:
after hours
on bank holidays
weekends
before 10 am during the work week
Press play below for cold calling tips from our subject matter expert, Ryan Reisert and Director of Sales, David Bentham. ▶️
When is the worst day to cold call?
Just like the best days to cold call, consider the typical work week of your prospect.
On Mondays and Tuesdays, they'll be getting back into the swing of things and dealing with any unfinished tasks from the week before or any that popped up over the weekend and won't enjoy being interrupted.
Similarly, no one's mind is 100% focused on work on a Friday. Your customers will be focused on the weekend more than anything else and will probably forget anything you say to them.
Making Mondays, Tuesdays, and Fridays the worst days to cold call.
💡 P.S. If you're struggling to reach your prospect, check out this article on voicemail scripts.
Free cold calling guide to support calling time
Knowing the best time for cold calling is important, but so is a good cold calling sales strategy.
And with 51% of company decision-makers saying they'd rather hear from SDRs via the phone than any other lead source, it's vital to up your cold calling game.
Our guide to B2B cold calling can help you do just that! Inside you'll find the latest and greatest cold calling tips for a hot and toasty revenue-driven year.
Click to download. 👇
Best times to cold call: closing thoughts
All in all, it's best to do your research before calling a prospect.
After all, the best time to cold call for one person might not be the same for another.
Check their time zone, and make sure they don't have an out of office on or a significant product launch coming up.
If you call while a buyer is stressed, they result in them having less patience, while calling just after a successful launch might result in a higher conversion rate.
So while these cold calling statistics are important for deciding when the best time to call is, they are more of a guideline. The best chance of success lies in your own research, call script, and opening lines.
Ready to get dialing? Watch below for cold calling dos and don'ts from sales experts. 📞
Call time matters but so do accurate mobile numbers
Reaching prospects at the best time won't mean much if your B2B data isn't accurate.
With Cognism's 98% more accurate mobile numbers, you can cold call with confidence, build authentic connections and break performance records month-on-month.
Ready to get started? Click 👇 to book your demo.