9 Ways to Find CEO Email Addresses [2024]
Crafting a well-written cold email to a CEO won't matter if it is sent to the wrong or a generic email address.
You need a way to get accurate contact information for the person who will benefit the most from your information at scale.
In this article, we're taking a closer look to help you find CEO email addresses in your target market. And share tactics you can use when crafting your email pitch to a chief executive.
Here's a list of the best ways to create CEO email addresses list you need:
1. Use a sales intelligence tool
Manually searching for CEO email addresses is time-consuming. Fortunately, you can rely on sales intelligence and prospecting tools, like Cognism, to create accurate CEO email lists and save time.
Cognism Prospector and its Seniority filter let you identify CEOs in the US and EMEA in seconds and extract their email addresses.

With the platform, you can generate CEO email lists based on set parameters to ensure the prospects on your list will fall within your ICP.

Our global coverage and accuracy make it the ideal email provider for teams prospecting in NAM, EMEA, and APAC markets. What's more, Cognism cares about global compliance, including GDPR in Europe.
Thanks to Cognism browser extension, you can view CEOs' email addresses and mobile phone numbers on corporate websites and enrich LinkedIn profiles and SalesNavigator lists.
It also works over Salesforce, Outreach, and HubSpot, so if you're using them, you don't have to switch to other windows to enrich your records. It's a massive time-saver for SDRs.
See Cognism in action below 👇
2. Search LinkedIn
Enterprise CEOs tend not to reveal their contact details on LinkedIn and have gatekeepers to deal with sales pitches. But you can use data enrichment tools to enrich LinkedIn profiles or Sales Navigator lists with email, direct dials, or mobile numbers.
This is where Cognism browser extension comes in handy. It reveals fresh CEOs' emails and exports the data directly to your CRM for sequencing in 3 clicks.
Here's how it works (click the image to see the workflow) 👇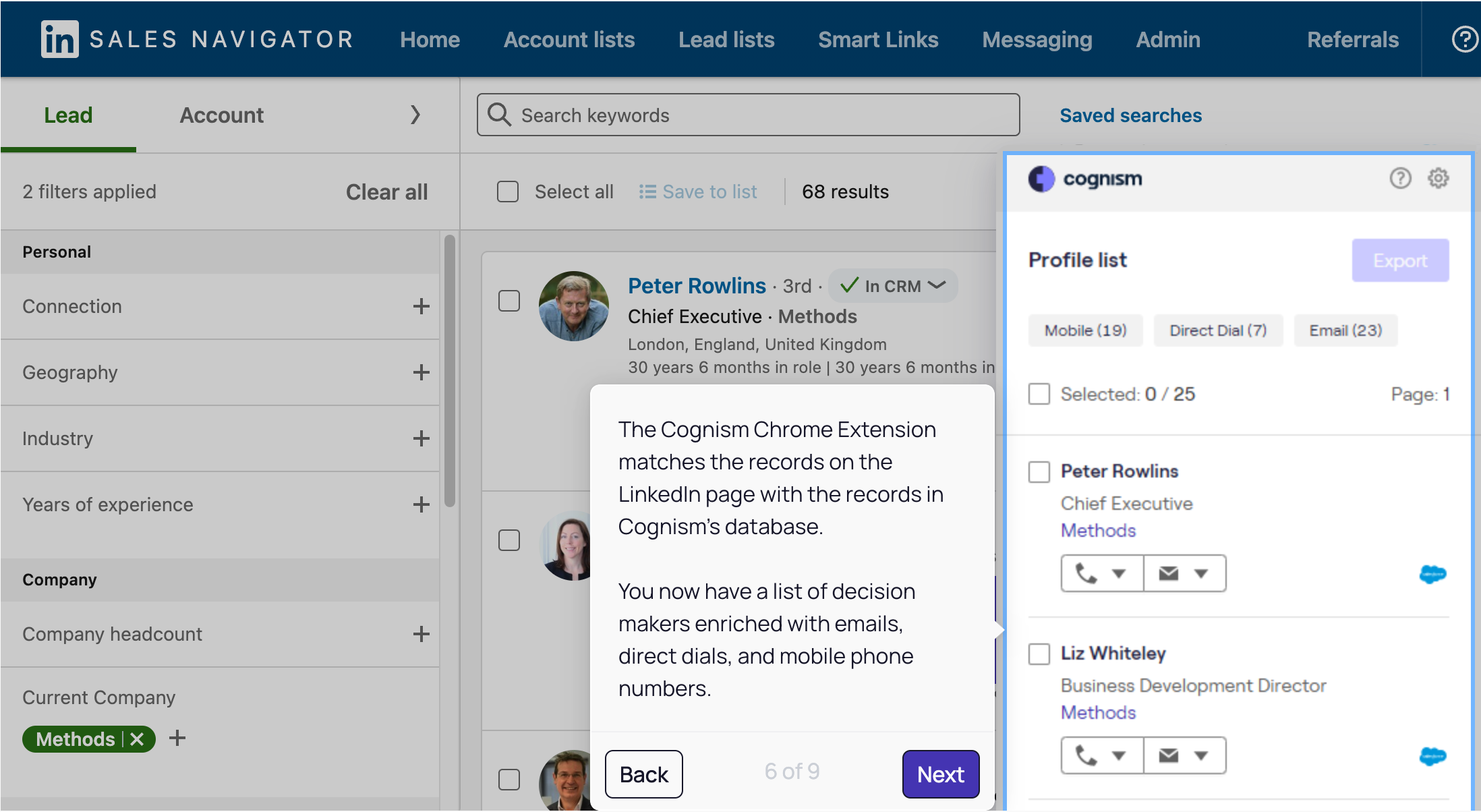 With a bit of luck, you can find the CEO or other C-level executives' email addresses for free on LinkedIn. It is a fairly easy method. But because it requires manual research, it will be difficult to scale the process and create a CEO email list in your target market.
Use LinkedIn to either search for the CEO's name (if you have it) or find the company's LinkedIn page and check the People tab. You can usually find small and medium business owners' email addresses in their contact info.
You can still try to connect with them on LinkedIn, which will sometimes surface their email address. Alternatively, ask for an intro from someone connected to the CEO on LinkedIn, or use LinkedIn Sales Navigator, a paid option.
3. Use Google search operators
Try using Google search operators to create a list of CEO email addresses. It's a good place to start if you're on a budget or looking for specific people. If you have a list of target companies, Boolean search techniques will help you find out the name of their CEOs.
Here are some basic search operators that you can use to search faster.
Quotation marks: CEO name and with a relevant keyword, e.g.:
"James Isilay" email
"James Isilay" contact information
AND: return results for two or more specific keywords, e.g.:
CEO AND Cognism
OR: return results for two or more related variables, e.g.:
CEO OR CTO AND Cognism
Minus: this allows you to exclude a specific term from a search, for example, if the name of the CEO you're looking for is widespread, e.g.:
"Johe Doe" email -companyxyz.com
Site: adding a site address allows you to contain a search to a specific website, e.g.:
"James Isilay" email site:crunchbase.com
You can combine different search operators for an advanced search.
Remember to create a spreadsheet to keep track of the businesses, names, and contact information that you find.
4. Cold call the company
Contrary to what some salespeople say, cold calling isn't dead. If, after you've done your research, all you have is a phone number, try to get the CEO's email address that way.
This method of getting senior executives' email addresses can be highly successful. Have someone on your team call all the companies you want to reach.
In larger companies, you will most likely be met by a receptionist or an executive assistant. So make sure you nail your opening line and give a compelling reason why you want to get the chief executive's email address.
To avoid gatekeepers at companies, generate phone number lists with a tool like Cognism. We've got the most accurate mobile numbers and global coverage.

Check out the best examples of cold calling to see if this method is for you.
5. Send a DM on Twitter
Everyone tries to find the CEO on Linkedin or buy an email list online. They might overlook an easier path, especially if they are already following the CEO on Twitter.
Many CEOs and senior executives are active on Twitter. A well-crafted direct message can cut through the noise if you both follow each or they have open direct messages. Remember that the DM message should not be a sales pitch. The goal is to discover CEO's contact details.
6. Use Twitter's advanced search
Even if you aren't directly connected to the CEO on Twitter, you can still use Twitter's advanced search functionality to find the CEO's email address.
All you have to do is search for "@" or "dot" and the CEO's Twitter account to see if they've ever tweeted their email address or phone number.
CEOs sometimes share their contact info if they are not able to keep up with mentions and direct messages.
7. Subscribe to the company or CEO's newsletter
Another overlooked method for locating the CEO's email address is through the company's email newsletter. Many CEOs either contribute to the company's newsletter or have their own separate newsletter.
If the CEO has their own newsletter, you can craft a thoughtful reply and they'll be much more likely to see and respond to it.
Even if you can only find the company newsletter, somebody on the marketing or support team will be responsible for reviewing all replies. We speak from experience—if your reply is thoughtful, there is a decent chance someone will review it and forward it to the CEO.
This method works particularly well for small to mid-sized companies where the CEO is still directly involved with many customers.
8. Search in press releases and the news
Many CEOs frequently provide quotes on press releases, news, or trade publications.
In the best case, you'll stumble across a place where the CEO has shared their contact information, like in the footnotes of a press release.
In the worst-case scenario, you can better understand what the CEO is working on and the company's direction based on the quotes they share.
9. Don't buy lead lists
Buying a lead list from a vendor may seem like a quick and easy way of finding CEO email addresses—
It's not!
Despite hundreds, if not thousands, of offers, buying or renting B2B contact databases to create CEO email list or find CEO phone numbers comes with some big risks, such as:
Basic and inaccurate data

No exclusive right to the purchased contact data

Risk of ruining your reputation as a spammer

Potential email compliance violations
💡 Learn more about the risks of buying lead lists and what to do instead.
How to write cold emails that get CEOs' attention?
Finding the CEO's email address with sales intelligence tools like Cognism is easy. The hard part is emailing a CEO in a way that stands out and encourages a CEO to take your desired action. Here is a checklist that can help you do just that:
Research potential recipients thoroughly to understand their specific needs and how you can help

Capture their attention with a clear, brief, and specific subject line

Personalize each email—be specific and genuine but brief

Keep the focus on how your solution can benefit them

Get to the point—everyone is pressed for time, and CEOs are no exception

Provide a clear next step for them to take

Edit your email on the phone before sending it—that's where most likely CEOs will read it
💡 Use some of the cold email templates used at Cognism to get executives' responses.
Key takeaways
There are two primary approaches for finding CEO email addresses.
There is the low-cost but not scalable approach of doing a lot of manual searching and researching to build your contact list one email at a time.

Use sales intelligence solutions and the data they provide for a scalable approach to discovering hundreds of accurate contact details of your target audience.
It is up to B2B marketers to decide which way suits them better. If you'd like to learn more about how Cognism Prospector can help you build targeted email lists that match your ideal customer profile, book a demo and speak to our sales team 👇