5 things marketers can learn while listening to sales calls
A lot of companies preach sales-marketing alignment, but few have it.
More often than not, sales and marketing teams operate in silos and have little clue what each other is working on. It's a problem that's been widely recognised; according to a 2020 LinkedIn study, 96% of sales and marketing professionals admitted there were challenges with alignment.
So, how can you get your B2B sales and marketing working teams in sync? One of the best methods for alignment is letting your marketing team listen in on live sales calls or sales call recordings to provide feedback.
It's something we do at Nextiva, and it's a great way to get your sales and marketing teams on the same page and to start converting leads faster and more effectively.
Here's what you need to get started 👇
1 - Gaps in the sales process 🚠
It's not uncommon for sales reps to get caught up in the same old sales scripts. This can lead to a lack of personalised attention for the prospect on the other end of the call, which leads to gaps in the sales process.
As cold calling sales reps, it's hard to get accurate feedback on each call. It's just not realistic. However, having marketers listen to call recordings is one solution that can assist sales reps in identifying gaps and missed opportunities.
Marketers have a unique perspective they can offer to salespeople. Frequently, the marketing team is in charge of creating assets for different stages in the buyer journey. Because of that, they have a good idea of which assets might be better at the right moments. For example, a marketer might immediately think of a recent case study the company published that the sales rep wasn't even aware of.
While seemingly simple, those little pieces of relevant content can make a huge difference in closing gaps and smoothing out the buyer journey. In fact, one in five marketers says case studies are among the most effective ways to generate leads in 2020.
2 - What customers actually care about 🏆
Your customers' actual pain points can be buried in a sales rep's notes or deep within your CRM system. Changes in the industry could send a ripple effect that's shifting the reasons customers are looking for your solution. For example, an unprecedented global pandemic has more people flocking to virtual phone and conferencing systems now more than ever before.
But if that pattern is buried in the sales information silo and never makes its way into the marketing department, you've lost an enormous opportunity to stand apart from the competition.
Going back to perspective, marketers hear customers with a different set of ears than salespeople. While salespeople tend to focus on a set of issues as something to solve, marketers hear problems as opportunities.
A person facing a problem is a prospect looking for a solution. If your company can solve their problems and have an impact on their business, there are few marketing strategies more effective than providing insight into your customers' biggest pains.
3 - Unexpected uses of your product 🔍
As marketers, we often have an idea of what our product is used for, and we're mostly right based on our data. But there are cases where new uses for your product come up in sales discovery calls. These cases often fly under the radar.
For example, let's say you have a task management tool that is generally used by B2B software companies. But lately, you've been hearing non-profits using your free version of a tool to help them organise their outreach to donors. This is a golden opportunity as a marketer.
Armed with this knowledge, you can create new content focusing on new verticals. You can schedule interviews for future case studies. You can craft new social campaigns. A savvy marketer sees unexpected uses of a product and builds on it. That's brilliant data driven marketing.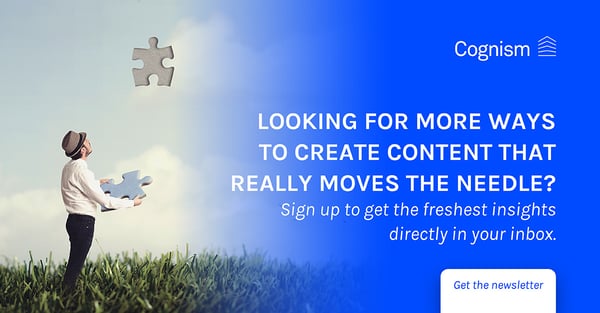 4 - How to improve website copy 📝
Some of today's best copywriting comes from the voice of customers and having a deep understanding of their issues and what they think is important. Elevating the customer voice can be more potent than a carefully selected set of words from the marketing team.
Now, I'm not saying you shouldn't look at SEO and keywords when developing new pages, but you should take careful notes when listening to sales calls to see what sticks out.
When marketers listen to sales calls, they gain an entirely new perspective, a unique voice. They get a clearer idea of which features are most important to customers and which ones they should emphasise in their content. That voice and perspective aren't just theoretical - they result in better marketing copy, which brings in prospects that are more aligned with what your product offers.
The problem is that not enough marketers do the customer research they need to have an impact. So, don't be afraid to listen in to what your sales team is up to. It's a continuous cycle that helps everyone.
5 - How to improve sales enablement 🤝
We mentioned earlier that B2B marketing teams are often the ones leading the creation of sales assets, and by listening in on a call, they usually know which assets would be most applicable for most sales gaps.
But this reason goes a step further. Marketers with sales listening experience can also help predict where the next gaps will come from and create a repository of questions, answers, and content to meet those needs. This is also known as a knowledge base. Applying one is a great way to improve sales productivity and feedback loops.
In sales enablement, you need to answer objections, highlight features, and prove your process - sometimes in real-time on sales calls. To make that happen well, your reps need high-quality content available quickly. Being customer-centric is key to creating sales content that's relevant and timely.
Final thoughts 💭
Are you tired of the back and forth that sales isn't closing enough deals and marketing isn't bringing in enough high-quality leads? Do you really want your sales and marketing teams to operate independently of one another? I didn't think so.
A great way to get both teams on the same page is to have marketers...
Listen to more sales calls.
Identify any gaps that exist and provide feedback.
Start producing newer, more relevant content that the sales team could benefit from.
It's really that simple, especially if your company uses a VoIP phone system where call listening features come standard.
Cognism's marketing guide 🚀
Looking for more insights from the world's top B2B SaaS marketers? Check out Cognism's inbound marketing eBook - click 👇 to get your copy!
About the author ✍️
Devin Pickell is a Growth Marketer at Nextiva. He combines his skills in content marketing, SEO, data analysis, and marketing strategy to meet audiences at the right moment in their journey. He has helped scale SaaS brands like G2 and Sphere Software, and contributed to G2's traffic growth of more than 1 million visitors-per-month.