Take your reps to new heights with 'The Sales Enablement Playbook'
Get the tactics you need to take your reps' performance out of the stratosphere this year, learning from the likes of Josh Braun, Mark Kosoglow, Sam Nelson, Molly Grossman, Ben Riall, Adam Buttaro, and the finest sales minds at Cognism. 👇
Your sales enablement pain points SOLVED!
This hub provides you with the words, videos, webinars, podcasts, and cheat sheets you need to build pipeline better, ramp up faster, and slash speed to lead. The key topics we cover are:
Management plays
Hiring hacks
Tech stack tips
To get to the information you need, use the anchor menu at the top of this page ☝️ or scroll and use our content pages and sub-navigation menus to flick through👇

The menu on the left-hand side below gives you quick access to relevant further resources you can access instantly. Alternatively, you can hit the "Further resources" button at the top of this page 🤗

Without further ado, let's go.
MANAGEMENT PLAYS: CONTENTS
The 6 qualities of a successful sales leader | Why your salespeople aren't reaching their full potential | 5 sales management pain points (and how to solve them) | How to help a struggling SDR
The 6 qualities of a successful sales leader
There are usually different career paths available to high-performing sales reps.
Why?
Because sales leadership isn't for everyone.
The qualities that make someone awesome at selling don't necessarily make them awesome at management.
Adam Buttaro has been a sales manager for 8 years. His background lies primarily in SaaS sales, where he consistently led teams to achieve their monthly quotas.
He has managed sales teams that have ranged from startups navigating through funding rounds all the way to today, managing the Agency Sales team at Wix and working with professional agencies that want to scale their business.
We spoke to Adam about the qualities of a successful leader.
But before we get stuck into the interview…
We want to explain the beginning of our conversation with Adam.
Like the smarty-pants interviewers we are, we prepared a list of sales leadership qualities to get the ball rolling:
Determination

Motivation

Creativity

Communication

Etc, etc, etc.
Adam responded to us:
"Sure, these are all great qualities, but it's a bit dated."
"Sales has changed a lot, especially over the last year. The qualities you need to get the most out of your team today are not the same as 10 years ago. They're not even the same as 1 year ago."
This is why B2B sales leaders need to be like chameleons. As the landscape of sales changes around you, you need to change with it. There's new technology, new team structures, new working environments, new priorities, and goals.
Today, you won't get far leading like J. Jonah Jameson.
With that in mind, Adam ran us through the most important qualities of a successful sales leader in 2021.
Here's what he had to say. 👇
The 6️⃣ qualities
It's worth noting that these qualities are in no particular order, and there's no one-size-fits-all approach to management. It's all about using your disposition and ability to learn to your advantage - and to the advantage of your team.
The importance you place on each quality is really up to you. It'll vary depending on the type of sales team you run.
Use the menu below to flick through each of them, or scroll on through 👇
Leading by example | Leading with empathy | Great at motivating | Great at hiring | Great at time management | Willingness to learn
1 - Leading by example
"This is, in my opinion, what separates the great leaders from the rest."
"Great leaders will get in the trenches with their people."
"I never liked managers who were all talk. A sales leader needs to be able to get on the phones with you when it's crunch time, and I make sure I do this."
"Becoming a better sales leader is always about taking the things you liked about your managers and emulating them. It's also about taking the things you didn't like and doing them differently."
"Not everyone has management experience, but everyone has experience of being managed."
"The managers who led me by example left the best impression. That's why I lead in the same way."
VP of Sales at Outreach, Mark Kosoglow, backs Adam up, explaining that you have to have a positive attitude, and your reps need to reflect that. 👆
2 - Leading with empathy
"I think this has recently emerged as one of the most important sales leadership qualities."
"More than ever it's important to really give a hoot." (Adam didn't really say hoot).
"You need to be aware of what makes your reps tick. You need to know whose families have been hit by covid, for example. You need to know which people in your team are struggling. You have to take the time to get to know your team and look after them."
"You need to lead with empathy."
"Ruling with an iron fist doesn't work. You'll get the best results from a team who trust and appreciate you."
3 - Great at motivating
"People used to motivate with 'the carrot and stick', but this doesn't work anymore. People see straight through it."
"You need to trust your team, this is the best way to motivate. That could mean offering good leadership opportunities, trusting them with important accounts, allowing them to cross-communicate with other divisions."
"Your team will be encouraged when they impress themselves. Your job as a leader is to try and put them in the right positions to do it."
"That's not to say you shouldn't offer incentives and other means of encouragement."
"Every deal that gets put up, every promotion, every milestone. Congratulate your team. Make sure they understand how their goals contribute to the wider company mission. When a sales rep understands their importance to the company, they will be that much more determined."
4 - Great at hiring
"A sales leader is only as good as his team."
"You will get the most out of your team when there is mutual trust. Don't just go through the motions in the interview, have a real conversation with the candidate! Ask the questions that matter most to you and your team day-to-day. Get a little personal and find out what drives their passions. How can this person help the team? Challenge me as a manager?"
"My favourite thing to discuss with a candidate is what they don't want from their next manager. It allows me to create a formula of success that works for that specific individual."
"Sales management isn't 'one size fits all'. It has to be custom-fitted to each person I hire. My sales reps deserve that from me."
"Hiring great sales reps also means understanding what makes a great sales rep. I look for a couple of key qualities."
Ability to convey their message
"I hire people who I know can speak and write well. The ability to convey your message is key, because your sales reps have to stand out from competitors who are cold calling your target audience."
Get a cold calling masterclass from Emily Liu below 👇
Coachability
"The best sales reps don't have to come from a sales background. They don't have to be a business major. I don't care where they worked before. What I need to see is motivation and a willingness to learn. Sales strategy can be taught."
"In sales, you can lose your best rep at any moment. If you can surround yourself with a great team, you'll always have the right person to step up."
If you'd like some more advice on hiring top sales reps, check out this article.
5 - Great at time management
"A manager can't get involved in every problem their team encounters. There aren't enough hours in the day. This is why time management and task prioritisation is so important."
"This begs the question: 'if I'm unable to put out every fire, how do we get past our problems?'"
"There's a mantra I love. 'Each one teaches one'."
Some teams have a mentor program, but we don't. When I hire an account executive, I'll introduce them to everyone on the team. I let them know that we all help each other out."
"Eventually you'll have a sales team who live by this mantra. It means that, over time, everyone will be self-sustainable and confident."
6 - Willingness to learn
"I know I mentioned the importance of this for sales reps. For managers, it's no different."
"There's no such thing as 'the final product' in any sales career. There's always room for improvement."
"If you're starting out a career as a sales leader, you have to be willing to learn. Every day I read blogs, I read books, I listen to podcasts."
"But this is the most important thing I've learned...
"You work for your team, they don't work for you.
"This is the single most important change in perspective a manager can have."
"Rather than telling your team 'I need you to do A,B and C, and you need to fall in line.' You should be saying 'These are our goals, let me know what I can do to help you get there.'
"If you can make this adjustment, you'll be on your way to becoming a much better sales leader."
🚀 Jump to: 🚀
The 6 qualities of a successful sales leader | 5 sales management pain points (and how to solve them) | How to help a struggling SDR
Why your salespeople aren't reaching their full potential
Not reaching your full potential in sales - does this mean failing? 🤔
No!
But it does mean that you need to be doing more if you want to succeed.
In order to understand why your salespeople aren't reaching their full potential, you need to assess why salespeople fail.
And the number one reason salespeople fail?
Simply not knowing.
Not knowing what "good" looks like, or not knowing what their sales career can offer.
Ben Riall, author of The pillars of an Elite sales career: How to build a six-figure sales career in tech, fills us in on how you, as a sales leader, can:
Build your team's awareness

Enable your salespeople to reach their full potential
Scroll through or use the menu below👇 to flick through Ben's insights on equipping your reps with everything they need to succeed.
What is sales potential and how is it measured? | Company or personal goals - what's more important? | 6 steps to reaching sales potential | Key takeaways
What is sales potential and how is it measured?
As you can imagine, defining sales potential and where salespeople are trying to get to is not one-size-fits-all.
But, it is safe to assume, particularly in the UK, that the goal of your sales reps is to break through the six-figure earnings market.
Ben explains:
"When your reps go into sales and they're committed to the career path, a lot of them want as much money as possible and to live a great lifestyle."

"When they look up to people who are already living a very affluent lifestyle, a lot of them continue to perform. So, at surface level, it really is quite binary and monetary driven for your reps."
But, beyond that - you need to delve into what your reps want to achieve in terms of career milestones.
Some of your reps will want to be sales leaders.
Some may have more of an entrepreneurial mindset and want to start their own businesses.
For others, it could be something completely random.
Whatever it is, their individual measure of success and the milestones they want to achieve will vary.
However, keeping these core ideas in mind is key to helping your reps achieve their potential.
So, how is this potential measured?
Well, you've got to consider the benchmark you're going to use yourself or the benchmark you're going to encourage your reps to use when measuring their success.
What does that look like?
Keep scrolling to find out 👇
Company or personal goals - what's more important?
There isn't an objective view of what potential in B2B sales looks like or how it's defined.
You've got to look at other ways in which you can measure your reps' success if you're going to get them to fulfil their potential.
Obviously, your reps need to be meeting target and booking a certain amount of meetings each month.
But, beyond this - should your reps be measuring their success against company benchmarks, external influences, or other goals?
"A lot of people might just follow the company because that's their world and their view and sometimes it's hard to look outside of that."

"However, the reps that get much further ahead use that as a mechanism to move their own agenda forward." - Ben Riall
Essentially, you've got to get your reps to combine the two.
What's the best way of doing this??
By creating their own agenda of what success looks like.
Get your reps to think about:
Hitting their monthly goals.

Getting those marks on their CV.

Whether there's a company ceiling they may need to break through.

Whether stepping into management is the next step for them - ensuring that they've assessed whether it's too early to step into this role.

Getting an idea of the bigger picture - networking outside of your organisation and doing their own research.

And most importantly, getting them to objectively assess whether they're stagnant in their growth.
Mark Kosoglow adds that copying how your best reps work and pasting it out into the team can help performance. 👆
Once you've got them focused on their goals, you'll be able to guide your reps along the path of reaching their full potential.
How do you do this?
It's good to set out steps for your reps to follow. Ben laid out the 6 steps below 👇
6 steps to reaching sales potential
It's one thing to get your reps to set themselves goals. It's another to be able to show them what their sales career path could look like.
And while you can't pave the way for them, you can explain the steps they can take to get there. Starting with:
1 - Assess
The first thing your reps need to do is assess.
"You've got to get your reps to ask themselves the following questions: how far could you go? How far do you want to go? And, is this even the right career for you?"
2 - Work backwards
Once they're committed to their SaaS sales career and climbing the ladder, you've got to get your reps to work backwards.
Get your reps to think of the end goal in the form of their ultimate job title. Then, they have to work backwards and see what roles they need to move into in order to get there.
"If your reps want to be a CRO one day, they've got to consistently be a top-performing enterprise AE. And, they need to show that they can lead and develop AEs, and also lead strategy."

"So, it's really about getting your reps to think about what the path ahead looks like and using the building blocks they need in order to move through them."
3 - Pace yourself and find your niche
Next up, your reps need to think about the pace at which they want to move through these building blocks.
In order to move through them at pace, your reps need to identify their niche and specialisation.
"Once they've established their specialism, they need to identify that specialism in a hot market, where investment is happening, and where innovation is taking place. If they're not focusing on these markets, there will be fewer sales opportunities, making it incredibly hard to move forward on their career path."

"Your reps need to understand that the faster they can get the velocity moving forwards with sales opportunities, the more experience they're going to get, the more they're going to make, etc."
4 - Become an expert
Once your reps have established where they put themselves in terms of their niche and specialisation, you've got to encourage them to really get into it.
Your reps need to understand the space they've placed themselves in and to become an expert in it.
Not only because this is what clients expect, it's also because having expertise in your sales field is how your reps will get ahead.
And, if they want to continue to get ahead, your reps must...
5 - Take training seriously
Your reps need to push through various layers of their sales career in order to get to where they want to be.
The importance of upping their game by improving their sales skills can't be stressed enough.
"Encourage your reps to take training seriously and develop their skills along the way. Your reps have got to be reading and developing their knowledge, constantly. And, most importantly, they're got to learn their role. Every role comes with a different set of skills that are required, your reps must know what they need to do, master this, and then move on."
6 - Identify a mentor
This is absolutely crucial to accelerating their career and reaching their full potential.
Your reps need to identify a mentor, even if that's not you, and learn as much as possible from them.
"They mustn't overthink this. Sometimes a mentor could be someone who helps a rep write an email - it doesn't always have to be someone who heads up sales or is in a high-level position. It could be anyone who can help them and offer advice."
Key takeaways
Although the path to sales success and the potential your reps can reach looks different for everyone, the most important things you've got to drill into your reps are:
Looking ahead of where they really want to get to - this is absolutely where they need to start.
Then, they've got to find their niche, but make sure it's in the right place with strong investment.
They've got to continuously develop their skills.
And, most importantly, never get comfortable - when they're comfortable and things are great, that's when they need to shake things up.
Getting your reps to navigate their career path in this way is incredibly important in enabling them to reach their full potential.
🚀 Jump to: 🚀
The 6 qualities of a successful sales leader | Why your salespeople aren't reaching their full potential | How to help a struggling SDR
5 sales management pain points (and how to solve them)
Managing a B2B sales team - we know it's a tough gig.
From people management to working with tech and making sure your team's hitting its targets, all sorts of things can happen to really frak up your day.
But you've got to keep a cool head. Every problem you encounter can be fixed. It's just a matter of knowing what the solution is.
We spoke with a bunch of SaaS sales leaders. They gave us some incredible feedback on the most common pain points they face and how they'd go about rectifying them.
Scroll through the menu and let Cognism take your pain away 👇
Your reps aren't speaking with the right customers | Your reps aren't connecting with prospects | Your team's email campaigns are underperforming | Sales and marketing aren't aligned | You don't have enough time!
1 - Your reps aren't speaking with the right customers
What's the number thing that outbound sales depends on?
You guessed it - customers!
But not just any customers. You need to find the right customers, the people who will get the most benefit out of using your solution.
Sales teams can waste days or even weeks searching for those people. It's a common pain point for managers - how to find more best-fit customers in less time.
Will Gay, Cognism's Senior Account Executive, says this should only take 5 minutes.
Impossible, you might think!
Not so - it's simply a case of equipping your team with effective tools to get them working as efficiently as possible.
Will explained:
"Cognism can gather thousands of contacts with emails and mobile numbers for your team in 5 minutes."
In B2B prospecting, time literally is money. Anything that will help your reps speed up the less glamorous tasks - allowing them to focus on more business-critical activities like calling, negotiating and closing - has got to be good.
With more time at their disposal, your reps will be empowered to reach out to more decision-makers, open up more opportunities and deliver more revenue for the company.
So the bottom line is - let tech take care of lead generation, and let your reps take care of the important stuff!
2 - Your reps aren't connecting with prospects
The pandemic has changed everything for salespeople.
Offices have been shuttered for well over a year. The decision-makers who'd normally be the first people at their desks in the morning are now working remotely.
It's harder than ever to reach people.
Catherine Gardner, Account Executive at Cognism, told us:
"A lot of sales teams are still wasting time calling switchboards. Mobiles are what your reps need to be calling!"

"The first thing you need to do, as a manager, is identify if this is happening, and how often. Identifying a pain point in your team is just like identifying a pain point for a prospect. Take a step back, ask open-ended questions and then provide solutions."
Catherine gave us a list of questions to ask your reps:
How often are you able to source a direct number?
Where are you sourcing your numbers?
How much of your time is wasted calling non-direct numbers?
What impact is not calling direct numbers having on your KPIs?
Catherine said:
"We want to home in on the manual labour and the time this takes. Time wasted adds up. Your reps need to be calling decision-makers directly to save time and get the pitch done right. Your chances of converting from a mobile are far higher than that of a switchboard."
Will Gay agreed:
"Since people moved to working from home, the average time to reach someone over an HQ phone is well over 20 minutes of dialling. Many businesses still don't have the ability to pass your rep through to the person they need to be talking to."

"On a mobile, those 20 minutes can turn into five. People increasingly need mobile phone numbers to reach their prospects or suffer the consequences of missed targets and low staff morale."
Key takeaways here are:
Find out if your team's calling the wrong numbers and how often.
Ensure your team's calling only mobile numbers, not switchboards.
Agree on new targets based on conversions from mobile conversations.
3 - Your team's email campaigns are underperforming
Two persistent pain points that sales teams face are low responses and conversions from email campaigns.
As a manager, how can you help your team overcome this?
Again, you have to dig into the root of the problem. Where are the blockers coming from?
Just like when you talk to a prospect on a cold call, you have to uncover the pain in your team by asking questions.
Catherine suggests asking the following:
Is it due to a lack of a new audience? Are your reps recycling the same contacts in their database every time?
Is it due to bad quality data? Are your reps sending their emails to obsolete or inaccurate addresses?
Is it a lack of contacts or a depleted database? Are your reps able to A/B test different messaging in their campaigns and learn from this?
What are their lead/MQL targets? Are they reaching them? If not, how close are they to reaching them? How realistic are those targets?
When sales emails underperform, it's usually down to one of two things:
Your reps are working with bad sales data; their messages aren't landing in the right inboxes.
The content of your reps' messages isn't right; either the emails aren't personalised or the pitch isn't relevant to the prospect.
The first problem is relatively easy to fix. Make sure the data in your CRM is fully up-to-date. If you need to, investigate an email list provider who can refresh your database automatically.
The second problem is more a question of education.
Why not start by watching this guide to crafting the perfect sales email, presented by Cognism's Enterprise Account Exec, Alex Shorthose? 👇
4 - Sales and marketing aren't aligned
Every sales manager worth a dime will know:
While B2B marketing and sales are separate teams working on separate projects, it's essential that they're aligned.
Why so?
Because it's a must if you want your team and your company to consistently surpass target. According to Review42, firms with aligned marketing and sales teams are 67% more efficient at closing deals.
Patrick Connolly, our Head of US Sales Development, said:
"You're going to have multiple departments involved in your success. If you want them to be invested, you've got to have their metrics aligned to those outcomes, especially between the sales and marketing teams."
As a sales leader, you can make sure the teams are aligned by:
Sharing results and aligning on goals each month.
Organising regular catch-ups between sales and marketing.
Sharing wins and new tactics between both teams.
Getting your team to make use of the materials (e.g.: blogs, whitepapers, one-pagers, videos) that marketing creates.
Getting your team to collaborate with marketing when creating cold calling scripts or email cadences.
Watch our Cold Calling Without A Net tutorial with Josh Braun 👇
5 - You don't have enough time!
Time management is a common problem for sales leaders, as Rachel Goldstone, SDR Manager at Cognism, identified:
"My number one challenge is time management. Especially when you're managing a large team - you have to set expectations and ensure that your team knows what needs to be prioritised."
Hugh Campbell, fellow SDR Manager at Cognism, agreed:
"It's definitely something I've struggled with. I manage 10 people and there are always going to be stronger and weaker performers. Everyone has their own problems and challenges."
How does Hugh prioritise?
"My solution is simply doing one thing at a time. Don't have too many plates spinning! Help one person, fix one problem, then move onto the next one. I also leave my stronger performers to it, to an extent, because what they do clearly works. This gives me the time to focus my attention on the weaker performers."
🚀 Jump to: 🚀
The 6 qualities of a successful sales leader | Why your salespeople aren't reaching their full potential | 5 sales management pain points (and how to solve them)
How to help a struggling SDR
Check out the infographic below to get SDRs out of a performance pickle and back on top 👇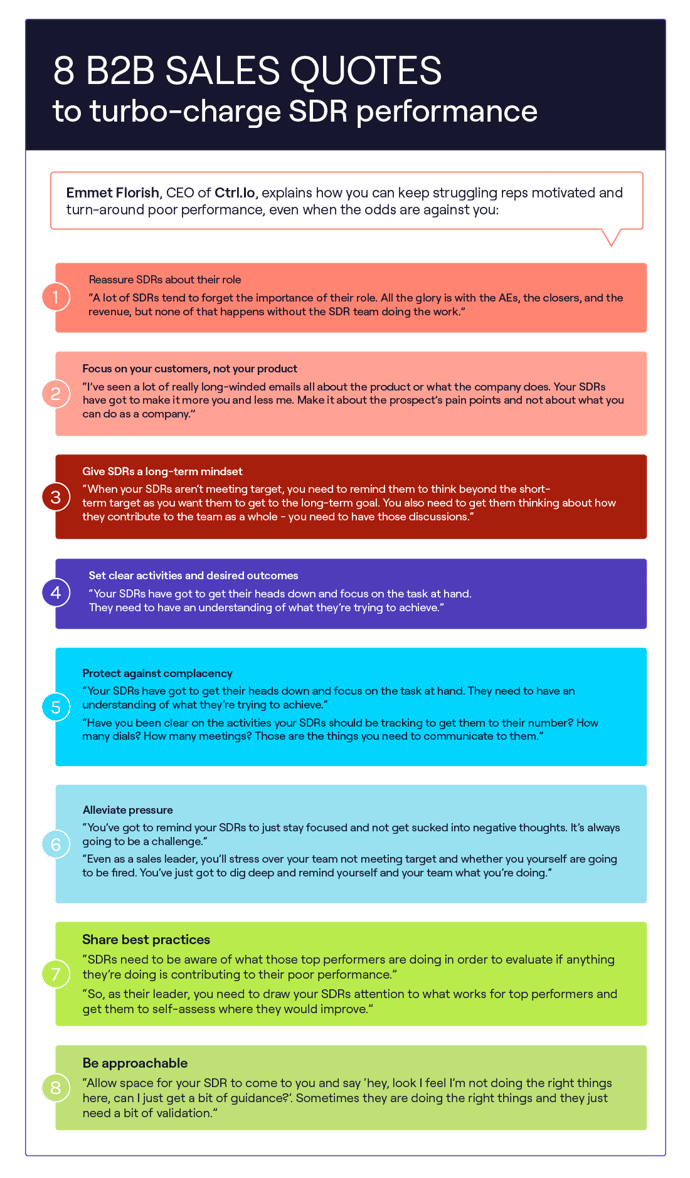 HIRING HACKS: CONTENTS
A sales leader's guide to hiring exceptional SDRs | 3 avoidable mistakes sales leaders make while ramping SDRs
A sales leader's guide to hiring exceptional SDRs
Jon Ilett is the Head of Global Sales at Cognism.
He recently wrote a post on LinkedIn comparing hiring calls with sales calls, which we loved.
If you haven't seen it, take a look! 👇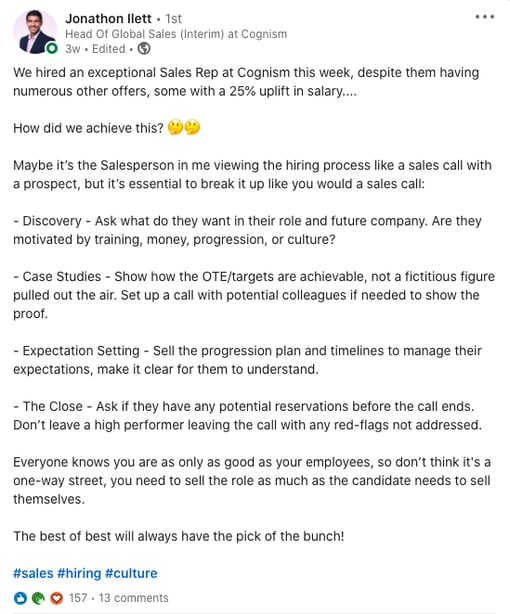 Jon's experience moving from SDR to Head of Global Sales has given him a deep understanding of every element of the B2B sales process.
We wanted to dig a little deeper into Jon's post, so we asked him some questions about the 4 main topics he covered:
Discovery | Case studies | Expectation setting | The close
Either use the menu above to flick through ☝️ or scroll down to see his answers👇
1 - Discovery
Jon's first idea was bringing the art of sales discovery to a job interview. We asked him more about this.
Which motivations are you looking for in a candidate?
"I like competition. I want someone to be competitive, but competitive with themself. Top performers usually say they set their own benchmark and goals. That's a great indicator for me."
"Money is another important one. If people are pushing themselves to achieve a goal, like buying a house, it means they'll have that extra drive when things aren't going their way. These motivations tend to be more common with people on their second jobs, rather than graduates."
"It's important to differentiate between people who just want money, and people who have a money-dependent goal. If they're just after money, they're likely to burn out faster."
"As a sales leader hiring a new team member, it's good to treat the early part of the interview like the discovery phase of a cold call. You need to find out what's really driving the candidate. Ask them - what do they want in their role and future career? Are they motivated by training, money, progression or culture?"
"Focusing on this means you'll quickly find out if the candidate is a good fit for your company or not."
Check out Cognism's Inside Sales Director, David Bentham, giving his take on how good hiring helps to plug gaps in your own skill set 👆
Are there any particular attributes you're looking for in a new hire?
"Different people have different preferences, but I'm looking for resilience. Often you'll find this in people who've had a bit of a knockback and they've had to knuckle down. That makes a big difference."
"High performance is another thing I'm looking for, and this doesn't have to be in sales. I know someone called Ben Smith who was an incredible ice skater. He went on to become a really high-performing sales rep at Reachdesk. Excellence in any field usually translates well in sales."
We asked Ben Smith how his experience as a professional ice skater has helped him in sales.
"Coming from a sporting background has taught me to juggle many plates at once. From balancing school, skating and other activities, you quickly learn how to prioritise and realise what's most important."

"I also think my athletic background has given me a good understanding of how I learn. This has given me the skills to persevere and look forward to the wins. This is something we do every day in sales."
What level of experience are you looking for?
"We've actually recently pivoted. We're looking mostly at second jobbers now because they'll already know what a sales job entails. This comes with a bit of extra cost, but you'll find great people."
"When we are evaluating graduates, we're looking for high performance, determination, and most importantly, an understanding of the role. If people are after the perks without understanding the hard graft of prospecting, they might not succeed."
2 - Case studies
Jon's second idea was providing the SDR candidate with real-world data, like on a case study, and showing them how their targets can be achieved. We asked him how this worked in practice.
How important is it that you sell the role, as well as assessing the applicant?
"It's massively important. If you're talking to a good candidate who came through a recruitment agency, they're probably talking to 5 or 6 other high-growth companies. You need to sell the potential of the role to them."
"It's hard to find high-performing outbound sales reps, and the best ones will be carefully evaluating their options. You have to stand out as much as they do."
Targets are vital for SDRs. What's the best method for showing a candidate how their targets can be met?
"You have to show them that the targets are achievable, not a fictitious figure pulled out of the air."
"One thing that's worked for me in the past is setting up calls with potential colleagues; they can talk through the targets and provide the candidate with that proof."
How do you make sure the targets you set are realistic?
"We use metrics. For our Account Executives, we look at the maximum number of demos they can do per week, the average close rate and factor in the average contract value. This then gives them a target based on maths."
"We then make sure we have enough heads in the team to meet overall revenue target, and this highlights potential opportunities for more positions which are communicated to the team."
"It's not a random number plucked out of the air, it's based on maths. If a sales team can see exactly how their targets are decided, they'll buy into them too."
3 - Expectation setting
Just as on a cold call or sales demo with a prospect, when interviewing for a new hire, it's important to manage the candidate's expectations. Especially around topics such as promotion and progression. Jon gave us his thoughts about this.
If you're not managing expectations during the hiring process, can you run into problems later on?
"If you don't set expectations around promotions, people might expect to get them within 2 months, which is unrealistic. My advice would be to set expectations with the candidate during the interview. It can save you a lot of problems later on."
"This is especially the case at a growing company. If new starters look at the more experienced sales reps in closing roles, they'll want to emulate their progression and have those expectations if not addressed. But the company is most likely in a different place now to when that rep originally started. That speed of progression might not be possible and its important to make sure they aligned."
"So what should the interviewer do? Sell the progression plan and timelines to the candidate. Make it clear for them to understand. It's the hirer's job to make sure there's no misalignment here."
As a company that has a track record of promoting high performers, does this part of the call usually go pretty well?
"It usually goes really well! If you can see the ladder and see how other people are progressing, it can be a massive source of encouragement."
"I try to get the sales managers on the call here to help with this. They can provide examples from their team and paint a realistic picture of the candidate's expected progression."
4 - The close
The best salespeople know not to end a cold call without handling every one of the prospect's objections. The same is true for sales interviews. Jon explained how he brings that closing mentality to SDR hiring.
Why is it important to cover everything before the end of the call? Why not follow up with an email?
"If someone leaves a call with concerns, they'll amplify over time. They're going to speak to their friends and draw their own conclusions. It's like selling, you want to address reservations so people leave the call with 100% clarity."

"Ask the candidate if they have any potential reservations before the call ends. Don't let a high performer leave the call with any red-flags unaddressed."
Do you address your own red flags too?
"We do. It actually looks really good when candidates ask if we have any reservations about their interview. We try to be open with them, because most of them are on their first or second job, and they really want the feedback."
"There's one person in our sales team who we gave some critical feedback to and they didn't get the role. They came back another time, having worked on those points, and they got the job."
This person is Sam Gibbons, he's now a Sales Team Lead at Cognism. We asked him about his interview process.
"Though I was frustrated with the outcome of the first interview, the feedback told me exactly what I needed to work on. Polishing off these areas not only helped me land the job with Cognism, it made me a better candidate. This could've helped me apply for other roles."
Hiring companies owe feedback to their candidates. It's tough to find sales jobs at the moment, and a bit of advice can go a long way.
🚀 Jump to: 🚀
A sales leader's guide to hiring exceptional SDRs
3 avoidable mistakes sales leaders make while ramping SDRs
Reps ramping slower than a sloth swimming through treacle?
Then there's a chance you're falling into a few onboarding traps without even knowing it.
The good news is, we've spoken to Patrick Connolly, Cognism's Head of US Sales Development, who's listed the top 3 you need to know about and avoid in this blog.
We've also got a cheat sheet that'll help you firm up your SDR training program and get your reps smashing target month in month out. Download it here.
We recently used this formula to update our own training processes, saving our sales leaders time while improving reps' competencies faster.
Scroll or use the menu below👇 to flick through Patrick's insights.
Mistake 1: Holding SDRs off the phones | Mistake 2: Having a one-dimensional training approach | Mistake 3: Failing to test SDRs' knowledge
Mistake 1: Holding SDRs off the phones
SDRs learn by doing. By feeling the pain of a no-show. By using their dashboards on real calls. By encountering objections.
Not by spending two weeks learning passively about product, tech, competitors, and all the rest.
That's why it's crucial reps are thrown in the deep end and get on the phones as early as possible.
In a SalesHacker thread focusing on how Learning Management Systems (LMS) can help upskill SDRs, Joseph Angeletti emphasizes this:
"Salespeople want to be selling. Even if they're in need of improvement. Make sure whatever approach you're taking is extremely experiential. In other words, a short program with a discreet objective tied to it, followed by an immediate action item that puts this knowledge into use THE SAME DAY."
Gamifying the process can also help, as Drew Coryer mentions:
"Most salespeople are naturally competitive and playing to that quality has worked for me in the past. Some things to think about trying are scavenger hunts; a contest where they use the technique they just learned about, or group sessions, where they work together to use what they just learned."
Regardless of the approach you land on, getting reps on the phones on day 3-4 of their onboarding process is crucial.
When combined with a diverse learning program, this hands-on experience will seriously reduce SDR ramp time.
Mistake 2: Having a one-dimensional training approach
Some reps are visual learners. Some are audio learners. Some are tactile learners. The list goes on.
So what sense does it make to take a one-size-fits-all approach to training them?
Instead, you need a multi-threaded program that includes all these things. Because any training approach that focuses too heavily on one of these elements will bore the hell out of your reps. And that'll make it difficult for them to ramp quickly.
Whereas with a steady diet of learning, reps can clock face time with sales leaders while also working independently. Equally, sales leaders can provide meaningful feedback to reps without half of their weekly calendar being blocked out for training.
Mistake 3: Failing to test SDRs' knowledge
Assuming knowledge is dangerous.
Because without checks and balances in your training program, you can't guarantee your reps know what they say they do.
That's what makes certification so important in SDR training. To implement it effectively, you need to determine exactly what you need your reps to know and then create tests with pass/fail thresholds.
With many reps coming straight out of college and into your business, covering the basics and instilling best practices from the beginning will help hold reps accountable in the long run.
To ensure buy-in from reps themselves, David Fox says:
"Allow your SDRs to role play key touchpoints in your sales process, including the elevator pitch, value prop, discovery, problem solving, and objection handling [...] then share the best examples across the organization. Seeing top-performing reps in action can go a long way to up-level middle-of-the-pack SDRs, as they see the value in the investment and are more motivated to engage in their learning programs."
Outreach's Sales Development Manager, Molly Grossman, adds how overly high targets can hinder reps. 👆
TECH STACK TIPS: CONTENTS
15 awesome B2B sales tools
Check out our two-part infographic below to discover B2B sales tools Cognism vouches for 👇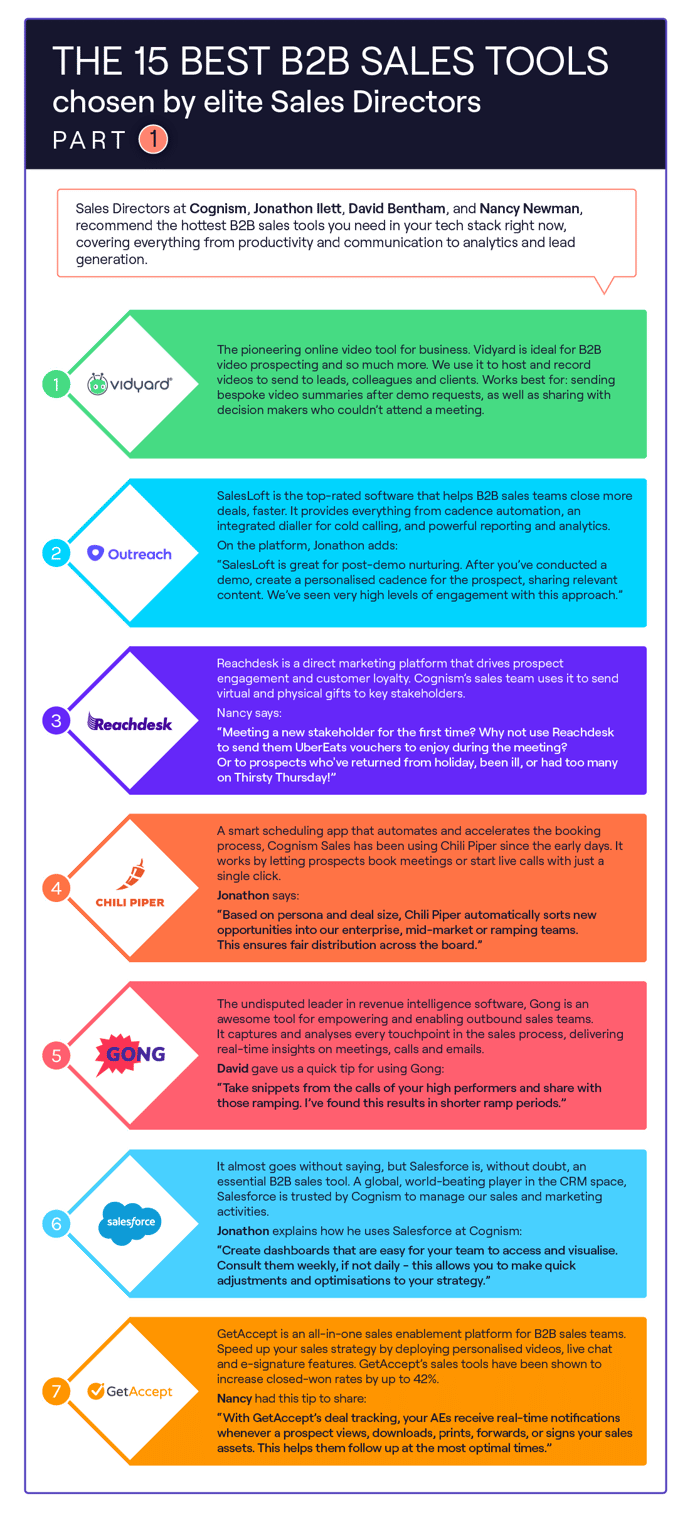 Keep scrolling for part 2 👇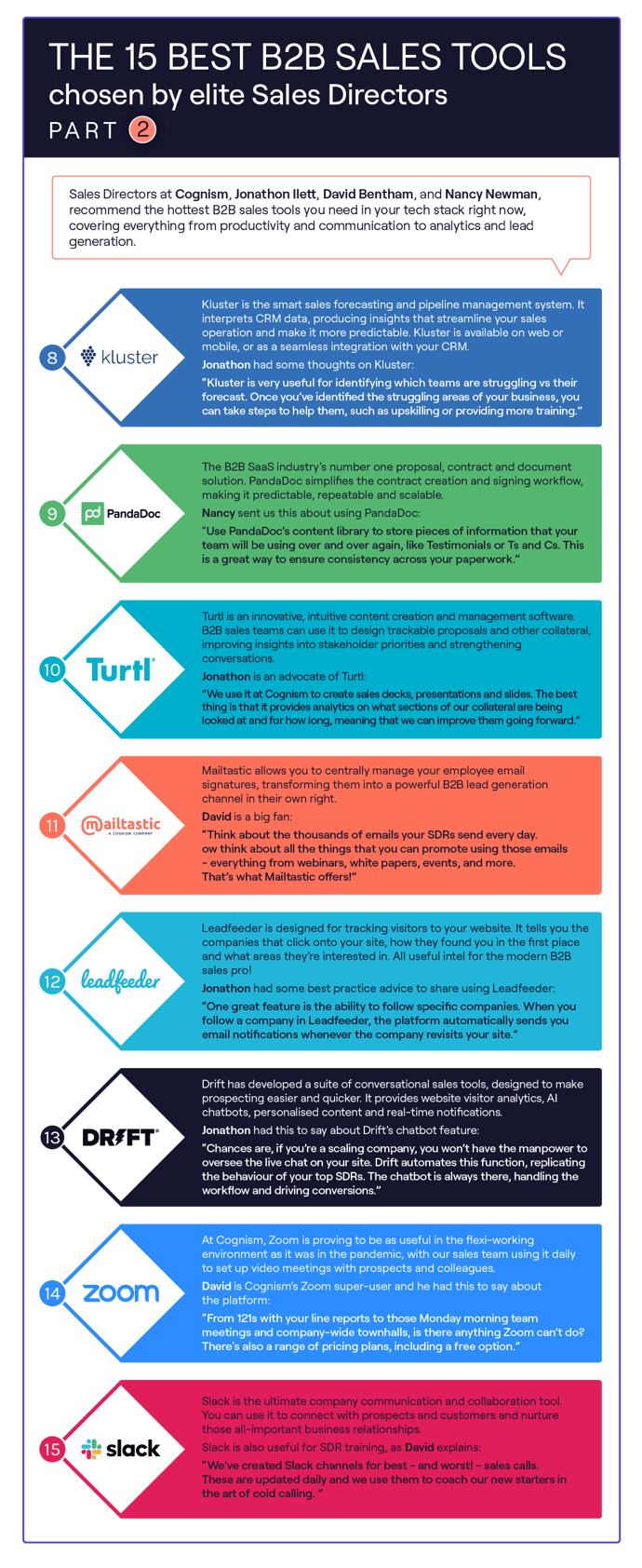 ACTIONABLE RESOURCES: CONTENTS
Cold calling masterclass | Cold calling without a net w/Josh Braun | 10-step SDR training checklist | How to ramp SDRs quickly and effectively webinar | Unlocking SDR potential podcast
How Cognism enables enterprise sales
Cognism is a leader in international sales intelligence, setting a new standard for data quality and compliance, trusted by 1000+ revenue teams worldwide.
Cognism helps businesses find, engage and close their dream prospects by providing premium company and contact information, including:
Firmographics
Technographics
Sales trigger events
Intent data
Verified business emails
Phone-ready mobile numbers.
Next-level GDPR & CCPA compliance, combined with innovative technology and integrations with leading CRM and sales engagement partners, make Cognism the number 1 choice for businesses looking to create a predictable pipeline, find their next best business opportunity, and overcome global compliance barriers.
Hit the button below to schedule a test drive today 👇

Find out how Cognism can change the way you do sales.
Start your journey.