10 B2B Marketing Metrics & KPIs to Measure and Improve
Marketers, it's time to get revenue-focused!
Starting with clearly defining your marketing goals for the year and tracking their performance. Tracking your B2B marketing metrics and KPIs helps you measure your campaign success and become a better, data-driven marketer.
But which metrics do you really need to track? Marketing is, after all, very broad, involving many interconnected disciplines and functions - from content marketing to B2B lead generation.
That's what we'll explain in this guide, as well as the basics of B2B marketing KPIs and metrics, the 10 B2B marketing metrics that matter, and examples and tools proven to help drive more revenue.
To get started, scroll 👇 or click one of the following headings to head directly there:
What are B2B marketing metrics? | What's the difference between KPIs and metrics in marketing? | Why are marketing KPIs and metrics important to track? | 10 key marketing metrics | Examples of marketing metrics | Download your marketing KPI template
What are B2B marketing metrics?
Marketing metrics are what B2B marketers use to monitor, record, and measure performance. The numbers are not set and will need to be monitored closely throughout to truly gauge how successful a marketing campaign is and whether or not any changes will need to be made.
What's the difference between KPIs & metrics in marketing?
You say tomato. I say tomato. It's the same thing when it comes to B2B marketing metrics and key performance indicators, with one small difference:
Marketing campaign metrics measure progress toward specific goals and tell you the overall health of a campaign.
Performance marketing KPIs help you decide and set objectives or goals for the future.
Thus, KPIs and metrics are accurate performance measures in B2B marketing.
Why are marketing KPIs and metrics important to track?
B2B marketing metrics are important to track because they help measure marketing success.

Of course, that's not the only reason why you should measure them. KPI marketing metrics also provide insights to better plan for future campaigns.
A Google/MIT, Technology Review Insights study found that 89% of leading marketers use performance metrics to measure the effectiveness of their campaigns.
Here's why:
Marketing data

supports informed decision making
Knowing which

lead sources

provide the highest ROI
Allocating marketing spend toward the most successful channels
Increasing lead conversions and helping shorten the sales cycle
You can get a better idea of what works for your ICP and what doesn't
Experimentation helps your team and company grow
It assists you in getting ahead of your competitors
Not only do you save money, but it increases revenue too!
B2B marketing metrics and KPIs help marketers measure results and showcase the impact that B2B marketing is making for their company in a way stakeholders will appreciate.

But, to reap these benefits, you need to consider the main goal of each campaign. Ask yourself:
What action do we want our customers to take?
How can we get them to take that action faster?
Once you know how and why you've developed each piece of marketing content, you'll need to decide what metrics to measure.

This will likely all boil down to your team's efficiency and revenue.
10 key marketing metrics and KPIs that will impress your CEO
If you want to impress your CEO and drive revenue growth, there are ten key marketing metrics to include in your SaaS marketing strategy. Here they are:
1. Marketing Qualified Leads (MQLs)
These are targeted leads who have shown interest in a B2B company's product or service based on marketing efforts. They generally fit your ICP and can be worked into your pipeline.
It's always a good idea to qualify your leads before handing them over to your outbound sales team and out of the marketing funnel.
This will ensure the sales funnel metrics further down don't start to show poor-quality leads.
What's more, working out your Cost per MQL can help you plan for similar B2B marketing campaigns in the future.
You can work it out with this formula:
Cost per MQL = Cost Per Lead (CPL) / marketing spend for total number of new leads.
2. Sales Qualified Opportunities (SQOs)
This is a marketing success metric you want to watch closely because your sales team has qualified them as highly likely to become a customer.
They are strongly indicative of incoming revenue while also telling you which of your campaigns are performing well.
You'll want to look at your Cost per SQOs to determine the success of your digital marketing campaigns.
Your cost per Sales Qualified Opportunity is measured in a similar way as your cost per MQL:
Cost per SQO = Cost Per Lead (CPL) / marketing spend for total number of new opportunities.
Expanding on this, Global Head of Demand Generation at Cognism, Liam Bartholomew, says:
"An SQO is a sales rep, saying, "I think this could close," and you want to be generating as many of those as possible. It's important to note that all SQOs are not the same. Although indicative of a successful campaign, your incoming revenue is the most honest indicator of campaign success."
3. Web traffic
Website traffic is a good success metric, as the results will tell you whether or not your campaigns and SEO lead generation are working for your desired locations.
You can measure and monitor traffic via a tool like Google Analytics. Just be sure to look at specific lead sources, such as an organic keyword or a targeted ABM campaign, for the most accurate results.
4. Leads in
A sales SQL is a buyer who has shown interest in your product or service and has the potential to become a future customer.
When you measure the number of leads in, you're specifically looking at the number of leads you received per campaign.
It's the ultimate paid marketing metric. Because if one ad has more expensive clicks or gets fewer clicks but seems to be converting better than others, that's the marketing KPI you should go with.
When looking at leads in, you can calculate your lead cost with this formula:
Cost per Lead (CPL) = total marketing spend / total number of new leads
Your marketing should include everything your budget is used for, including your demand generation ads for LinkedIn, Facebook, and Google. Watch the video 👇 to learn more about paid internet marketing metrics.
5. Closed-won deals
Closed-won deals or opportunities are valuable marketing ROI benchmarks as these are contracts that sales leads have signed, committing them as customers. This is a good ABM metric for your account based marketing strategies.
Liam advises:
"You want to be looking at the closed-won number and what is an acceptable customer acquisition cost for your business or product to truly determine campaign success. MMR is individually important too. You want to optimise your campaign to churn out the biggest deals possible, not just deals themselves."
6. Monthly recurring revenue (MRR)
As mentioned above, MRR is another B2B marketing metric that can help you determine a campaign's success.
Monthly recurring revenue is a business term that means revenue generated from all recurring deals and is considered predictable. Calculating your MRR is as easy as follows:
MRR = monthly recurring revenue generated by that month's customers
7. Cost per acquisition
Also known as cost per conversion, your CAC tells you how efficient your B2B sales and marketing teams are.
You can work out this marketing metric with the following formula:
CAC = marketing spend / number of new customers who came from that campaign.
Chief Marketing Officer at Cognism, Alice de Courcy, adds:
"When reporting to the board, the revenue-focused marketer is also going to be looking to report on CAC - this is the customer acquisition cost. Break down your CAC across your 'channels'. For Cognism, those are inbound, paid and content. This enables you to see which channels are more efficient and scaling better."
8. Average deal size
Similar to MRR is your average deal size.
It is the total revenue your business has received during a set period of time.
Your MRR plays a key role in sales forecasting, budget allocations, and improving campaign performance.
You can work out your average deal size with this formula:
Average deal size = total revenue achieved in a set period / closed-won opportunities for that same period.
9. Average sales cycle
Another key marketing metric is the average time it takes your team to convert a potential customer.
You can distinguish how long each campaign takes to convert and how to optimize for a faster and more streamlined SaaS sales cycle.
Use the following formula to calculate your average sales cycle:
Average sales cycle = total number of days from first touch to closing / total deals won.
10. Lead to Close Conversion Rate (CVR)
Your CVR tells you how successful a marketing campaign is as it calculates the number of leads who become customers.
This marketing success KIP can link back to your historical data. For greater accuracy, look back at your sales goals at the same time the previous year to see the percentage of leads that were converted. An easy formula for working out your CVR is:
CVR = number of sales for a set period/leads generated over the same time.
Your marketing campaign metrics work hand-in-hand with your revenue-focused metrics, so you'll want to be optimizing these at all times. Press ▶️ to learn more about the key metrics to track in B2B campaign marketing.

Examples of marketing metrics and KPIs
Now to see these B2B marketing metrics in action!
We've created a list of marketing KPI examples to explain how you can track the following:
Leads in
Cost per Lead (CPL)
Cost per Click (CPC)
Click through Rate (CTR)
Conversion rate
When you're tracking marketing performance metrics, it's important to monitor these across all your channels.
Here are a few KPI examples for marketing that the Cognism team uses to track paid social campaign metrics:
LinkedIn marketing metrics

Tracking your leads on LinkedIn can be made easier with a scheduling tool that includes a reporting function, like Agorapulse.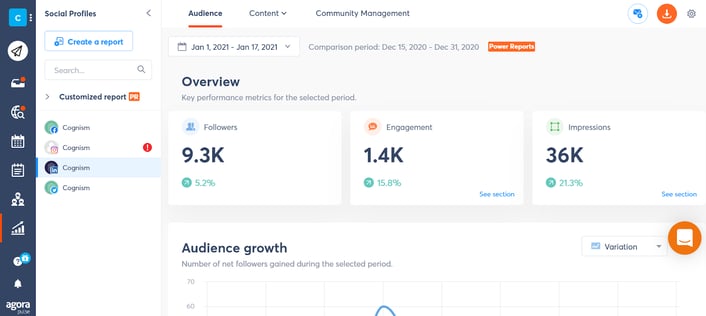 This way, you're not only looking at your paid campaigns but at how your organic engagement has impacted your metrics too.
Google Ads
While tracking your paid metrics via Google Ads can be an effective way to measure the success of your marketing, you'll want to look at your SEO strategy for organic results as well.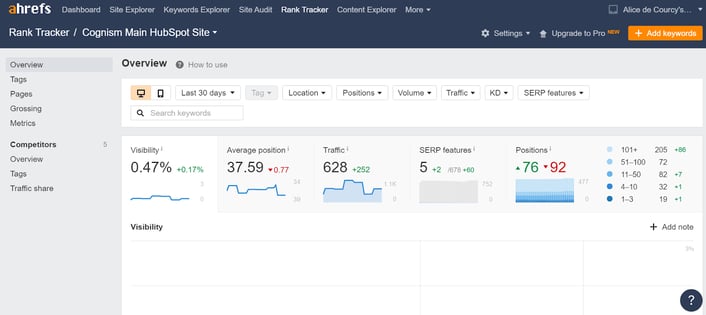 Facebook Ads
Your Facebook ads work in much the same way as your LinkedIn Ads and can also benefit from a tool like Agorapulse.

However, there are many metrics attribution software can't track, which can heavily impact your marketing data, such as dark social.

There are four ways to measure dark social:
Sticky share buttons - check that the follow buttons on your website can be differentiated from your share buttons. You can use a tool like Sharethis, which creates inline or sticky share buttons so you can track shares via email, messenger, or over text and measure them through your attribution software.

Shortened links - you can add a tracking code or UTM to your link, but be sure to hide it with a link shortener like

Bitly

or

Ow.ly

. Then you can track shares for a more accurate analysis.
Google Analytics - add a

dark social segment

to Google Analytics to find out what percentage of traffic is attributed to the wrong source.
Ask your customers - add a 'where did you hear about us?' question to your demo forms or thank you page to find out exactly where they heard about you, or just give them a call.
Content metrics are just as beneficial to the overall influx of marketing revenue. Don't neglect to measure these key marketing KPIs and metrics:

Template for marketing KPIs
We understand there are a lot of KPI marketing metrics to measure! But don't let that overwhelm you. We've created this easy template for you to download and keep on hand. Simply right-click to save it to your desktop.

Most importantly, don't forget that you can never measure too many metrics. Work out which ones fit your goals. Those will be the best marketing metrics to track for your business.

Better data means better marketing
In today's economy, tracking marketing metrics doesn't have to be complicated.

There's no need to comb through your data, search for each interaction and capture them on an Excel sheet.
To be a truly data-driven marketer, you need to take advantage of the latest marketing tech.

And one place to start would be investing in a good tool for accessing fresh, compliant marketing data.

And Cognism is that tool. It can help you:
Build ideal-fit, full-blown audiences enriched with business emails, mobile numbers, and social handles in seconds.
Match your existing data against Cognism's database to identify, refresh and enhance outdated data points.
Boost conversion rates and engage imminent purchasers even if they never made it to your website or filled in a form.
Click 👇 to reach your marketing goals even faster.