ABM: what you need to track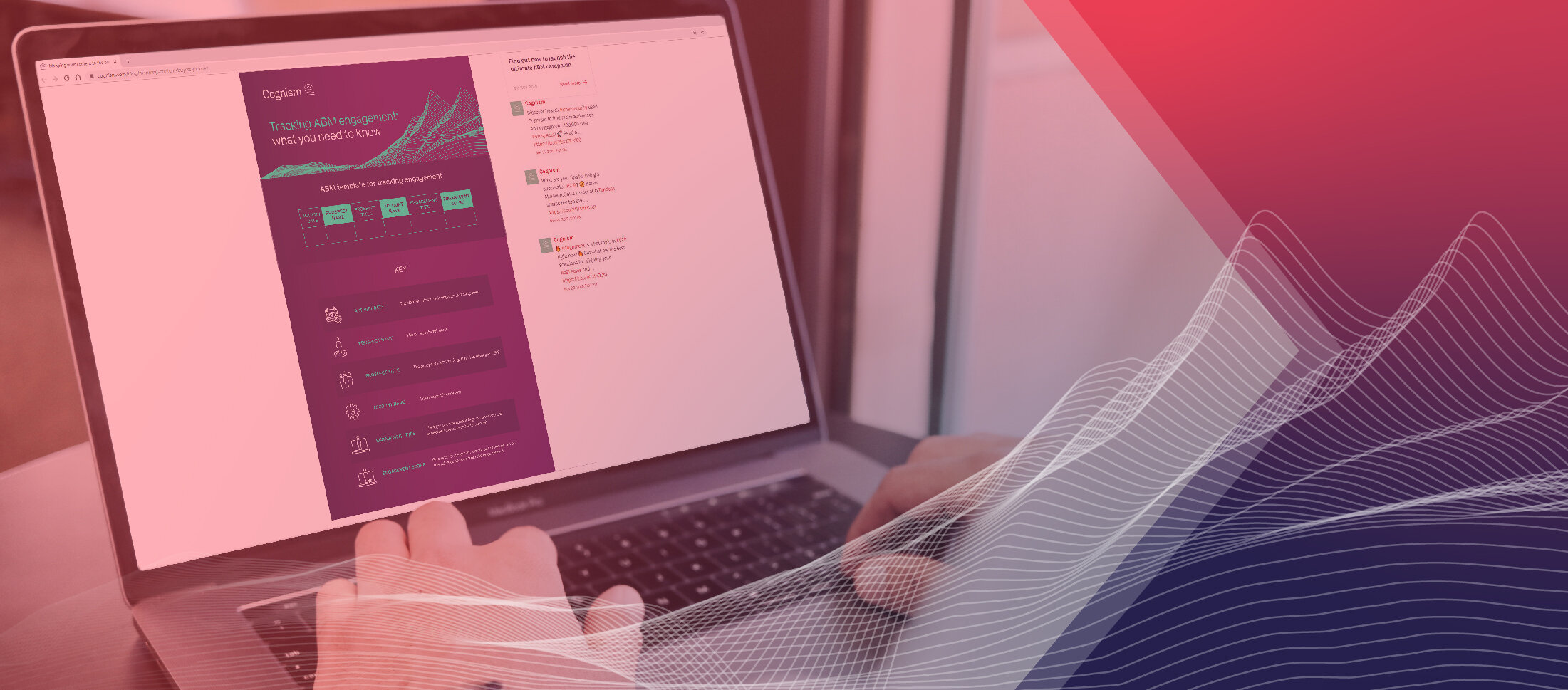 ABM is booming in B2B right now. Why? Because it works.
AMB, also known as account based selling, requires preparations, such as forging alignment between your B2B sales and marketing departments and creating personalised content, to find success. It's also essential that you monitor your metrics, so you can see what's working and what isn't, iterating and testing to improve.
However, with your CRM and other marketing software solutions producing so many different forms of data, how do you know which ones to focus on? We've identified three metrics you must track for each stage of the ABM funnel.
Top of funnel
At the start of the ABM process, you need to make sure you are engaging with the right people in an effective way. Here are the metrics you need to track:
Number of contacts at target accounts: How many people at your target accounts are you hitting with content? Do you have contact details for everyone who can influence a purchase? If there are blanks in your database, ensure they are filled.
Social media engagement: How many of your target contacts are interacting with your content on social media? If you are using paid social ads, how many of your target contacts are seeing them?
Website visits: Bringing your target contacts to your own platform is the next step on the journey through the funnel. How many visits is your website getting from your target accounts?
Mid-funnel
In the middle of the ABM funnel, it becomes less about reach and more about quality engagement. Here are the metrics that track how well your content resonates with your target contacts:
Engagement time: How much time are your contacts spending on your site? How many pages do they visit per session? Do they watch your videos through to the end?
Key page views: Some pages on your site are more important than others when it comes to gauging interest. What are the page views from your target contacts on your pricing pages or contact pages, for example?
Form completions: How many of your target contacts are voluntarily giving up their personal information to receive more content from you, such as downloadable eBooks or videos?
Bottom of the funnel
If the top and middle of the ABM funnel are about warming your target contacts up, the bottom is where you start the business of selling. Here are the B2B marketing KPIs you need to look at:
Sales team contact: How many of your target prospects have actively called the sales team to schedule a meeting or product demo?
Win rate: When it's time to close the deal, how many of your target accounts become customers?
Average deal size: To justify the time, effort and expense of ABM, your deal size has to be higher than it was before you started ABM. What value is ABM providing to your organisation?
Post-sale
Of course, ABM doesn't stop once you have closed your first deal with your target account. In fact, it's just the beginning. The strong relationship you have built as you move your target through the funnel should help you turn your customer into a raving fan. Keep your eye on these metrics to make sure:
Upsells: How much revenue have you made selling other products to your ABM accounts?
Referrals: How many new customers have your ABM accounts referred to you?
Churn: On the other hand, how many of your target customers do not renew with you, once their initial purchase has expired?
Start your ABM journey today
These data driven marketing metrics will show you in real-time where you can refine the process. For example, if your target contacts are not clicking through to your website after receiving personalised content, maybe you need a stronger call to action?
When you monitor these metrics, ABM becomes a continuously improving process. Let the B2B data drive you in the right direction.
Cognism Prospector was built for account-based marketing. With it, you can:
Create personas of your ideal customers and find others just like them
Gain an accurate list of decision-makers in your target accounts
Engage and follow-up with them through automated email sequences and outbound calls
Interested? Then book your demo with us today!