How to build cold call lists
Even in the age of email, video and social media, there is power in a cold call.
A well-executed cold call at the right time can be extraordinarily effective. Cold calls let you get your message across quickly, with a human touch you don't get with other communication tools. It's no surprise that some of the world's most successful B2B sales teams were built on cold calls and still employ the technique today.
The problem with cold calls is that it's also easy to get it wrong. One of the areas where many companies slip up is not getting effective cold call lists. If your team doesn't have accurate contact data, how will they ever get through to the right people?
In this article, we're going to dive deep into cold call lists - what they are, why you need them and how to build them.
Scroll 👇 for some top insights from Cognism, the world's leading B2B prospecting solution. Alternatively, use the menu below to navigate around this page.
Why does your team need cold call lists? | What data should cold call lists contain? | What are the steps for building cold call lists? | How technology helps you build cold call lists | Cognism's cold calling handbook | Book your demo with Cognism
Why does your team need cold call lists?
A cold call list is nothing more than a list of people you are going to cold call, with their contact details and extra relevant information if necessary.
When you have an excellent cold call list, your outbound sales team (normally your SDRs or BDRs) can simply work their way through the list, moving a decent proportion to the next stage of your sales process.
Having a high-quality list brings many benefits to your sales team, especially compared to the alternative of letting your team do their own research and calling whoever they feel like at the time.
Here are the benefits that we've identified:
Cold call lists save time – the hard work of digging up contact details is done for you.
A well-targeted list maximises your chances of success.
Lists help salespeople create momentum. They can progress through the list quickly, improving their technique as they go.
If your list is well-targeted, you can compose a

cold call script

that is likely to hit home with everyone on it.
You can revisit your list and refresh the data to make sure it's always up-to-date.
What data should cold call lists contain?
How much data will be on your call list is up to you, but the minimum information you need is:
Name.
Job Title.
Company.
Phone number -

direct dials

are best.
It's often useful to have their email address and LinkedIn details as well, if you have no luck getting through on the phone.
The more you know about your lead before you call them, the more likely you'll make a connection. You'll find it easier to address what you say to the prospect's personal situation.
If you can get it, perhaps the most useful information you can have on a call list is up-to-date information relating to events surrounding the prospect and their company. We call them sales triggers because they show you when a company is more likely to be interested in what you're selling.
For example - if the prospect has just been promoted, they may be looking to make a mark with a new purchase. Another useful sales trigger is if the company has just received a new round of funding; this shows that they have an influx of new budget available and may be looking to spend.
What are the steps for building cold call lists?
The most effective cold call lists are full of the names of people who have a problem which only your product can solve. These people are more likely to be receptive to what you have to say.
As a result, your list probably won't have thousands of names on it, but the ones on there will be well-targeted and a good fit for your sales pitch.
A great place to start is by developing your Ideal Customer Profile (ICP). When you have a clear picture of the kind of person you want to target, it's much easier to go out and find them. Here's how you develop your ICP:
Analyse your existing customer base and look for common features between your highest-spending users.
Look at the industries they operate in. Consider company size, locations, job titles. If you excel at selling to one category of company, you can find others that fit into that category.
Talk to your best customers about the challenges they face and how your product helps to resolve them.
Once you have a picture of your dream customer, you can start to search for others just like them.

How technology helps you build cold call lists
1 - LinkedIn
One way of building your list is by using LinkedIn. LinkedIn is an excellent tool because it holds the personal details of over 700+ million users in more than 200 countries. What's more, all this information is given voluntarily and is mostly up-to-date.
You can use LinkedIn's filters to search by job title, location, company sector and much more. Then, use what you find to create a list of prospects to cold call.
The problem with this lead generation approach is that it's time-consuming and laborious. Plus, you probably won't be able to get your prospect's personal phone number from LinkedIn. You'll have to phone the company switchboard and try and reach them that way.
2 - Cognism Prospector
The best approach is to use lead generation software like Cognism Prospector. Cognism holds up-to-date B2B data on more than 400 million profiles. Our all-in-one platform supplies direct dial phone numbers, mobile numbers and email addresses, which are all invaluable when you're compiling a cold call list.
Cognism tracks 16 data points on each profile to ensure it's 100% accurate at all times. It also tracks public domain information, such as the financial press, to help you discover sales triggers. This means you can make that cold call at the exact time your prospect wants to hear from you.
Using the Prospector software, you can filter this data in any way you choose, enabling you to create cold call lists that will power your sales strategy. And there's no need to worry about data compliance, either - Cognism's database is fully and globally compliant.
For example, if you're looking for Heads of Marketing in London, operating in the tech sector at a company of over 500 employees, with Cognism you can get a cold calling list where everyone on it meets that criteria.
Then, it's up to you and your team to get calling!
Cognism's cold calling playbook
Breathe new life into your cold calling process with Cognism's playbook, updated for 2022! Click 👇 to download a copy.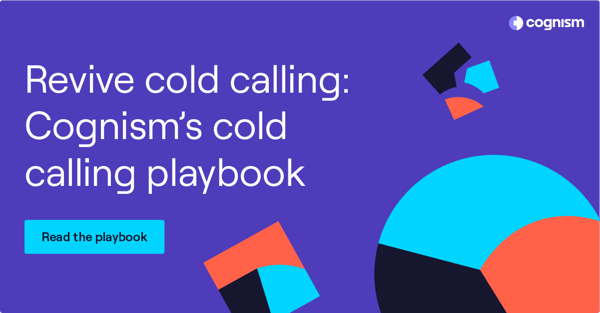 Book your demo with Cognism
Cognism's data is trusted by 700+ sales teams around the world. Here's what some of our customers say:
"Cognism is a very good, smart tool for outbound sales and business development. It works well with the salespeople you already have and makes their job a lot easier and more efficient." - The Athlete Book

"We booked meetings with 5 Fortune 500 customers with the help of Cognism. It's an awesome sales and business development tool."
Our tools will help you find your perfect prospects and convert them into customers. Keen to join our list of customer success stories? Simply book your demo with us today.