Lead generation is a busted flush. Allbound is the future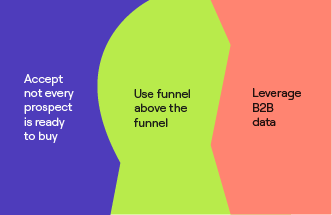 The B2B space is punch-drunk on a myth:
A myth that prioritises quantity over quality. A myth that focuses only on measurable channels. A myth that relies on content downloads and follow-ups to drum up business.
The myth I'm talking about? Lead generation, of course.
Now, this model worked for a time. But prospects have become more sophisticated and now resent disruptive cold calling tactics targeting leads when they aren't ready to buy.
To this day, this is reflected by the metrics.
While marketing organisations hit 300% of their pipeline quotas, sales organisations are curiously 50% away from target.
So what's the solution?
Well, for inbound, it's demand generation. And for outbound, it's the human distribution channel.
Taken collectively, this allbound approach bridges the gap between marketing and sales.
What is allbound? | The human distribution channel | Back to basics | About the author
Scroll 👇 or use the menu above to flick through ☝️

What is allbound?
For the last decade or so, inbound and outbound have been bitter rivals.
With many organisations (perhaps too literally) interpreting HubSpot's definition of inbound marketing, outbound was pushed aside.
The problem with this was the form of inbound marketing most companies pursued was insufficient. While they drove traffic to their sites with low-intent, high-volume keywords, they struggled to fill the pipe with high-intent prospects.
The best they could do was pass over content leads (MQLs), which sales reps did their best to convert into SQLs, and hopefully, revenue.
Dark social and dark funnel marketing has been used to combat this, focusing less on arbitrary metrics and attribution and more on brand-led activities that genuinely add value to the addressable market.
And to do allbound properly, the same needs be the case for sales.
Instead of spraying and praying, being thirsty to book meetings, or being aggressive when things don't go your way, sales reps should be used as a hyper-targeted resource.
This human distribution channel, combined with dark funnel marketing, content marketing, and demand generation has the power to create truly resonant prospect experiences.
The human distribution channel
SDRs are your human distribution channel if they:
Leverage

B2B data

to create hyper-personalised one-to-one experiences for every prospect.
Use the

funnel above the funnel

to build awareness and gather information before attempting to book meetings.
Accept that every prospect isn't in market for your product/service right now, but may well be in the future when circumstances change.
By doing this, you can remove your reliance and MQLs and instead deliver the right message, to the right person, in the right channel, at the right time.
Plus, while running alongside demand, content marketing, and paid marketing, the human distribution channel helps your business create a pipeline that actually has a chance of closing.
Signs that your human distribution channel isn't working properly include:
Measuring success
The key metric you should use to evaluate the performance of your human distribution channel is daily completions.
As Shafiroff and Shook mention in their book, Successful Telephone Selling in the 80s, a daily completion is:
"A telephone call that actually gets through to the right individual. A call that is to be returned, or a discussion with an assistant or a secretary does not count.

"In this initial call, you briefly explain what you have in the way of a product or philosophy. You bring to the individual's attention what you have to offer, and you discover his interests.

"In some cases you will want to make an appointment for a face-to-face presentation; in other cases you will follow up with a letter or a telephone call.

"But the completion is not aimed at getting an order. It is aimed only at finding out whether or not you can proceed with future contacts with this individual. He may say yes, he may say no. It's still a completion."
By adopting completions, you'll encourage the right behaviours in your B2B sales team, where reps understand exactly who the prospect is and what their priorities and pain points are.
This will actually help prospects, rather than interrupting them, as HubSpot warns against.
Back to basics
In B2B, many companies are targeting an audience of one. Which is exactly what makes sales reps so unique as a delivery mechanism.
Using them as a human distribution channel, you can understand where prospects are at in the flow, and nurture them accordingly through the stages.
Combined with next-generation marketing tactics, B2B revenue teams can pursue a true allbound model that makes prospect experiences smoother and drives more revenue.
If you don't want to fall behind, make sure you leverage this B2B sales trend in 2022.
About the author
Ryan Reisert is Cognism's Brand Ambassador and author of the acclaimed book, Outbound Sales, No Fluff. He has 14+ years of SaaS and startup sales experience, serving as a Head of Sales at Sellpoints, Booshaka, Uversity, and more.
Ryan also hosts Cognism's Revenue Champions podcast and you can check out his first episode above! ☝️