How Trigger Campaigns Can Help Nurture Leads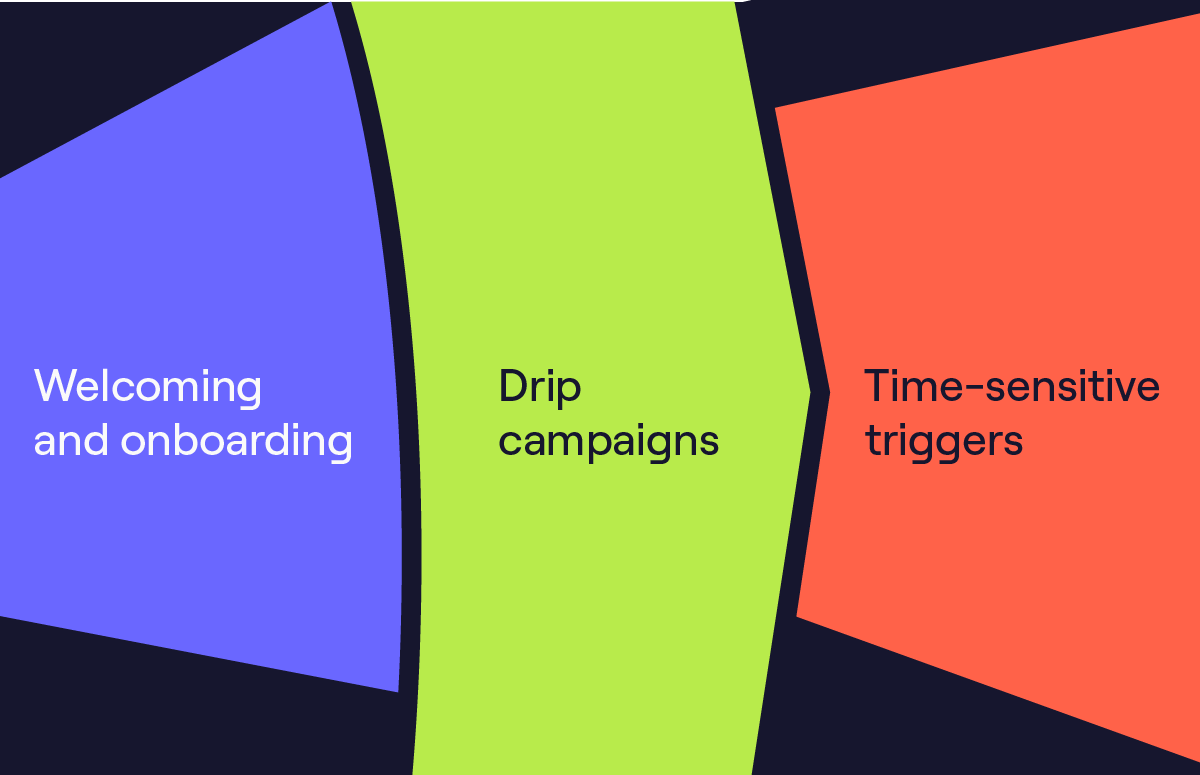 This is a guest article by Drew Page, a content marketing lead from San Diego, where he helps create epic content for companies like CleverTap. He loves learning, writing and playing music. When not surfing the web, you can find him actually surfing, in the kitchen or in a book.
Trigger campaigns have become a crucial tool in data driven marketing - and for good reason. The benefits of trigger marketing campaigns include:
Helping increase user engagement, leading to higher click-through rates and conversions.
Improving the user experience.
Increasing customer retention.
But what exactly is a trigger campaign, and how can it be used in B2B marketing?
Below, we detail what a trigger campaign is, types of trigger campaigns, and how to use them in B2B situations to nurture leads.
What is a trigger campaign?
A trigger campaign is a type of marketing message that follows a when this, send that formula. If a user performs a specific action, a response will be "triggered" and sent to the user.
Trigger campaigns can be used at all stages of the buyer's journey, from sending a welcome message to reporting milestones as a retention strategy.
Picture this: your landing page converted a new user or prospect which triggered a welcome message. Perhaps your landing page was targeting a specific product, service, or vertical. You now have the opportunity to go into more depth and detail about your value proposition or maybe introduce another point of value.
Throughout the entire customer journey, trigger campaigns provide a higher level of personalisation that can help increase engagement and ultimately spark action for the user.
Types of trigger campaigns
Whether you have just acquired a new customer or are trying to move an existing customer closer to purchase, trigger campaigns are an extremely useful tool in all stages of the customer journey.
Here are some types of trigger campaigns that can be particularly helpful at different stages in the B2B customer journey:
1 - Welcoming and onboarding
Your welcome message is your first chance to make an impression on your customers and let them know what your company is about. In B2B, welcome and onboarding messages can help the customer understand your company - but be careful not to overwhelm them with messages or you will be at risk of having them unsubscribe.
2 - Drip campaigns
Drip campaigns are typically done through email marketing and are particularly effective with B2B companies.
Drip campaigns send a sequence of pre-written messages to the customer over time, helping them follow a specific customer journey. They are typically automated and are usually triggered by an email sign-up.
Drip campaigns can also be personalised based on the specific trigger. For example, a customer entering their email address to get past an information gate could lead to a different drip campaign than someone who is already subscribed by clicking on a link in an email.
The drip campaign should reflect the stage of the journey the custom is perceived to be at.
3 - Time-sensitive triggers
Trigger campaigns can be particularly helpful in sparking action in a time-sensitive situation. For instance, sending out a trigger for a special limited-time promotion can be valuable to pushing customers towards purchase.
How to use trigger campaigns in B2B
Trigger campaigns can be an extremely valuable tool for B2B marketers. From lead generation and prospecting to data usage, trigger campaigns can help elevate your marketing efforts and make your brand stand out.
1 - B2B lead generation
Trigger campaigns in B2B lead generation are extremely useful because the leads that come in are already pre-qualified. Specifically, trigger campaigns in content and account-based marketing can be very helpful to determine the health and quality of your leads.
And if the website content is behind a gate that requires a prospect's email address, you can generate inbound leads to send out further trigger campaigns, such as real-time and time-sensitive triggers.
With B2B lead generation using trigger campaigns, it's important to follow the user journey map. In lead generation, they are likely to be near the beginning of their customer journey, so trigger campaigns should be focused on moving the customer beyond awareness and closer to purchase.
2 - B2B prospecting
Trigger campaigns are an important part of B2B prospecting, but many companies are unable to capitalise on them correctly. To effectively use trigger campaigns, it's important to reach out to the prospect at the right stage in their customer journey: when they are ready to buy.
For prospecting, the three main trigger points are change indicators, problem indicators, or opportunity indicators. If you reach out at those points, you are able to offer the prospect a timely solution that will likely result in far more goal completions.
It's crucial to understand the sales cycle of your product or service for use in your reactivation trigger campaign. In B2B sales, the cycle could be months or even years, which is why you won't want to send reactivation campaigns after your prospect goes dark for a week.
3 - B2B data
Trigger campaigns can also be used to gather valuable B2B data, allowing you to further personalise your communication with that customer in the future. By having more extensive knowledge of your customer, you can tailor your messages to better fit their needs and increase the number of hot leads you are converting.
A successful example of this in the B2C space is Spotify's #spotifywrapped campaign, which gives users a summary of their listening activity over the past year and proves to be a highly shareable form of earned media.
Final thoughts
It's clear that trigger campaigns are an extremely effective strategy for B2B lead nurturing. From welcoming and onboarding newly acquired leads to helping you seal the deal, trigger campaigns are a tried-and-true marketing method.
By allowing you to personalise your marketing messages and automate responses, trigger campaigns can help you increase engagement, click-through rates, and customer retention.
Check out the infographic below for more information on types of trigger campaigns!

A guide to email marketing
Do you want to keep up-to-date with the latest B2B email marketing tactics? Our eBook The 'Anything But Basic' Guide to Email Marketing is precisely what you need!
Did you find this article useful? We've got a lot more email marketing knowledge to share. Download - inside you'll learn how to level up the way you utilise e-mail and corresponding data to improve your B2B marketing strategy. As well as:
The benefits of email marketing
How to write emails that convert and don't land up in spam folders
Pro tips for planning and launching email campaigns
The metrics you should be tracking for your email marketing campaigns
Email marketing tools your team will love
👇 Click the image below to get your copy!