How to Run a Productive Remote Sales Team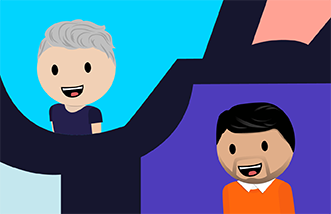 We're almost two years shy of the world having to go remote.
Back then, the word "pivot" was abuzz.
The B2B sales world was turned upside down with offices closing and in-person meetings completely off the table.
But teams adapted and work continued!
Now, as we look forward to 2022, setting up your remote sales team isn't the focus.
The priority now is keeping productivity up.
And how do you do that?
With Nicolas Vandenberghe, CEO at Chili Piper's tips, of course!
Our Global Head of Sales, Jonathan Ilett, chatted to Nicolas to find out how to keep productivity up.
Scroll 👇 through the menu to find out how you can do the same.
Lead with a remote-first workforce | Put the right processes in place | Nicolas's advice to scale a remote team | Listen to the podcast



Lead with a remote-first workforce
Nicolas was lucky enough to have started his company with a remote-first workforce pre-COVID.
He ignored the naysayers and instead decided to access brilliant talent all over the globe.
So, when the pandemic hit, Chili Piper was already in a position to run remotely.
"Trust is the most important currency a sales team can have, not only with customers but within your team too.

People should be able to live wherever they want and be trusted to get the job done. So, you should hire people from wherever they are and allow them to work where they want to. Whether that's for a summer in Europe or whatever the case may be."
Nicolas highlights that if you can scale a global team from the start, there's no reason to not pursue having a global team.
You've got to enable your team to be able to do their work and use accessible tools like:
Enabling your teams with the productivity tools they need means you'll see the results in both your outbound sales and funding rounds. It also leads to improved team communication.
But beyond giving your teams the tools they need, you've got to have 👇
Put the right processes in place
You need processes to ensure your remote work is productive and yields results.
Nicolas spoke about some of the processes that have driven success at Chili Piper::
1 - Don't underestimate the value of meeting in person
Once a year, the whole Chili Piper team gets together to meet in person.
Nicolas says it's a magical experience that really unites the team.
The company also has meetups, where smaller groups of people have lunch or socialise with one another.
All of which is expensed through the company!
Nicolas elaborates on this:
"It's way better than meeting over a water cooler. I had one day in Greece and asked who wanted to meet up in Mykonos and whoever could attend came along. We have meetups in clubs as well - it works very well and gets the team socialising."
2 - Hire local talent
With a remote-first approach and plans to scale, you've got to look at your hiring process and ensure it's effective.
How do you do that?
Nicolas explains:
"Knowing the local language when booking meetings and closing deals really helps a lot, so we're quite keen on hiring local people. Our approach is hiring by region - we look at the US, and then Europe and Northern Europe by country."

"This allowed us to see how much faster the US market moves than the rest of our territories and allowed us to adapt accordingly."
Once you've got your positions filled, you need to distribute resources among your teams - and ensure you're getting a good ROI on those resources.
If not, you've got to evaluate what's missing and what to do less of.
Your regional teams will be able to evaluate your competition and implement best practices as well, so make sure you're tapping into their knowledge.
3 - Have a different approach for different territories
As Nicolas said:
"I haven't found a recipe for Germany that works in Spain."
When you go-to-market in different countries, you've got to adapt your approach to work in that country.
This all comes down to having the right talent and finding the right resources within that region.
And, when it comes to fundraising, Nicolas had some advice:
"Work all of the countries in parallel rather than sequencing them. Don't wait to close a round in one country before starting in another."
4 - Streamline your onboarding
Chili Piper onboards its staff by job title, rather than by region.
Nicolas explains that all the SDRs will have their onboarding together whether they're in New York or in Spain, and the same for other roles.
"Everyone gets the same onboarding and then it's up to them to adjust it to work within their country. Typically, they do this on their own.

So, if an SDR got training with the US team, it's up to them to tailor the cadences to work for the market in their own country and to translate these to their local language. It's their responsibility to make it work."
5 - Have a tech stack that enables your team
Want your remote team to function effectively?
Then they'll need the proper tools!
Chili Piper uses a very traditional tech stack consisting of:

Nicolas's advice to scale a remote team
If you want your product promoted, you want your customers talking about it!
That's why Nicolas suggests placing a heavy focus on B2B marketing.
"Personalise your approach and ensure you're implementing a people-powered marketing strategy early on."

"Chili Piper made the mistake of ignoring some communities and now we're playing catch up. Although we're doing a good job now, you want to start out in a way that doesn't require you to catch up. You want to invest in this early on."
You should also encourage your team to build personal brands and become good cheerleaders online.
Your teams should be posting positively on LinkedIn and Instagram, but the key is to ensure their posts are genuine.
That's the only measure you need - sincerity.
On the sales side, Nicolas says you've got to keep measuring and experimenting as you go.
"The framework we use is called 'actions yield expected outcomes'. We don't give our AEs sales targets. Rather, we give them a certain amount of pipeline, tell them what we've yielded from that in the past and place that expectation on them. It's then up to the AE to book their meetings and fulfil their duties.

We use a lot of metrics to measure their growth or where they're falling short, and this allows them to understand what they're doing wrong and to correct their process. If you're measuring everything, it's easy to make changes when things don't work."
Want more tips? Then simply 👇
Listen to the podcast
As if this wasn't enough, Nicolas has even more great advice to offer you!
Hear more about how to structure your team and how to learn from your mistakes as your company scales.
Press ▶️ to get started.